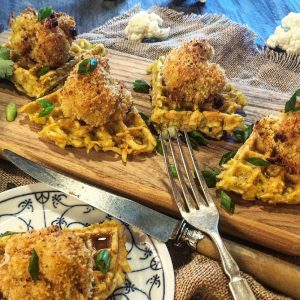 This is one of those dishes that came about totally by accident. And I'm so glad it happened.
A fellow blogger, Sandra from Sandra's Easy Cooking, via a fabulous Instagram photo, had reminded me that I hadn't made hash brown waffles in ages. We love our shredded hash browned potatoes, and when I discovered the fun of using the waffle iron to prepare a crunchy version of them, they became even more fun. More crust, lots of nooks and crannies for gravy or butter, what's not to love?
So I thought, I should make them again. Then I started thinking, if I make them for dinner, and not breakfast, what would I serve with them? Then my brain just did a whacky turn. Chicken and Waffles. Mmmmm! But did I feel like making fried chicken? Have you seen Food52's version of Fried Chicken? Game changer. But I didn't have time for that.
So then I thought, if I wasn't going to make chicken, what would I serve with potatoes? Hang on, we love Aloo Gobi, the traditional Indian curry dish of potatoes and cauliflower. Living in Toronto, we are exposed to so many fantastic cuisines, with Indian and Pakistani cuisines are amongst our favourites. I could do something with cauliflower. Well, if I was going to serve cauliflower with potato waffles, then why not get the curry in there, to pay homage to Aloo Gobi? So now, I was going to add some Entube Curry Paste to the potato batter. And I would want the cauliflower to also get that curry treatment. And then it all came full circle. I could oven fry cauliflower florets in a coating that included curry, and they could turn into the 'chicken' portion of the chicken and waffles I originally though of making. Wowzers.
So I created a 'batter' for the cauliflower. After blanching the florets, cooling and drying them off, I dipped them into seasoned flour and cornmeal, then a mix of beaten egg and the curry paste, and then into another coating, this time of flour, grated cheese and more seasonings. I laid them onto a parchment lined baking sheet, sprayed them with olive oil, and baked them at a pretty high heat. They came out really crunchy! I made my waffles in the meantime.
And when I put them all together, and drizzled them with some maple syrup, I handed a plate to Jim. Honestly, he just cut into it, not wondering what I had handed him. He looked at me and asked, "Chicken?" Hehehe. No dear. When he found out it was cauliflower, he was even happier!! He loves cauliflower, so the idea of the crispy coating, and the potato waffles, made him very happy. He ate all that was on the plate, went back for more (and a salad) and in the end, said, "this would make a great appetizer." Whoa baby!! Jim getting all culinary on me!? Now I knew I had a winner on my hands. For breakfast, lunch, dinner, or as an appetizer! And now it is in your hands as well! Enjoy 🙂
Oh by the way, you all may be wondering about the name for this recipe. Chicken and Waffles is a traditional Southern, Low Country (an American East Coast area around South Carolina and Georgia) meal. Low Country cooking (some of my favourite dishes are Low Country) is the forerunner of what we commonly call Soul Food. That amazing collection of dishes that have a rich history and amazing traditions associated with them. Their history can be traced to the African roots of the cooks who brought what they cherished from their homelands to keep connected to what they treasured. Gullah is actually a slang word for Angola, one of the African countries that these cooks can trace their heritage to. Goa is the name of a state in western India, known for spice plantations, popular beaches and fishing villages. I guess I just chose the name to represent the Indian contribution of the meal (the Aloo Gobi) because it sounded good with Gullah!!
Love Jen.
Gullah Meets Goa Curry 'Fried' Cauliflower and Potato Waffles
Chicken and Waffles gets turned on its head with an Indian Aloo Gobi Twist! A great vegetarian appetizer or main dish.
Ingredients
2-3

cups

cauliflower florets

cut large enough to imitate fried chicken pieces

1/4

cup

AP flour

gluten free works fine here

1/4

cup

corn meal

1

tsp

garlic powder

1/2

tsp

kosher salt

1/2

tsp

cracked black pepper

2

eggs

beaten

2

tsp

Entube Curry paste

1/2

cup

grated parmesan cheese

1

cup

panko breadcrumbs

good pinch of cayenne pepper

2

tbsp

olive oil

or use olive oil spray if you have it

3

cups

or 1 bag frozen hash browns, thawed and drained

or tater tots

2

eggs

2-3

tsp

Entebbe Curry paste

1

tsp

onion powder

kosher salt and cracked black pepper

2

tsp

olive oil

veggie spray

maple syrup
Instructions
Cook cauliflower until just crisp-tender. Stovetop steaming or boiling takes about 6-8 minutes, or cook it in the microwave for about 4 minutes.

Start with lower time, to ensure that you don't over cook the cauliflower.

Allow cauliflower to cool until it's cooled down to the touch. (If you are using a pot with a small amount of salted water to boil the cauliflower till just tender, save the water- use it for stock!)

Preheat oven to 450°f.

Combine flour, cornmeal, garlic powder and salt and pepper in a small shallow bowl.

Mix the eggs and curry paste till well combined in a second small shallow bowl.

Combine the panko crumbs, the shredded cheese and a pinch or two of cayenne pepper and pour it onto a tray or dish.

Coat the cauliflower in the first dry mixture by sifting it over the florets, flipping them and coating the other side.

Dip the floured cauliflower florets in the mixed egg to coat well, let excess drain off, and then dredge them in the panko/cheese mix, pressing them so that the crumbs stick.

Arrange the florets in a single layer on a tinfoil lined baking sheet, then drizzle or spray them with olive oil.

Bake in preheated oven for 5-10 minutes until they start to crisp up and brown well. Remove and immediately sprinkle with salt and pepper.

WAFFLES

Preheat your waffle maker.

Mix the potatoes and seasonings in a medium bowl. If using tater tots, break these up well with your fingers.

In a separate small bowl, beat the eggs with the curry paste and olive oil till well combined. Add this to the potato mixture. Combine well.

When the indicator of the waffle iron says it is ready, coat the iron well with cooking spray.

Spoon approximately 2/3 cup (per waffle, or 1 1/3 cup for an 8"inch round waffle maker) of the potato mixture evenly over the surface. This is not like a batter which will spread to fill out. Where you put the potato mixture is where it will stay. Make sure it is even. Close and cook until the iron says it is done.

Continue with all the potoato mixture.

TO SERVE

Place 1-2 baked cauliflower florets on waffle, drizzle with maple syrup.
Recipe Notes
These ingredients are approximate, in that the size of waffle maker will affect the size of a serving. If you stick to the 2/3 cup per waffle, you should be fine, no matter what type of waffle iron you are using. (if you are filling an 8 inch round one, then 1 1/3 cup will do the trick.
This will only make 4 decent rectangle-sized waffles. Or two 8 inch large round ones that can be quartered (perfect for appetizer size!)
If you are feeding hungry men, you may want to double the recipe.
If you have everything ready to go, you can bake the cauliflower at the same time you start the waffles. The cauliflower will be done first, but turn the oven off, open the door a tad, and leave them to stay warm. This will only help crisp the 'skin'!!