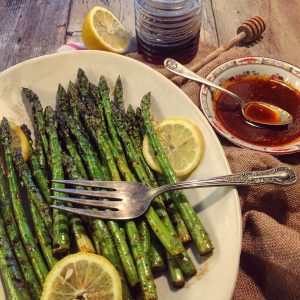 Ontario Asparagus is in full swing right now. It's a luscious time of the year at the markets, both St Lawrence Market in downtown Toronto, as well as all the local neighbourhood farmers markets that have come back to life now that the weather is warm and the fields are in production! Yippee!
I remember as a kid how excited my parents would be during asparagus season. Coming from Germany where asparagus is truly celebrated, they carried that love with them here to Ontario. In fact, as a child, my mom worked on the farms, helping to pick the treasured white asparagus. White asparagus is bleached while growing, by covering the shoots with soil, so that photosynthesis can't occur, hence no green colour. This is considered 'white gold' over in Europe. As soon as the mature spears start to peak up out of the soil, all the kids were sent in with special tools to extract each spear. These go to markets and roadside stands quickly and must be sold right away- they are much more tender and fragile than their green counterparts. In fact to this day, asparagus season is over by around the third week of June. Back when I was a kid in Ontario, asparagus season was just that as well: a SEASON. Once the growing period was done and the plants had gone to seed, we didn't see asparagus again until the next Spring. Life before the globalization of food.
I'll be honest, as a kid I didn't get it. I found asparagus kind of bitter. Mind you, the way my parents' generation cooked veggies probably didn't help. The idea of a little crispness remaining in the veggie, just meant that it was undercooked, such a no-no! So the limp spears that you would find even in restaurants back then didn't really impress my childish palate. But of course, cooking styles have really changed in the last 30 years or so. These days raw or at least lightly grilled, crisped or steamed veggies are the rule rather than the exception. I have to laugh, even when my family was all together, and we'd be preparing a meal, my mom would be cooking the broccoli or cauliflower, she'd say, "Girls (me and my sis) grab what you want out of the skillet now, since it's still undercooked, the way you like it!"
We know all the health benefits of asparagus: high in vitamins (especially the B's), minerals, dietary fibre, and amino acids. Some include it in superfood groups, and others swear by it for anti-cancer properties. But we just love it.
So, Ontario Asparagus, we celebrate you, while you are with us. And we try to eat it every which way we can. This recipe is a perfect way to highlight all that asparagus can be. I've taken the common garden asparagus (yes, Asparagus is the official Latin name, no need to learn another one) and given it a Moroccan twist. That amazing tube of Harissa paste by Entube has found it's way into this recipe. Combining the heat of the Harissa with the sweetness of honey and tartness of lemon, makes for a brilliant marinade. And then the grilling brings out the crunch of the asparagus in the best way. The play of hot and spicy and then perfectly sweet makes for a lovely side dish or snack. Even cold this dish works fabulously. Add it to a traditional or not so traditional composed salad (i.e. Salade Nicoise) or just make extra and eat them as leftovers for brekkie the next day!
So, even though we may see asparagus all year round these days, remember the days when asparagus was treasured because of its short time in the fields. Right now we are eating the bounty of our own farmland, not coming to us from some distant land and carried by truck and boat and train and truck again. And please, don't overcook it!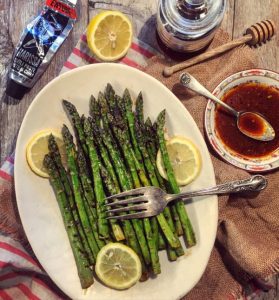 Harissa and Honey Marinated Asparagus
A spicy and sweet marinade make this grilled asparagus a great side to just about anything!
Prep Time
1
hour
5
minutes
Total Time
1
hour
13
minutes
Ingredients
1

tbsp

Entube Harissa paste

2

tbsp

olive oil

2

tbsp

runny honey

1

lemon

zested and juiced

1/4

tsp

kosher salt

1/4

tsp

cracked black pepper

1/2

lb

asparagus

bottoms trimmed
Instructions
Mix the Harissa paste, olive oil, honey, lemon juice and salt and pepper in a small bowl. Whisk well.

Spread the asparagus in a shallow baking dish and cover with the marinade. Turn to cover well.

Marinade for up to one hour.

Heat your griddle pan or heavy bottomed skillet over medium high heat.

When heated through, add the asparagus in one layer. Work in batches if you have to.

Cook on each side for about 4 minutes.

You want them well heated through, but not softened into limp spears.

Serve hot with the lemon zest sprinkled over. You can reserve the marinade for spooning over them as well.

These can also be served at room temperature as part of a composed salad etc.
Recipe Notes
If you can't find Entube Harissa paste, please try the link to their website. It is a beautiful product to use. All nature and made with ingredients you can pronounce! More and more locations are carrying it now though- try any upscale grocery store or boutique.
I state that this serves four. It really depends on the sizes of the asparagus you are able to source. Or how hungry you are. It could serve two as a main, but you'd have to be really hungry for asparagus!