May 2017 was the month of mayhem at this end. Blog upheaval, too many osteopath visits for my ongoing shoulder troubles, the beginnings of a dusty renovation, pouring rain way too often.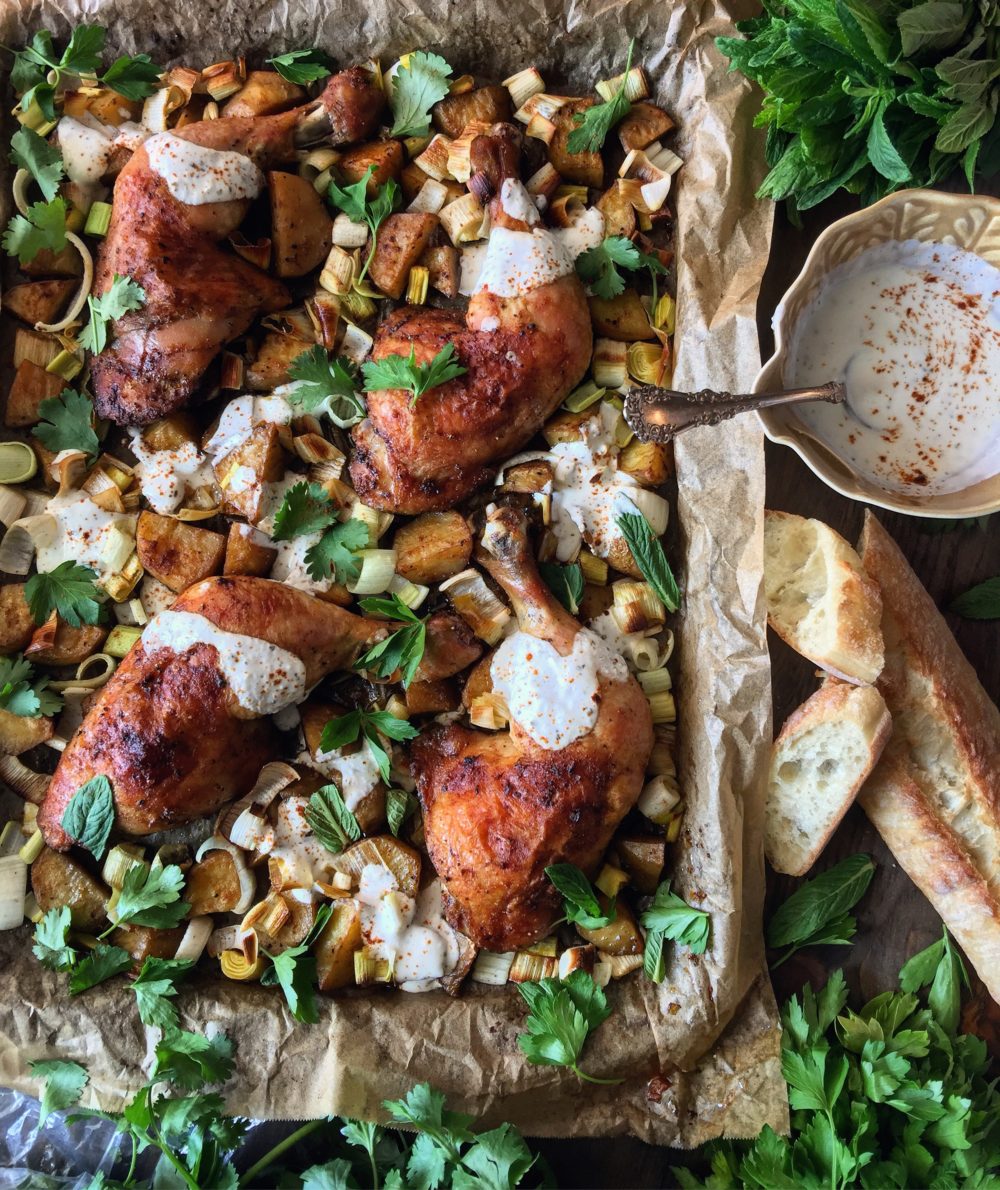 But it was also the month of 'Dinner, Changing the Game' by Melissa Clark, for our Rainy Day Bites Cookbook club.
The book is dedicated to Dinner. Fabulous poultry, seafood, vegetarian, and pasta dishes that are varied and packed with flavour. Melissa has compiled a book of recipes that are easy for a quick weeknight dinner with the fam, or special dishes that you will be proud to share with company. There is something for every season. So even if you can't make the Blood Orange Chicken with Scotch Whiskey and Olives, or the Peachy Pork or Veal with Pomegranate Molasses at the moment, you can find dishes just perfect for the season you are in. Just save the others for later on in the year!
So far I have been able to make the Summer Spaghetti (a fresh, no cook sauce of grated tomatoes, garlic, hot pepper flakes and ricotta salata) the Savoury Herbed Dutch Baby (the parmesan cheese form the most intriguing frico type crust as it bakes), the Vietnamese Caramel Salmon (so easy, and the glaze that forms on the crispy skin is sublime!) and the Pizza Chicken (oh wow- pancetta, mozzarella and spicy tomatoes cover braised chicken pieces) which I served over spaghetti. I will try and share this one with you all as well- it's perfect comfort food!
But today, I want to share another dish. Harissa Chicken with Leeks, Potatoes and Yogurt. It is so so so easy!! And yet sacrifices no flavours for its simplicity. In fact, this one is warm, spicy, tangy, refreshing! Really, something for everyone in this dish. Chicken pieces and cubed potatoes are marinated in a simple mixture of olive oil, harissa (I used my trusty Entube tube of harissa paste) and cumin. Then they are all laid out on a baking sheet. They crisp up perfectly as they bake, and then leeks that have had lemon zest and olive oil added to them get strewn over everything in the pan. A touch more roasting, and next thing you know, it's done! But the best part? The tangy savoury garlicky yogurt sauce that is drizzled over everything at the end. A touch more lemon juice and olive oil, and the best scattering of fresh and bright herbs, and you have a spectacular meal. Perfect for company. If you are serving 6 or so, you will want to use two baking sheets, as overcrowding will mean that the chicken and potatoes will only steam together, and not crisp up. And you want those crispy, crunchy exteriors!
I hope you all had a wondrous May. And June. And are making the most of July!
Love Jen.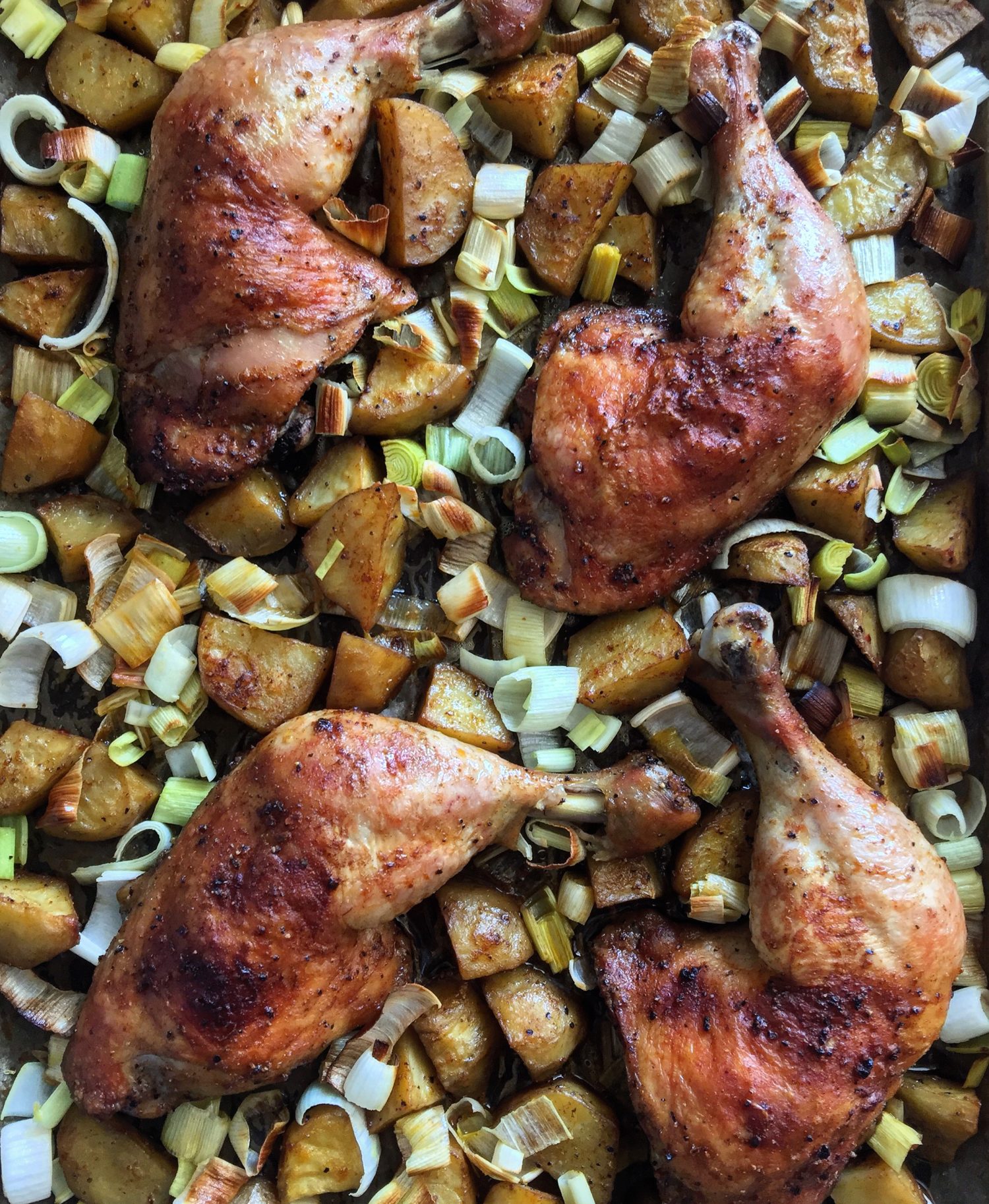 Harissa Chicken with Leeks, Potatoes, and Yogurt
The perfect sheet pan dinner of crispy chicken and potatoes roasted in a spicy warm marinade. Creamy leeks get added part way through, and the final dish is drizzled with a tangy savoury yogurt sauce and a scattering of fresh bright herbs.
Total Time
1
hour
20
minutes
Ingredients
1 1/2 - 2

lbs

bone-in, skin-on chicken thighs and drumsticks

1 1/2

lbs

Yukon Gold potatoes

, peeled and cut into 1 inch chunks

3

tsp

kosher salt

1

tsp

freshly cracked pepper

2

tbsp

harissa

(paste or powder or sauce)

1/2

tsp

ground cumin

4 1/2

tbsp

extra virgin olive oil

, plus more if needed

2

leeks

, white and light green parts, cleaned and sliced into thin half moons

1/2

tsp

lemon zest

1/2

cup

plain yogurt

, (if using Greek yogurt, use a bit of milk or kefir to thin it out to make it drizzle-able)

1

small garlic clove

1

cup

mixed soft fresh herbs

, such as dill, mint, parsley, cilantro

fresh lemon juice

, as needed
Instructions
Combine the chicken and potatoes in a large bowl. Season with 2 1/2 tsp of salt and 3/4 tsp of the pepper.

In a small bowl whisk together the harissa, the cumin and 3 tbsp of the olive oil. Pour this over the chicken and potatoes and toss to combine. Let sit for 30 minutes at room temperature.

Meanwhile, in a medium bowl, combine the leeks, lemon zest, 1/4 tsp salt and the remaining 1 1/2 tbsp of olive oil.

Heat the oven to 425F

Arrange the chicken and potatoes in a single layer on a rimmed baking sheet. Ensure that you are not overcrowding the sheet or else they won't brown and crisp up. If needed, use a second baking sheet.

Roast for 20 minutes. Then toss the potatoes lightly. Roast another 10 minutes.

Then scatter the leeks over the baking sheet.

Roast until the chicken is cooked through and everything is golden and slightly crisped, about 10-15 minutes more.

While the chicken roasts, place the yogurt in a small bowl. Grate the garlic over the yogurt using a microplane or the small holes on your grater. Alternately you can also mince the garlic. Season with salt and pepper to taste.

Spoon the yogurt over the chicken and vegetables in the baking sheet (or you can place the chicken and veggies onto a serving platter first)

Scatter the herbs over the yogurt, and drizzle with some olive oil and lemon juice.
SaveSave
SaveSave
SaveSave