Shrimp on the Barby. Shrimp on the brain. I've been on a shrimp kick lately. Can't explain it.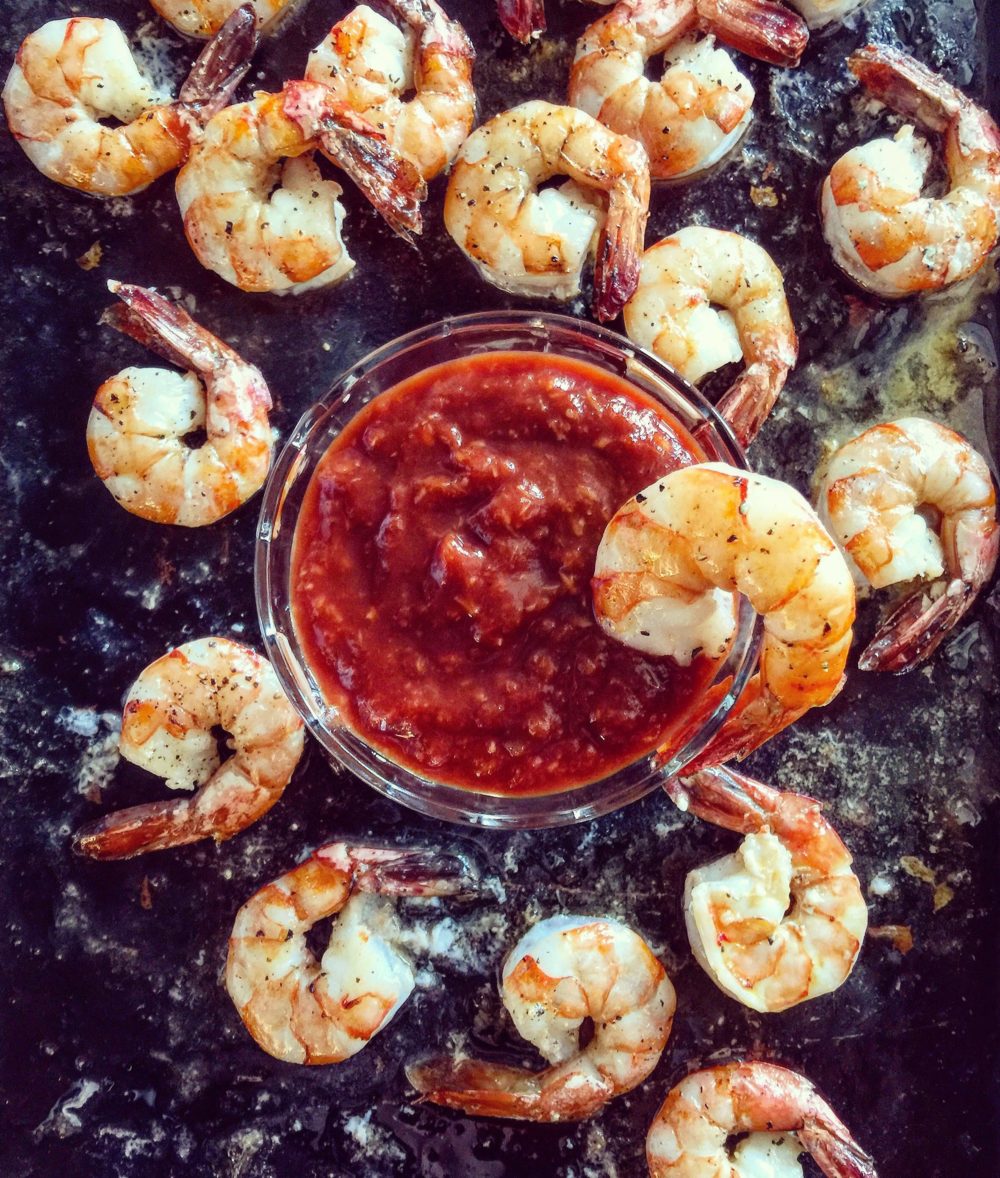 But I do find them really versatile. Perfect in salads, noodle or rice bowls, skewered, bisque, with grits, grilled, and, as this oh so easy appetizer. Truly, appetizers don't get any easier than this one. Except maybe cheese and crackers. Or chips and dip. But come on, it's nice to go beyond the frat house snack, and have an appetizer that has wow appeal as well as taste and ease of execution.
It takes 10 minutes. Not including the peeling and deveining of the shrimp. Not the most appealing of pastimes (rather yucky, but get over it: I had to devein buckets of shrimp for work at one time, so I feel your pain) but it's the only way to go. This is not the time to purchase already cooked shrimp. Please, I beg of you, splurge for your friends and family, get the real deal. And it is so easy to purchase fresh shrimp. They are sized and weighed in advance, so when you go to your friendly neighbourhood fish monger, just peruse the case. You will see a container of shrimp that have a tag stating they are 16-20 per pound. Another will say 21-25 per pound. Etc etc. If you look at the size of shrimp you'd like to prepare, and you already know for instance that there will be eight of you snacking, then you know that the 21-25 container will basically give you three per person in one pound of shrimp. And so on, and so on… I personally like the larger, jumbo Tiger shrimp- the 12-15 or 16-20 size. It's a real treat to bite into a juicy, meaty, sweet shrimp!
What takes this to the next level, is the cocktail sauce. I know that I have waxed poetic (not quite ad nauseam yet I'd like to think) about my Entube tube of Harissa paste. But I tell, you, I use it on everything!! (Now I sound like a Frank's Red Hot Sauce commercial!) But it's great with eggs, in baking, on chicken, in soups, marinades etc. It is really just such a handy kitchen staple. And now it can be found in more and more boutiques and good food emporiums. I have loved creating recipes with the Entube products, they are just that refreshingly natural, user friendly and chameleon-like.
So anyway, back to more important things, the cocktail sauce. In the time that it takes to roast off your shrimp in the oven (what could be easier to produce moist, perfectly cooked, not rubbery, over cooked, shrimp than roasting? Thanks Ina Garten!!) you will effortlessly whip up this cocktail sauce. All it takes is a few ingredients that are probably already in your fridge. Ketchup and chilli sauce. No, I am not going to tell you to make chilli sauce from scratch. Really? This is supposed to be fun. Appetizers are the jewelry on an evening together. So I don't want to stress over them, and I don't want you to stress out either. Making a simple sauce that will be inhaled in a matter of minutes should not require 20 ingredients. Sorry.
Ketchup, chilli sauce, Harissa paste, horse radish and lemon juice. Yep. Told you it was easy. Cocktail sauce is pretty well a standard recipe. I remember making it in huge batches in one restaurant I worked, and it was pretty well what I mentioned above. Except instead of the Harissa, it was tabasco sauce. A few years later I checked out my Joy of Cooking book (my go-to reference guide for the classics) and yes, the ingredients were pretty well the same!
Speaking of how easy these shrimp are to prepare, this is a fabulous method to keep in mind for anytime you need to get some shrimp ready for a dish. Spreading them out on a baking sheet with olive oil, salt and pepper, and a dash of lemon juice and 10 minutes in a 400F degree oven, and voila, they are juicy and tender every time.
In the end, you have a go-to appetizer that will wow, and be yummy, without loosing sleep, counter space or joy. Make the sauce in advance and keep it in the fridge. Throw the shrimp in the oven just as your guests are arriving. Before their coats are off and they have drinks in their hands, this luscious and beautiful and simple appetizer will be on the table. You're welcome.
Love Jen.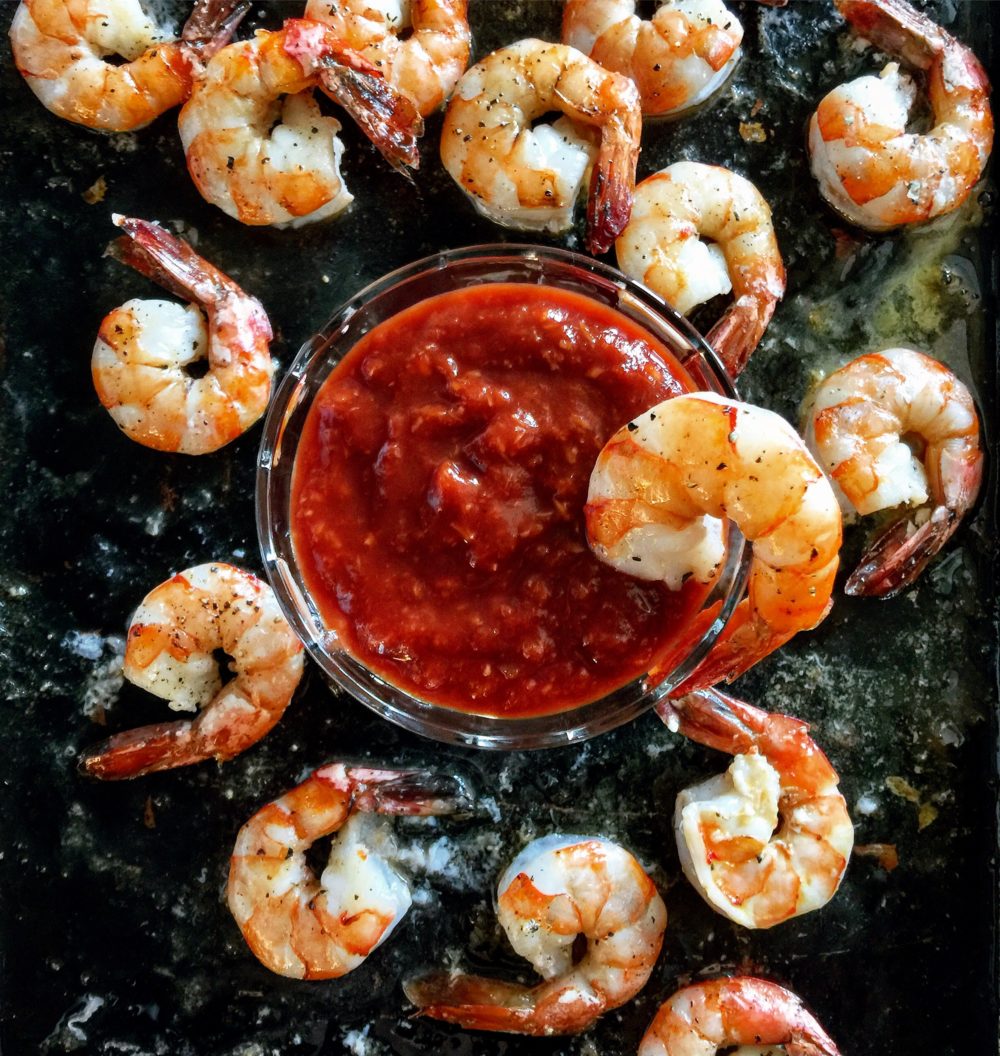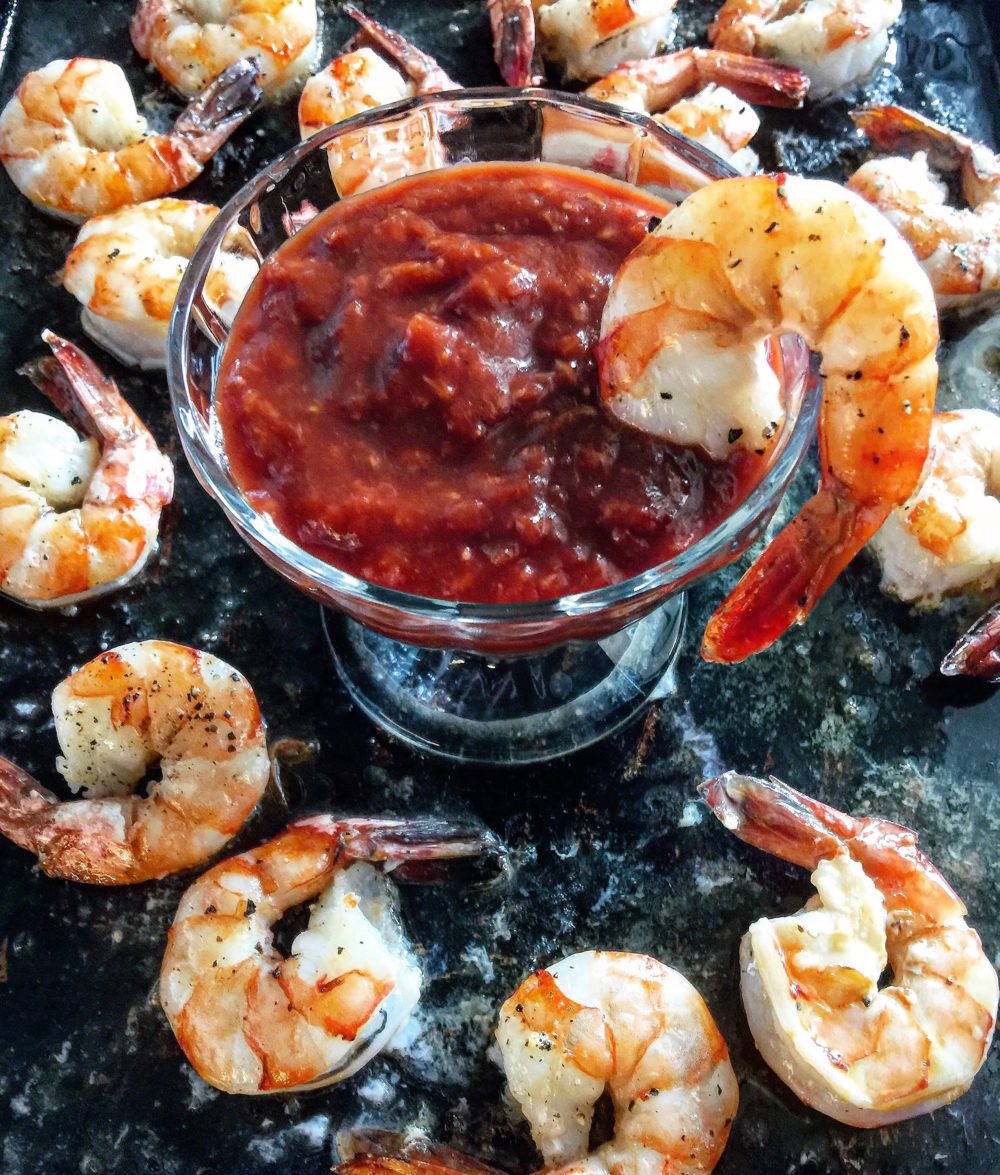 HARISSA SPIKED ROASTED SHRIMP COCKTAIL
Easy, elegant, roasted shrimp with a spicy cocktail sauce. Perfect for any occasion
Ingredients
2

lbs

of shrimp

olive oil

kosher salt

cracked pepper

1

tsp

lemon juice
COCKTAIL SAUCE
1/2

cup

chilli sauce

1/2

cup

ketchup

3

tbsp

prepared horseradish

1-2

tsp

Entube Harissa paste

, as preferred

1

tbsp

lemon juice
Instructions
Preheat the oven to 400F

Peel and devein your shrimp and lay out on a baking sheet

Drizzle 1 tbsp olive oil over the shrimp

Sprinkle 1/2 tsp or so each of salt and pepper over the shrimp

Sprinkle the lemon juice evenly over the shrimp

Coat to combine well

Bake for 10 or so minutes, till just cooked through
WHILE THE SHRIMP ARE COOKING, PREPARE THE COCKTAIL SAUCE
Combine the chilli sauce, ketchup, horseradish, Harissa and lemon juice in a bowl.

Remove the shrimp and lay out in a bowl, serve with the cocktail sauce
Recipe Notes
You can make this sauce and store it in the fridge for a good week or so.
One pound of shrimp will usually feed four people, no matter the size of the shrimp. Obviously, the large the shrimp, the less everyone will get. But the amount of meat will be approximately the same.
SaveSave