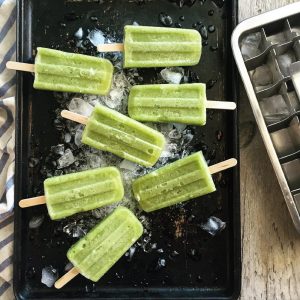 How many out there have fond memories of being handed a long plastic cylinder filled with coloured sugar water?? Yep, Mr Freezes kept us kids hydrated, cooled, and satisfied our sugar cravings all summer long. We got so excited to see Mom pull out a pair of scissors to open the top (if we weren't impatient enough to resort to ripping at it with our teeth) so that we could push up that coloured icicle through to the top of the plastic to commence our licking and sucking session. Our tongues would turn orange or red depending on our flavour choices, and there was always some melted water at the bottom that we would look forward to drinking by tilting that tube upside down into our mouths.
And then, even more exciting than Mr Freezes, was the Dicky Dee (Good Humour Man to my dear friends south of the border). We'd hear the bell chiming from down the street, and we'd scramble to grab our parents or our money stash and run out before the truck (or cart powered by a bike at the back) passed by. And we'd just hope that our favourite flavours of ice cream cones were still available.
Well, I guess we never truly grow up. We still like our ice cream cones, even if they are fancier now. And while you won't find a stash of plastic tubes filled with sugar water in my freezer, a good popsicle still deserves to hang out there with the ice cream, frozen veggies and fruit, and leftover bolognese sauce saved for another meal.
These days my popsicle choices are hopefully a tad healthier than sugar water with food colouring (really, I can't believe what our mothers gave us to keep us occupied and out of their hair in the summer!?) This recipe I'm sharing today is actually a version of one of my favourite smoothies/agua fresca recipes. I love the combo of mint, cucumber and pineapple (first discovered this one on a vacation to the Dominican Republic several years back) It has become a staple in my smoothie repertoire. Of course there are always things I'll add to make it a bit more substantial to keep me for the morning, but the basic flavour is set.
And then I started making honeydew agua fresca. Just love the texture of the finely pureed melon, along with some mint, honey and lime juice. So then I thought, these two drinks could become a fabulous mashup. Such a summery drink, refreshing and cooling on the hottest days. Hmm…how to make it even more refreshing on those hottest days? Freeze it!! So this is that treat. Really, you could do this with pretty well any fruit combo. But this one holds special memories for me, since it was on a relaxing tropical vacation that I was first introduced to the flavour.
I hope you like it as much as I do. And if you feel so inclined, why not use your popsicle as a stir stick for a great rum mojito!? Or gin and tonic with a splash of elderflower liqueur? Suddenly popsicles are all grown up!!
Love Jen.
Honeydew, PIneapaple, Cucumber and Mint Popsicles with Honey and Lime
A fresh, tropical agua fresca inspired popsicle!
Ingredients
1 1/2

cups

cubed honeydew melon

1 1/2

cups

cubed pineapple

1 1/2

cups

cubed cucumber

1/3

cup

fresh mint

juice from one lime

roll it first to extract more juice from the rind

1

tbsp

pouring honey
Instructions
Combine all the ingredients in a good blender. Blend until completely smooth.

Pour into your popsicle olds

Freeze until solid

Unmold by filling a container that your mold tray will fit into (without going over the top) with warm water (not hot) Submerge popsicle mold tray into the water and old there for 20-30 seconds.

Remove from the water. Slowly remove the popsicles.

If you don't have 8 eager mouths waiting for these, then wrap each individual popsicle in wax paper, and store in a large freezer bag. This takes up less room than the popsicle tray.
Recipe Notes
I state that this amount of fruit will yield 8 popsicles. This will obviously depend on the size of your popsicle molds. But it should give you a good idea to start with.
I state that only 1 tbsp of honey is necessary. This will also depend on the sweetness of your fruit. This can vary by the week, right!? So add more if you so desire.