Stuffing, Dressing, po-tay-to, po-tah-to. In the end it is the dish I crave most when making a turkey.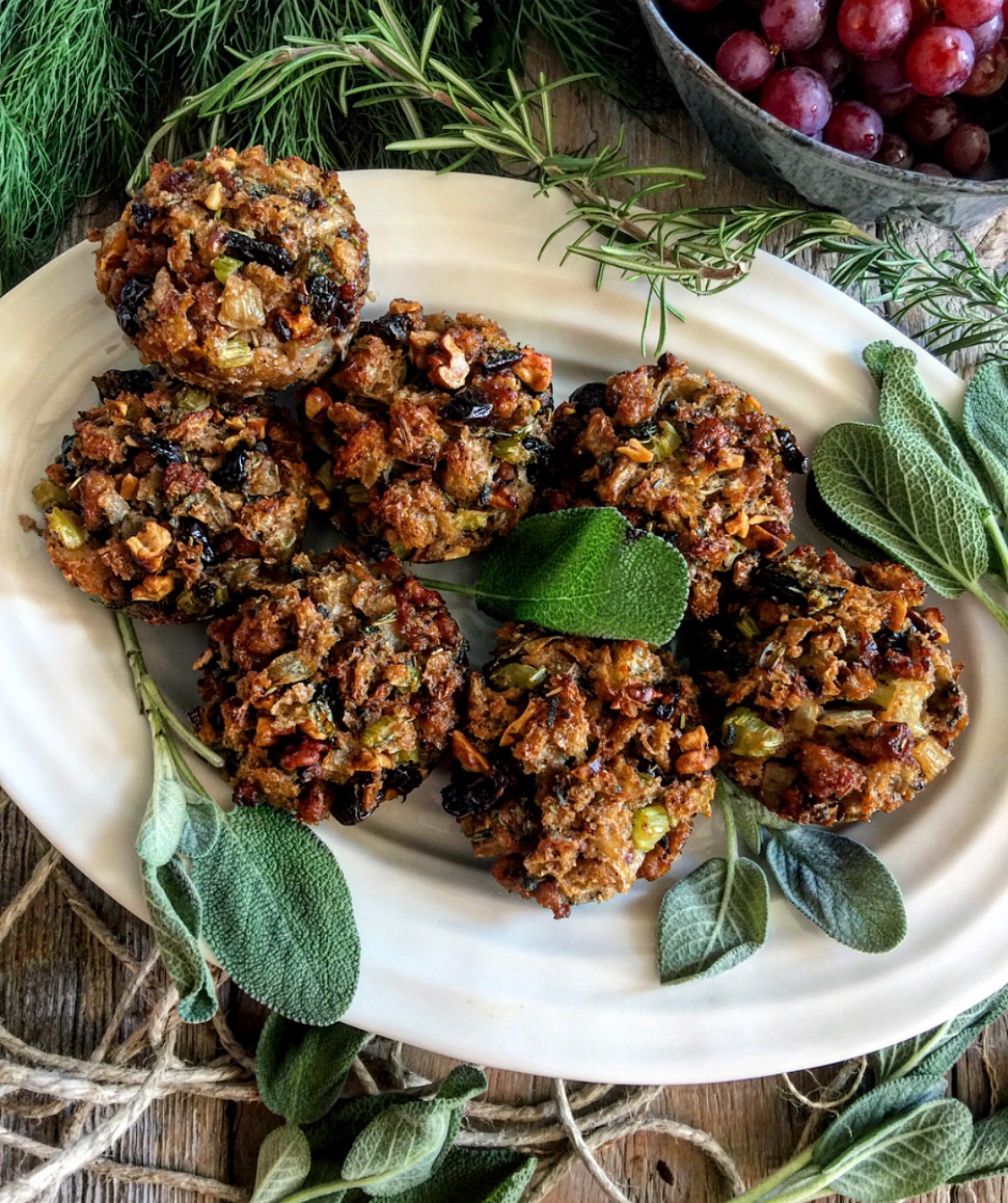 I will even make it with a roast chicken, just to up the opportunities to have it. And I make extra. Late night snacks, or lunch, smothered in leftover gravy, done! To me, the turkey is just the conduit to the stuffing and gravy. Please tell me I'm not the only one out there. There's nothing quite as decadent in a savoury dish than a really good gravy! And something to hold it. Jim isn't a huge fan of gravy (I know, don't get me started) but that doesn't stop me from making a full batch. I will ensure that it doesn't get wasted.
There are a cornucopia of ways to make stuffing. And every one of them is the best, to whomever makes them. The ingredients are so varied, but through the years I have narrowed down my list of what must be included, to what is found below. There are certain things that I want and don't want in a stuffing. I want it to be savoury with sage truly being the star. I want there to be a slight tartness to it, hence the dried cherries or cranberries. I don't want to taste sweetness in it, so no carrots etc. I don't want it to be dry. OR to be a soggy mess. So I'm just going to say that this is my personal favourite.
It's a classic onion, celery, rosemary, thyme and sage base. But it's the spicy Italian sausage that starts the whole thing rolling. Sauté it up first, and then add the veggies above to the pan once you've removed the crumbly, crispy meat. Then really good day old sourdough gets roughly cubed up. Chopped walnuts or pecans, dried cherries, and then more fresh herbs. All doused in just enough chicken or turkey stock. The amount of stock you'll need depends on how dry the bread is. Let it sit for a few minutes before you decide to add more stock. Finally a couple of eggs are used to bind it all together. You want this so that they will come out of your muffin tin easily. Spray your muffin tin well. Mounded high, the tops get all crusty in the oven, and this way everyone gets their own crust! A good knife glided around the edges, and a small offset spatula, and those babies will pop right out.
It's the alternate way of baking the stuffing that takes it to the next level. Yes, of course l will also spread it out and roasted it it in a single baking dish. Just fine. But since I started baking it off in a muffin tin, I'm even more giddy (yes, I can get giddy over stuffing) This way, everyone gets their own personal stuffing 'muffin' with a crunchy crust. It sits there like a king overlooking his kingdom on the plate. And accepts gravy so graciously. Of course there is the portion control thing covered. But who are we fooling, when we are eating a meal that involves stuffing, chances are the nutrition police aren't allowed in the room. They can visit the next day as we are making our green smoothies to make up for the dinner we indulged in, the evening before.
As soon as the weather turns even infinitesimally cooler, this recipe comes out. If I'm feeding just Jim and myself, I half it and bake it in a 6 cupper muffin tin. Or an alternate way of baking it, is to line a baking dish with foil, spread the stuffing mixture all over the bottom, and lay a dry rubbed turkey breast over it all. As it bakes, the juices of the turkey will ooze into the stuffing giving it an added depth of flavour.
A friend baked these up, and told me that she sends these with her hubby and son as they are going out for the day, weather to work on the farm, or to play on their 4×4's! What a great way to snack. And if you up the amount of nuts and sausage, you will get some pretty good protein in one.
For that busy time of year when you are entertaining family and friends, and you are trying to pull off the whole turkey dinner deal, make this recipe the day before, as well as your cranberry sauce. Both will be even better the next day. Your pies can be prepared the day or two before as well. As for the turkey itself, you can have the whole meal done in two hours, thanks to my method for Roast Turkey. Check this out at my Sage Butter Roasted Turkey with Cider Gravy, and be ready for a game changer!!
Now, pass the gravy!
Love Jen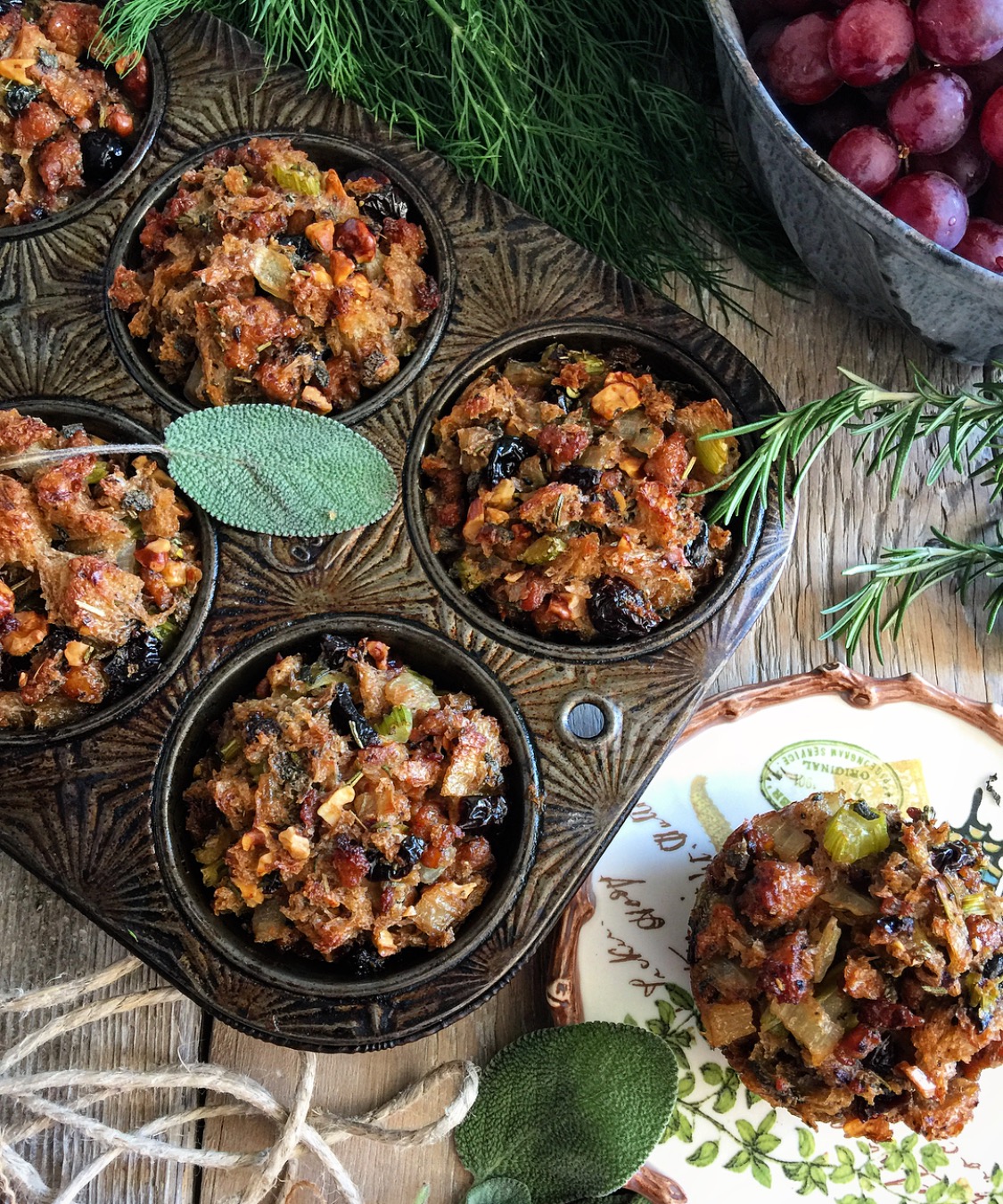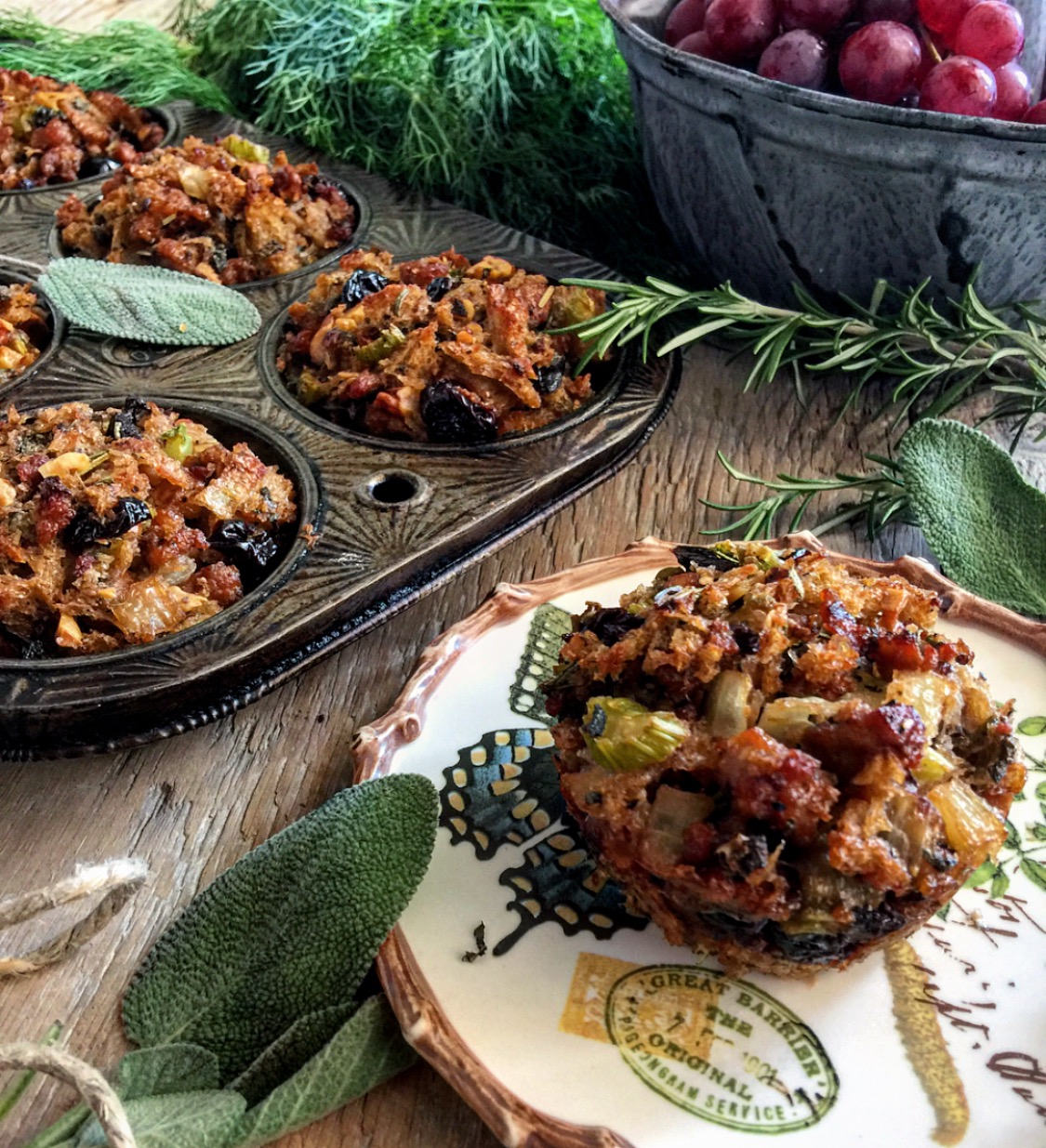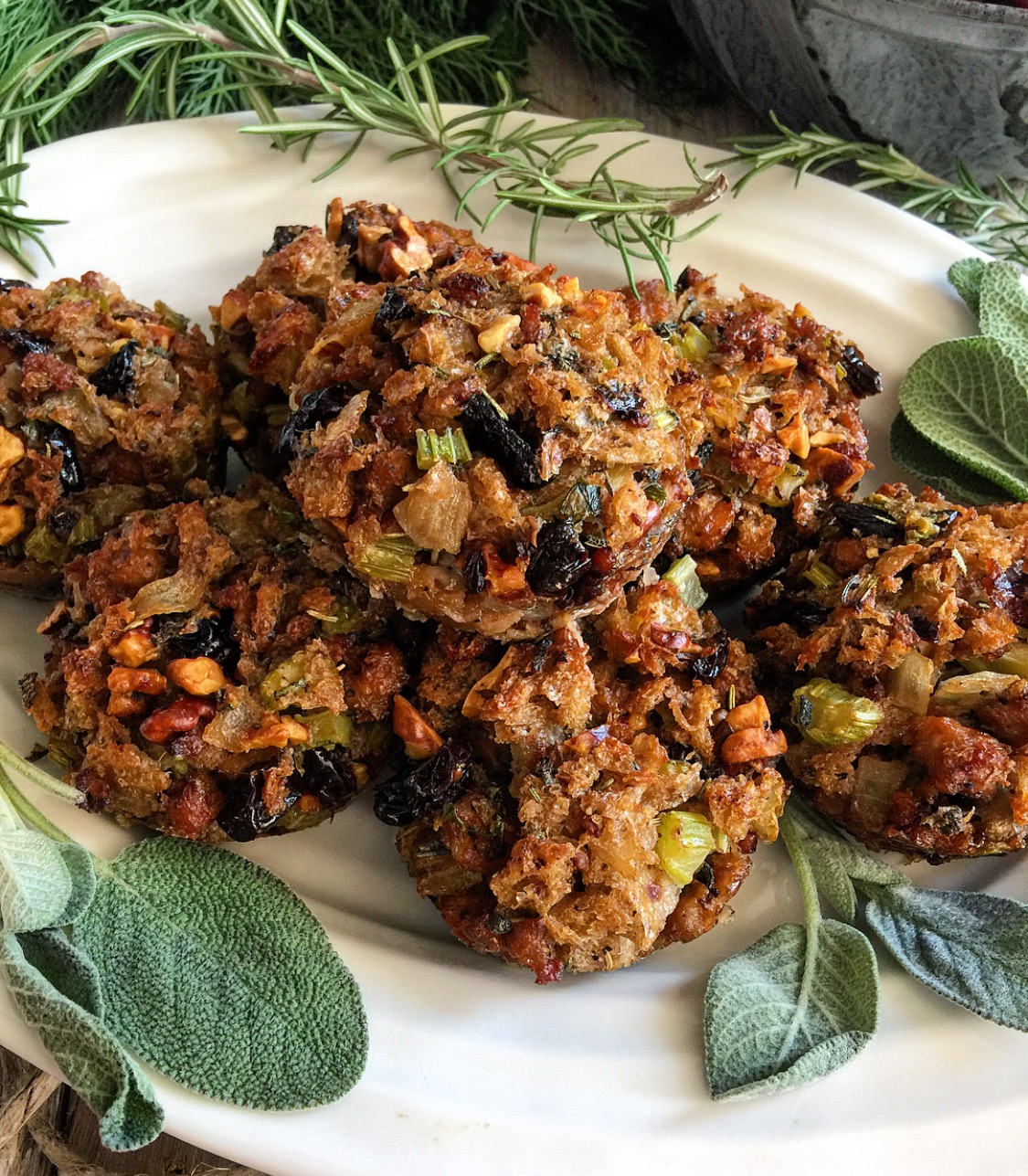 SPICY ITALIAN SAUSAGE SOURDOUGH STUFFING
A spicy, crunchy, tender, tart stuffing. Everyone gets some crunch this way! It covers all the bases and can be baked in a dish or muffin tin. Perfect for leftovers.
Ingredients
5

cups

cubed stale bread

(keep cubes between 1/4-1/2 inch) I like using a good sourdough bread

1

onion

med-small dice

2

celery ribs

med-small dice

2

large uncooked spicy Italian sausages

casings removed

1

tsp

dried rosemary

1

tsp

dried thyme

1

tsp

dried sage

1

cup

chicken

(or turkey) stock plus 1/4 cup extra if needed

1/2

cup

dried cherries

1/2

cup

chopped pecans or walnuts

1

tsp

fresh chopped rosemary

1

tsp

fresh chopped thyme

1

tbsp

fresh chopped sage

salt and pepper

2

extra large eggs

or three medium
Instructions
Preheat oven to 350 F.

Place bread cubes into a large bowl.

Saute the sausage over med-high heat, crumbling up, and browning nicely. Remove and add to bread.

Reduce the heat to medium and in same pan saute the onion and celery till softened and just turning golden. If the sausage did not release enough fat, supplement with a touch of olive oil as needed. Add dried herbs and stir. Add to the bread and sausage.

Add cherries and nuts and herbs to the bowl.

Add the chicken (or turkey) stock to the bowl, quickly fold together.

Wait a moment to let the bread soak up the liquid. If you need a bit more, add it now. It should be moist and hold together, but not be a soggy mess.

Season with 1 tsp each salt and pepper. Taste and adjust.

When happy with taste, beat the two eggs and add to the mixture. Combine.

Spray (very well) a muffin tin (this will make 12 average sized muffins, so use pans to achieve this)

Scoop and mound the mixture into the prepared tin.

Bake for 35-40 minutes, or until tops are lightly browned and crunchy. There should be a slight springyness when you press on one.

Cool for a minute then remove and serve.
Recipe Notes
You will want to ensure you spray to muffin tin to allow for easy removal. Use a small offset spatula or knife to get them out. These can be reheated the next day for awesome leftovers. If you bake it in a dish and have leftovers, why not take the leftovers the next day and make 'waffles' out of them?!
This can also be baked off in a 9x13" baking pan. You can bake this off even the day before: Bake at 350, covered with foil for the first 30 minutes. Remove from heat and cool. Refrigerate. The next day return it to a 350 oven and reheat, and then remove the foil to brown the top for 10 more minutes.
SaveSave
SaveSave
SaveSave