I always thought Kedgeree was a funny little name for a dish that I enjoyed when I was in England, way back in the 80's.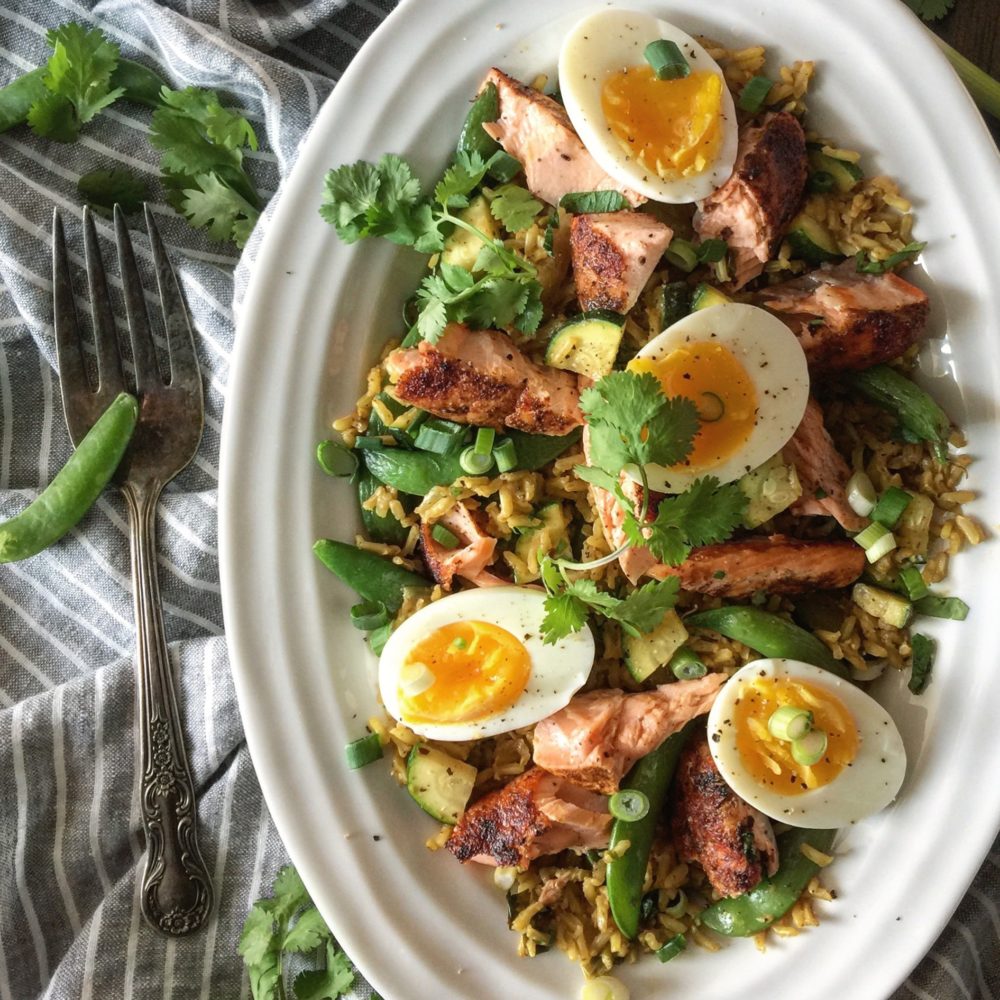 It was a homey, curried rice dish with all sorts of bits and bobs, that the mom of the family I was staying with had put together one evening for dinner. I loved it. It had curry!
And then years later, I learned that Kedgeree is more than likely an English version of the Indian word khichari, a spicy legume and rice dish. Of course, Victorian England colonials brought it back with them and turned it into the dish I enjoyed so many years ago. And then I thought about it, isn't it interesting that the rice and legume dish of Egypt is called Koshari!? Boy, they were borrowing from each others' cuisines way back when!
What's great about this dish, is that so much of it can be done in advance. In fact, the Brits often make this dish with leftovers, at least, way back in the day.
Back then I didn't remember how my hostess prepared it, I just remembered how it tasted. But then through the years I tried to come up with a version that suited my cooking style. My trusty Joy of Cooking book has a recipe where a curried cream sauce is prepared, and cooked rice is folded into it, along with smoked trout fillets, scallions and chopped boiled eggs. I liked this for a few years, until I realized that if I instead prepared the curry in with the rice and stock and let them cook together, it would remove a good amount of fat and make it more user friendly. My mother often cooked our rice in chicken stock, so this would be really no different for my dish. It would just have some curry and spices added.
It is common to use salmon, haddock or other meaty fish that has been flaked. This can be easily cooked up the night before. Or when you are next grilling fish for one meal, make extra and you'll be ahead of the game for this dish. The other component, the boiled eggs, can also be done in advance. Victorians would have had hard boiled eggs. Feel free to cook up 7 minute eggs, for a more decadent version (the way that I like my eggs in this case!) Have these ready, already shelled and in a container in the fridge. Just save the slicing till the very end.
The final component, besides the obvious rice, is the peas. Go ahead and use frozen peas- they would be lovely. Or how about sliced up green beans? Asparagus, Broccoli or even bok choy! That would make some Victorians roll in their graves!! I also add zucchini in the recipe below, for added veggie and crunch factor. You don't need to over cook any of these, in fact, I just add them to the rice just before it has finished cooking.
To add extra flavour to my version, I pulled out my trusty Entube Harissa paste to dress the salmon in before grilling. And of course, Entube's Curry paste is perfect in the rice portion. The heat is perfect on it's own, but if you want a bit extra, hot pepper flakes are perfectly acceptable.
While the Victorians would have traditionally eaten this at breakfast (which I think is totally brilliant) more often than not, it has now become a brunch or even a dinner staple. It's a great Meatless Monday dish. This dish, while having such a history (the Indian version has been around for a good 600 years) is totally up to date with the way we eat today. Think Ramen or Noodle Bowl. Or Buddha Bowl. The concept of taking all sorts of good-for-you ingredients and combining them in a bowl is really what this dish is. So, I say, let's bring back Kedgeree, and make it hip, again!!
Love Jen.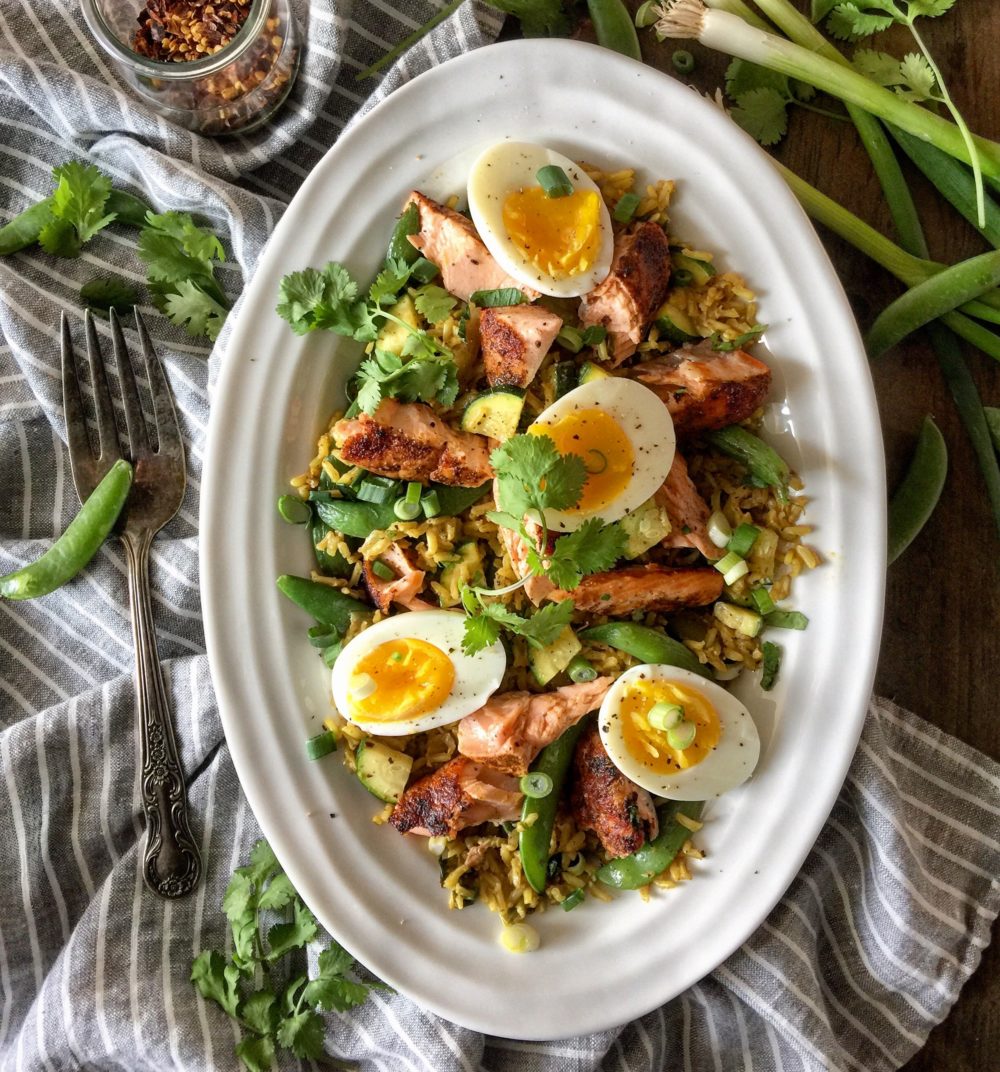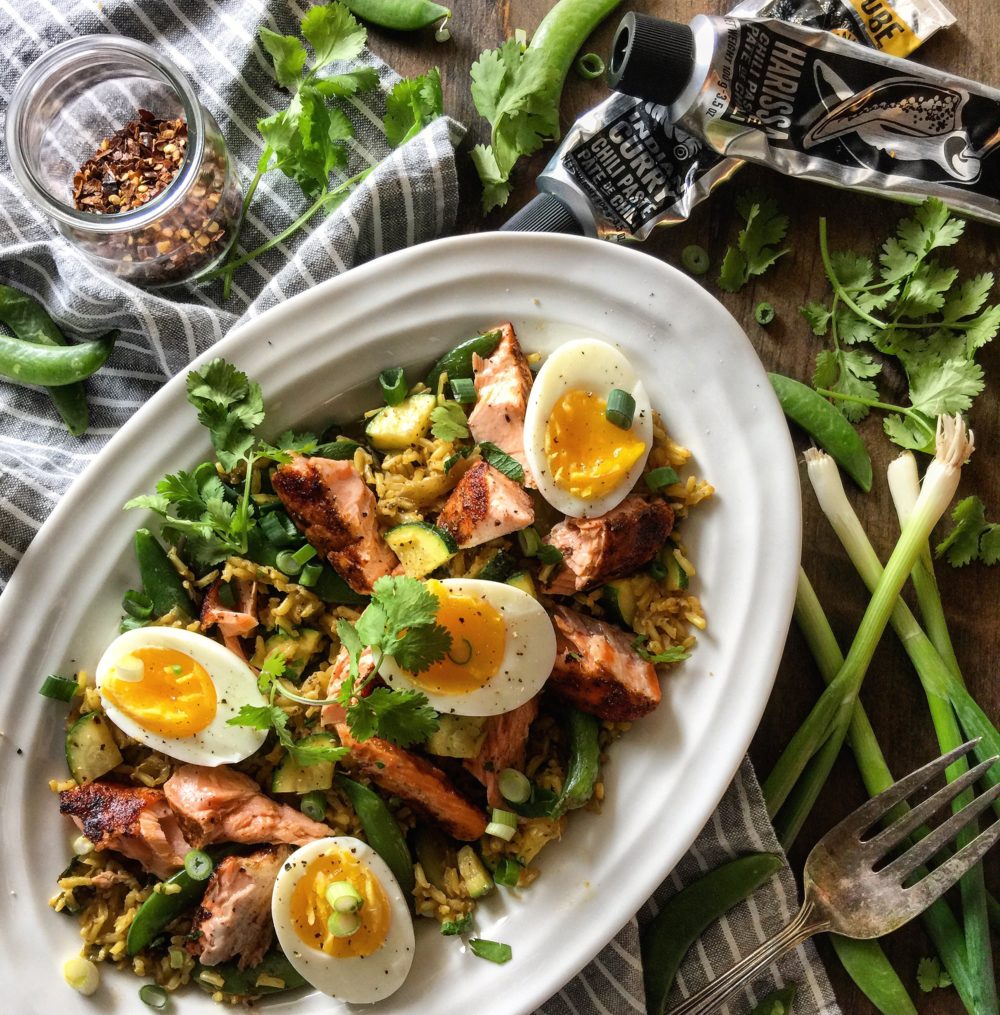 Kedgeree
A Victorian classic is totally up to date with the way we eat today. Curried rice, peas, zucchini, grilled salmon and boiled eggs make for a perfect meal, any time of the day.
Ingredients
1

salmon fillet

approx 8 oz or 230 grams

1 1/2

tbsp

olive oil

1

tsp

Entube Harissa paste

kosher salt and cracked pepper

1

tbsp

butter

1

medium onion

thinly sliced lengthwise

3

medium garlic cloves

minced

2

tsp

Entube Curry paste

or to taste

1/4

tsp

hot pepper flakes

2

scallions

root and dark green removed, the rest chopped into small rounds, divided

1/2

cup

basmati rice

I used brown basmati, but feel free to use white

1

cup +

chicken stock

feel free to use vegetable stock instead

1/2

cup

zucchini

chopped into quarter moons

1/2

cup

sugar snap peas

1/2

cup

parsley, cilantro or both

chopped

2

eggs

hard boiled (or medium boiled to your liking) halved
Instructions
Prepare the salmon:

Pat the salmon dry on both sides. Combine the olive oil, harissa paste, salt and pepper to taste in a small cup. Brush this over the salmon, covering both sides.

Preheat your girl pan on a medium high set burner. Spray lightly with veggie spray.

Lay the salmon, skin side down, onto the heat grill pan. Cook for about 6 minutes on first side. Gently flip over and cook another 4 minutes, or until just cooked through.

Remove from the heat to a plate. Let cool and then flake into large bite size chunks.

This can be done the day before and set aside in the refrigerator until you are ready to cook the rest of the meal.

Rice:

Heat the butter in a pan set over medium high heat. Add the onions and cook for 3 minutes. Add the garlic and cook another minute or so. The onions should just be softening. Add the curry paste, chilli flakes and some salt and pepper to taste. Stir to coat the onions.

Add 3/4 of the scallions and the rice. Stir into the onion mixture for a good minute, until well coated.

Add the chicken or vegetable stock. Bring to a boil. Then cover and reduce the heat to low.

Simmer for 20-25 minutes, till the rice is almost tender, but not quite. There should still be a little bit of liquid in the pot.

Quickly lay the zucchini quarters and the peas over the rice, and place the lid back on.

Cook for another 5-10 minutes, depending on where the rice was at.

At this point the liquid should've been absorbed, the rice tender, and the veggies just cooked through.

Remove from the heat and gently stir in the parsley and the cilantro, saving some of the herbs for a garnish. Add the salmon flakes.

Place into a serving dish. Lay the eggs on top. Sprinkle with remaining scallions, parsley and cilantro.
Recipe Notes
I state that you will need 1 cup + of stock. This is affected by the rice you are using (check the cooking directions for the rice you are using)
The salmon can be prepared in advance. In fact it can be leftover salmon from another meal.
The eggs can be prepared in advance and peeled. Just wait to slice them in half until serving.
While I state that the veggies can be steamed with the rice, feel free to also prepare them in advance. You can also grill or sauté them till just tender (do not over cook)
While this meal is great hot, traditionally it is served at room temperature. Do what you want!