When I was younger, and we would all go out for dinner as a family, I always looked forward to ordering my side salad. Because I got to ask for Ranch Dressing!
The places we would eat out at usually included a good steak option on the menu, 'cuz that's how my parents rolled, so I will always associate Ranch Dressing with old school Steak Houses, wedge salads, baked potatoes, and charred steaks. And I love it! And ranch dressing is so not what we'd get at home, so it was a true treat. Of course, in later years, my mom succumbed and bought the bottled stuff for us.
There was a time, for a while when Ranch Dressing had kinda a bad rap. It's not the healthy low fat dressing you want to drown your lettuce in. But even back then, I always figured, a little bit can go a long way. You can still enjoy all that tangy goodness without having to totally submerge your veggies until it becomes a case of "Care to have a little salad, with your dressing?"
But these days, we have so many more options to the traditional dressing. And when you think of those original ingredients: buttermilk, garlic, onion, herbs like dill and parsley, with mayonnaise and sour cream as the base, none of those ingredients are technically bad at all. So I contend, the whole issue is still a case of over-doing the dressing to salad ratio.
I'm usually a vinaigrette type dressing girl. I'm not one for goopy dressings- often they are just too heavy for the veggies they are covering. As a go-to, I usually have a jar of my Ginger Miso Dressing in the fridge, for its versatility. Still, there is a soft spot for the tanginess of a well made ranch. But can it be made a touch healthier? Sure it can. I'll show you. First of all, buttermilk is already healthy and low fat. But I have replaced it with kefir- probiotic superfood. Instead of sour cream, I'm using skyr, a really thick Icelandic yogurt (yay- more probiotics!) And the mayo- how about using an Avocado mayo instead?
The rest was already healthy to begin with. Herbs- hello! Try and use fresh vs dried if at all possible. These days, herbs are prolific all year round. To me, dried herbs should be saved for cooking that involves heat, and lots of liquids. Adding dried herbs during the cooking time allows their flavours to be extracted. If you are adding herbs to a fresh base that will not be cooked off, opt for fresh instead.
I would use minced garlic and onion verses the powder version. Again for the same reasoning as above. But in a pinch, I'm not saying you can't use them.
Add a dash of apple cider vinegar and Worcestershire Sauce (the only 'questionable' ingredient as far as I am concerned) and you've got a pretty darn good dressing! And yes, if you up the amount of Avocado mayonnaise, and reduce the amount of kefir, you have a pretty good herb dip to go with a crudité platter.
Love Jen.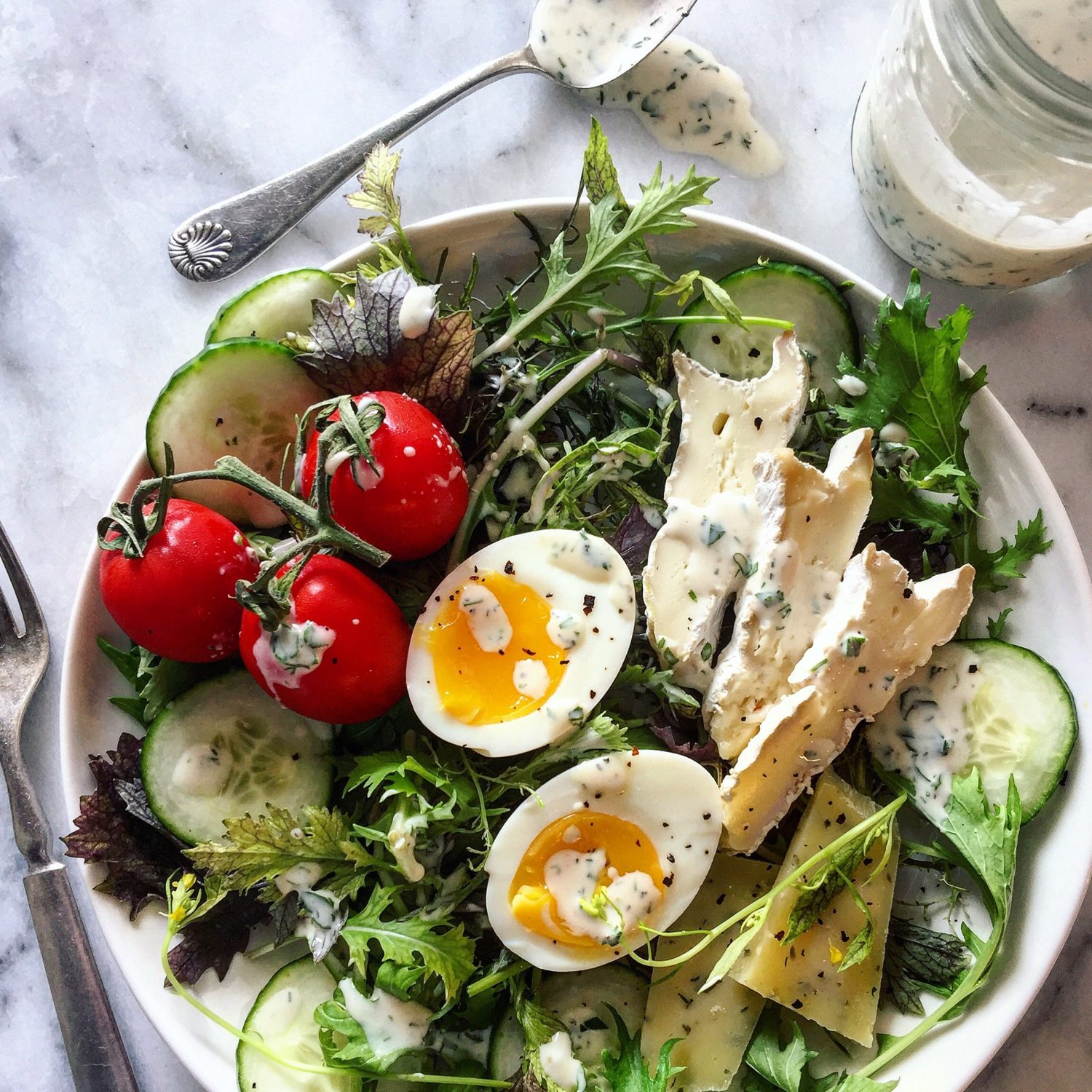 Kefir and Skyr Ranch Dressing
All the flavour, minus all the guilt! Perfect on a wedge salad, drizzled over grilled meats, or even as a base for chips or crudités.
Ingredients
1/3

cup

kefir

homemade or purchased

1/3

cup

skyr

make sure it is whole not low fat in any way

1/3

cup

avocado mayonnaise

2

tbsp

fresh parsley

finely minced

2

tbsp

fresh dill

finely minced

1/2

tsp

apple cider vinegar

1/4

tsp

coconut aminos or Worcestershire Sauce

2

tsp

garlic

finely minced

1

tsp

onion

finely minced

1/4

tsp

kosher salt

1/4

tsp

fresh cracked pepper
Instructions
Add the kefir, skyr and mayonnaise to a medium bowl. Whisk until smooth.

Add the parsley, dill, coconut amino, apple cider vinegar, garlic, onion and salt and pepper.

Stir till well blended. Taste and re-season, to your tastes.

Best served after it has been refrigerated for a couple of hours to allow the flavours to meld and the dressing to thicken slightly.

If you find the consistency too thick, you can always thin it with a touch more kefir.

To turn this into a DIP:

Omit the kefir. Increase the mayonnaise and skyr to 3/4 cup each. Increase the herbs by 1 tbsp each. And add an extra tsp each of the onion and garlic. And increase the coconut aminos to 1/2 tsp. Season with salt and pepper to taste.
SaveSave
SaveSave
SaveSave
SaveSave
SaveSave