This month for the cookbook club, we have been having so much fun exploring 'The Broad Fork' cookbook by Hugh Acheson.
His approach to cooking with fruits and vegetables, and the recipes he creates with them, are refreshing and a tad left of centre (in a good way!) I hope everyone who enjoys the sampling of recipes that I share this month will feel inclined to add his book to their cookbook collection. His writing style is witty and so approachable. By no means is it a vegetarian cookbook. Rather he includes meat in many recipes, but still to highlight the veggie in the recipe.
This recipe appealed to me because of its middle eastern sensibility. I already know I like lamb, cumin, yogurt and mint. A rice dish means that Jim will like it. But the addition of the kale, both simmered with the meatballs, and also garnishing the meal as uber crispy chips sounded unique and wonderful. I had kind of gotten tired of the whole 'kale chip' frenzy. But using lacinato kale and keeping them whole just upped the kale game for me.
The meatballs are simply amazing. So tender, juicy and flavourful. Here in Toronto we have a fabulous source for quality and organic meats, The Healthy Butcher. My go-to for just such a recipe. I'm sure you have just such sources around your neighbourhoods as well. The recipe is enough to feed four, so naturally I froze the uncooked meatballs. I really can't wait to thaw them and make this recipe again. Or… prepare the meatballs and kale and serve with the yogurt dip, wrapped in a pita! Oh yes, that's what I'm doing next time!!! Hugh includes a wonderfully seasoned yogurt dip that can be mixed in with the finished rice as you are plating the dish. I preferred to serve the dip on the side and drizzle it over the meatballs.
If you're in a kitchen, prepping kind of mood, making a whole batch of these to freeze for future meals is the perfect activity. I find making meatballs of any kind so therapeutic, don't you?!
This is a keeper of a recipe, and will be a go-to, regular on the rotation of recipes, for when I stare blindly at the cupboards deciding what to make. Filling, flavourful, and fun!!
Love Jen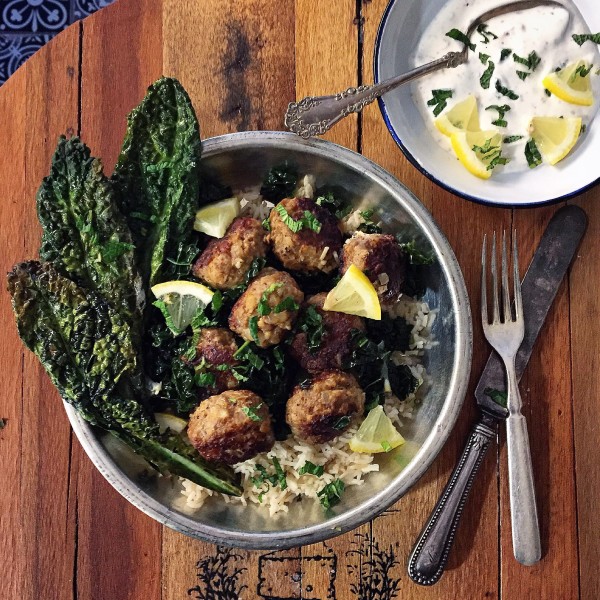 LAMB MEATBALLS WITH KALE AND CUMIN YOGURT
Juicy, flavourful meatballs and kale with a middle eastern flare. Served with a savoury and bright lemon and middle eastern spiced yogurt. Garnished with uber Kale Chips that make all other kale chips hang their heads in embarrassment
Ingredients
1/2

teaspoon

cumin seeds

1/2

teaspoon

fennel seeds

1/4

teaspoon

yellow mustard seeds

1/4

teaspoon

coriander seeds

1/4

teaspoon

crushed red pepper

1/4

teaspoon

chili powder

3

tablespoons

olive oil

, divided

1

cup

finely chopped yellow onion

2

garlic cloves

, minced

1/2

cup

fresh breadcrumbs

3/4

teaspoon

kosher salt

, divided

1

lb

lean ground lamb

1

large egg

, lightly beaten

kosher salt

2

cups

chopped Red Russian kale or other kale

(I used lacinato, shredded, with spines removed)

1/2

cup

unsalted chicken stock

1/2

cup

plain low-fat yogurt

1

tablespoon

fresh lemon juice

1/2

teaspoon

cumin seeds

, crushed in mortar and pestle (or can use ground)

2

cups

hot cooked Carolina Gold rice

(I just used basmati, as I didn't have the type of rice Hugh recommends)

2

tablespoons

pine nuts

, toasted

2

tablespoons

torn fresh mint leaves
ROASTED KALE LEAVES
12

Lacinato kale leaves

(use the smaller leaves from a bunch as the ribs will be more manageable to eat. If you want, from the backside, run a sharp knife along the rib to remove unnecessary thickness)

1.5

tbsp

olive oil

1/2

tsp

kosher salt
Instructions
Combine first 5 ingredients in a small cast-iron pan over medium heat; cook 5 minutes until toasted and just beginning to smoke, stirring occasionally. Remove from heat. Place spice mixture in a spice or coffee grinder; process until finely ground. Add the chilli powder. Set aside

Return pan to medium heat. Add 1 tablespoon oil; swirl to coat. Add onion; cook 5 minutes or until tender, stirring occasionally. Add garlic; cook 2 minutes, stirring frequently. Remove from heat; cool completely.

Combine spice mixture, onion mixture, breadcrumbs, a couple of good pinches of salt, lamb, and egg in a large bowl. Do not overwork. Shape mixture into 16 meatballs. Heat a large nonstick skillet over medium-high heat. Add remaining oil to pan; swirl to coat. Add meatballs; cook 3 minutes, on each side.

Add kale, stock, and some more salt to taste; bring to a boil. Reduce heat, cover, and simmer 4 minutes. Remove from heat; let stand, covered, for 5 minutes. Check seasonings- salt and pepper if needed.

Combine yogurt, lemon juice, and ground cumin in a small bowl. Spread 2 tablespoons yogurt mixture in bottom of each of 4 shallow bowls. Top with 1/2 cup rice and 4 meatballs. Sprinkle evenly with pine nuts and mint.
ROASTED KALE LEAVES RECIPE
Preheat oven to 400F

In a mixing bowl, dress the kale leaves with the olive oil and the salt. Arrange the leaves on a baking sheet leaving space between each one.

Bake for 5-7 minutes until they are lightly browned and quite crisp. Carefully remove from the sheet and move to a cooking rack. Cool for 10 minutes.
Recipe Notes
Instead of serving the yogurt in the rice, I served it separately as a dip for the meatballs. Serve with the most amazing Kale Chips ever!
The chips can be eaten the same day, or stored in an airtight container for a couple of days.
By Hugh Acheson Adapted from The Broad Fork: Recipes for the Wide World of Vegetables and Fruits
SaveSave
SaveSave