It's the end of April, and as far as I'm concerned Ice Cream Season has started again. I know, for some of you out there, ice cream season is a misnomer- the season never ends. And yes, I do agree.

I will eat ice cream any time of the year. But there is something about a cone of ice cream, gelato or sorbet, making sure to get licking at it before it starts dripping onto your hand, that just screams Summer!
Here in Toronto there are ice cream parlours and boutiques that take the Winter off, so when you see their doors open again, you know that shorts and sundress season is upon us. In our neighbourhood, Tom's Dairy Freeze is an institution with lineups that go down the street on a hot humid evening. It's open. Bang Bang Ice Cream in the Ossington neighbourhood opened up again the other week, to excited devoted fans- they have the most eclectic and avant guarde combinations for flavours. A personal favourite is the London Fog ice cream Affogato.
I made up my favourite Lemon curd a the other week. And while I do just like sitting with the jar and a spoon and Netflix, I did try to use it in some recipes as well. Among them, some Blueberry Lemon Muffins with an almond streusel topping. I'll post that recipe next!
But what I really wanted to try was a lemon ice cream. It's a fresh change from the richer gelatos I made last year: the Masala Chai Gelato and the Ginger Gelato which were both such creamy, flavourful hits. I did come across a lemon recipe in my Pinterest trolling. Of course, not wanting to leave well enough alone, I thought to myself, what else could I add to this to make it even more memorable? Eureka! Poppyseeds! Since lemon and poppyseeds go together like, well, strawberries and chocolate, apples and cinnamon, maple and bacon…it was a natural for this ice cream. And while this just makes me so happy right now, wouldn't this be a kiss of sunshine in January?
It is a straightforward custard base, with poppyseeds and some of the lemon curd added after it has chilled. Then, once it is finished in the ice cream maker, the rest of the curd is swirled throughout. The curd is really what amps up the flavour. You may not notice the swirls of curd once you serve it, but you will surely taste it! My curd recipe is here. But it's the poppyseed that are truly the pop of surprise: just enough of a crunch to make each bite a treat.
I did up the amount of lemon zest from the original recipe, as well as added some lemon bitters. I really think that if you are going to make something that is supposed to be lemony, just commit to it and go all out. I would rather the end result be a tad tart than just sweet. Lemons are tart, not sugary, so why try to fight them? Embrace the tart. Only one question left, cone or cup?!
Love Jen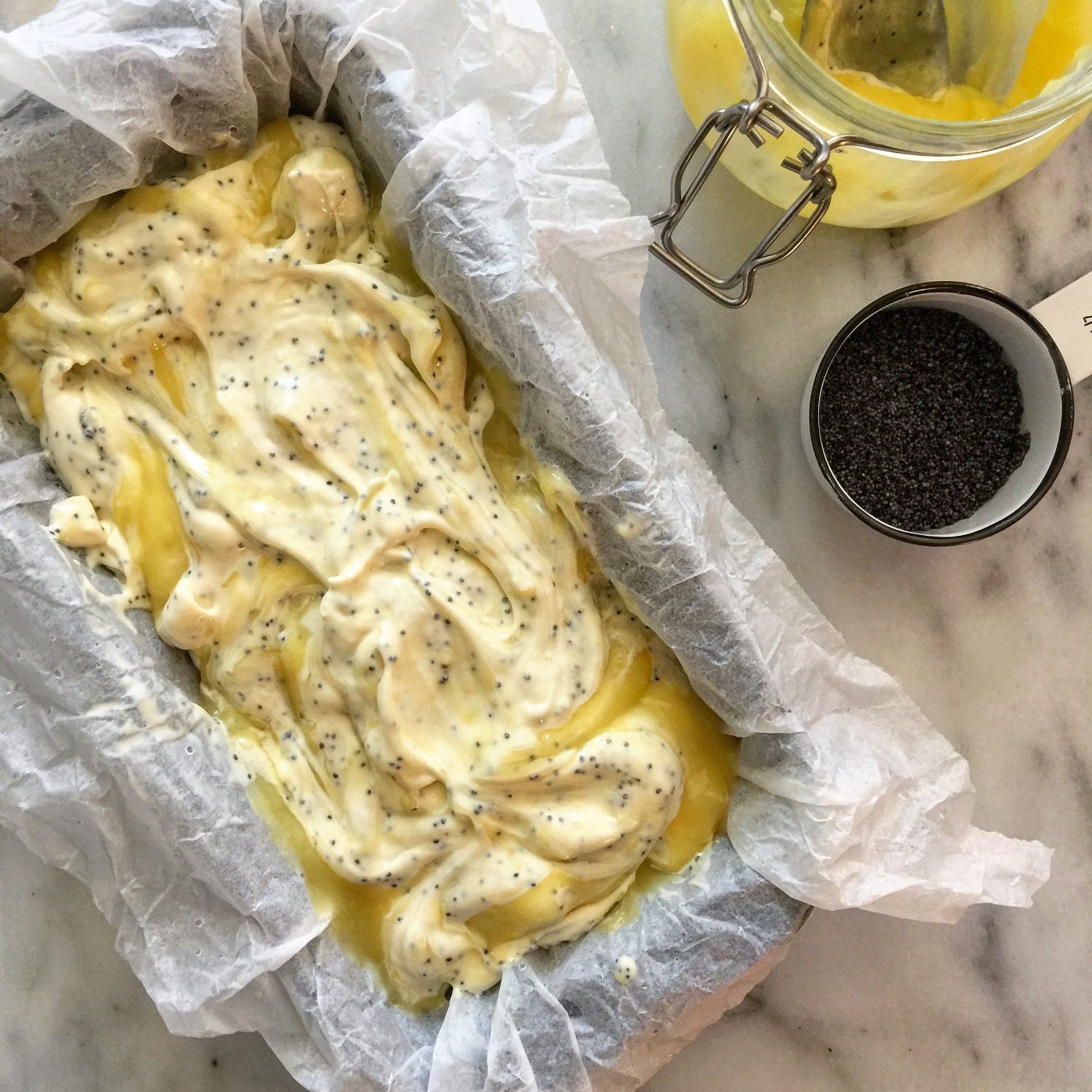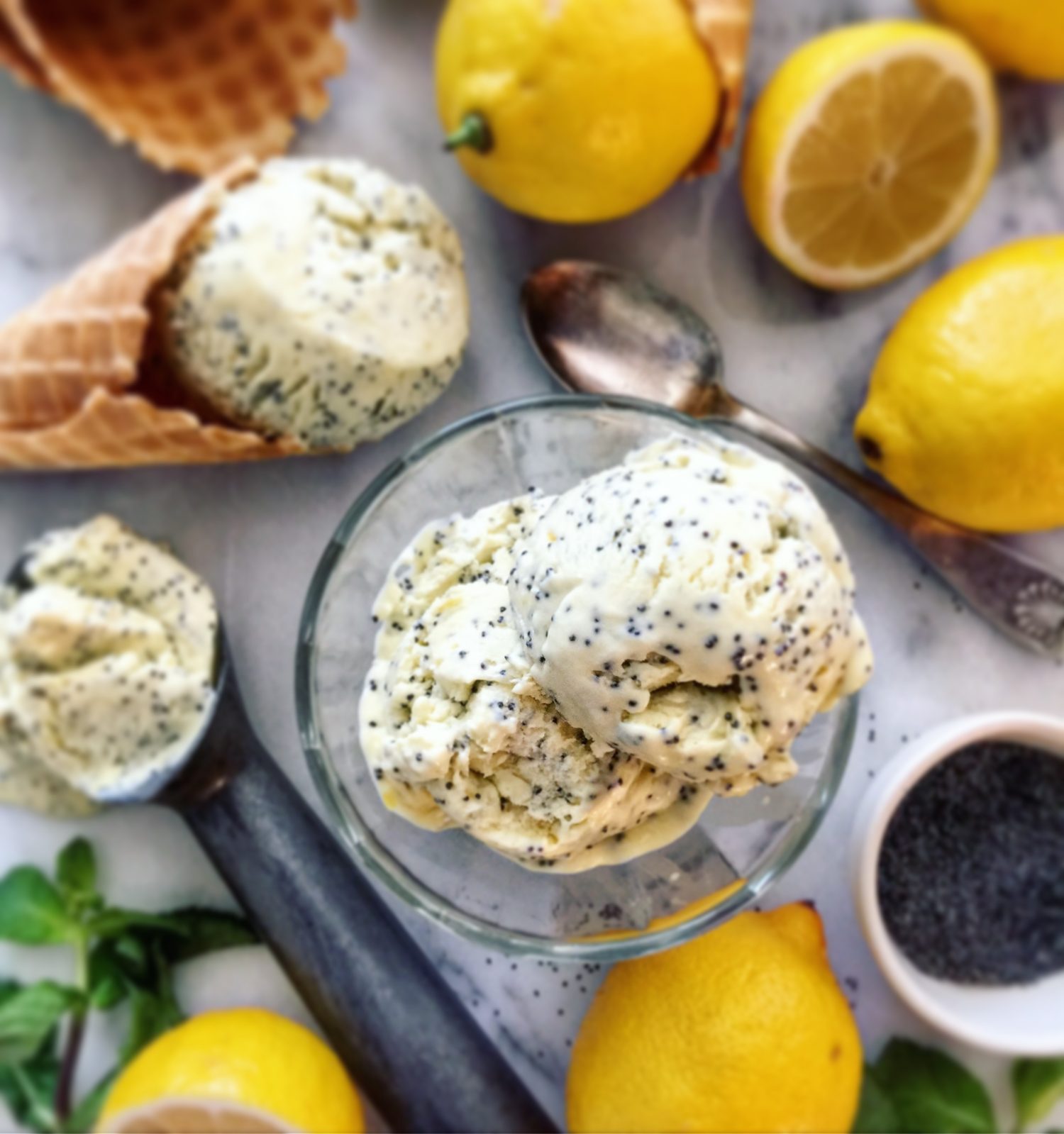 Lemony Lemon Curd Poppyseed Ice Cream
The taste of summer in a cone. Sunshine personified, with the added fun of poppyseed. A classic combo is now trapped in a creamy frozen custard
Ingredients
1 1/2

cups

whipping cream

1 1/2

cups

whole milk

5

large free run egg yolks

6

tbsp

granulated sugar

1

tsp

vanilla extract

1

tsp

lemon extract

zest from one large lemon

1

tbsp

cornstarch or arrowroot starch

1

cup

lemon curd

see my recipe

1/4

cup

poppyseeds
Instructions
Place the cream and milk into a large saucepan on a medium heat.

Heat until just before the liquid boils, you will see little bubbles form around the outside rim – this is known as the scalding point, once reached remove from the heat.

In a large bowl whisk together the egg yolks, sugar, extracts, zest and corn flour until pale and thickened.

With the whisk still running on low, slowly pour the hot cream into the egg mixture.

Tip the entire mixture back into the saucepan, place over a medium/low heat stirring constantly until it thickens and coats the back of a wooden spoon. The temperature should be 170F when tested with an instant read thermometer.

Remove from the heat.

Pour the hot custard through a sieve into a large bowl.

Place cling film directly on to the surface of the custard to prevent a skin from forming. Leave to cool and then chill in the fridge. No less than four hours and even overnight is fine.

Once chilled, add half of the curd and all of the poppyseeds to the custard. Stir. Then transfer to a jug.

Set up your ice cream maker

Pour in the custard leave to churn.

When the ice cream is soft but can hold its shape stop the ice cream maker.

Transfer the ice cream to a freezer proof tub.

Spoon the remaining lemon curd on to the ice cream.Use a spoon to gently ripple the lemon curd through the ice cream.

Resist the urge to just dive in with a spoon, as this really tastes better once it is properly frozen.

To serve, remove the tub from the freezer 15 minutes before scooping to allow it to soften.

SaveSave
SaveSave