It's July. Summer is in full swing. Is it just me, or does it seem like summer took forever to find us, and now it feels like it's already half way done? Aaagghh!
Typically, I loose my zest for cooking right about now. It's usually just too muggy and hot to pull out the pots and pans and cook big meals. The sun and heat seem to drain my appetite, and suddenly we're surviving on salads and some form of grilled meat on the bbq. But so far, this season, it hasn't been the case. We haven't really had a run of hot and heavy days that make the idea of turning on the stove unbearable. So until that happens. I will make the most of my kitchen.
We've started a new cookbook for the Rainy Day Cookbook Club with Deborah Balint. She has brilliantly chosen 'Eat Delicious' by Dennis Prescott for this month. It's brilliant on a few levels. I already had the book! Everything I've made from it has turned out perfectly. The photography is uber amazing. He's a fellow Canuck! And is super friendly on top (having met him personally, and listening to him speak on improving our own photography skills) His book has something for everyone. Breakfasts; BBQ: Burgers, Pizzas; Asian and Vegetarian, Chicken Wings (a personal favourite) and even some stellar desserts. I hope, that after sharing a few of my favourite recipes from the book, you may be inspired to grab a copy for yourself and start cooking!
For my first official recipe for the cookbook club, I decided to try out Dennis' Maple Bacon Scones. I adore bacon in all it's forms. And maple syrup, well, come on- Canadians are weaned on it! But together, they are beyond amazing. It's the whole sweet 'n salty, crisp and smooth, tension of contrasts that is such a winner.
His scone base is wonderful. Tender, just sweet enough, and easily switched up if you want to use it for other applications. He calls for 1/2 cup of heavy cream in the recipe. I had some creme fraiche in the fridge that needed using up, so I subbed in this, as well as about 2 tbsp of the cream to make up the total amount.
He has us bake off 8 double smoked bacon strips glazed with maple syrup. Do you realize how hard it was not to eat those finished strips before I could crumble them up for the scones!!!? But I did. And almost baked off another batch just for me. These, plus chopped walnuts (or pecans) and lemon zest get added to the batter. I went with the pecans because my bag of walnuts was at the bottom of the freezer, and I was too lazy to move everything to get to them. The pecans were great. But I think the earthier walnuts would appeal to me even more- there's something about their slight bitterness that I like.
While the finished scones are cooling on a rack, the glaze is whipped up. This can be done in a bowl with a spoon if you don't feel like dirty-ing up your mixer again. Just icing sugar, maple syrup, melted butter and vanilla extract. I love the butter addition- I'm weird- I wish I had salted butter on hand, but I didn't so I added just a smidgen of kosher salt, to bring out the buttery-ness in the glaze. That salt, plus the sprinkling of bacon on the glaze made my salt tooth very happy!!
It's a great scone to have on hand for breakfast or brunch. But a little prep is needed. Because you are baking and then cooling the bacon, all of which can take about almost an hour, I would do this ahead of time next time I make them. Even baking them off the night before, and then crumbling them in the morning before starting on the batter will help out immensely. Then you won't have to wait as long to actually eat one of these beauties. They kept very well in a sealed container on the counter for the next day. Dennis tells us that they will keep this way for yet another day (I wouldn't know- they were all gone!)
These are perfect year round. I can see serving these on an Autumn brunch table with steaming hot cafe au lait, and eggs benny etc. Truly they are 'awesome'! Or how about in the evening with a bourbon!? Oh yeah baby!
Love Jen.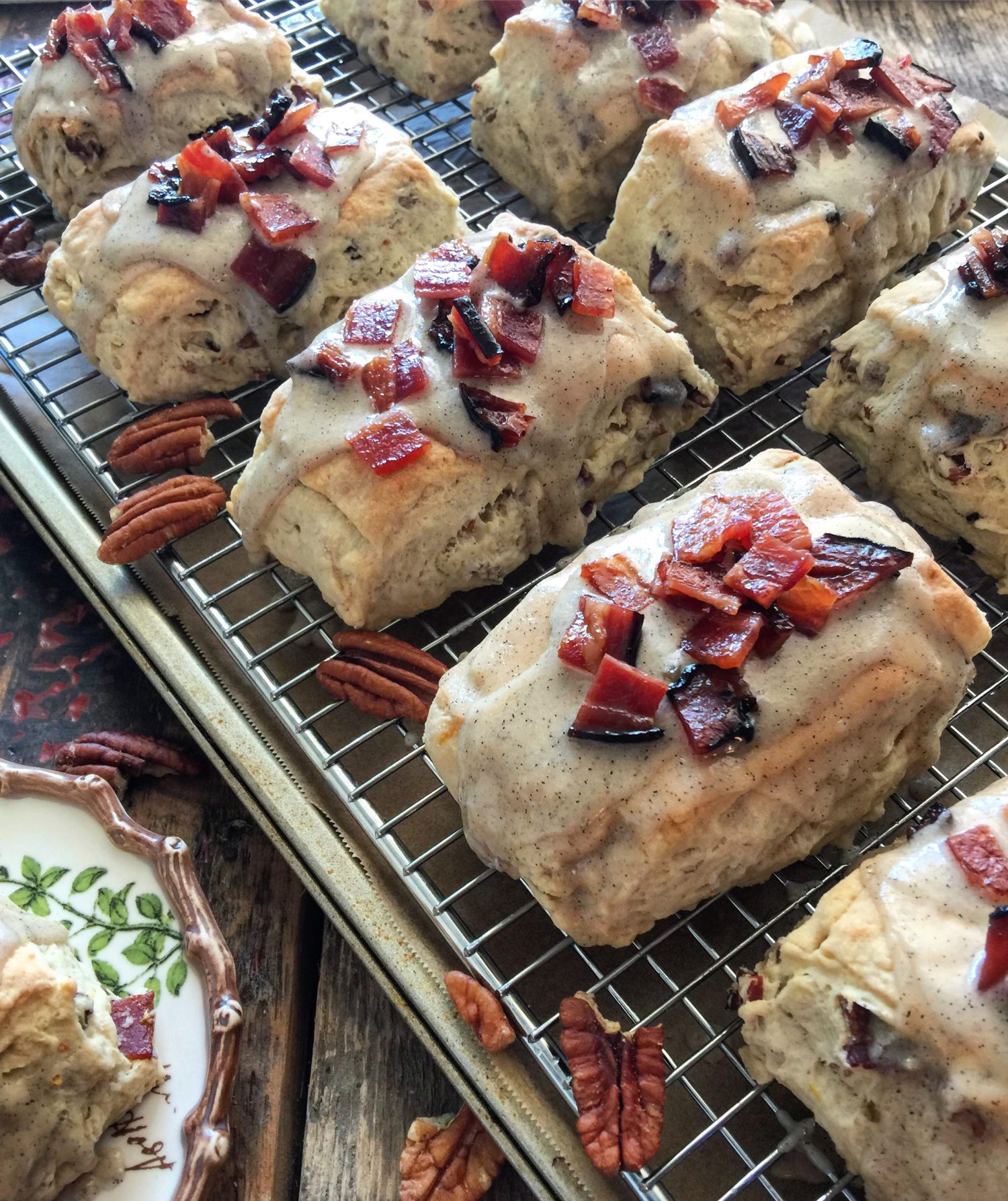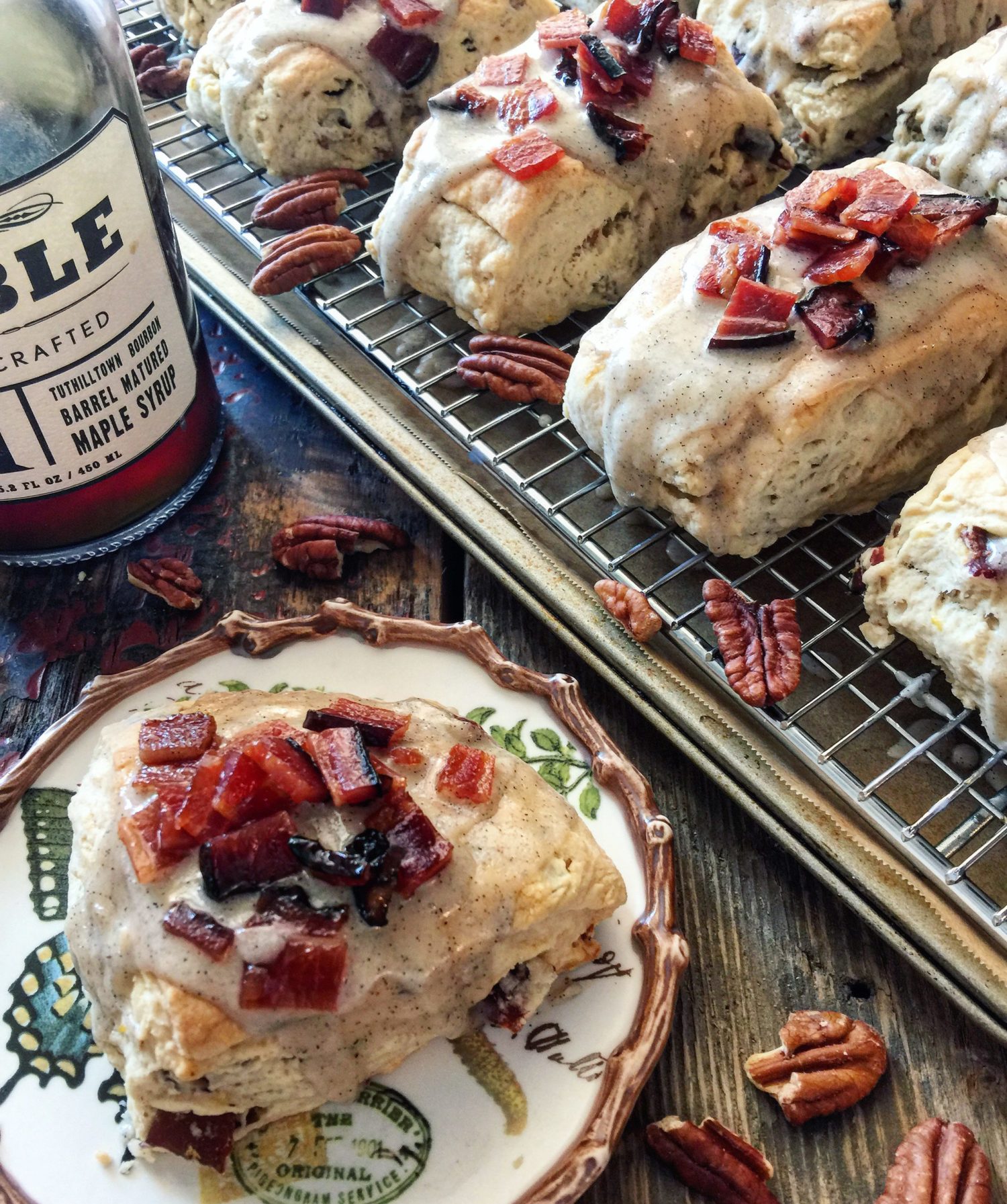 Maple-Bacon Scones
One of the best flavour combos ever, maple syrup and bacon get married in and on a lovely tender scone, perfect for breakfast or as treat with a coffee. Or bourbon!
Total Time
1
hour
30
minutes
Ingredients
Scones
8

smoked bacon slices

1/2

cup

plus 2 tbsp pure maple syrup

3

cups

AP flour

, plus more for dusting

1 1/2

tsp

baking powder

1/4

tsp

baking soda

1/2

tsp

kosher salt

1/2

cup

(1 stick) cold butter, cut into 1/2 inch cubes

1/2

cup

chopped walnut pieces

, or pecan pieces

2

tsp

lemon zest

1/2

cup

heavy cream

1

large egg
Maple Glaze
1

cup

confectioners sugar

3

tbsp

pure maple syrup

3

tbsp

melted butter

1/2

tsp

pure vanilla extract
Instructions
Preheat the oven to 350F

Line two baking sheets with parchment paper

Lay the bacon strips on one of the sheets and base them with 2 tbsp of the maple syrup. Bake 25-30 minutes, turning halfway through until nice and crispy. Transfer them to a wire rack to cool for 20 minutes, flipping them half way through so that the sugar doesn't make them stick to the rack.

Into the bowl of a stand mixer fitted with the paddle attachment, sift the flour, baking powder, baking soda and salt. Mix briefly. Add the cold butter and turn the mixer on to low and beat for 20 seconds or so.

Crumble 4 strips of the bacon into the bowl.

Add the walnuts and lemon zest and mix together.

In a medium bowl, whisk the cream and egg and remaining 1/2 cup of maple syrup. Pour this mixture into the dry mixture and beat on medium speed until the dough just comes together, about 1 minute. Do not overwork the dough.

Transfer the dough onto a floured surface. Dust the top of the dough and use a rolling pin to 'pound' it softly into a 12 inch square (or there about)

Fold into thirds, and then take this folded letter shape and fold in half. Gently pound and then roll into another 12 inch diameter and about 1 inch thick. Don't overwork- just do what you need to, to get this shape.

Slice it into 8 pieces, like a pizza.

Transfer these pieces to the second parchment lined baking sheet.

Bake for 25-30 minutes, or until golden brown and the kitchen smells divine.

Transfer to a cooling rack for 20 minutes.
Meanwhile, make the Glaze.
In a bowl (or using the stand mixer with the paddle attachment again) beat the confectioners sugar, maple syrup, butter and vanilla, along with 1 tbsp of water until smooth.

Crumble the remaining 4 bacon strips into small pieces.

Top each scone with 2 tbsp of the glaze and then sprinkle each with some of the candied bacon.

These are best served immediately. But they will last another 2 days if kept in an airtight container at room temperature
Recipe Notes
I cut my scones into rectangles and cut out 10 scones. I thought it best not to make them too large, since they would be rather rich! I'm glad I did. More to share, and the perfect size with a cup of coffee!
SaveSave
SaveSave
SaveSave
SaveSave
SaveSave
SaveSave