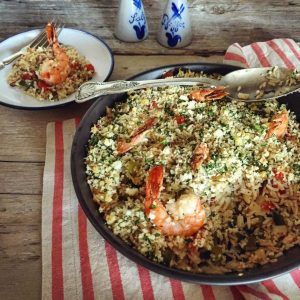 This is one of those recipes that just screams summertime. I'm really not sure why, since it can be made any time of the year. But I always seem to save it for the warmer months. I know part of it has to do with the fact that there is lemon in it. Which is silly as well, since lemons are available year round, and most citrus is actually more in season in our North American winter.
But it just has one of those vibes, if you know what I mean. Between the tiger shrimp, the fresh garlic and lemon, the herbs and tomato, and the fact that it tastes just as good at room temperature (almost like a savoury rice salad) it feels like summer on my plate.
Speaking of summer, we were in Chicago last week- summer was in full force there. Just a few hours south, but what a difference. Hot, humid, and freaky thundershowers. Typical summer weather around the Great Lakes. But it was amazing to walk around the city, and actually need to pull my hair off my neck because it was sticky!! You must think me nuts! But our spring was lousy- cool, dismal, only the odd sunny day, and I was wearing tights well into May- just ridiculous! So to have a sweaty neck was such a welcome sensation! Get back to me in July, I'll sing a different tune…
And Chicago was the great city that it is: friendly, down to earth, stunning architecture, quirky eateries in fun and laid back neighbourhoods. We love visiting. This time around we ate at BoHo, a new twist on Bohemian cuisine. A fabulously curated menu of drinks, salads, mains and desserts. Traditional (but not!) Chicken Paprikash and a Spaetzle with hen of the woods, asparagus puree and caramelized onions were our choices- loved them. Got a kick that they used pumpernickel for their salad croutons. And the strudel was amazing. The vibe was quirky and decor was young and yet homey at the same time. The second evening meant dinner at Gene and Georgette's, a Chicago institution since 1941. It was recommended to us by Teri Turner, the fabulous cook behind the No Crumbs Left food blog. You must check her out. This eatery was ruly a blast from the past. A two story establishment with wood and leather decor, a wall dedicated to celebrity clients, and waiters (all men of a certain age) formally decked out, white vests and all. The menu was equally Old School. A true steak house, with an Italian history. I had to order the wedge salad: iceberg lettuce wedge, tomato and crumbled bacon with a side of blue cheese dressing (hello 1953!!!) Jim's bone-in ribeye and my veal parmigiana were tender beyond belief. And of course the servings were huge! But it was totally worth it. I hope if you are ever visiting Chicago, you can visit either of these places, we totally recommend them!
Often I'll make this shrimp and rice bake, not as main, but as a side. It combines starch and veggies, so, add some protein like grilled chicken or steaks, kabobs or ribs, and dinner is done.
This recipe originally came from an old issue of my Food and Drink (Canadian, Ontario sponsored) magazines. A while back, in preparing for one of our moves, I finally went through all those cooking magazines and cut out the favourite recipes. I carried it with me from dwelling to dwelling, and now I'm finally getting it on the blog as well.
How many of you who love your computer, or are fellow food bloggers, still keep hard copies of your recipes after you've memorialized them in the cloud? There's something holding me back from getting rid of all my recipes, I guess I fear some massive crash, and then all my work will be gone, including this recipe. So, it's still on a folded up piece of paper in a recipe box!
I hope you like this recipe- it works well as leftovers the next day- and no heating required. And while an amount of shrimp is specified, I've found that if you want to serve it as a side, then counting about 3 shrimp per person is plenty. And whether you make it now, just as our weather is finally in Summer mode, or you are down in Australia where Autumn is in full swing, I hope you feel that it was summer on your table for even just a little while 🙂
Love Jen
Mediterranean Shrimp and Rice Bake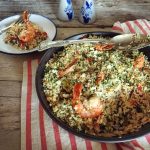 A lovely fresh dish where shrimp are nestled and baked in a rice and veggie mixture with the tang of lemon and the kick of hot pepper flakes. Perfect as a main or a side for a group.
2 1/2 cups (625 ml) chicken or vegetable stock
1 bay leaf
1 tsp salt
1 1/4 cups (300 ml) long grain white rice
2 tbsp (30 ml) olive oil
1 medium onion (chopped)
3 garlic cloves (minced)
2 tsp dried oregano leaves
1/2 tsp hot chilli flakes (or more to taste)
3 roma tomatoes (seeded and chopped)
1 large green pepper (chopped)
1 lb large raw shrimp (peeled, deveined, tails left on (or you can count: I usually prepare 3 jumbo shrimp per person))
1/4 tsp kosher salt (or to taste)
1 tsp cracked pepper
3/4 cup soft fresh breadcrumbs (or panko)
3/4-1 cup crumbled feta cheese (depending on how salty the feta is and how much you like feta!)
3 tbsp chopped fresh parsley
Place stock and bay leaf and salt in a medium saucepan and bring to a boil. Add rice; return to a boil. Reduce heat. Cover and simmer for 20 minutes, until rice is just tender. Remove from heat and let cool to room temperature. Remove bay leaf.
Heat oil in a large non-stick skillet over medium heat. Cook onion, garlic, oregano and hot-pepper flakes, stirring, for 4 minutes, until softened.
Add tomatoes and red pepper. Cook for 3 minutes, until softened. Stir in rice and the salt and pepper (taste before salting, add if needed, but remember that feta will be joining the dish) and spread in a greased 10-cup (2.5 L) shallow casserole dish. If making ahead, cover and refrigerate.

Preheat oven to 375°F (190°C).

Bury shrimp in rice mixture. For the feta crumb topping, combine bread crumbs, feta and parsley in a bowl; spread over rice mixture. Bake in oven for 25–30 minutes, until shrimp are pink and topping is light golden.
It easily serves 4 to 6 people as a main. If you are serving it on the side, it can go even further. Depending on whether it is a main or side can also affect how much shrimp you use. I would rather get large, tiger shrimp, and serve between 3-4 per person, than have more smaller shrimp. But work with what is available
Reader Interactions