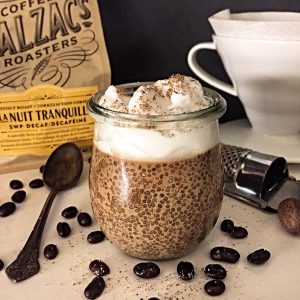 Chia Pudding is has become a mainstream treat. And a healthy one at that. There are so many variations on the theme that its hard to find a combo that hasn't been done yet. It's great to be able to combine a few lovely little ingredients in a sweet little jar, put the jar in the fridge and wake up the next day to breakfast or a sweet indulgence. When you know the next day is going to be a busy one, how lovely to be able to grab that little tub of goodness and a spoon and head out the door.
I've done all the usual vanilla, chocolate, apple pie spice, berry etc combos. And been happy with them all. Yesterday I was thinking that it's time for another chia pudding for brekkie. But what could I do to jazz it up? Then the proverbial lightbulb went off. How about coffee? And if I used coffee, then why not chocolate as well? Seems natural. Mocha!! So I put it all together, leaving space at the top of the jar for the customary foam that crowns any good cappuccino. I was actually giddy about the thought about digging into this little munchkin in the morning.
So, yes, a cappuccino mocha chia pudding. Or as a friend commented when she saw my creation on Instagram, "It's a Cappuchia!" I like that, don't you?! Coffee you need a spoon for. Step aside Starbucks, I don't need you for my java fix today. And to keep it healthy, it isn't a Caramel Whip Macchiato chia pudding. 'Cuz that's just silly. Right?….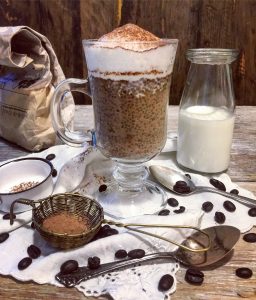 Mocha Chia Pudding
A kick has been added to your chia pudding. Coffee and chocolate party with chia seeds to create a fabulous new take on breakfast.
Ingredients
2

tbsp

chia seeds

more if you would like the pudding to be firmer, or you will be topping it with yogurt

1-2

tsp

coconut palm sugar

to taste

1/2

tsp

instant coffee

1/2

tsp

cocoa powder

1/4

tsp

cinnamon

1/2

cup

almond milk
Instructions
Combine all the dry ingredients well in a small jar or cup.

Add the almond milk and stir with a spoon. Give a little taste to ensure that you like the sweetiness.

Cover and set in the fridge. Return in about 10 minutes just to give it another stir to move all the seeds evenly throughout the liquid. This stirring will loosen up the chia seeds from clumping together.

Leave in the fridge overnight.

The next morning. froth up some fresh milk. (I actually use dairy milk since it froths better than almond milk) Either in an electrical brother (I use my Nespresso, which is fabulous) or with a wand. Or any other way you know how!

If you don't want to top it with milk, try vanilla yogurt.

Sprinkle with cinnamon, cocoa powder, or nutmeg. Or all of the above. Not judging.

There's your coffee and breakfast in one!