The soup with the funny name. Cue Seinfeld 'Soup Nazi" episode. Kramer's favourite soup.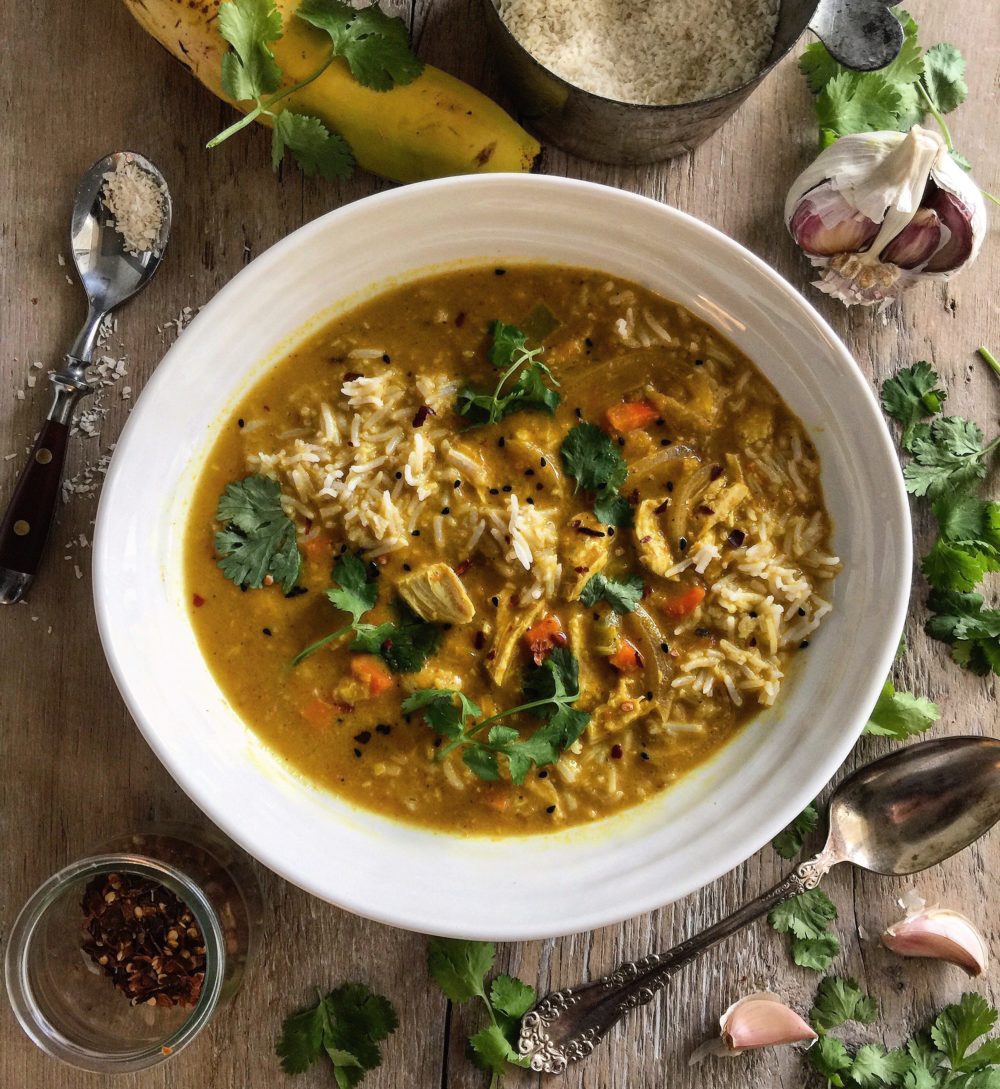 I totally understand why. The wonderfully golden, spicy, curried soup with the most intriguing ingredients. The blend of spices, veggies, fruit (in my case, banana) coconut, is divinely irresistible. When I make a pot, there better be leftovers, or Jim will have something to say about it.
Everyone has heard of Jewish penicillin: Chicken Noodle Soup. The soup that we crave when we're under the weather. And it's even better when someone else makes it for us. Well, for about the last 15 years, whenever one of us is feeling a cold coming on, it's tradition to head straight to our favourite Indian/Pakistani restaurant. (okay, if it's worse than a cold, then the meal turns into take out). There is something about the extra hot chilli peppers, cayenne, and whatever other peppers they sneak into the dishes that seem to kill any germs that are temporarily hanging out in our throats. Fine, it's most likely psychosomatic, but we do feel better. And if Indian cuisine (fine: British interpretation of Indian cuisine!) has a penicillin of it's own, it is Mulligatawny Soup. Even the name, Tamil in origin, means Pepper Water. It really warms you from your tongue right down to your belly 🙂
I made this soup for a group once, not knowing how adventurous they were. I probably dumbed it down, heat wise. But I shouldn't have been so conservative. The response was a resounding "May I please have some more" a la Oliver Twist. From that day on, there were plenty of requests for the 'curry chicken and rice soup'. My number one fan is still Jim- he gets excited if he finds out that Mulligatawny is on the menu. And if it isn't, he will remind me that it has been too long since I've made it. And he compares all other versions to this one- maybe a tad unfairly. But hey, he knows a good thing!!
Don't be surprised by the odd variety of ingredients. The banana and shredded coconut are there for balance, smoothness and just a hint of flavour, definitely in the background though. And this is a marvellous soup to adjust for Vegetarian and Vegan diets. The chicken stock can be replaced with vegetable stock. Serve this over red lentils instead of chicken. Play with your rice selections. And some toasted nuts like cashews or almonds would make a wonderful garnish. Or how about dicing an apple and sautéing it in butter till you have lovely browned 'croutons' to top your bowl of soup with?
Love Jen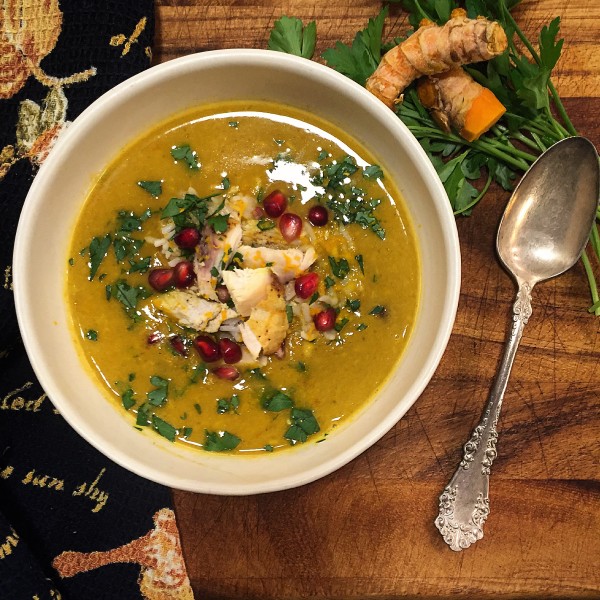 MULLIGATAWNY WITH A KICK
The perfect curried, spicy Indian soup to warm you down to your toes!
Ingredients
4

garlic cloves

, 2 peeled, 2 minced

1 1/2

tbsp

fresh ginger

, minced

1/4

cup

water

3

tbsp

butter

2

medium onions

, chopped

1

tsp

tomato paste

1/2

cup

shredded unsweetened coconut

1/4

cup

AP flour

1 1/2

tbsp

curry powder

1

tsp

cumin

1/2

tsp

cayenne pepper

(feel free to use more if you can handle it!)

7

cups

low sodium chicken stock

(or vegetable stock if vegetarian)

2

medium carrots

, peeled and chopped

1

celery rib

, chopped

1

medium very ripe banana

, peeled, and cut into 1" pieces

kosher salt and cracked pepper

2

chicken breasts

, roasted or grilled, shredded up into bite sized pieces (omit if vegetarian or vegan)

2 2/3

cups

cooked basmati rice

(approx 1/3 cup per person)

Or

, 1/3 cup cooked red lentils per person can replace the chicken if you are serving this as a vegetarian soup

Plain yogurt for garnish

Chopped cilantro for garnish
Instructions
Puree the 2 whole garlic cloves, 2 tsp of the ginger and 1/4 cup water in a food processor or blender till well blended. Set aside.

Melt the butter in a large dutch oven over medium heat. Add the onions and tomato paste, stir until onions are softened and golden, around 3 minutes.

Stir in the coconut and cook until fragrant, about 1 minute. Add the minced garlic, the remaining 2 1/2 tsp of ginger, flour, curry powder, cumin and cayenne. Stir until evenly combined. Whisking constantly, gradually add the chicken stock.

Add the carrots, celery, and banana to the pot. Increase the heat to medium high and bring to a boil. Cover and reduce the heat to low and simmer until the veggies are tender, about 20 or so minutes.

Add the mixture from the food processor to the pot. Puree the entire soup with an immersion blender or use a stand blender. If using a stand blender, fill the glass container no more than 1/3 full (it is hot, and you don't want the heat to push the lid off as you start the motor. Best to cover the lid with a towel and hold it down well before you start the motor)
TO SERVE
Place some rice and chicken at the bottom of the soup bowls, and slowly fill the bowls with soup.

Garnish with a dollop of yogurt and sprinkling of cilantro.

Vegetarian option: place cooked red lentils (and rice if so inclined) at the bottom of the soup bowl. Garnish to your pleasure.
Recipe Notes
This is a versatile soup. You can used cooked turkey instead of chicken. How about roasted curry spiced chickpeas as a garnish? Or take an apple, dice it into 1/4" squares and saute in a pan with some butter until browned on all sides, and garnish with this alternative crouton!
If there are only 4 of you at home, this will definitely give you an entire second meal. This is why it is good to make up the soup, and cook the rice separately. This way you can make more rice the second day (as opposed to having it sit in the soup and making it thicker overnight.)
If there are just two of you, cut the recipe in half. You'll still have plenty for the next day.
This will keep as long as you don't add the rice to the soup. Refrigerate in separate containers. Adapted from Cooks Illustrated
SaveSave
SaveSave