Aren't grilled cheese sandwiches just the best?! An indulgence, a life-saver,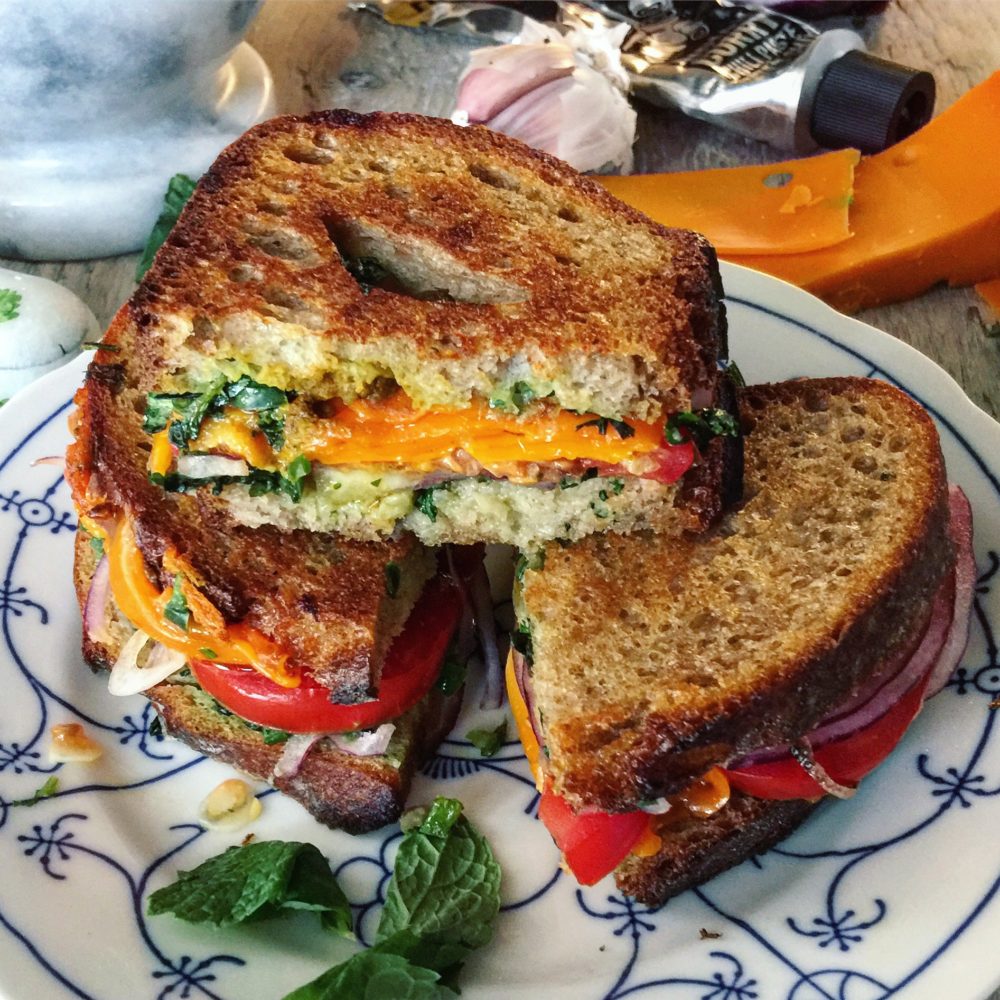 and comfort food all at the same time. When you are hungry and don't know what to make (or don't feel like really cooking) the grilled cheese sandwich always comes to the rescue.
And don't underestimate it's ability to make everyone happy. There is something so amazing about grabbing a half of a grilled cheese sandwich off the plate, and watching the cheese ooze languidly back onto the plate. That string action is what dreams are made of! Tell your family that you're making grilled cheese sandwiches for dinner and you will receive a chorus of approval. It doesn't matter how old we are, ooey gooey cheese trapped between crunchy bread is just plain super!
So, when I came across a recipe for a really fancy grilled cheese sandwich in this month's cookbook, Simple by Diana Henry, I just couldn't resist. It's a book that runs the gamut of ethnic flavours and inspirations, many of them Indian, Persian or Southern European in origin. And her recipe for this fancy grilled cheese sandwich: Mumbai Toastie! I guess Toasties are what the Brits call a grilled cheese sandwich. Or a grilled cheese sandwich is what we call a Toastie!!
Naturally there is cheese. But beyond that she really gives us a party in our mouths with her recipe. She has us making a fresh chili and herb chutney that is superb. You combine chopped green chili, cilantro, mint, garlic, salt, sugar and lemon juice. It's Ah-mazing!! And then, for the sandwich itself, it's not just a couple of slices of pre-wrapped cheese. Nosiree Bob! You've got a tomato slice, red onion slices, and a combo of Indian spices. At this point, I decided to use my Entube Curry paste instead, for the simplicity of it all.
You spread the chutney on both sides of the sandwich. And then layer all of the other components. And close. Because this sandwich is a tad more bulky, instead of buttering both outside sides, I decided to butter the pan instead. And then I gently grilled each side till golden brown and the cheese was a melting mess!
It was soooo good. It's hard to go back to a basic grilled cheese sandwich or Toastie after this. The chutney is just brilliant. And even if I don't have the time to make it on occasion, I will definitely be adding curry paste, and the tomato and onion to my sandwich from now on. Yep, real good.
Love Jen.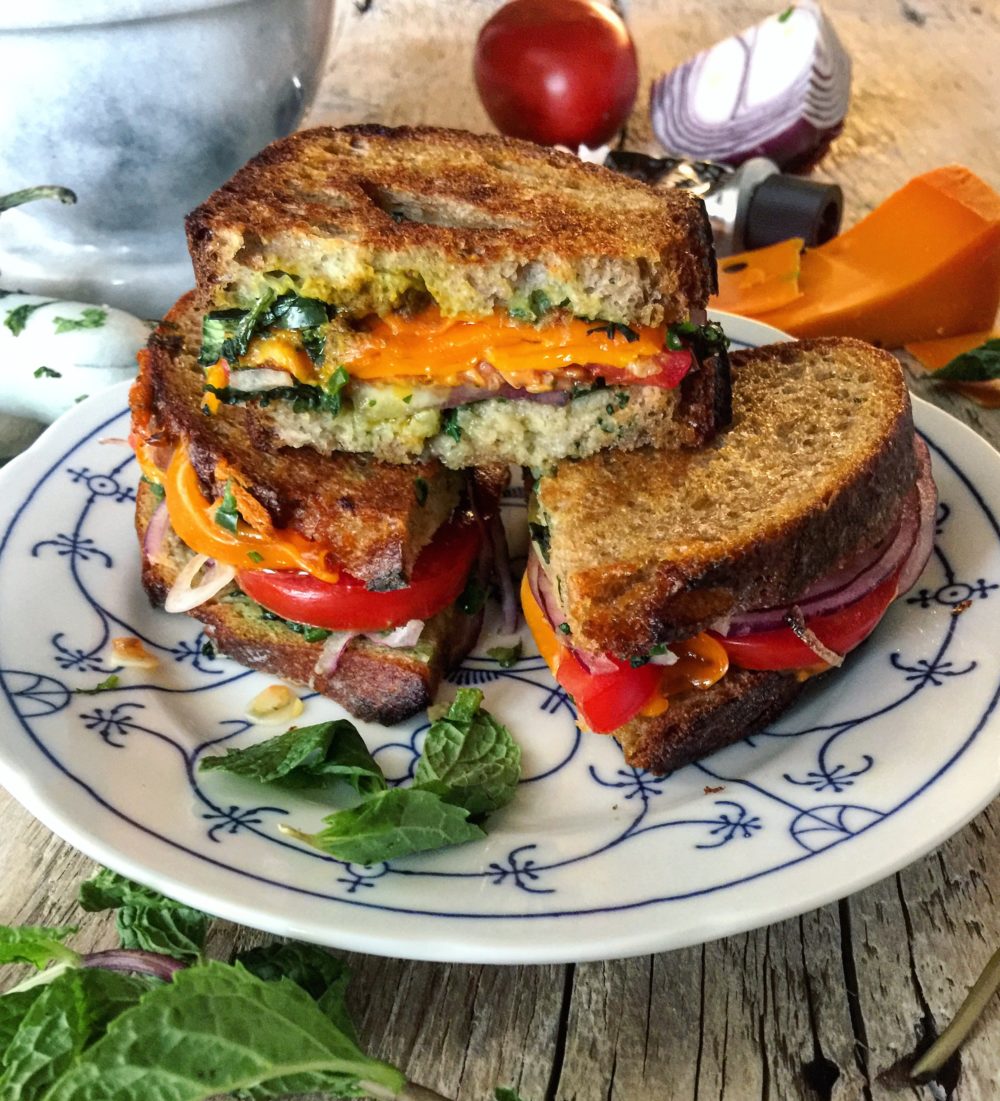 Mumbai Toastie
A classic grilled cheese sandwich gets amped up with exotic Indian additions like a fresh mint chutney and curry spices. Not your everyday grilled cheese!
Ingredients
1/2

green chilli

seeded and chopped

handful of cilantro leaves

torn

8

sprigs

mint leaves

torn

1

garlic clove

minced

sea salt

1/2

tsp

granulated sugar

1/2

lemon

juiced

2

slices

white bread (I used sourdough)

1/2

cup

cheddar cheese

shredded (or 2 oz, thinly sliced)

1

tomato

thinly sliced

1/4

red onion

thinly sliced

pinch

ground cumin

pinch

ground coriander

pinch

ground ginger

pinch

ground cinnamon

unsalted butter
Instructions
For the Chutney:

Combine the chilli through to sugar in a mortar and pestle. Pound well. You could chop everything together, but chutney is better if it has a good pounding.

Add lemon juice.

Spread the chutney on both slices of bread. Lay the cheese, tomato and onion on one slice. Sprinkle with the ground spices. Set the other slice of bread on top, enclosing the chutney.

If you have a sandwich grill, use it, buttering the outside of the sandwich as usual. If not, melt a walnut sized lump of butter in a skillet set on medium heat. Cook each side for at least 3 minutes, till golden and the cheese is bubbling.

I find that putting a lid on the skillet will help the cheese melt. Don't be tempted to rush it be raising the heat. It will only scorch the outside of the bread before the inside gets cooked through. And don't squish with a spatula either! Flip once the first side is browned and the cheese has started to melt, which will help the sandwich stick together when flipping. Brown the other side.
SaveSave
SaveSave