For a dessert that I really only bake up once or twice a year, it has a pretty hard to forget name.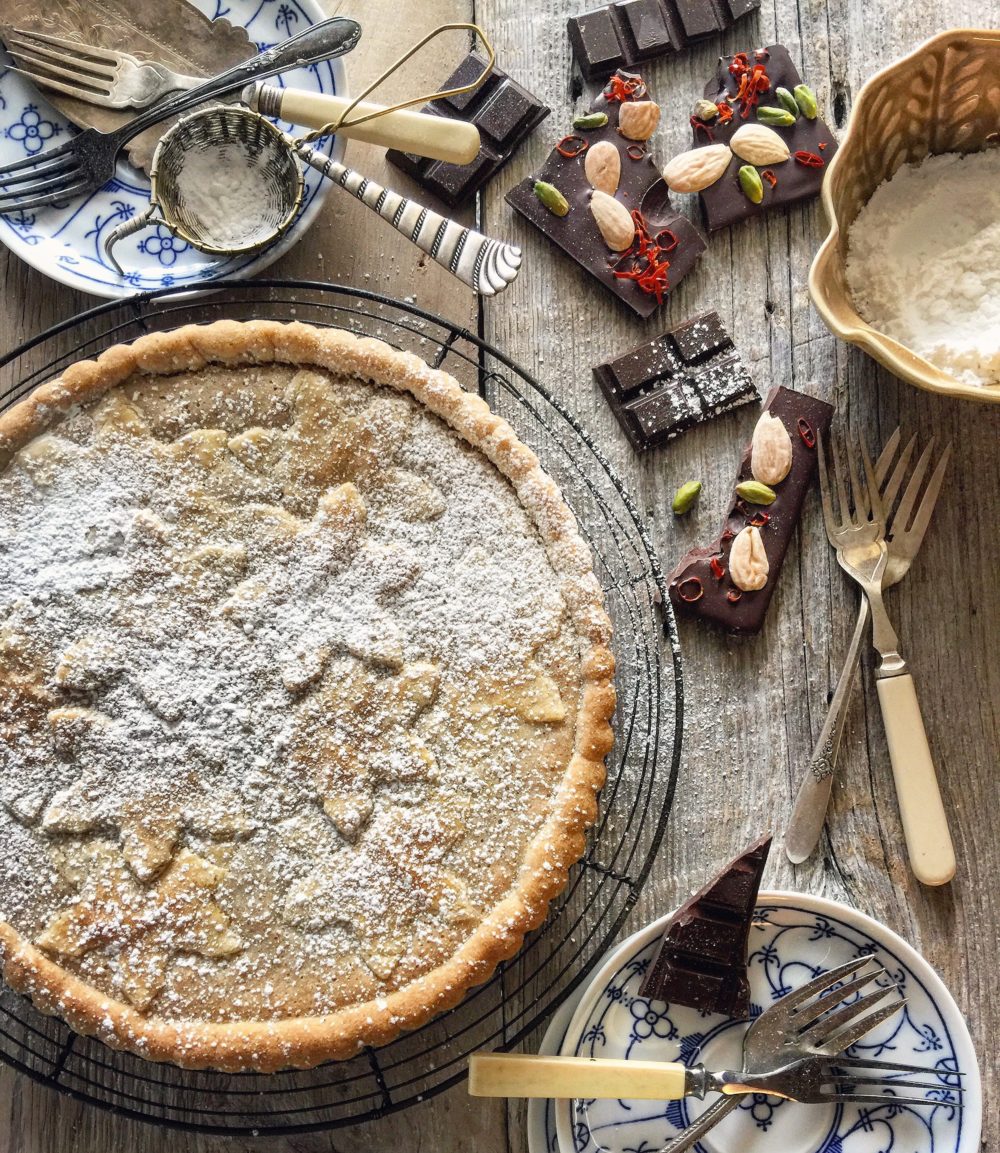 And hard to pronounce! (Fish-de-kakah, don't laugh!) I can't explain why I don't bake it up a few times during the winter months, because it is a joy to whip up, and has some of my all time favourite flavours: marzipan and cardamom. And visually, it's a stunner. It always makes me feel like a snowy day in Sweden or Norway when I decorate it, and makes me wish for a fireplace and fair isle sweaters.
The name translates as 'Prince's Cake'. It is perfectly spiced, and has both a soft almond crust that is easily pressed into the tart pan instead of the worry of rolling and trying to transfer. Then the filling has more of that amazing almond marzipan flavour and spices, in a moist, almost cake like texture.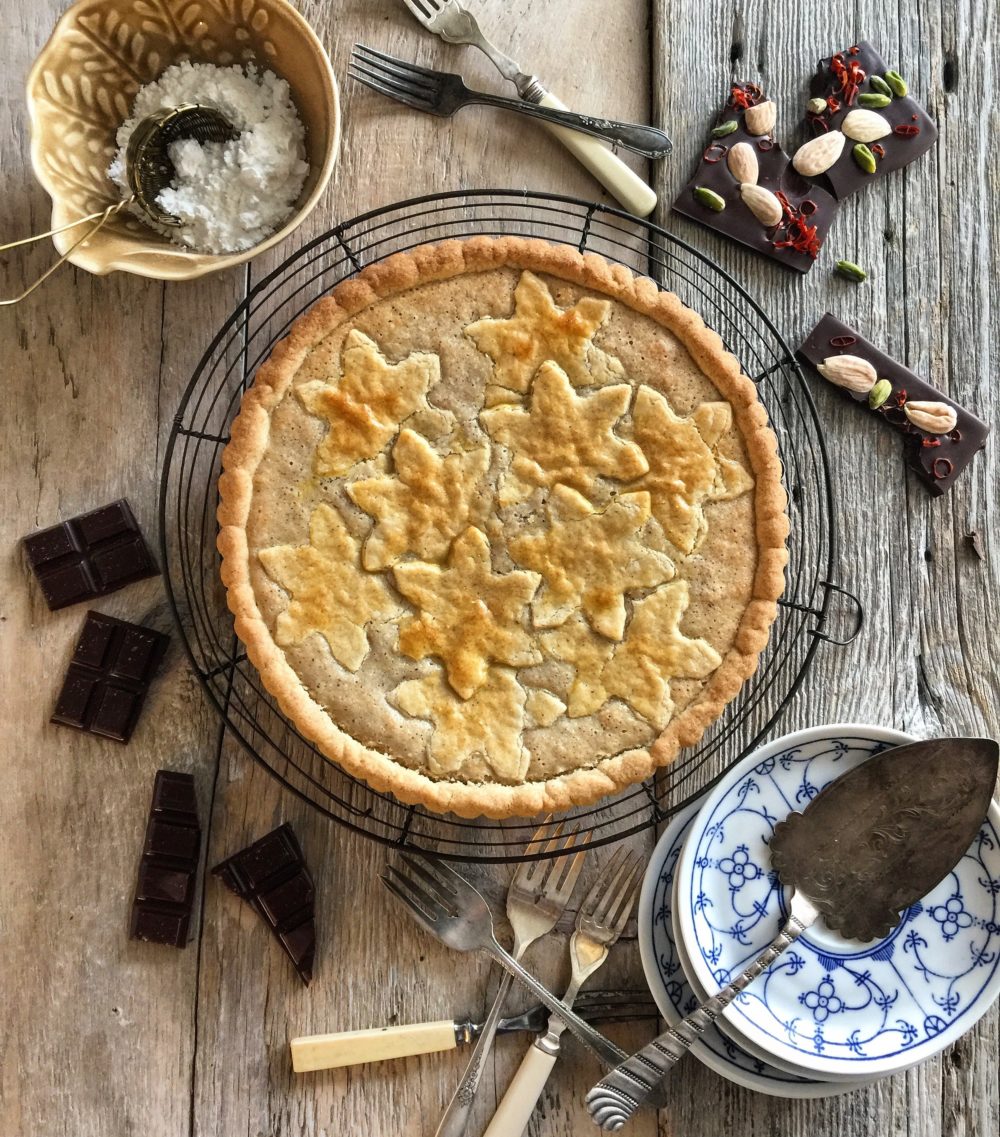 And what's even better: you can make it up to two days in advance of when you plan to serve it, and the flavours just get better. This frees you up for any other dishes you may be planning. Even if you just want a head start, the pastry for the crust and top cutouts can be made the day before, freeing up time, and making it easier to prepare for the day you want to serve it.
I always seem to make it at the end of the year. But depending on the cookie cutters you use, and even some fresh currant or raspberry garnishes, and this would be a lovely summer tart. Oooh- elderberries would be lovely! Norwegians will always serve it with a side of whipped cream, so I do as well. I'm not sure if they spike theirs, but they should! So whether it's Amaretto or Rum, a little bit elevates the whipped cream beautifully. And as per the recommendation from Bon Appetit mag, where my original torn out recipe came from and is still in my little recipe folder, bake three at a time and freeze two: 'Being Scandinavian, they freeze beautifully'!
So I'm sharing it now, as I'm baking it up again. And now that I've thought of some great tart berries that would be a great foil for the rich 'almondnes' (I'm sure it's a word!) of the cake, I should really bake it up in the middle of summer as well, don't you think?!
Love Jen.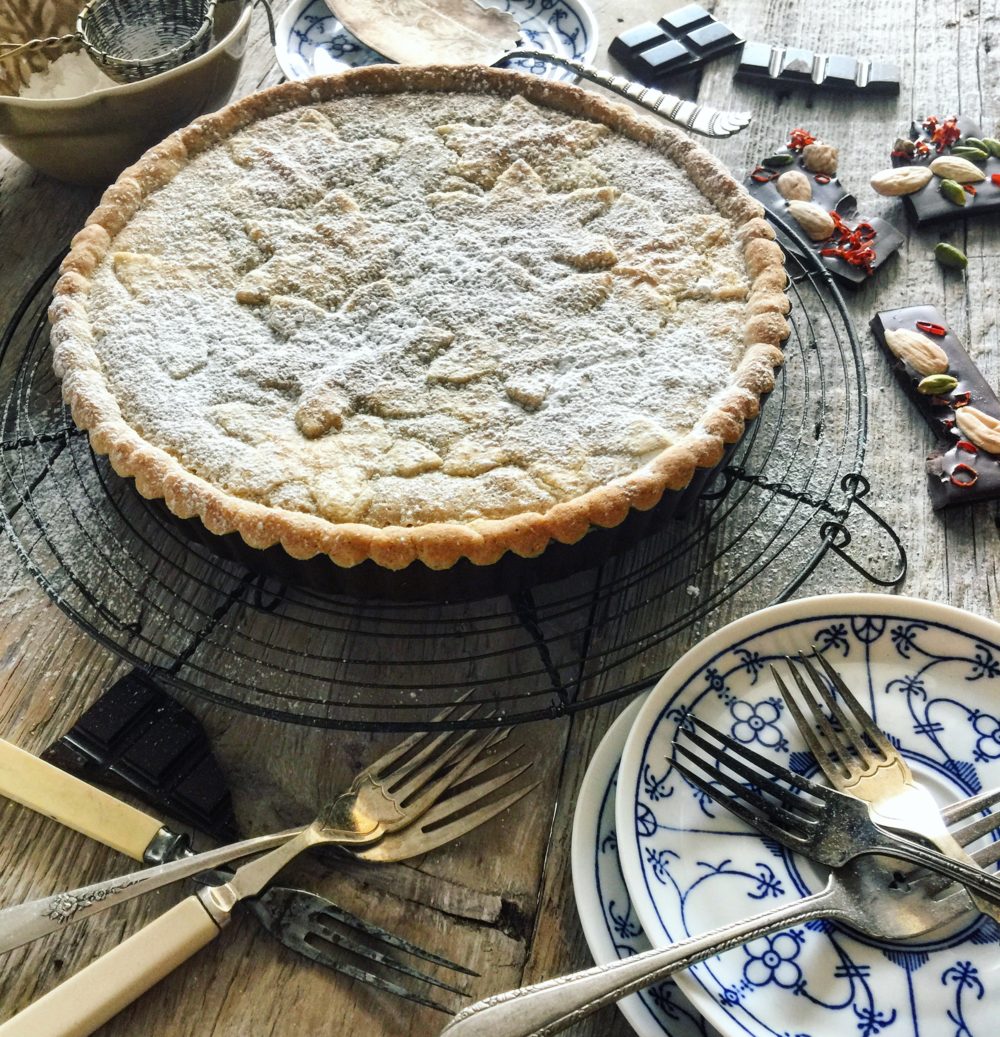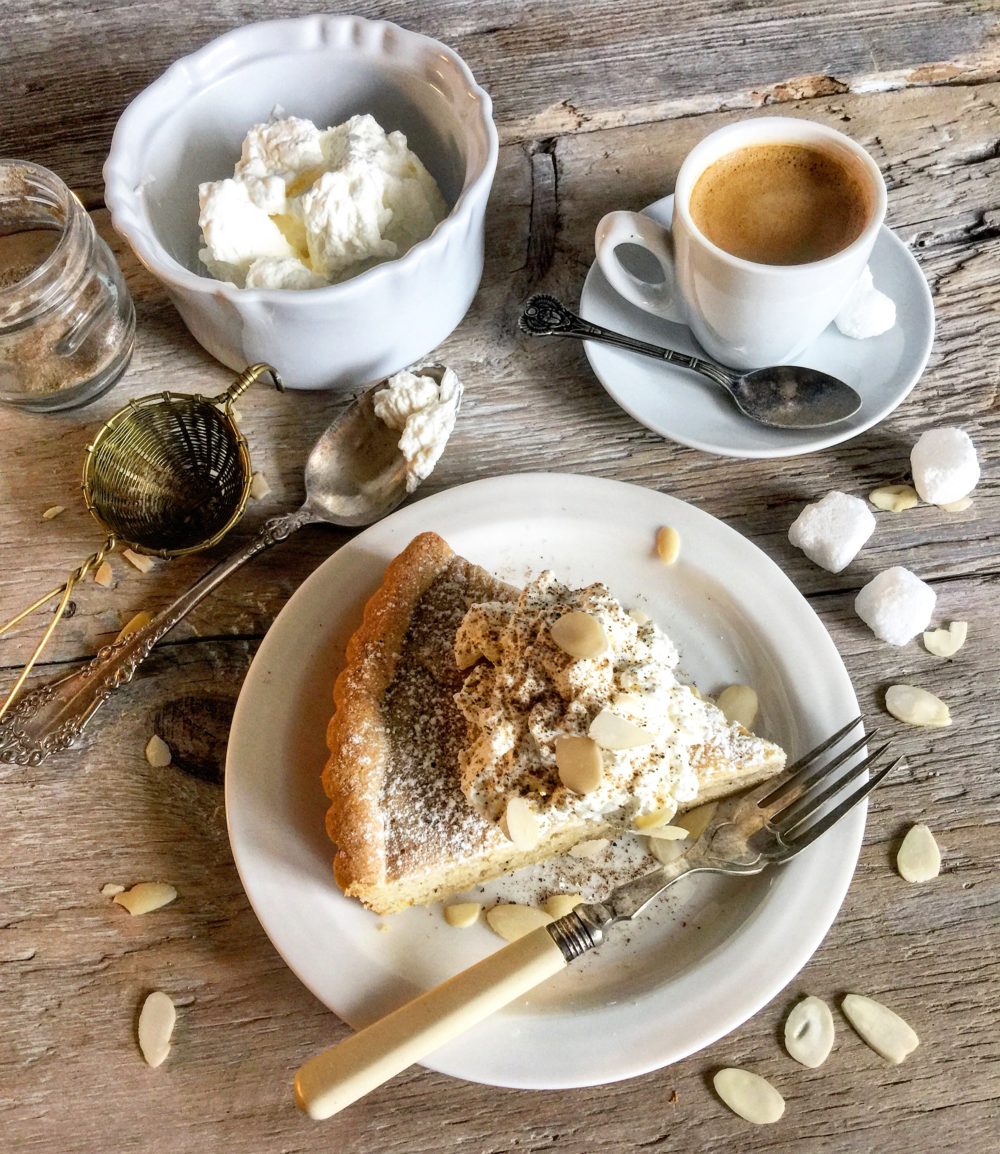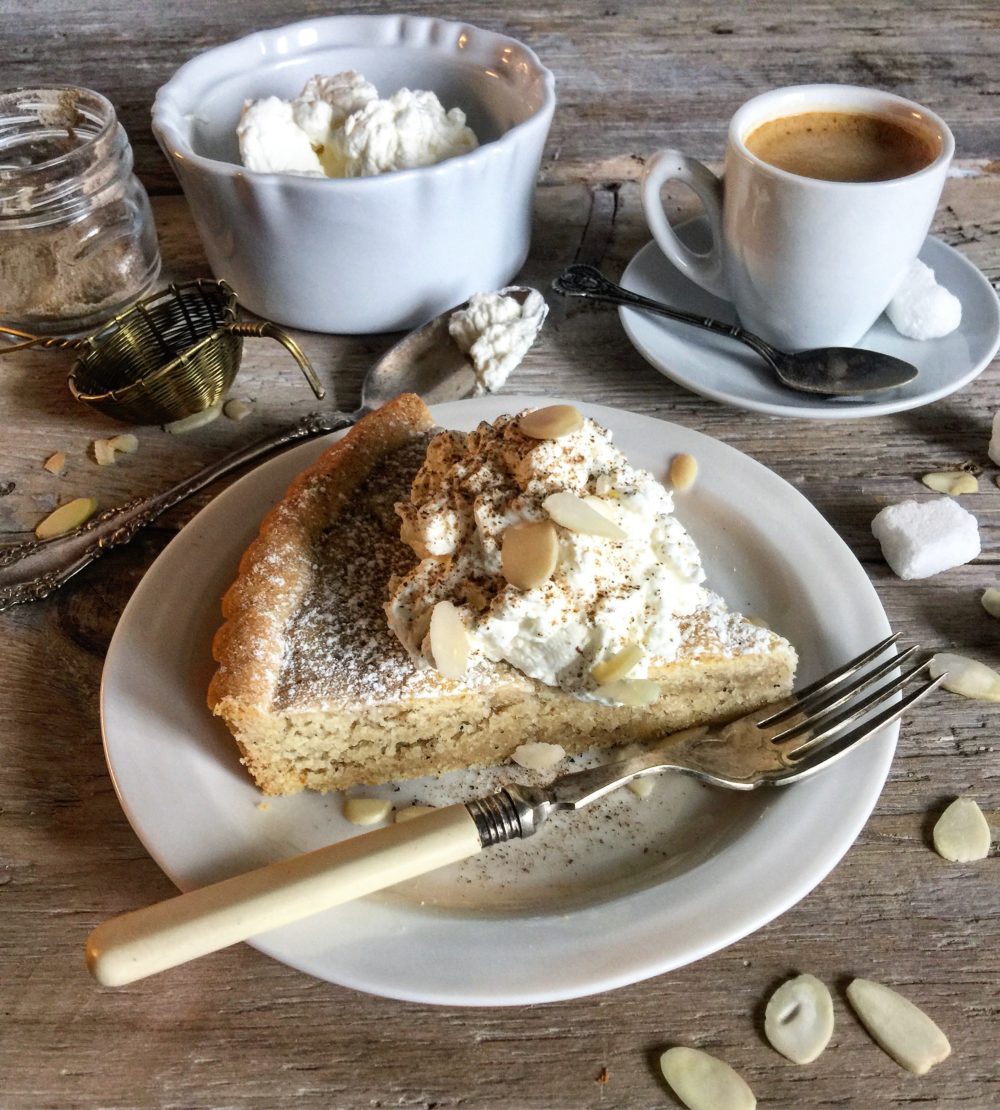 FYRSTEKAKE
This Norwegian Almond cake is scented with cardamom and filled with a homemade marzipan. A treat with spiked whipped cream!
Total Time
3
hours
30
minutes
Ingredients
CRUST
1 1/4

cups

all-purpose flour

1

teaspoon

baking powder

1/2

teaspoon

ground cardamom

, preferably freshly ground

1/4

teaspoon

kosher salt

1/2

cup

(1 stick) unsalted butter, room temperature

1/2

cup

sugar

1

large egg yolk

2

teaspoons

whole milk or heavy cream
FILLING AND ASSEMBLY
Unsalted butter

(for pan)

2

cups

slivered almonds

1

cup

powdered sugar

3/4

teaspoons

ground cardamom

, preferably freshly ground

1/4

teaspoon

freshly grated nutmeg

3

large egg whites

1/2

teaspoon

vanilla extract

1

large egg yolk
SPECIAL EQUIPMENT
A 9-inch-diameter fluted tart pan with removable bottom; decorative cookie cutters
Instructions
CRUST
Whisk flour, baking powder, cardamom, and salt in a medium bowl; set aside.

Using an electric mixer, beat 1/2 cup butter and sugar in a medium bowl until pale and fluffy, about 3 minutes. Beat in egg yolk and milk. With mixer running on low speed, gradually add dry ingredients and beat just until thoroughly combined.

Pat dough into a ball; break off one-quarter of dough. Form each piece into a ball. Flatten both balls into disks. Cover separately and chill dough disks for at least 2 hours or overnight.
FILLING AND ASSEMBLY
Butter tart pan. Break larger dough disk into small pieces and scatter over bottom of tart pan. Using your fingertips, press dough onto bottom and up sides of pan. Use the flat bottom of a measuring cup to smooth the surface and trim the edges.

Roll out smaller dough disk to about 1/8 inches thick. Using decorative cookie cutters, cut out shapes and place on a parchment paper-lined baking sheet. You will find that it won't roll out like a typical pie crust dough. You will probably just want to roll out small pieces at a time and cut out your cookies. The dough can be re-used, gently rolling back into small disks. Cover and chill crust and cutouts for 1 hour.

Preheat oven to 350°.

Pulse almonds, powdered sugar, cardamom, and nutmeg in a food processor until nuts are finely ground. Transfer dry ingredients to a large bowl. Using an electric mixer, beat egg whites and vanilla in a medium bowl until medium peaks form. Gently fold egg whites into dry ingredients.

Whisk egg yolk and 2 teaspoons water in a small bowl to blend. Fill chilled crust with almond mixture; smooth top. Arrange cutouts on top and brush cutouts with egg wash.

Bake tart until crust and cutouts are golden brown and filling is set, 30-35 minutes. Transfer to a wire rack; let cool.

Dust with icing sugar.
DO AHEAD: Tart can be made 2 days ahead. Store airtight at room temperature.
Recipe Notes
I find that just whipping up some cream and adding vanilla, bourbon, rum etc is the perfect accompaniment.
Adapted from Bon Appetit Yarnall Family Fyrstekake
SaveSave