We're in the throws of winter and all I want to do is bake. I'm sure it is as much a cocooning thing,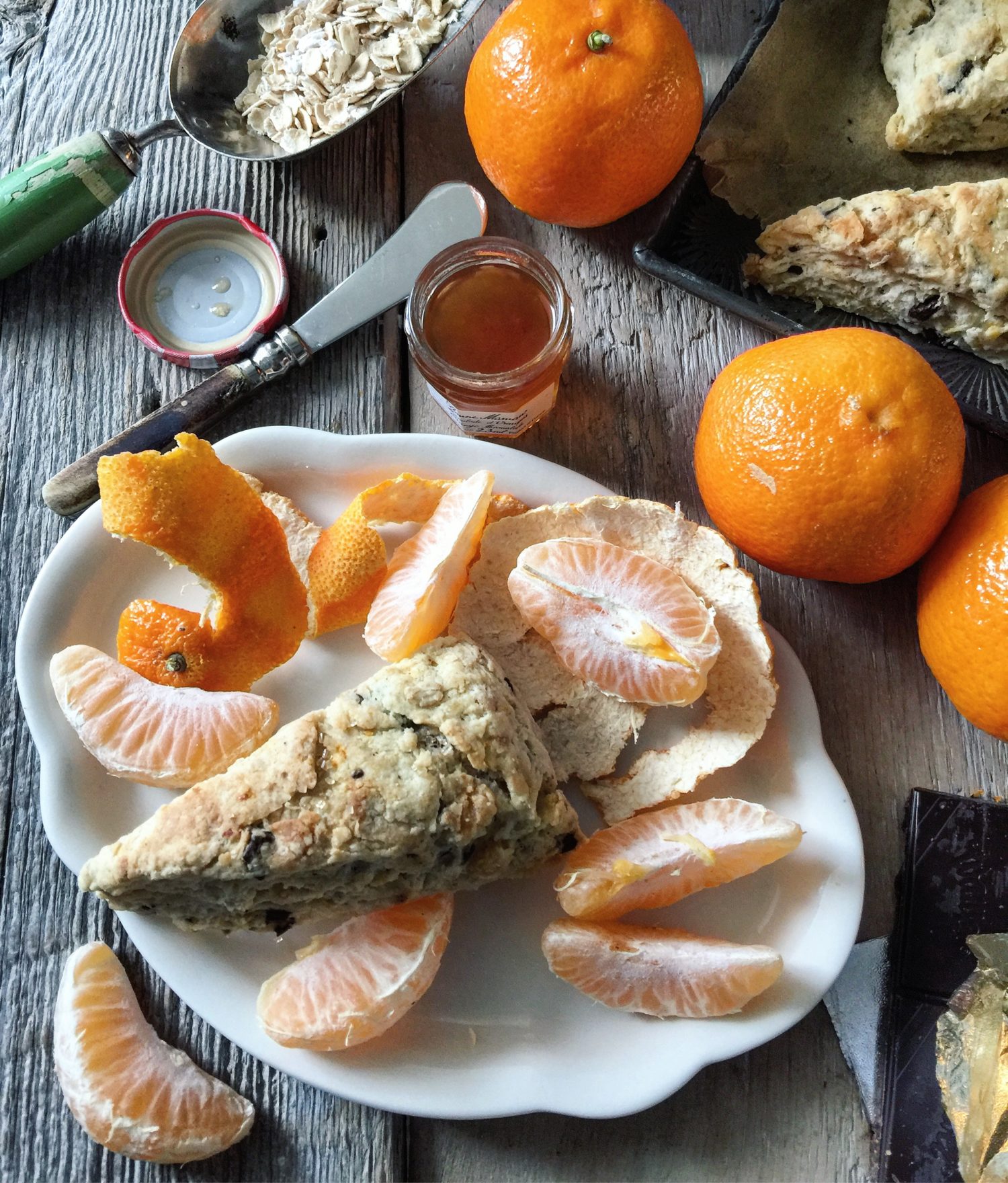 as it is to get the oven fired up to warm the kitchen! I really do love winter. There is a tranquil beauty to it. Especially during or after a fresh snowfall. Everything is quiet, white, (or a slight dove grey) and all the indications are there to stop, get cozy and hibernate. Preferably with a good book, some great jazz, a cup of aromatic tea, and if you are spoiled to own one, a roaring fireplace. Don't laugh, but Jim has come home to find the fireplace channel on the tv set, the crackling of the wood accompanying me while I browse through my latest cookbook acquisition.
Toronto has enjoyed the typical January thaw, but the frigid temps have returned now. Today I'm enjoying the aroma of turkey and chicken stock bubbling away. The cats are under the flannel sheets in the bed (I know I should disturb them to actually make the bed, but I just don't have the heart). Yesterday I baked bread (my first sourdough rye bread, thanks to Emilie Raffa's fantastic book, Artisan Sourdough Made Simple) and I also baked a pie.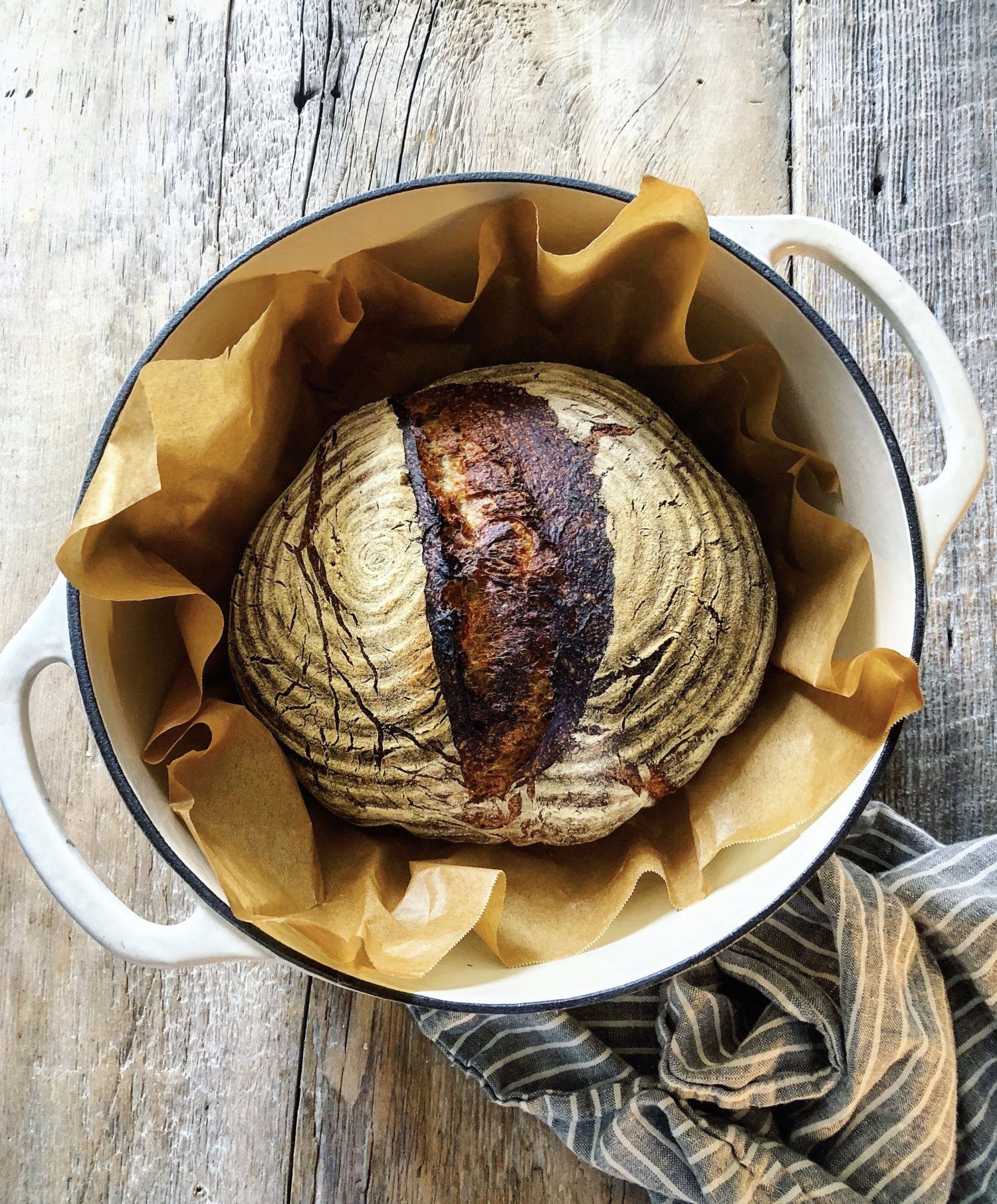 It was National Pie Day. I know these days are determined by a group in the States, but on Instagram, everyone plays along, so I couldn't resist. I made a version of a Bumbleberry Pie. Bumbleberry traditionally includes apple and rhubarb in the mix. Having lovely frozen rhubarb on hand, as well as a couple of apples, I tried to think of what else I could add. Since it is winter, I decided to add winter pears, and frozen cranberries. And for the spices, I went with some of Vitamix's Winter Spice seasoning blend. With candied ginger, orange peel, pink peppercorns, cloves, brown sugar, cinnamon and salt, it seemed like the perfect addition to my 'Winter Bumbleberry' filling. We had some friends over to help us eat the pie last night (cuz it is dangerous to leave us alone with a pie!), and it was a unanimous success. If you want to check out that spice blend from Vitamix, you can find the recipe here. If you want to know which recipe I used as a base for my pie, you can check out my Strawberry Rhubarb Pie.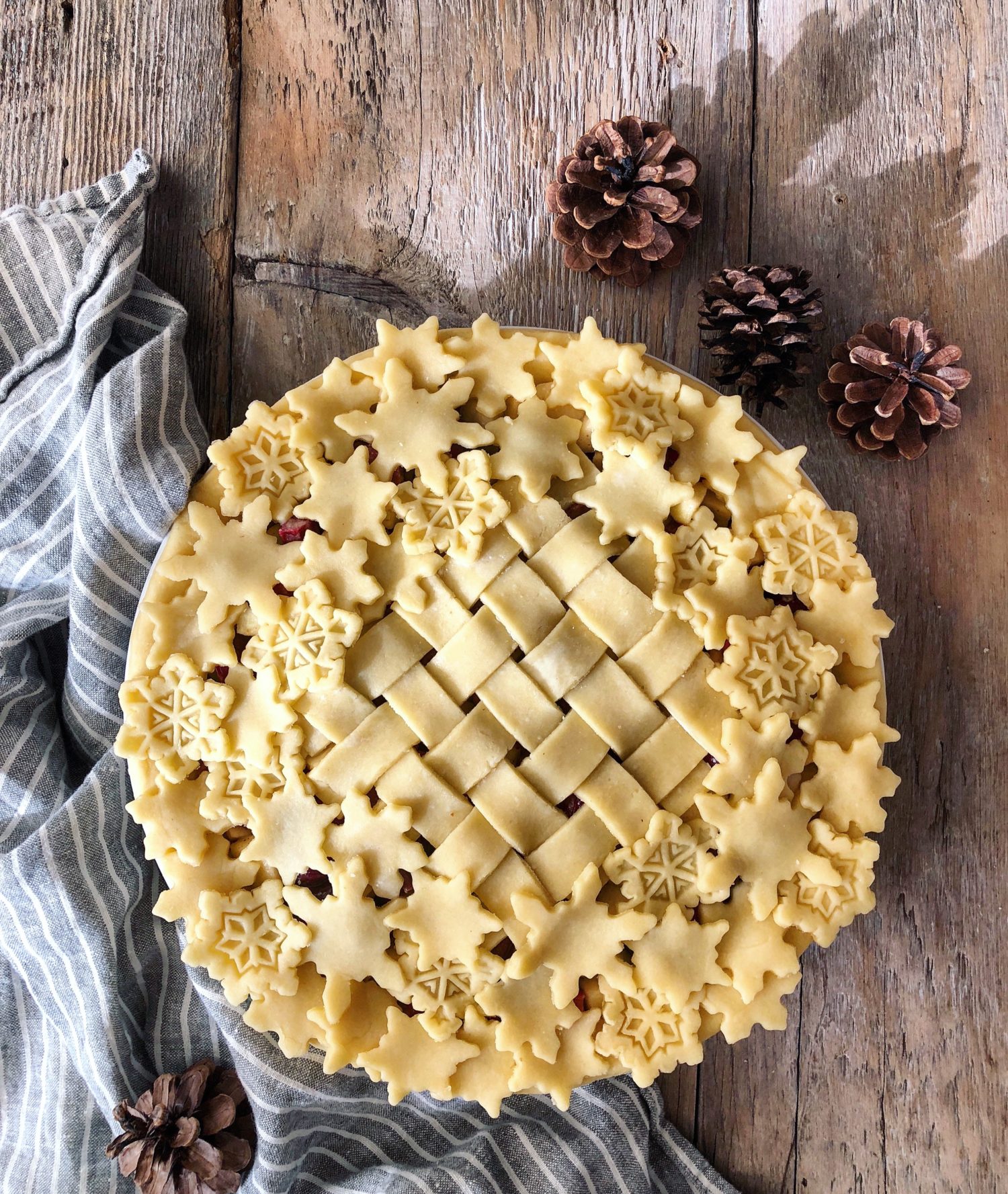 Along with the baking I did yesterday, I baked up the bestest scones last week. I was soooo thrilled with how they turned out. Tender, flakey, light, not uber sweet, the base is everything you want a scone to be. The original scone recipe came from a quaint little bakery in Ottawa that we visited back in the autumn. But what I added to them last week was totally inspired by this time of the year. I had gotten a container of the Ginger and Orange Blossom Tea bags by Pure Leaf. A wonderful caffeine free, all natural tea that is perfect for the bleak winter months. Ginger and orange go so well together. How could I create a scone that echoed these flavours and that would become the ideal pastry to munch on with a cuppa of this tea? I settled on candied ginger, clementine zest (because a bunch of them are sitting on the counter) and a touch of orange blossom water. And finally, why not a touch of chocolate? Yes, the perfect final ingredient. Because, well, chocolate. And chocolate and orange are classic, as are chocolate and ginger. No brainer.
I baked up the batch, and was so thrilled with them that I had to share right away, while they were still fresh and warm. But after I did that, I kinda regretted it. Not that I regretted sharing. I regretted not keeping a few more back for me!! So I know which scone I'll be baking up again soon.
I hope you like this recipe as much as we all did. I on purpose cut them smaller so that enjoying one doesn't mean committing to too much pastry all at once. And because they aren't too sweet, they are not the cloying scones that some tend to be. These are great with a touch of butter, or orange marmalade, or even clotted cream, for the next time you are planning a high tea party!! And of course, you can freeze some for the bleak February days to come, and pull some out for brekkie!
Stay warm, if it is still winter where you are 😀
Love Jen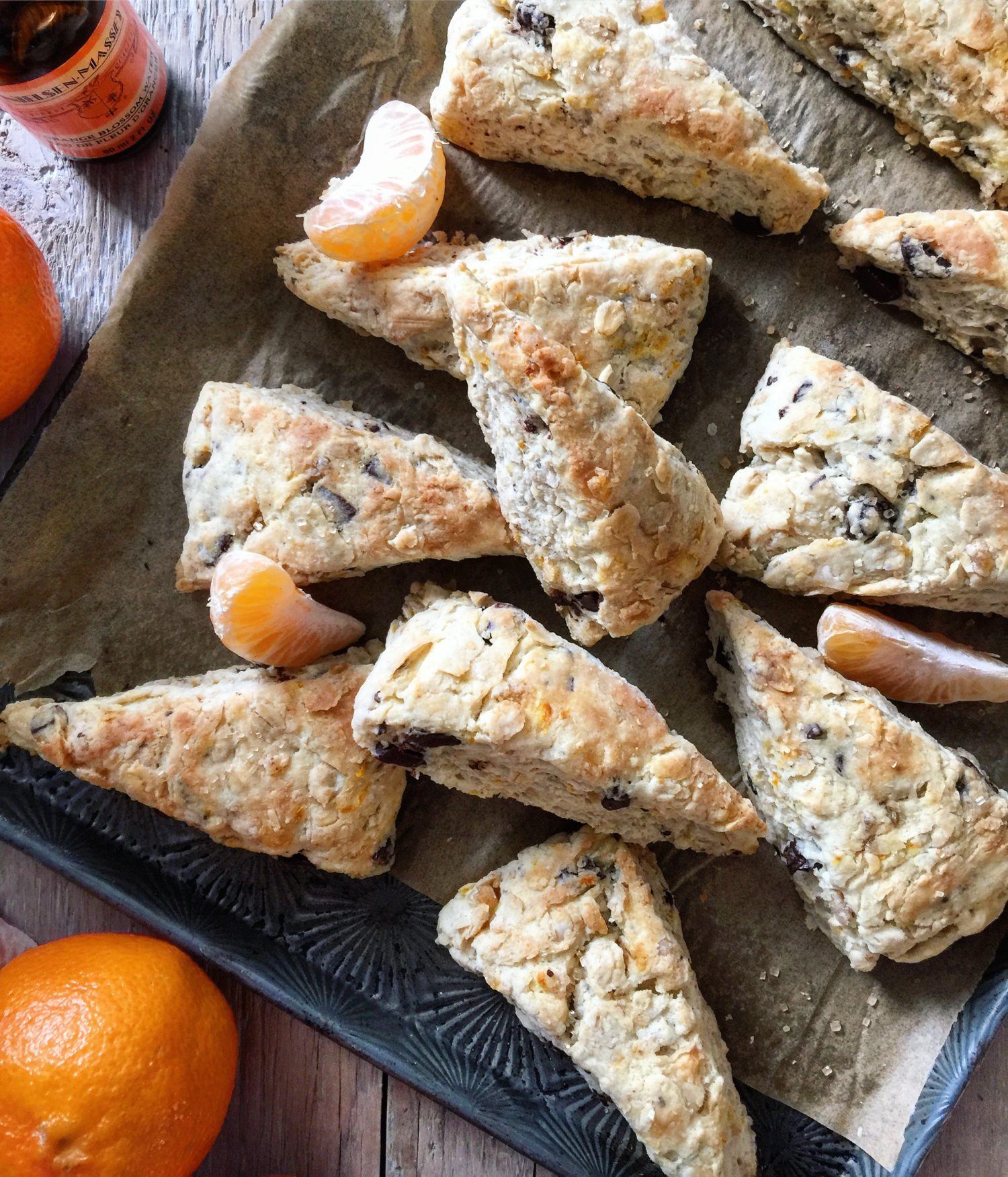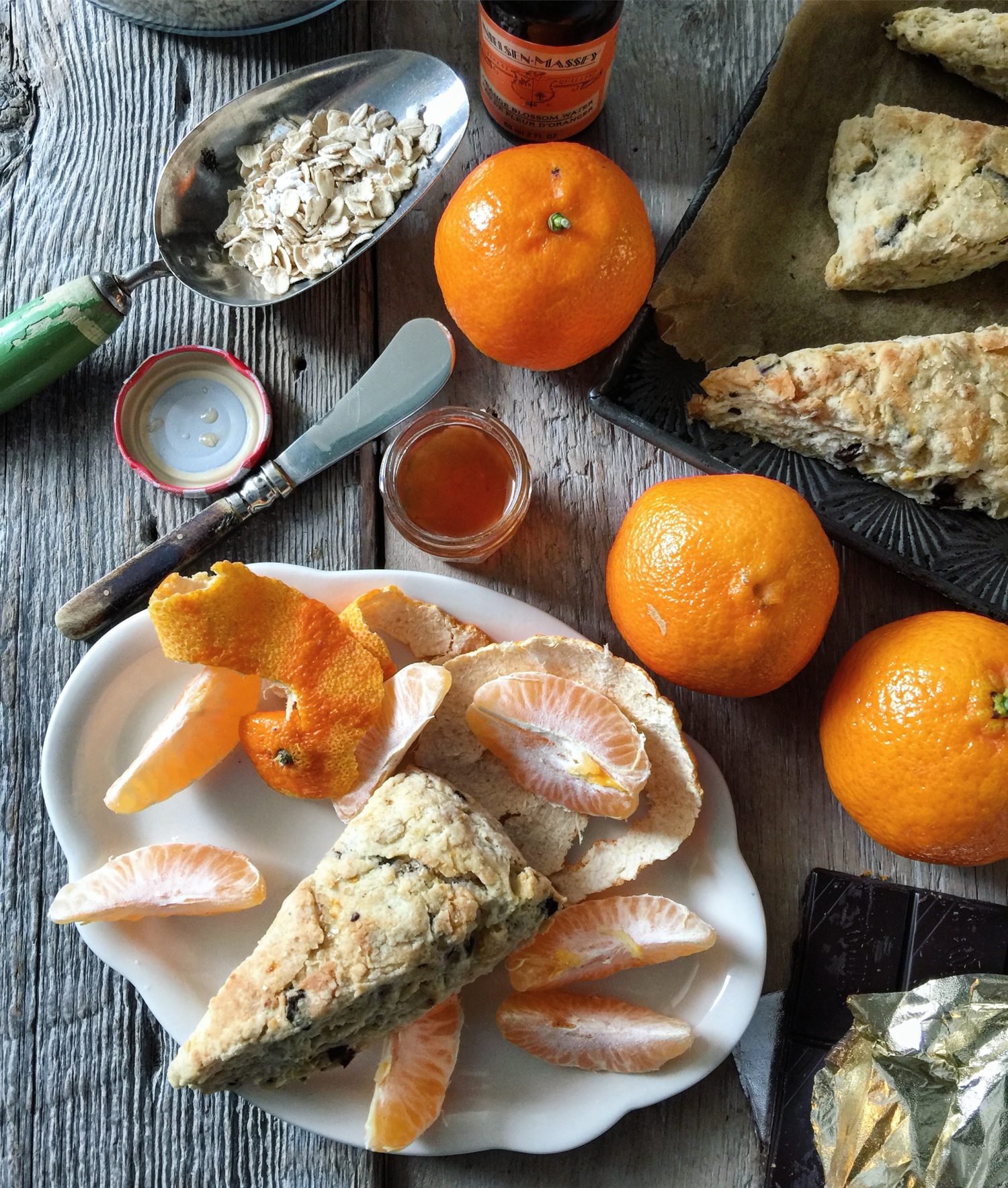 Oatmeal Scones with Orange, Ginger and Chocolate
The perfect tender, flakey scone with a wonderful flavour profile of orange zest, candied ginger and dark chocolate chunks. These will quickly become a favourite coffee or high tea treat.
Ingredients
Dry Ingredients
1 1/2

cups

unbleached white flour

1/2

cup

whole wheat flour

1/2

cup

large oats

1

tbsp

baking powder

1

tsp

kosher salt

3

tbsp

chopped candied ginger

3

tbsp

chopped dark chocolate

1

tbsp

fresh orange zest
Wet Ingredients
1/2

cup

cold or frozen butter

1 stick

1/2

cup

whole milk

1/2

cup

heavy cream

1/4

tsp

orange blossom water
Instructions
Preheat the oven o 350F.

Combine flour (white and whole wheat), oats, baking powder and salt in a large bowl.

Add the candied ginger and dark chocolate.

Add the butter by using the large holes of a grater. Give it a quick stir to incorporate the butter throughout the batter.

Mix the whole milk, heavy cream and orange blossom water together in a small bowl. Add it to the batter and mix with your hands until it all holds together in the bowl. Dump onto the counter to finish bringing it together.

Do not over-handle or knead the dough, just bring it together tightly and then roll it out to to a one inch thick (2.5 cm) disk. Cut it into quarters. And then divide each quarter into three. This will give you 12 scones. I find that only cutting them into eight makes for a larger scone that may overwhelm some! But cut out the way you prefer!

Place them all onto a parchment lined baking sheet. Spread out as much as possible.

Bake on centre rack. Depending on the size, they will take between 20 and 25 minutes. Turn the baking sheet once halfway through the baking process.

Tip: You can use just milk or cream but I don't recommend less than whole milk. Even using part sour cream makes a very nice scone, just keep it to that measurement
Recipe Notes
Oatmeal Scone Recipe
Courtesy of Heather – Owner of The Scone Witch in Ottawa. Recipe can be found here
SaveSave