The Milk Calendar has been part of my kitchen for as long back as I can remember.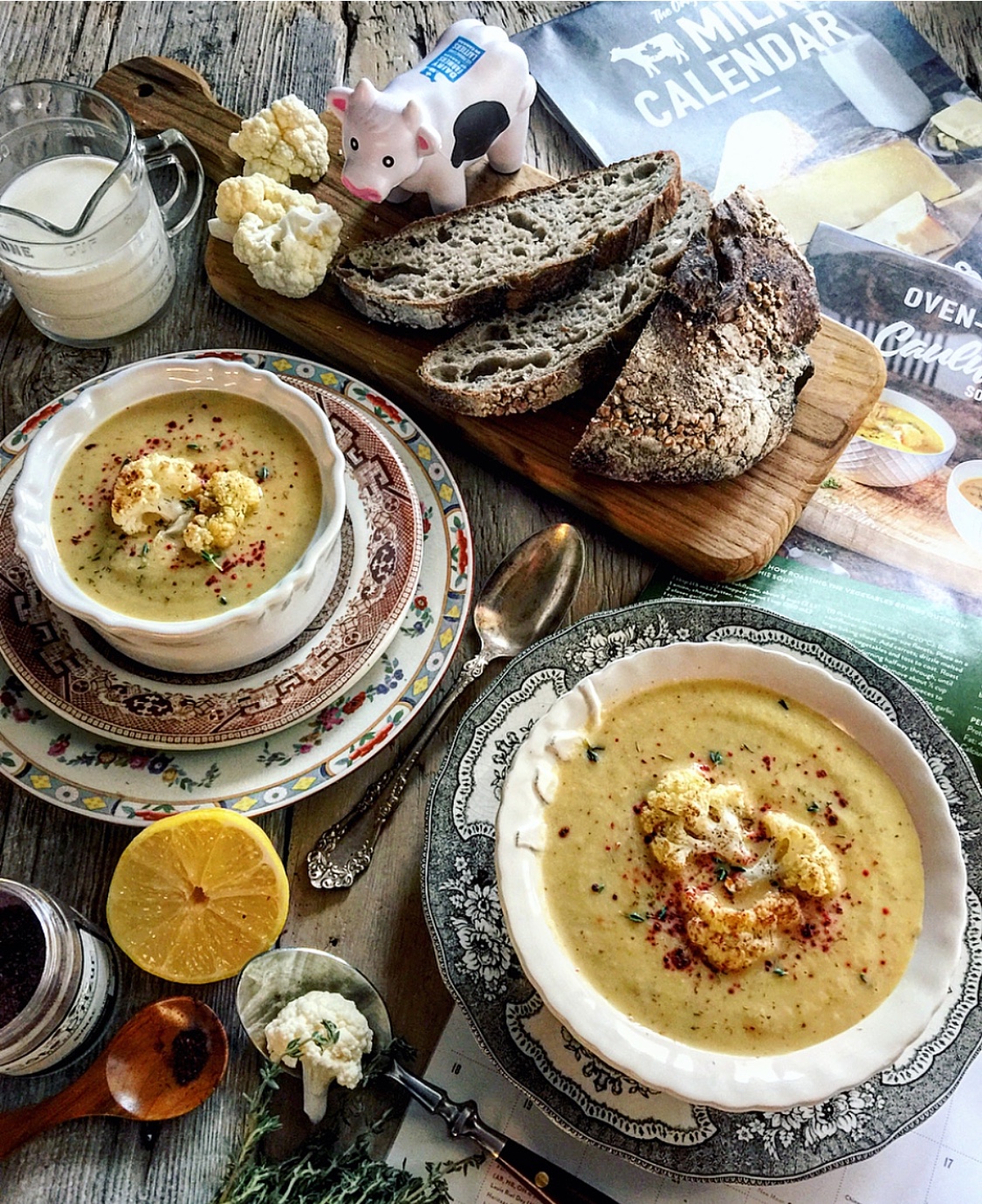 At first I didn't give it much thought. I mean, it was a yearly addition to the calendars that would come into our home before the new year started. Long before you carried your calendar and daytimer in your pocket (read: phone) we actually hung up a hard copy of the year on the wall! (minor amount of sarcasm noted) I always liked flipping through this iconic calendar, brought to Canadians by Dairy Farmers of Canada, for the photos, and of course, the recipes. But back then, it was more likely that my sister, or my mom who would do the actual cooking of said recipes. I gladly ate their hard work. I loved the idea of a collection of recipes using dairy. I love my milk, butter, cottage cheese, yogurt, cheese, cheese, cheese! A world without cheddar or blue or brie or chèvre would be such a sad place. Dairy is such a tasty way to get the protein our bodies need.
But then I moved out on my own, and The Milk Calendar became a lot more dear to me. I was single, on a tight budget, and was in constant need of inspiration. Step in, this gift to Canadians. This free mini cookbook, featuring recipes that we could all attempt, has been around since 1974! Over the years the likes of James Barber, Christine Cushing, Anna Olson and so many other Canadian chefs have contributed their extreme talents to this calendar. Family oriented, easily accessible ingredients, nutritious, and something for every month of the year.
And now, The Milk Calendar is an institution. In fact, recently Jim and I were grabbing breakfast at one of Toronto's oldest, and most iconic diners, The Senator. Sitting in our booth, Jim opened up the Saturday paper for a leisurely read. Guess what was tucked inside? Yep, you guessed it. The Milk Calendar!
I have the pleasure of partnering with the Dairy Farmers of Canada to showcase the calendar this year. This means that I get to give you a taste of what is in this year's collection of recipes. This year's Milk Calendar celebrates local and sustainable ingredients, and is chock-full of delicious recipes that feature the goodness of 100% milk. And I'm so happy with the recipe I get to make. We're heading into a more indulgent time of the year right about now. Baking, roasting, decadent appetizers, heavy sauces and gravies etc. So I really wanted to try something that would be a moment's relief to cut through all the richness. Step in Roasted Cauliflower Soup.
What was initially fabulous about this recipe, is that I had every ingredient already at home, from the cauliflower down to the sumac. A simple, yet most flavourful soup, it comes together easily. Roasting the cauliflower and carrot together, and then adding them to simmering broth filled with onion, garlic, a bay leaf and thyme, only a bit more simmering was required. Then grainy mustard and milk are added. Whiz it all up until it is velvety, and dinner is ready. What makes this a delight of a soup, are the finishing touches. Reserved roasted cauliflower florets, dill and sumac (or lemon, if you can't find sumac) totally brighten up what could be a cloying or rich soup. It's a fabulous recipe by Heather Trim, who developed this year's healthy and yummy options. Often cream is added to these puréed soups, but the milk that the recipe calls for is just fine. It still ends up being a velvety soup. In fact, if it's too thick for your liking, just add a touch more milk.
You can use the chicken stock that the recipe calls for, which I did. It adds a buttery depth, of course. But if you would rather keep it entirely vegetarian use vegetable stock, or why not use my Faux Chicken Bouillon Powder for the stock. Trust me, you won't notice the difference.
Thank you Milk Calendar for being part of our lives. Like a good pair of jeans, a favourite book, teddy bear, or that one song that is your karaoke favourite, the Milk Calendar is a comfortable and dependable fixture. And a little piece of Canadiana 🙂
You really need to check out all the recipes from this year's calendar (they range from Five Spice Gingerbread Pear Muffins to a Seafood Pizza, to Pork Souvlaki with Haloumi Pepper Skewers to a Mile High Chocolate Pudding Pie! And so many more). You can even find out how to get your own calendar! What's even better, all the recipes from years past have been archived on the website for easy access and heaps of cooking pleasure. Check it all out here: Milk Calendar.
This post is sponsored by Dairy Farmers of Canada.
Love Jen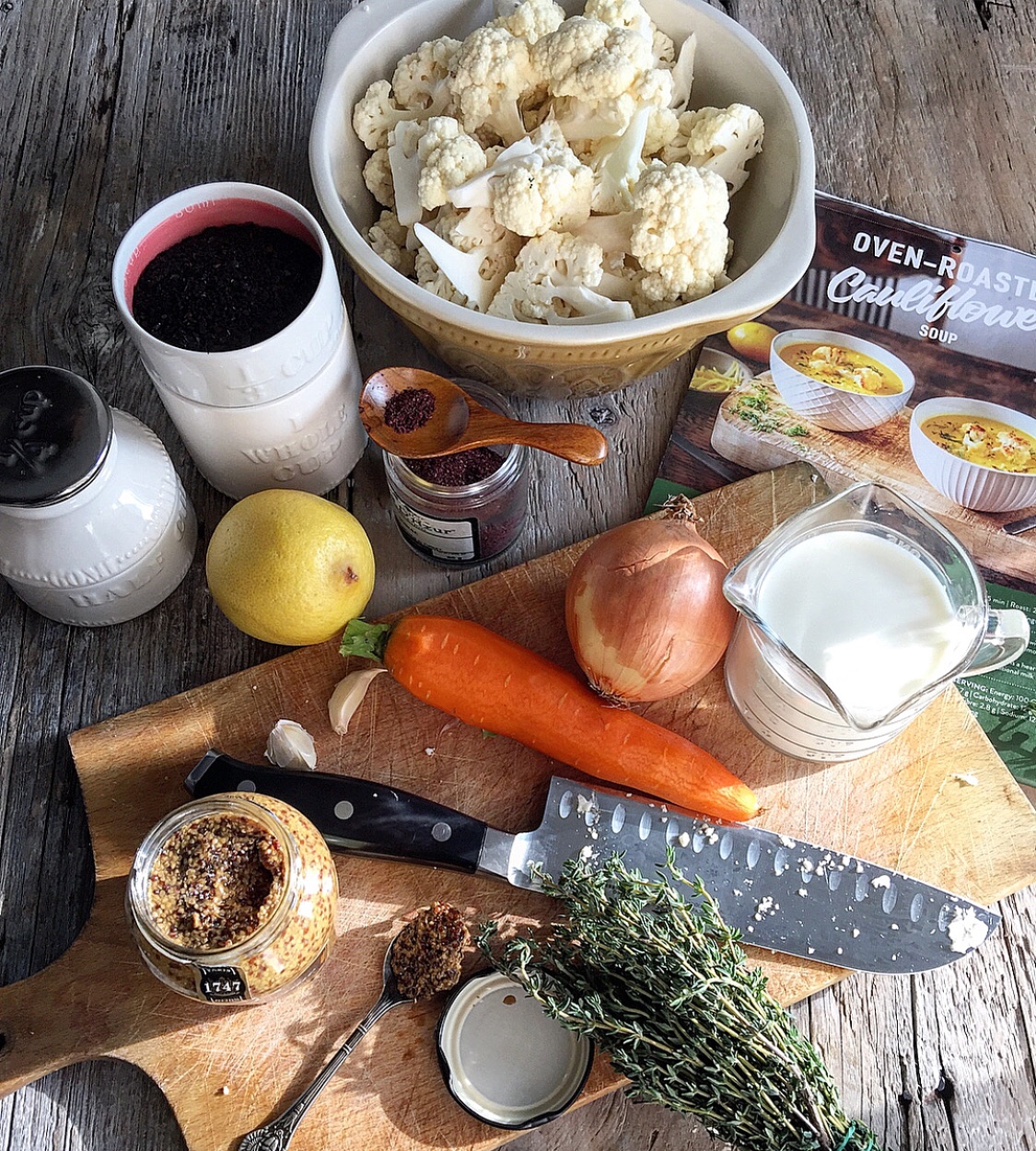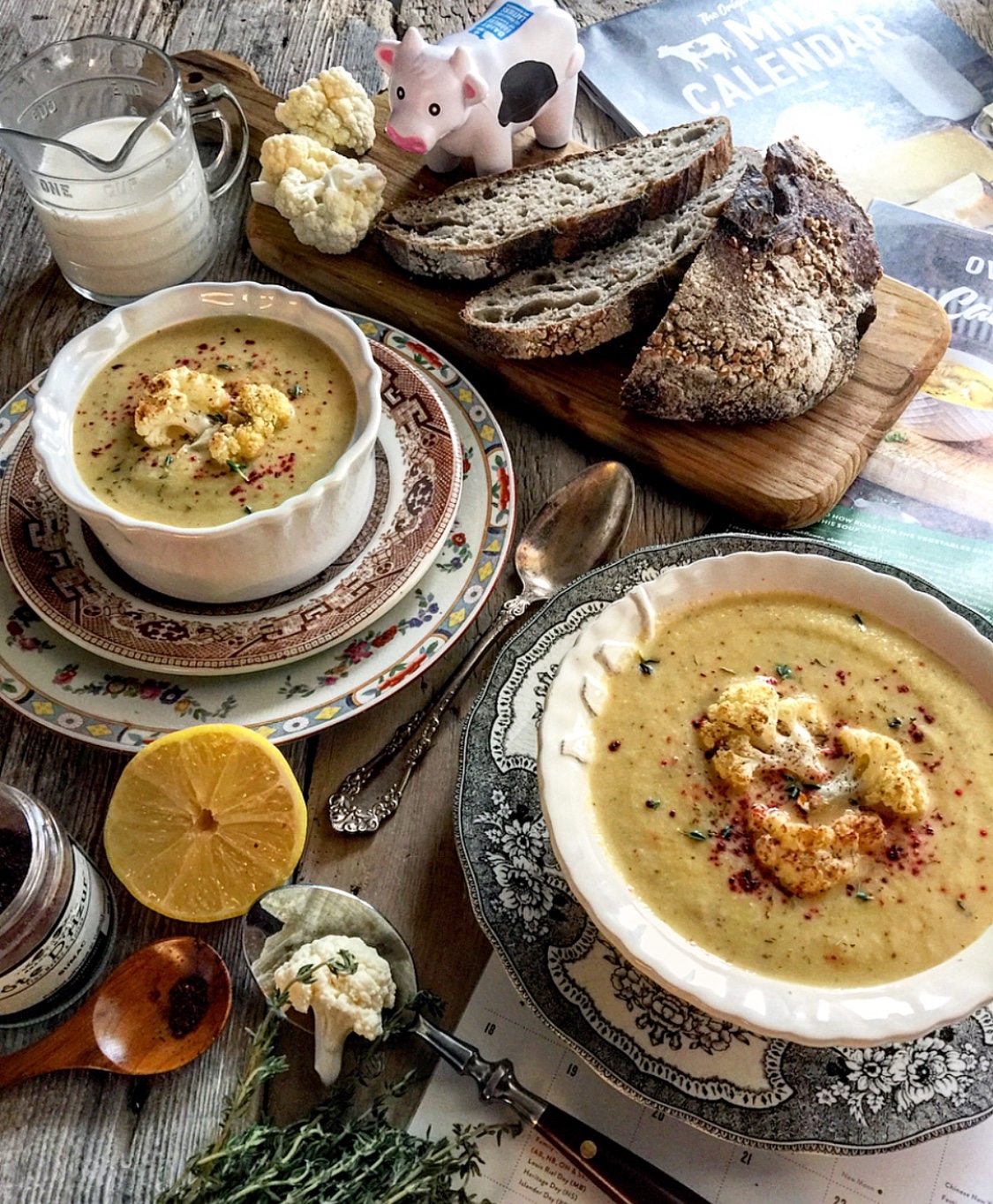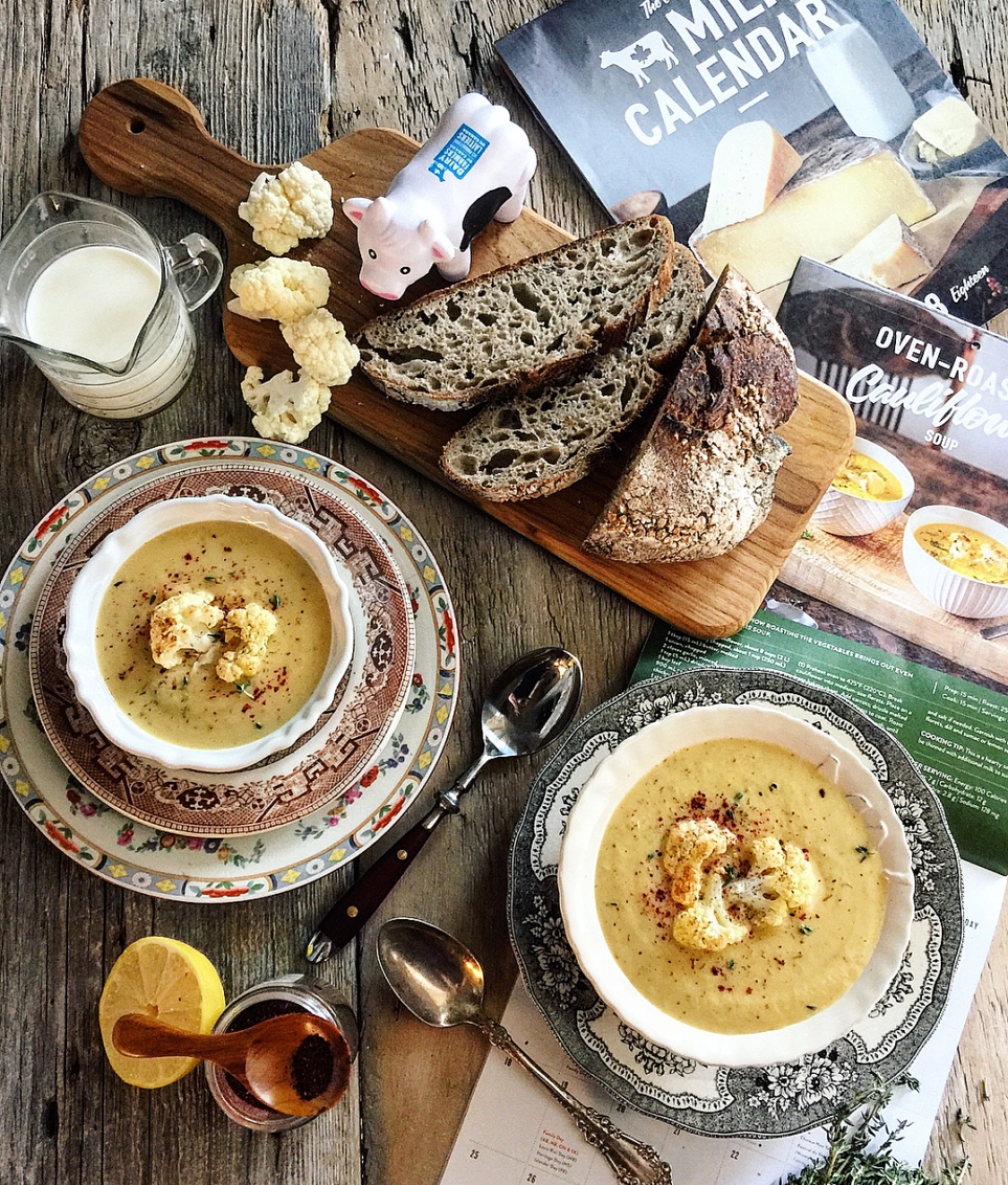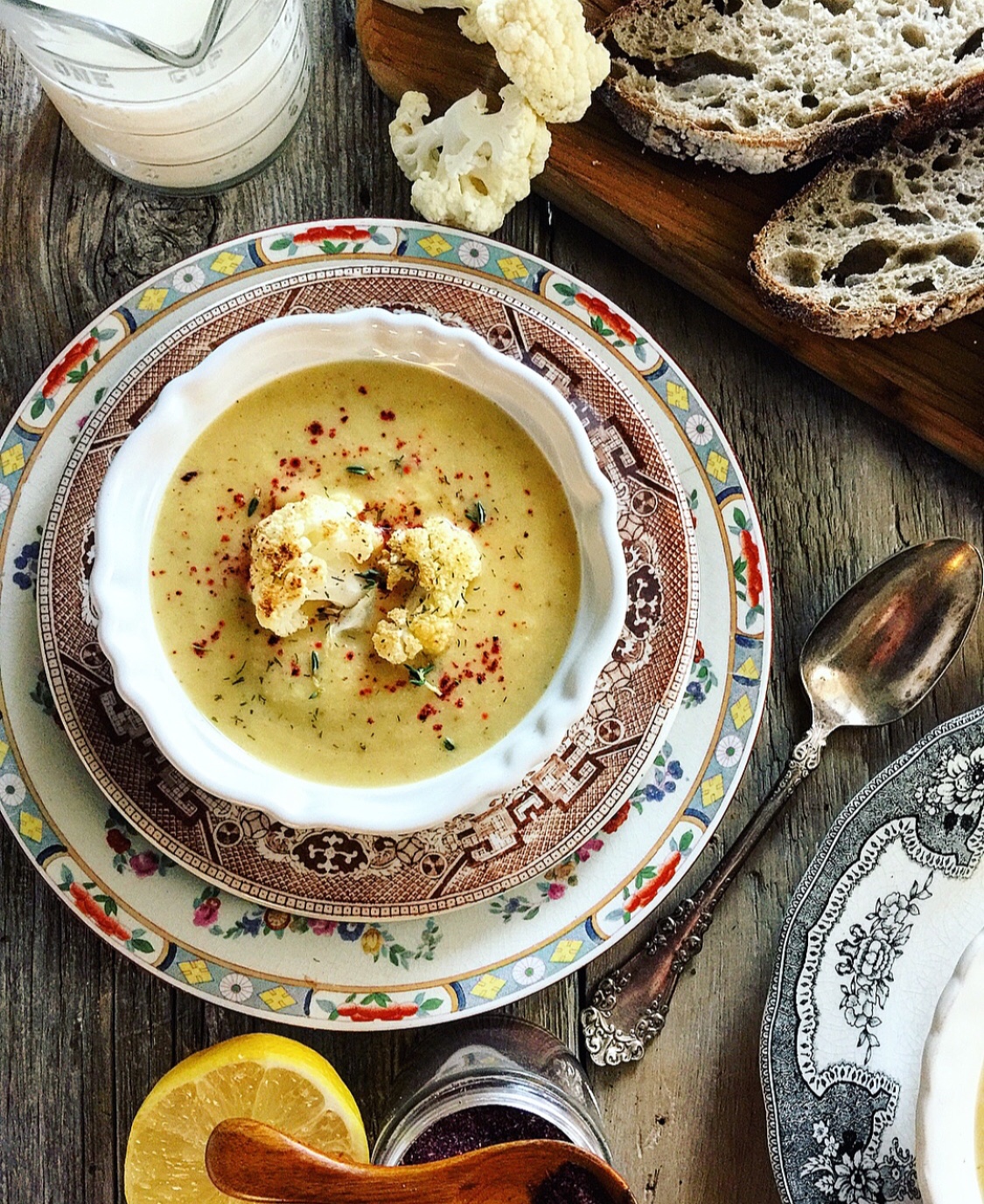 Oven-Roasted Cauliflower Soup
A cozy soup prepared with roasted cauliflower and carrot, and topped with florets, dill and sumac. Perfect to ward off the winter chill!
Ingredients
1

medium head of cauliflower

, cut into florets (about 8 cups)

1

carrot

, coarsely chopped (about 1 cup)

1

tbsp

(15 ml) butter, melted

1

onion

, chopped

2

cloves

of garlic

, minced

1

tsp

(5 ml) dried thyme leaves

1

bay leaf

4

cups

(900 ml- to 1 litre carton) chicken or vegetable stock

1

tbsp

(15 ml) grainy dijon mustard

1

cup

(250 ml) milk

freshly ground pepper

salt

(optional)

1/4

cup

(60 ml) coarsely chopped fresh dill

ground sumac or fresh lemon zest

(optional)
Instructions
Preheat the oven to 425F (220C)

Place the cauliflower florets onto a large baking sheet. Add the carrots. Drizzle the melted butter over them all and toss well to coat.

Roast for 20-30 minutes, turning half way through, till veggies are tender.

Remove 1/2 cup (125 ml) florets and cut into slightly smaller pieces to use as garnish. Set aside.

Meanwhile, place the onion, garlic, thyme, and bay leaf into a large saucepan. Cover with about 1 cup (250 ml) of the broth.

Simmer gently for 5 minutes until the onion is tender. Add the roasted cauliflower and carrot, remaining broth and dijon mustard.

Simmer gently for 7-10 minutes, until the vegetables are very tender.

Discard the bay leaf. Stir in the milk. Cool soup slightly.

Purée in batches until smooth.

Return to the saucepan and season with pepper and salt if needed.

Serve:

Fill soup bowls, and garnish with the reserved florets, a sprinkling of the dill and sumac or lemon zest.
Recipe Notes
Note: This soup can be thinned with more milk if desired.
SaveSave
SaveSave
SaveSave
SaveSave
SaveSave
SaveSave
SaveSave
SaveSave
SaveSave
SaveSave