We love our carrot cake. Jim would be happy if I made a carrot cake once a month. My hips would not.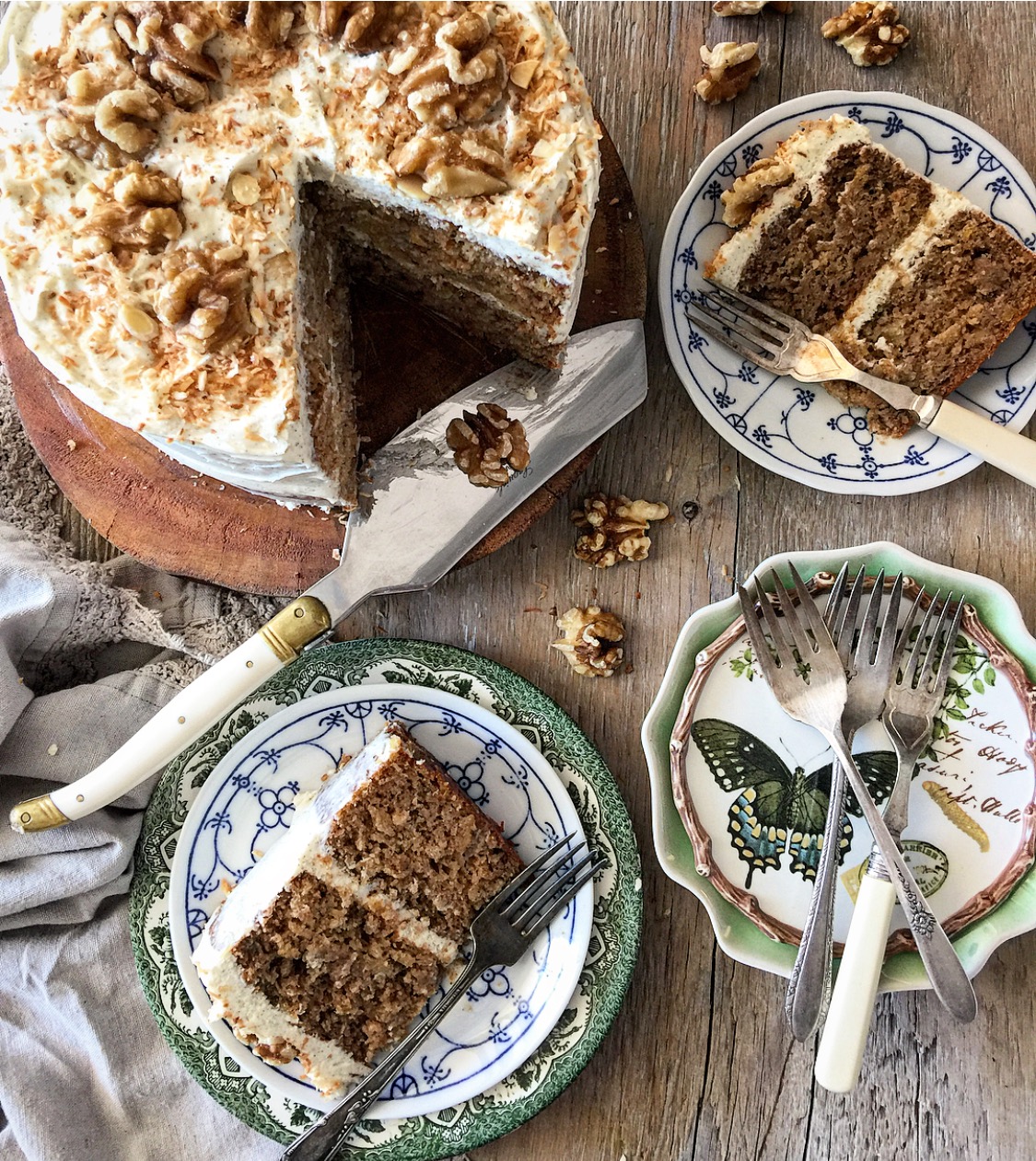 But then I try and rationalize that it's really rather healthy for you. Come on- it's practically a superfood breakfast on a plate! All those shredded carrots, walnuts, raisins, pineapple and spices (don't even get me started on how many nutritional properties are found in spices! You can get a 'taste' of their goodness here in my pumpkin gingerbread loaf post)
I guess the only point of contention would be the frosting. But if you think about it, cream cheese is both dairy and protein goodness. And since I don't like my frosting too sweet, and therefore cut back on the sugar, I really only feel a teeny bit guilty if I have a slice of cake for breakfast.
So last week, I made this cake. Jim saw it in the fridge, and exclaimed, "Yeah baby, Carrot Cake!" "Actually, it's not carrot babe, it's parsnip." "…Oh." "But you won't know the difference, trust me." "Then why did you say anything?" "Just eat it." He liked it. A lot. Of course he keeps calling it carrot cake.
I had just picked up some gorgeous parsnips at the farmers market. I knew I was probably going to make soup with them. But then I was in a baking mood. They look like carrots, albeit rather pigmently challenged. And sometimes they can be almost as sweet. So I thought, why not? What's the worse that could happen? Well, okay, a layer cake that no one will want to eat. But I wouldn't dwell on that possibility.
So I shredded them up just as I would the carrots. I did taste a piece as I was shredding, to confirm whether they were in fact as sweet as a typical carrot. No, not quite. So I decided that an extra tbsp or two of brown sugar would make up for this. I actually followed the recipe for a carrot cake found in this month's Cook Book challenge for Rainy Day Bites Cookbook Club, Bake From Scratch by Brian Hart Hoffman. It's not unlike my carrot cake recipe, in that he also uses walnuts, raisins and pineapple.
The only deviation I took (besides the obvious one of not using carrots!) was to cut the recipe in half. His makes a three layer 9 inch cake. It's just Jim and I at home, we would NEVER get through that much cake! So I decided to make a two layer 6 inch cake. Other than that I followed the recipe exactly. Oh, I did decide to use vanilla powder instead of extract for the frosting. I find that the tiny flecks show up and give the frosting a lovely rustic feel to the look of the cake. I did add toasted coconut to garnish the top, as well as some toasted walnut halves. But that's just for show. The inside was from the book. And yes, the parsnips worked wonderfully- they cause the cake to look less 'browny orange' but more of a subtle taupe colour. In a good way of course! But if you close your eyes as you are eating it, you would swear it's carrot cake 🙂
It's a great 2 bowl procedure (you could use just one bowl, if you want to add all the wet ingredients one by one into the dry ingredients. I like to mix all the wet together before adding them to the dry- it makes for an easier stirring together in the end. Yes, it turned out perfect. If I could improve on it for next time, I would use 3 layers instead of two. Only so that they would bake up faster. Or make the two layers in 7 or 8 inch cake rounds. Other than that, we were both so happy with the cake- we've been snacking on it, and yes, having it for breakfast as well. It's good to have a few layer cake recipes in your repertoire. And this is definitely one of them.
Love Jen.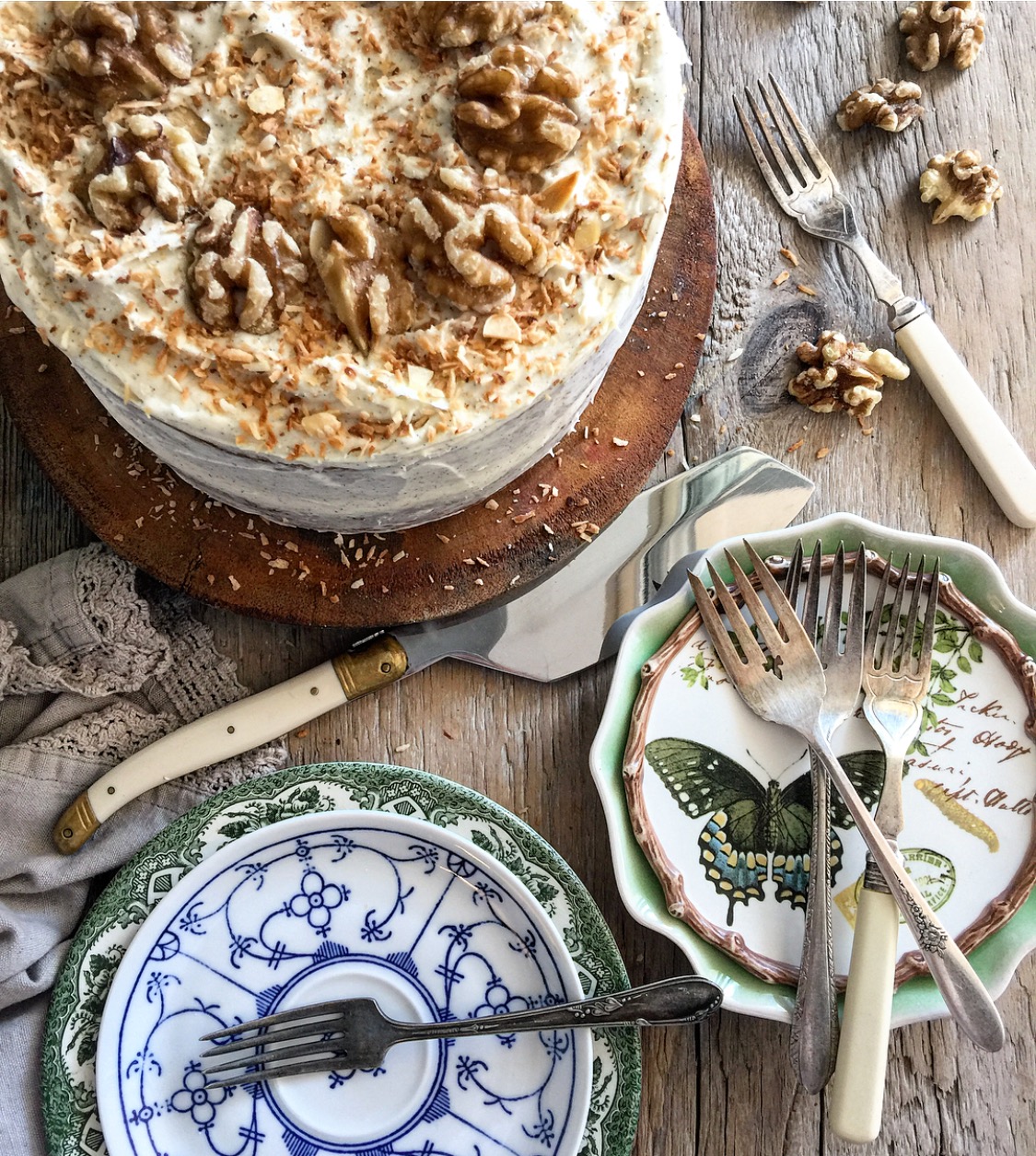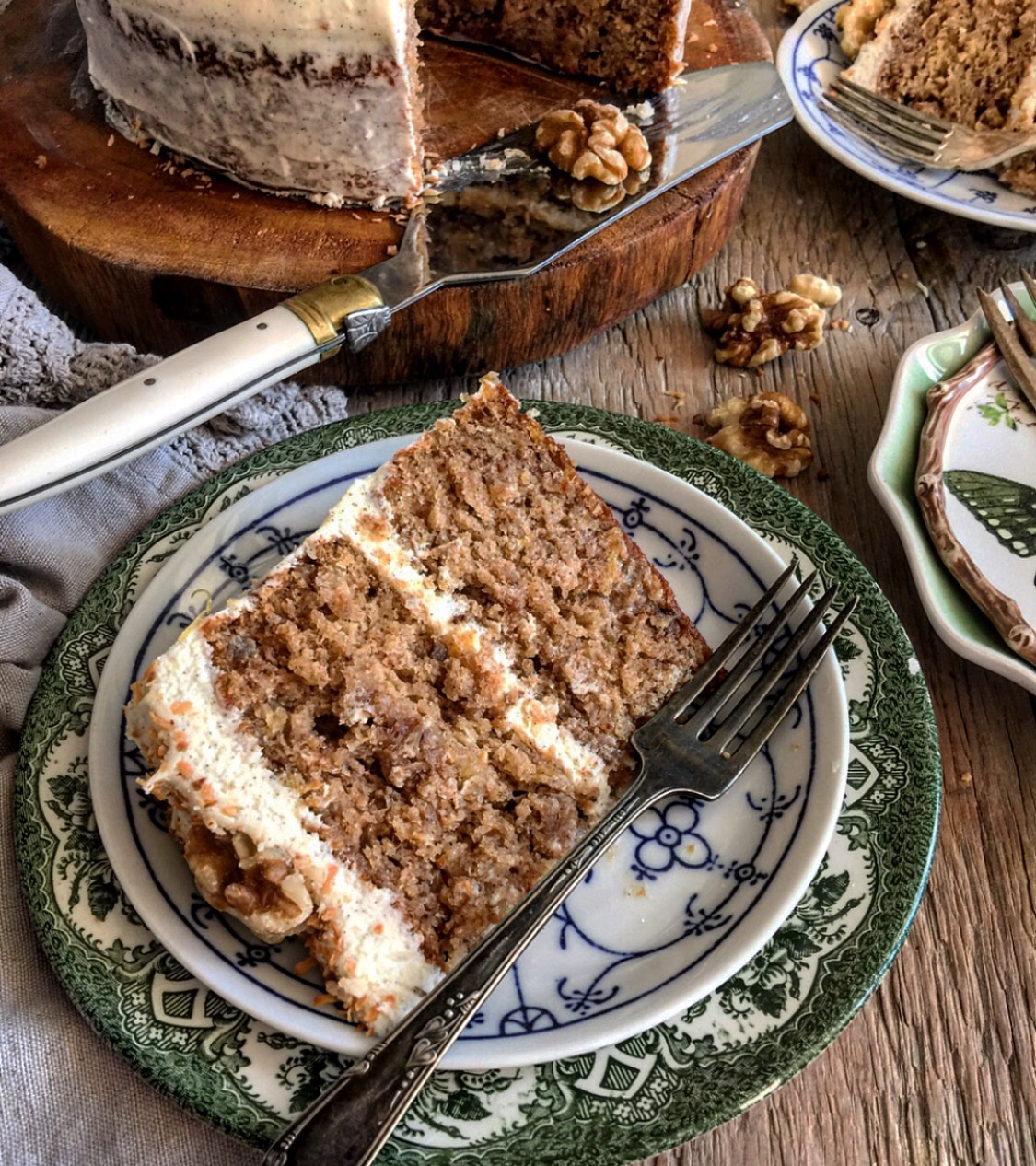 Parsnip Cake with Vanilla Powder Frosting
A fresh twist on a classic carrot cake, highlighting the humble parsnip! But no one will know!!
Ingredients
1 1/2

cups

plus 3 tbsp AP flour

, 209 grams

1

cup

plus 3 tbsp granulated sugar

, 233 grams

1/2

cup

golden raisins

, 64 grams

1/3

cup

finely chopped walnuts

, 43 grams

1 1/2

tsp

ground cinnamon

, 3 grams

1

tsp

baking soda

, 5 grams

1

tsp

baking powder

, 5 grams

3/4

tsp

kosher salt

, 2.2 grams

1/2

tsp

ground ginger

, 1 gram

1

tsp

ground nutmeg

, 1 gram

2

cups

finely grated parsnips

2

tbsp

brown sugar

1 8

oz

can crushed pineapple

, drained

2

large eggs

, beaten

1/2

cup

canola oil

, 112 grams

1

tsp

vanilla extract
Cream Cheese Frosting
1 8

oz

package of cream cheese

, softened

1/2

cup

unsalted butter

, softened, 114 grams

1 1/2

tsp

vanilla powder

1

lb

package of confectioners sugar

, 454 grams (only use as much as you need to get it as sweet as you want)
Instructions
Preheat the oven to 350F. Spray and line with parchment three 6 inch cake pans or two 7 or 8 inch cake pans (I use springform pans, as they release and shape the cakes better, as far as I'm concerned)

In a large bowl, stir together the flour, sugar, raisins, walnuts, cinnamon, baking soda, baking powder, salt, ginger and nutmeg.

In another bowl mix the parsnips, brown sugar (as much as you need to bring the sweetness to the less sweet parsnips), eggs, oil, and vanilla. Pour this wet mixture into the dry, and stir to combine well. Divide among the pans.

Bake until a wooden skewer comes out clean, about 20-25 minutes.

Let cool in pans for 10 minutes, then release from pans and cool completely on rack.

Spread the Cream Cheese frosting between the layers, and then frost the sides. I like a naked cake look, so doing the sides will require less frosting. If you want to completely cover the sides as well, you make need to make an extra 1/2 batch, depending on which size of cake you are baking.

Refrigerate till ready to serve. It is better to cut through this cake once you have refrigerated it.
Cream Cheese Frosting:
In a large bowl, beat the crawl cheese and butter with a mixer at medium spead until smooth. Beat in the vanilla powder. Gradually add the confectioners sugar till you are happy with the sweetness, and it is completely smooth.
Recipe Notes
Vanilla powder can be purchased at specialty food shops, or online.
I state you may need 2 tbsp of brown sugar to help sweeten the parsnips. It is best to taste a piece of the parsnips you are using. If they are only mildly or barely sweet, feel free to use all 2 tbsp of brown sugar.
Naturally you can substitute carrots for the parsnips, you will probably not need the extra sugar then.
I used toasted unsweetened coconut flakes for a garnish (about 2 tbsp worth)
Inspired by the Carrot Cake recipe in Bake From Scratch by Brian Hart Hoffman
SaveSave
SaveSave
SaveSave
SaveSave
SaveSave