It may be a long name, but it's worth it. I love trying new recipes. There's something so intriguing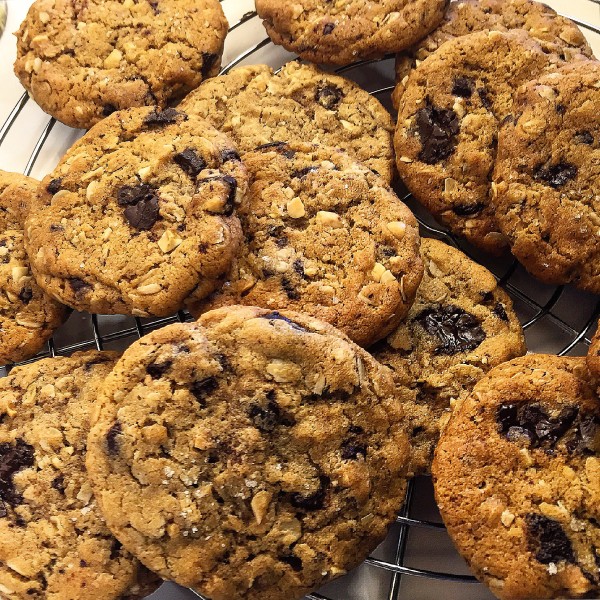 about poring over all the ingredients of a compelling dish, and trying to picture how they will all come together. So, there is a regular flow of new dishes coming out of my kitchen.
And Jim is a trooper. He tries everything with an open mind. Okay, sometimes he does stare at the plate, and then back up at me with a, 'What are you doing to me?' kind of look. And for the most part, he is pleasantly surprised! And then when he says, "This is a keeper" I know I've surpassed all his expectations. And I'm so happy.
But then, to make up for all the confusion and trepidation that his tastebuds must endure, I have to placate the native by going back to the old standbys. In this case, a good cookie. Jim is my Cookie Monster. He's so content with a basic cookie that reminds him of his childhood. So for all the fancy, decorated, exotic ingredient cookies I try out, I have to also make him ones that pass the 'everyman' criteria. This is it. The Peanut Butter Chocolate Chunk Oatmeal Cookie. It has everything he requires. The peanut butter reminds him of his beloved 'Pirate Cookies' (you guys know the store bought bag of peanut butter cookies sandwiching a peanut butter cream centre I'm referring to?). The chocolate satisfies his sweet tooth. And the oatmeal, well, that's the healthy, texture part, right? It's a chewy cookie, but if a few days later it becomes slightly crisp, that's alright: it becomes a dunking cookie. Which is why there's that glass of milk, right? So, when you make these, think of Jim. He's dunking one in his milk right now 🙂
I've been playing with this recipe, using Einkorn flour. A much purer version of wheat flour, which seems to be more tolerable to those with gluten sensitivities. I'm not referring to those suffering from Celiac's disease, who really can't get near gluten of any kind. Einkorn is an ancient grain (actually the early form of the wheat that is being massively GMO'd these days) The proteins that create gluten seem to act differently in einkorn flour compared to conventional wheat, making it a consideration for those with sensitivities to wheat. Check out this link for a comprehensive and approachable explanation of Einkorn and its benefits: Jovial Foods.
Anyway, the recipe below contains an adjustment if you do opt to use Einkorn or Emmer flours. (it's really just a matter of reducing liquids in most cases, because of the way the flour absorbs fat) But the final cookies are still a dream, and still Jim approved.
Love Jen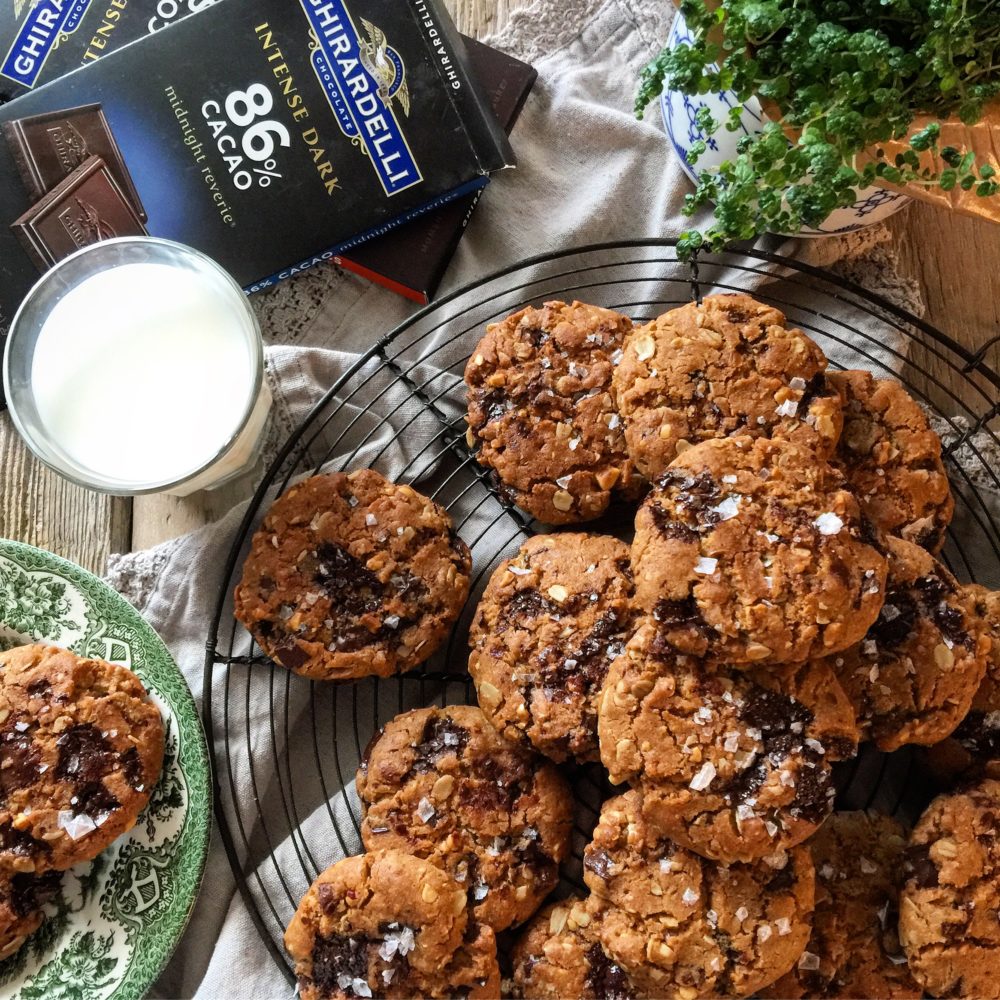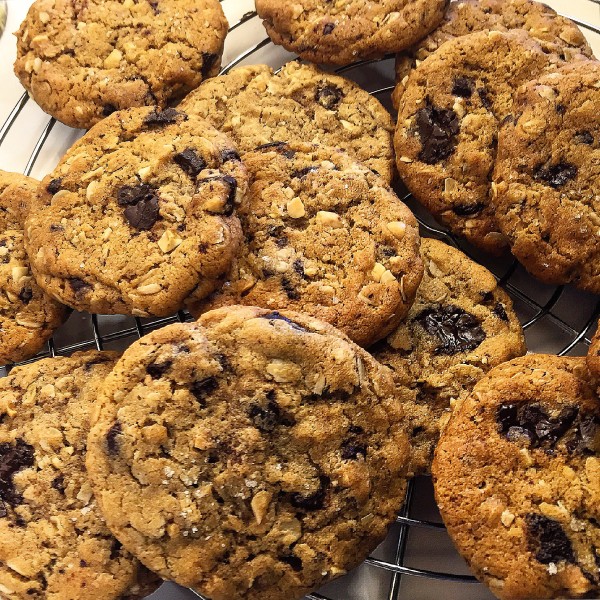 Peanut Butter Chocolate Chunk Cookies
The peanut-iest, chocolate-iest, oatmeal-iest cookie to satisfy even the Cookie Monster himself!
Prep Time
1
hour
10
minutes
Total Time
1
hour
22
minutes
Ingredients
1/2

cup

smooth peanut butter

1/2

cup

peanuts

fresh roasted in the oven and cooled

3/4

cup

AP flour

1

tsp

baking soda

1/4

tsp

kosher salt

1/2

cup

granulated sugar

1/2

cup

packed brown sugar

1/2

cup

(1 stick) unsalted butter

room temperature

1

tsp

vanilla extract

1

large egg

1/2

cup

old fashioned oats

1/4

cup

quick cooking oats

if you only have one or the other, it is fine to make up the entire amount with one type of oats

6-8

oz

chopped bittersweet chocolate

I most often will use 2 Lindt or Ghirardelli bars. Go for darker, or salted version. Or measure chocolate chips- 1 to 1 1/4 cups

Maldon salt for sprinkling
Instructions
Combine peanut butter and roasted peanuts in a food processor. Blend until almost smooth.

Whisk the flour, baking soda and salt in a small bowl.

Using a hand held or stand mixer, beat both sugars and the butter till fluffy, about 3 minutes. Add the peanut butter mixture and vanilla. Beat to blend.

Beat in the egg. Add the dry ingredients and mix till combined. Add both oats. Blend well.

Stir in chocolate chunks.

Cover with plastic wrap and refrigerate for at least one hour.

If necessary, arrange racks in upper and lower thirds of your oven. Preheat oven to 375F. Line two baking sheets with parchment.

Scoop out balls of the dough, about 2tbsp per ball. Space them 1" apart. Press down lightly on each one. I usually get around 30 cookies.

Bake until golden and firming up, about 10-12 minutes. (rotate the sheets between the two racks and also turn 180 degrees halfway through the baking)

Remove and immediately sprinkle a little Maldon salt (or any finishing salt) on each cookie.

Let them cool on the sheets for 2 minutes. Then transfer them to wire cooling rack to cool completely.
Recipe Notes
When I'm trying a recipe for the first time, I will often bake just one tray, and follow the instructions to a tee. Then I can monitor the results. If I'm happy then I can continue with the second tray, knowing that they will all turn out. If I feel I need adjust the cooking time, I can do so with the second tray.
If you would like to try this cookie using Einkorn or Emmer flours, use the required 3/4 cup, and reduce the butter by 1 tbsp.
SaveSave
SaveSave
SaveSave