It's September! Whoa baby! The summer flew by, and now we're entering my favourite time of the year.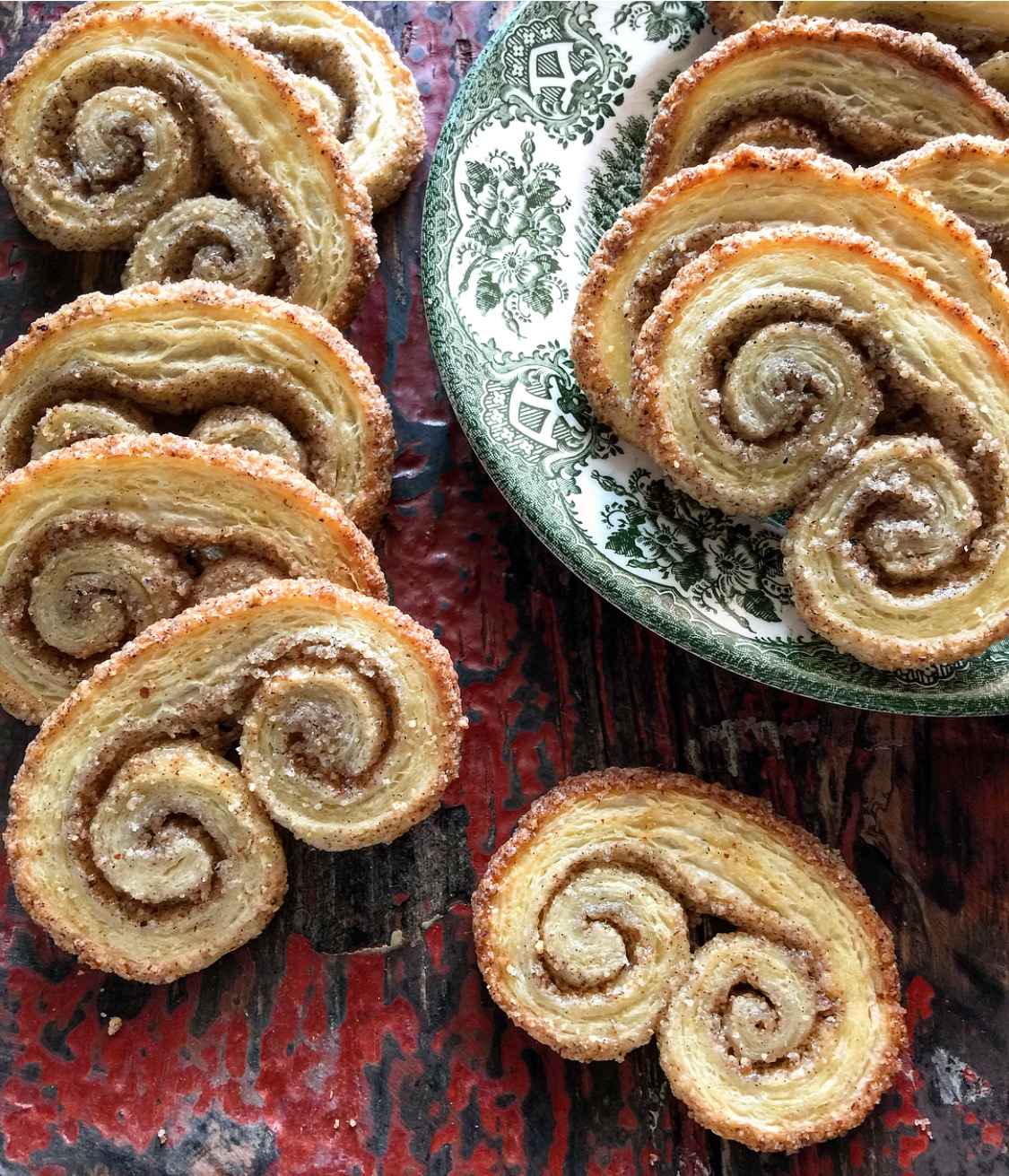 The evenings and mornings are cooler, the sun is usually quite happy and full of life, there is a renewed energy and enthusiasm to everyone. Just such an inspiring time of the year. I guess the kids may think differently, unless some are like me, and actually counted down the days to school's return.
This time of year all the produce is just in such abundance. The summer fruit and the autumn veggies overlap, giving us so many creative options.
But it's also a time of planning, organizing, cleaning, and preparing for the busy time that the next few months always turn into. It seems like the weeks are full, and the weekends book up quickly as well. We languished over the summer months, only doing as much as we chose to do. But suddenly September and October turn into booked schedules, visiting, company, events etc.
And that's where this lovely little recipe comes in. This month for the Rainy Day Bites Cookbook Club, Deborah has chosen 'Bake From Scratch, Vol 1″ edited by Brian Hart Hoffman. It's a compilation of the fabulous collection of baking journals that have been published for the last few years. I already had a few of the magazines, so it is great to have the recipes all collected in one place. So far, every recipe that I have made from the magazines have worked perfectly, so I have complete confidence in the book.
I chose to make the Palmiers for my first recipe this month. What is brilliant about it, is that it uses ready made puff pastry. Win win! What makes this recipe special is the sugar coating the pastry gets rolled in that ends up coating inside and outside of these adorable little finished pastries. It's a blend of ground pecans, sugar, vanilla and cardamom powder. The recipe called for a freshly split vanilla bean, but I didn't have one on hand, so I used vanilla powder. A perfect place to use this powder. Have you got a canister of vanilla powder in your spice cupboard? No? Go get some! It's wonderful to have on hand if you want a quick addition of vanilla without the liquid of the extract or paste getting in the way (i.e.: vanilla sugar for toast etc)
This recipe comes together soooo quickly! You just roll up both long sides to meet in the middle. And then cut and place on a parchment lined baking sheet. The hardest part comes next. Waiting. Having them set in the freezer before you can bake them off is agony! But then when they do get baked off, they become the most delightful treat. Not overly sweet, but tender, buttery and nutty. Perfect with a coffee.
And the best part of this recipe? Since you get 36 cookies out of one recipe, you can store the unbaked ones in the freezer until you need (or want) one or two or twelve! They bake up in twelve minutes or so, so if unexpected company is at the door, you can pull some of these out of the freezer, and have them ready lickety split. Or if you know you are visiting friends or family and want to bring something along with you, bake these up before you head out, and you have the most lovely homemade treat to graciously hand to your host or hostess.
In fact, I'm getting ready to prepare another batch, for the sole reason of keeping in the freezer. See, September is getting off to a stellar start!
Love Jen.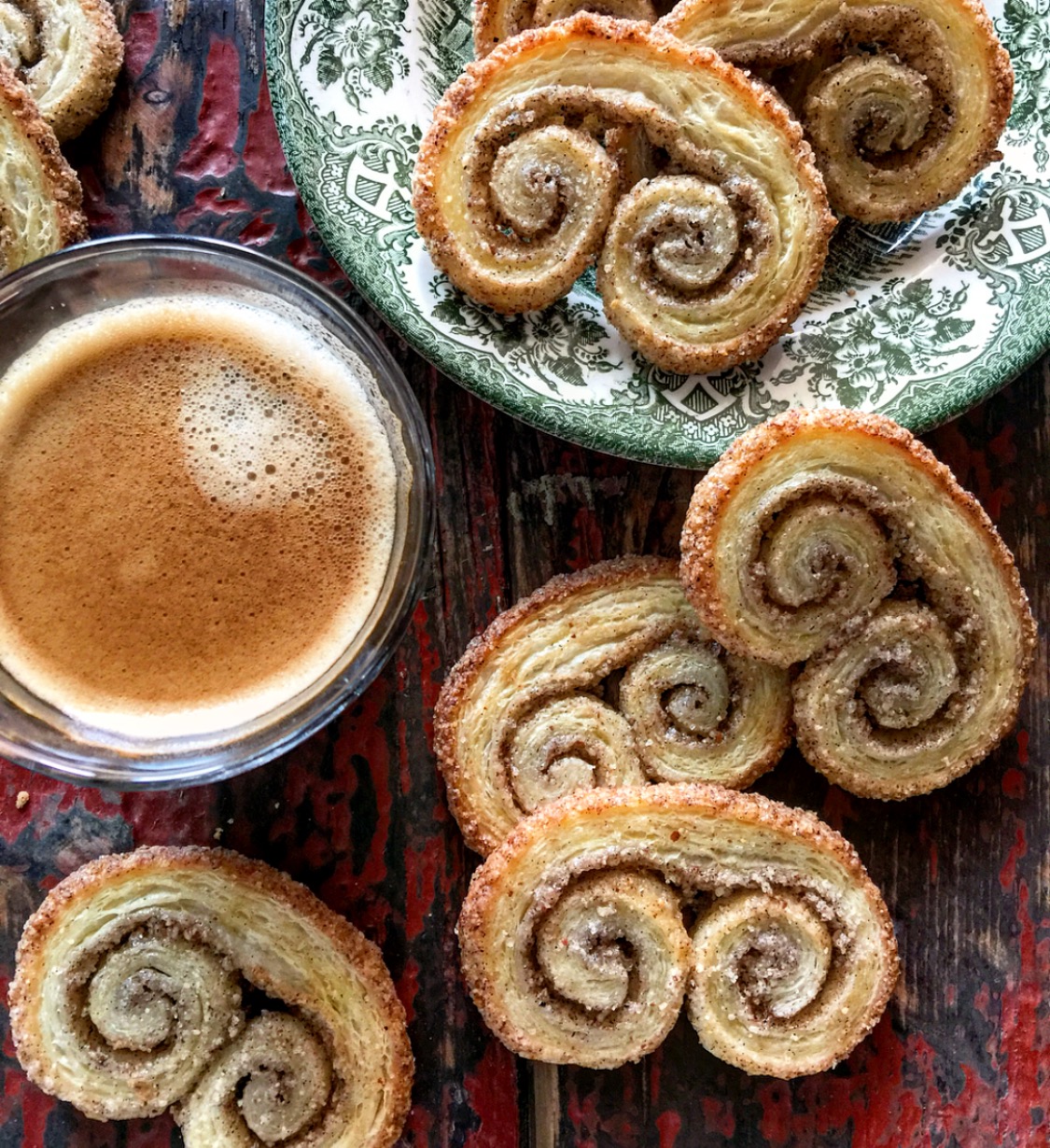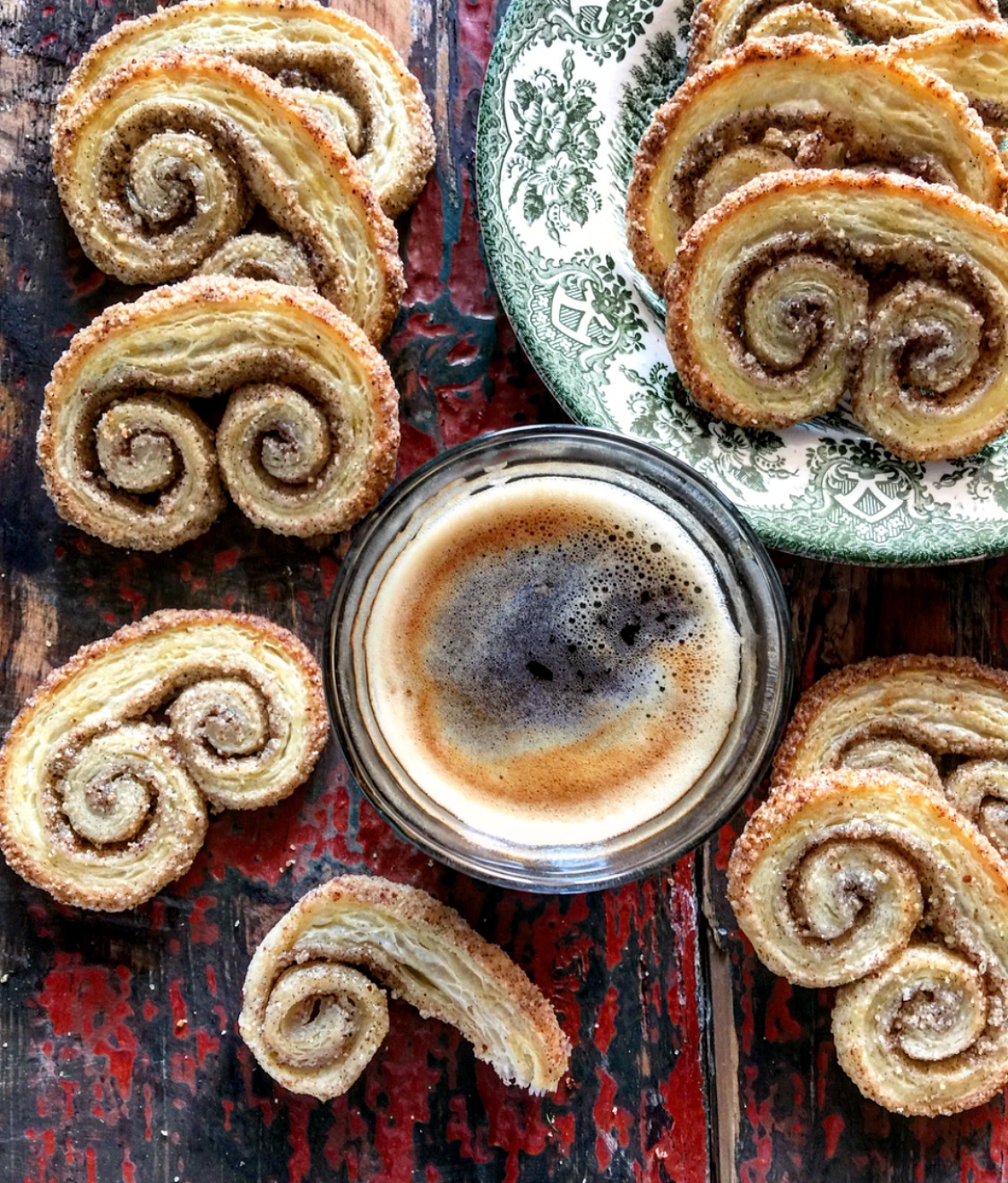 Pecan and Cardamom Palmiers
The perfect buttery cookies with a coating of crispy nuts and sugar. Not too sweet but just sweet enough with a cup of coffee. Perfect for bringing as a hostess gift.
Prep Time
1
hour
15
minutes
Total Time
1
hour
27
minutes
Ingredients
1/2

cup

pecan halves

1/2

cup

(114 g) sugar

1/2

tsp

(3 g) salt

1/2

tsp

(2 g) cardamom

1/2

vanilla bean

, split lengthwise, seeds scraped out and reserved

1

package frozen puff pastry

, thawed (I used an entire 18 oz package, see notes)
Instructions
In the work bowl of a food processor, combine the pecans, sugar, salt, cardamom and vanilla seeds. Process until mixture is uniformly incorporated and the texture of fine sand.

Pour about half of the sugar mixture onto a work surface.

Place the puff pastry on top and sprinkle with some more of the sugar mixture.

Roll out the pastry quickly, adding more sugar underneath (like bench flour) and on top until about 1/8 inch thick. You should have a large rectangle that is approximately 18 inches long.

Roll up each side of the dough, jelly roll style equally, so that they meet in the middle.

Place the rolled dough in the freezer for about 15 minutes to firm up.

Line one or two baking sheets with parchment paper and spritz one with water.

Cut the dough into 3 equal sections. Using one section at a time, cut it into 4 equal sections. Cut each of these into approx 1/4 inch slices (you will get 3 from each of these quarters, or 12 cookies from the one original section)

Lay these 12 onto the parchment with spritzed water about 2 inches apart. Freeze these for about 1 hour.

Cut the other two sections the same way, and lay out on to the other baking sheet for freezing.

Preheat the oven to 425F

Bake the first 12 palmiers for approx 12 minutes, turning half way through with a spatula. They should be golden brown and crispy on the edges. Let cool on a rack before serving.

The remaining cookies in the freezer can be baked off the same way, or stored in a freezer bag till needed.
Recipe Notes
I used 1/2 teaspoon vanilla powder as I didn't have a bean on hand. Worked perfectly.
The original recipe calls for 1/2 of a 17.3 oz package of puff pastry. I could not imagine making this recipe with less than the entire package. It would roll out very thin, and the final cookies would be very small. I am glad I used the whole package. The cookies were the perfect size- small enough that you can enjoy two, but large enough that one will make you content!