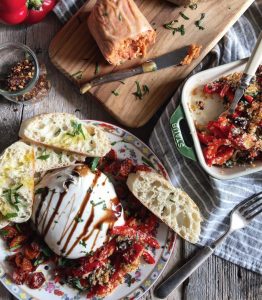 Using the Simply cookbook by Diana Henry this month has been a joy. She has a wonderful collection of dishes that bring flavours together that we may not have thought of combining. Exotic, depth, fun, definitely a cookbook to keep your creativity fired up.
In this case it was a red pepper gratin that intrigued me. As she says in the intro to this dish, "Just when you thought you were aware of everything that could be done with roast bell peppers, along comes this from southern Italy." She suggests using it as a side dish to accompany roast lamb etc, but then points out that even at a slightly cooler temperature, it makes a great appetizer.
And it is as an appetizer that I decided to showcase it. I love burrata. That delicate creaminess that oozes out when you have cut through the lovely skin belonging to a bocconcini ball is so compelling. It is the perfect treat to spread on crostini or crackers, with veggies or charcuterie of some kind, as a garnish or extra layer of flavour.
So, since it was the Oscars last night, I thought that this would be a great dish to have on the table to snack on. Raise the bar from the usual chips and popcorn! Add a few crudités and other cheeses etc, and we would be set for an evening of dress critiquing and cheering on of our favourite movies etc. Speaking of which, last night's show did not disappoint. Jim and I had seen La La Land, and thought it was a delight, refreshing and such a diversion from the seriousness of reality. I wasn't sure how Jim would deal with a movie where the characters spontaneously burst out into song, but there was enough for him to enjoy, that the musical numbers didn't seem to phase him at all. And the music itself was beautiful, catchy, and rather soulful at times. I'm sure he's thrilled that I outed him out for liking a musical… don't tell anyone.
Anyway, back to this recipe. Red peppers are roasted off in a 350F oven for 30 minutes. Then, after letting them cool slightly, they are sliced into strips and added to a mixture of anchovies, black olives, capers, oregano, chili flakes and bread crumbs. 'll be the first to admit: I don't usually have anchovies in the house. I don't use them often, so if I get last minute inspiration to cook something that requires them, I am usually without. At these times, I find that a little touch of Worcestershire Sauce steps in just fine. I'll leave it up to you to decide what route you'll go. All the ingredients are combined and then put into a baking dish and topped with more breadcrumbs and some olive oil. And the whole thing is baked off for another 15 minutes or so, till the breadcrumbs are golden and crispy.
Serving this on a platter with the burrata and perhaps some roasted cherry tomatoes, or even pickled red onions, artichoke hearts; some chorizo, other smoked or cured meat; or even sardines etc makes for a fantastic and filling snack. Why, depending on how large your burrata is, and the other proteins you have on hand, it becomes a pretty impressive meal! Just have plenty of seeded crackers, or fresh baguette ready to scoop it all up with. Spread a little burrata on a crostini, or slice of baguette, top with some of the pepper mix and perhaps a drizzle of olive oil and balsamic reduction- life doesn't get much better than this. Till dessert!
Love Jen.
Peperoni Gratinati al Forno (Red Pepper Gratin with Bread Crumbs)
Not your average roasted red peppers. These get the royal treatment with chopped olives, capers,garlic, anchovies, chilli flakes and breadcrumbs. It all gets baked together till a crispy golden top happens. A perfect side dish or appetizer
Ingredients
8

red peppers

seeded and halved

extra virgin olive oil

8

cured anchovies, drained and chopped

you can replace these with 1 !/2 tsp of Worcestershire Sauce

2

tbsp

black olives

chopped

2

tbsp

capers

rinsed

2

sprigs

oregano, leaves removed

2

medium garlic cloves

minced

1/4

tsp

chilli flakes

1/3

cup

stale bread crumbs

I used Panko, but you use what you can find
Instructions
Preheat the oven to 350F

Put the halved red peppers into a baking dish and brush with olive oil. Bake for 30 minutes and then set aside to cool slightly.

Increase the oven temp to 375F

Cut the red peppers into thin strips and toss with the rest of the ingredients in a bowl, reserving some of the breadcrumbs for a topping.

Put the mixture into a gratin or small baking dish. Sprinkle with the remaining breadcrumbs, and drizzle with a little more olive oil.

Put back into the oven and bake for 15 minutes or until the breadcrumbs are golden and crispy.
Recipe Notes
This dish makes a lively side for a pork roast or chops. Or wouldn't it be lovely served with chicken or lamb kebabs?
It is also a fabulous appetizer. I served with with a large burrata ball and crostini.
Drizzle the burrata with aged balsamic reduction, which becomes a lovely contrast to the savoury/sweet red pepper gratin.