This post is sponsored by Rufino Wines.
Canadians have a love/hate relationship with the weather. We love to talk about how much we hate the current weather status.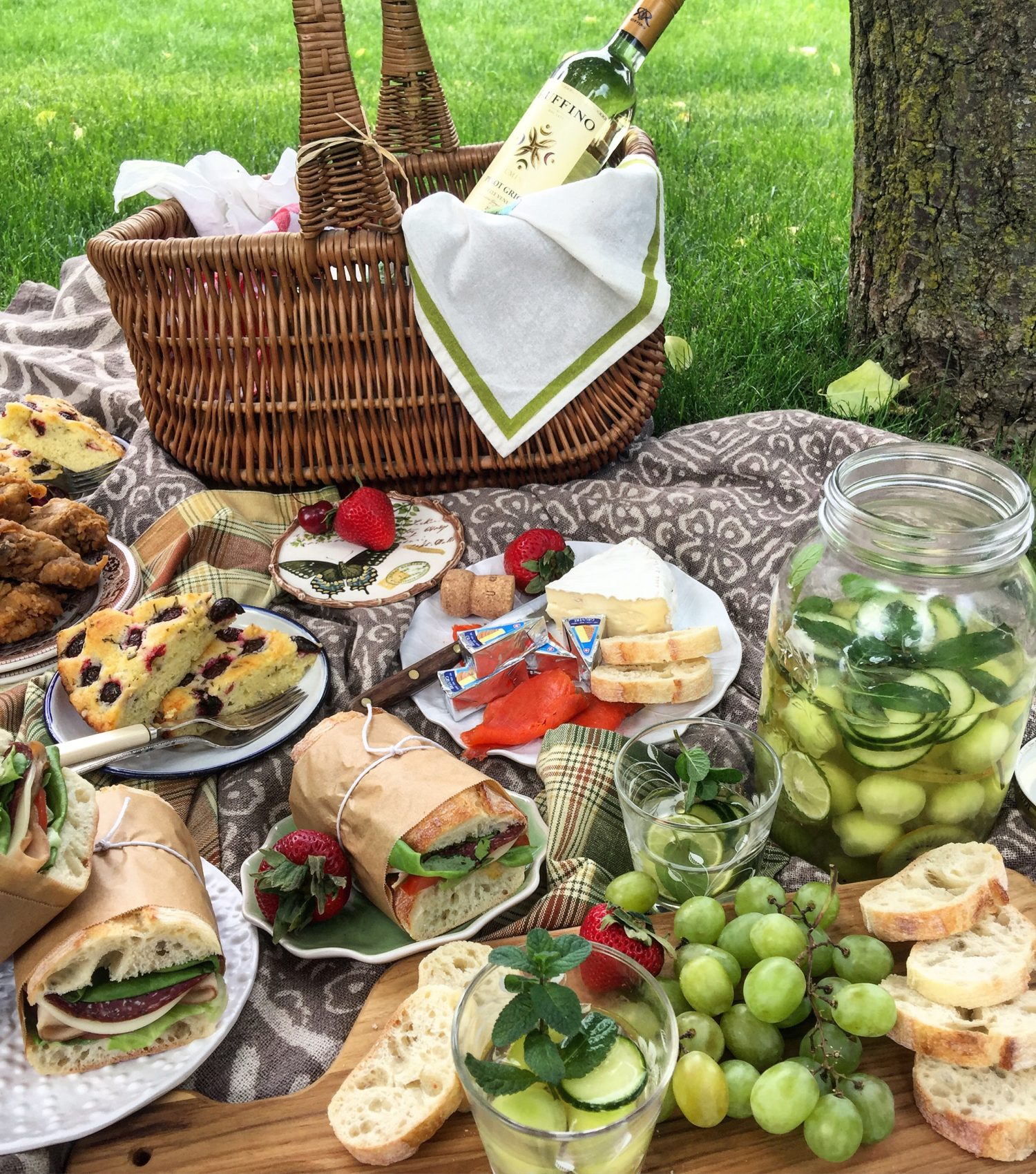 We live in a country of extremes where the weather can change every five minutes. We complain about how cold it always seems to be, only to grumble once the hot, humid days of summer deplete us of all our energy.
Winter is a given. We get enough winter. Pretty well any where you live in Canada, you are guaranteed cold weather from the end of November until close to May. And even then the weather may be dubious. But shockingly, despite how cold, damp, even frigid the temperatures, many of us wish there were more snow! To play in of course.
But summer. My oh my, summer! We heave a collective sigh of relief, even glee, when the sun comes out, the temperatures hit the mid 20's (that's mid 70's for my American friends) and we can get outside. Cabin fever is replaced with cabins, canoeing, beaches, patios, grilling, boating, you get the point. And we try and cram it all in, into 3 or so months.
As soon as we can, we clean off our grills, get new cushions for the patio furniture, and imagine that we are living in the south of France or in Tuscany somewhere, craving to eat al fresco every moment we can. And to this I say, all hail the picnic! Yes, the good ole fashioned picnic, complete with blankets, baskets, wrapped food, fried chicken, watermelon slices, and hopefully NOT ants! A breeze gently blowing across our sun kissed plates, and the leisurely sound of birds singing and kids playing and all that other cliche stuff that accompanies the picnic of yesteryear.
My favourite picnic memory will always be the one we had at Meadowbrook Hall, in Michigan, an outdoor venue where we were seeing Harry Connick Jr play for the first time. He had just come out with the Sleepless in Seattle soundtrack, and I was hooked! Well, the venue to see him and his big band serenade us for the evening was all grassy and casual. So we brought everything we needed for the perfect evening: blankets, wine, paté, baguettes, cheese, chocolate etc. And we were so close to the front of the bandshell- in perfect view to watch Harry's hands fly across that keyboard. Such a fabulous eve. Big band music, a young Cary Grant with a wicked sense of humour entertaining us, and great munchies. Life was good.
So today, the music may come from our phone, but it can still be Harry Connick, or Benny Goodman etc. We can still have the paté, smoked salmon, and cheeses and baguettes. I love bringing those cute little wrapped cheeses on these kinds of outings. Here's a tip for non soggy sandwiches or stuffed panini: after dressing the bread with butter or hummus etc, line both sides with well-dried lettuce. Then place your meats and paper towel pressed pickles or tomatoes (just a light pressing between paper towel removes any excess liquids or juices) in between the lettuce. Also trap your cheese in the middle. The cheese and deli meats will keep fresh, and the bread will not get all dripped up with any juices from the tomato or pickle. Wrapped in parchment will keep them fresh till munching time. Veggies in tupperware, cold fried chicken, even bags of chips, and sliced tea cakes, brownies or cupcakes, are all perfect for snacking. Have your watermelon sliced and placed in a sealed container. A extra bag for the refuse, paper towel and plastic cups and a pitcher of pureed fruit and water for the kids, and your all set. But don't forget a good knife- for some reason, you will always need one. Don't ask me why, you just will.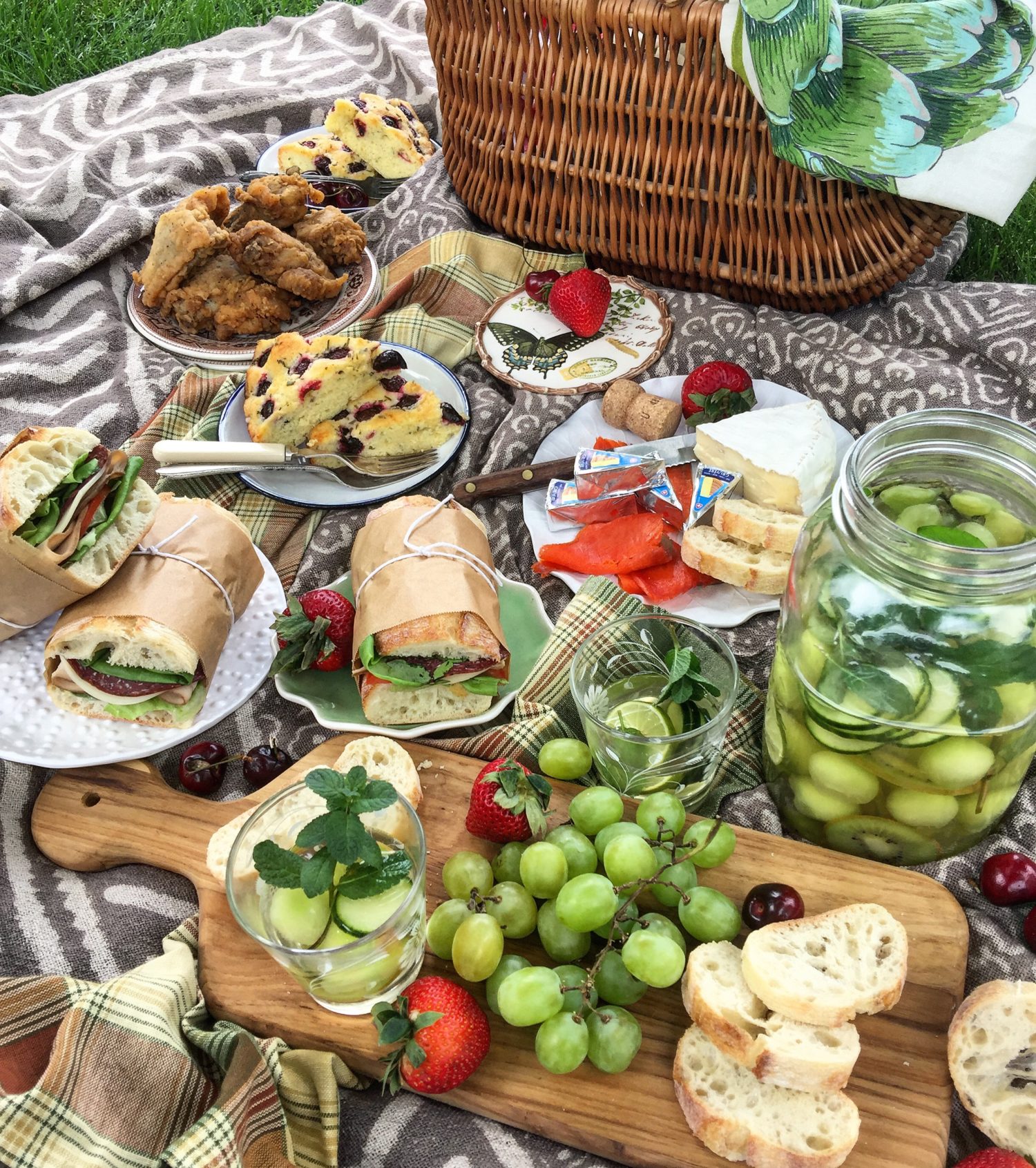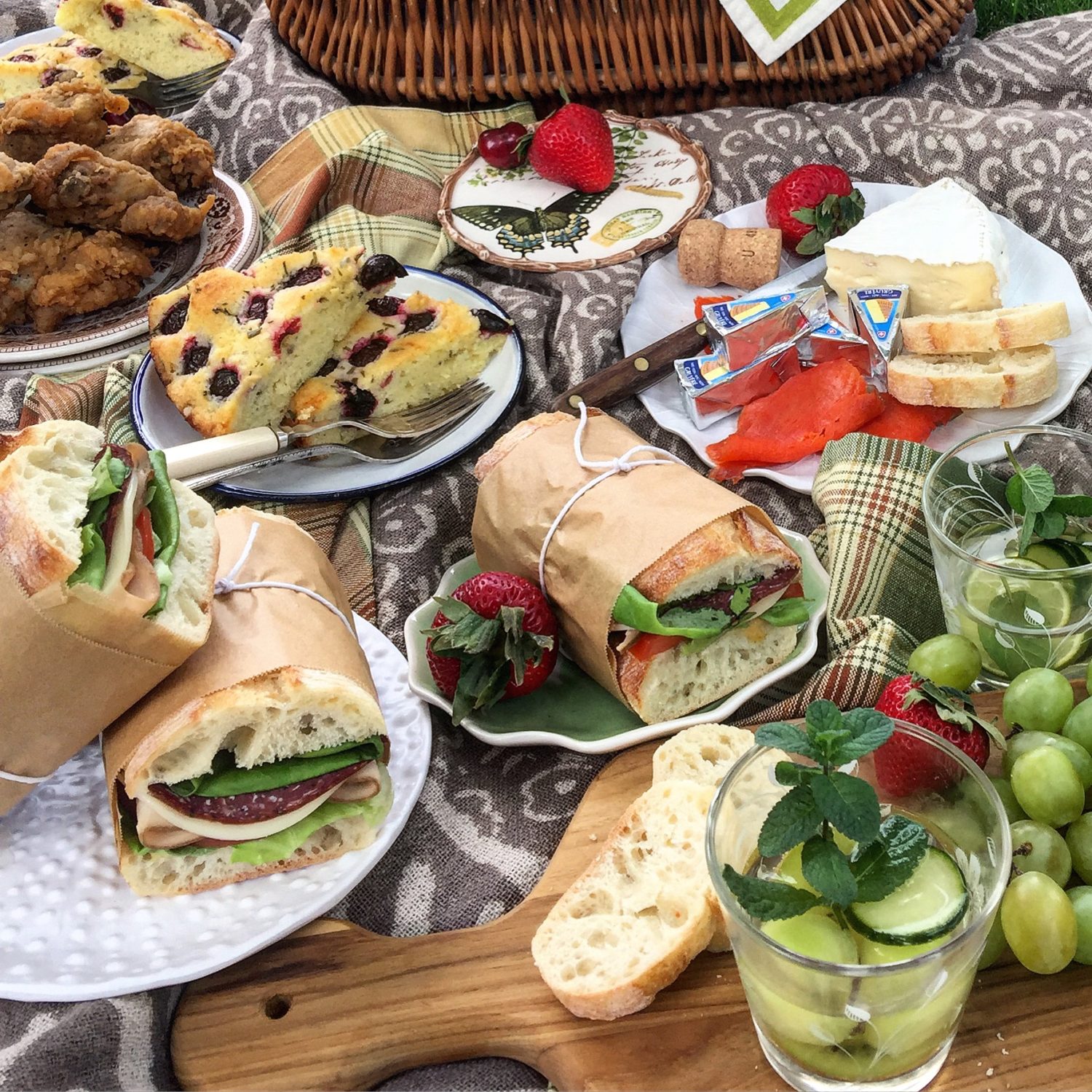 And to wash it all down for the adults, why not try something summery and fun?! So I present, a summer Pinot Grigio sangria. Rufino Wines makes a Pinot Grigio that is a perfect summer wine. It's crisp, the right amount of dry, and the hints of sage and mint means that it pairs awesomely with fruit, chicken, fish, or great for even sipping. This Sangria is so easy to whip up: pull out your melon baller (it deserves some attention) and go to town on a honeydew melon. Add some sliced kiwi, cucumber and lime, green grapes and mint, and you've got a great base for your sangria. Just add 1/4 cup of Cointreau or even St Germain, and 1/2 cup white grape juice and let it chill in the fridge over night. The next day, pour a bottle of Pinot Grigio over it all, twist on the cap and you're all set. When you pour it into glasses over frozen green grapes. But leave some room to top it off with Ruffino Prosecco! Or club soda. And the best part of a sangria? The tipsy fruit when you're all done with the liquid portion! Spoon it over ice cream, and the day is complete. Here in good ole Ontario you can find Ruffino Pinot Grigio at the LCBO for all your summer wine pairing.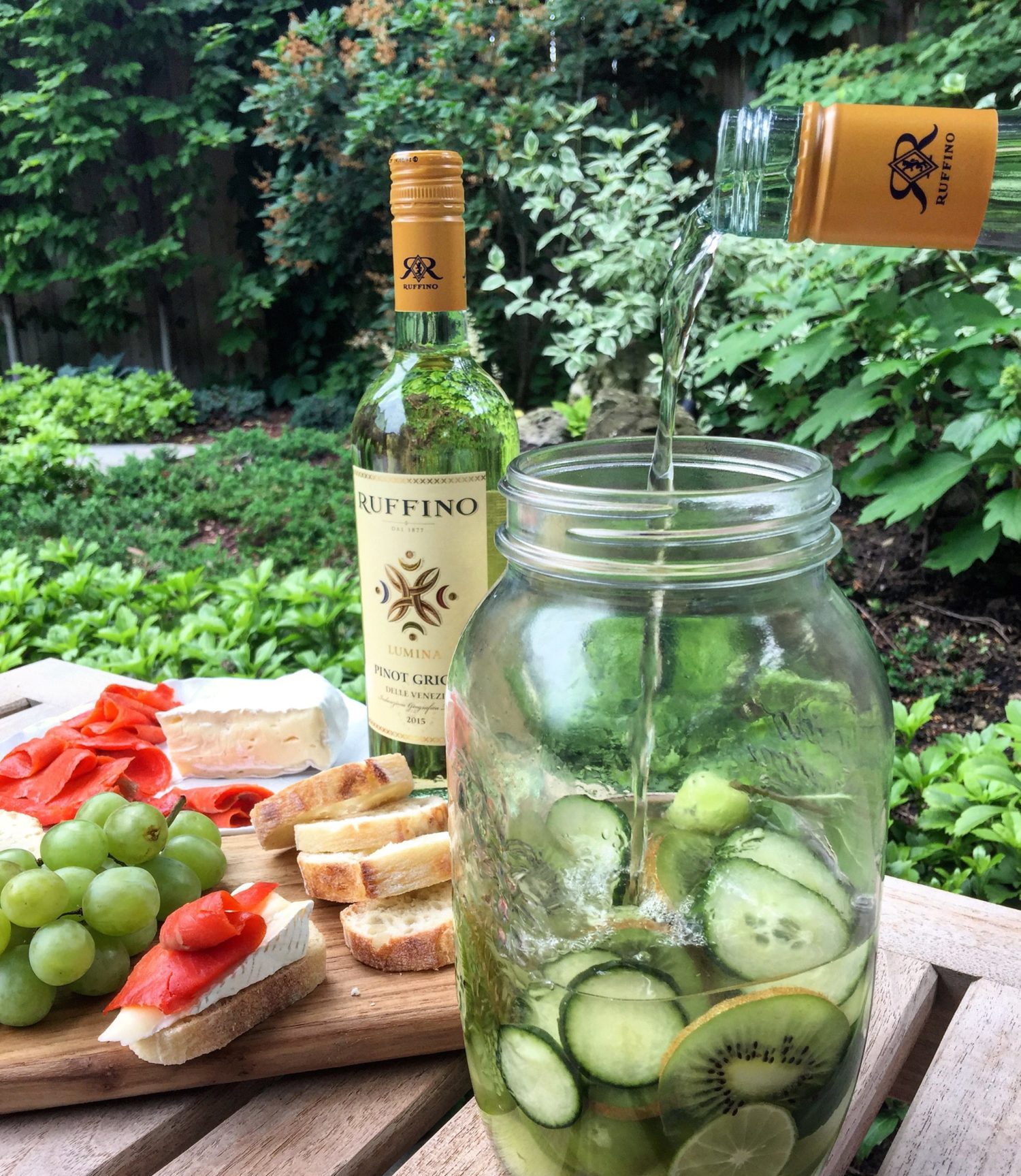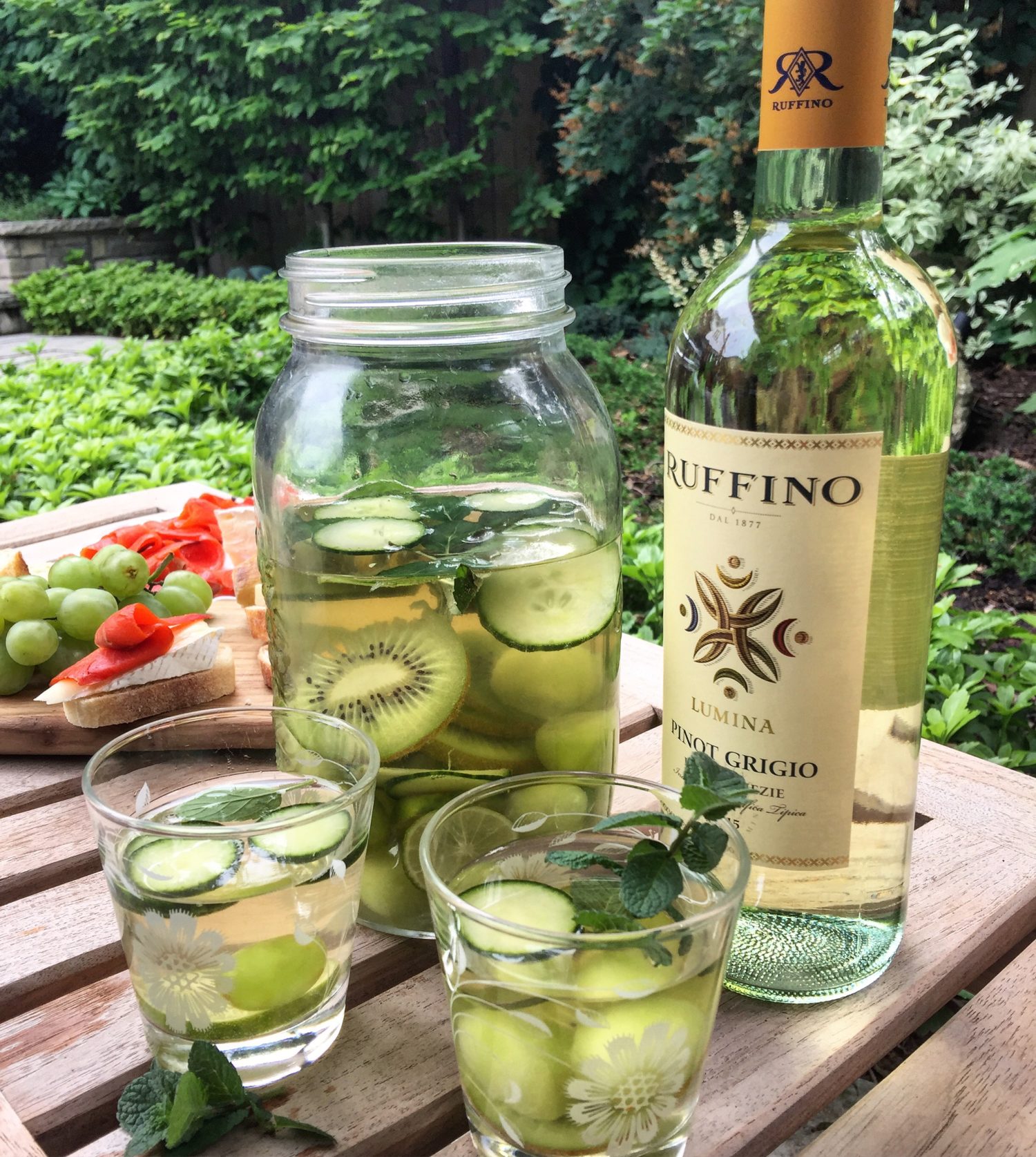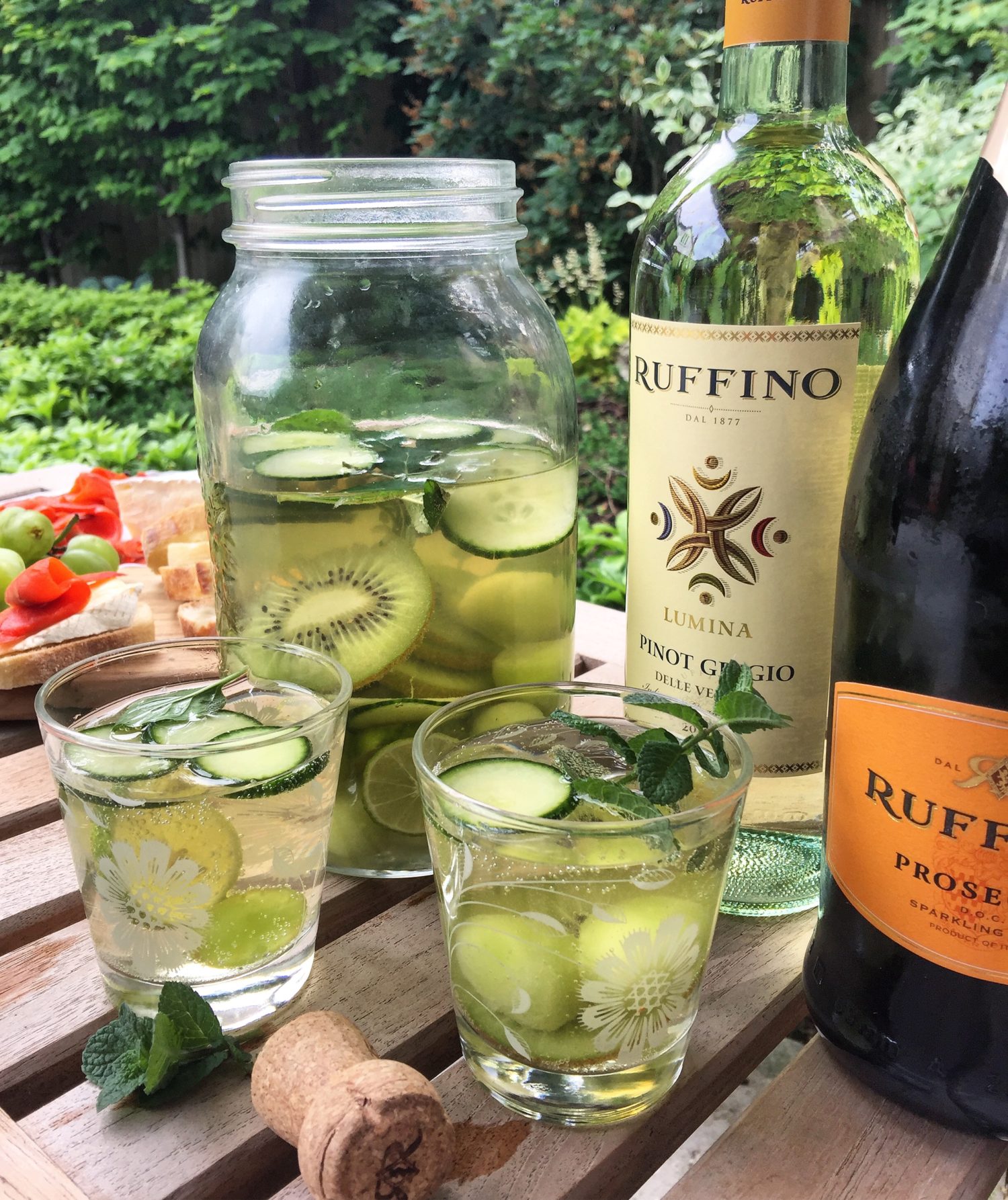 And if you don't want to go to all the bother of making a sangria (but why wouldn't you?!) then I say, Prosecco! Prosecco has to be my favourite and first choice when it comes to something to drink. Unless of course it's the end of a long winter's eve (then it's a single malt!) But whether we're going out for dinner, or I'm just serving appetizers, prosecco is always the perfect choice. Like all good Proseccos, the joyful crispness of a Ruffino Prosecco goes with everything, cutting through the fattiness of the decadent appetizers we are often munching on, whether it's smoked salmon, cheeses, or charcuterie etc. Mix it with puréed fruit or liqueurs, it can be fancy or straightforward! And it's also at the LCBO in the link provided.
So, whether you are on a picnic, eating al fresco on your patio, or enjoying the backyard fire pit, wash it all down with something joyously summery to drink. Because summer will be gone all too soon.
But of course, please, drink responsibly.
I have been monitarily compensated by Rufino wines for creating this recipe and blog post.
Love Jen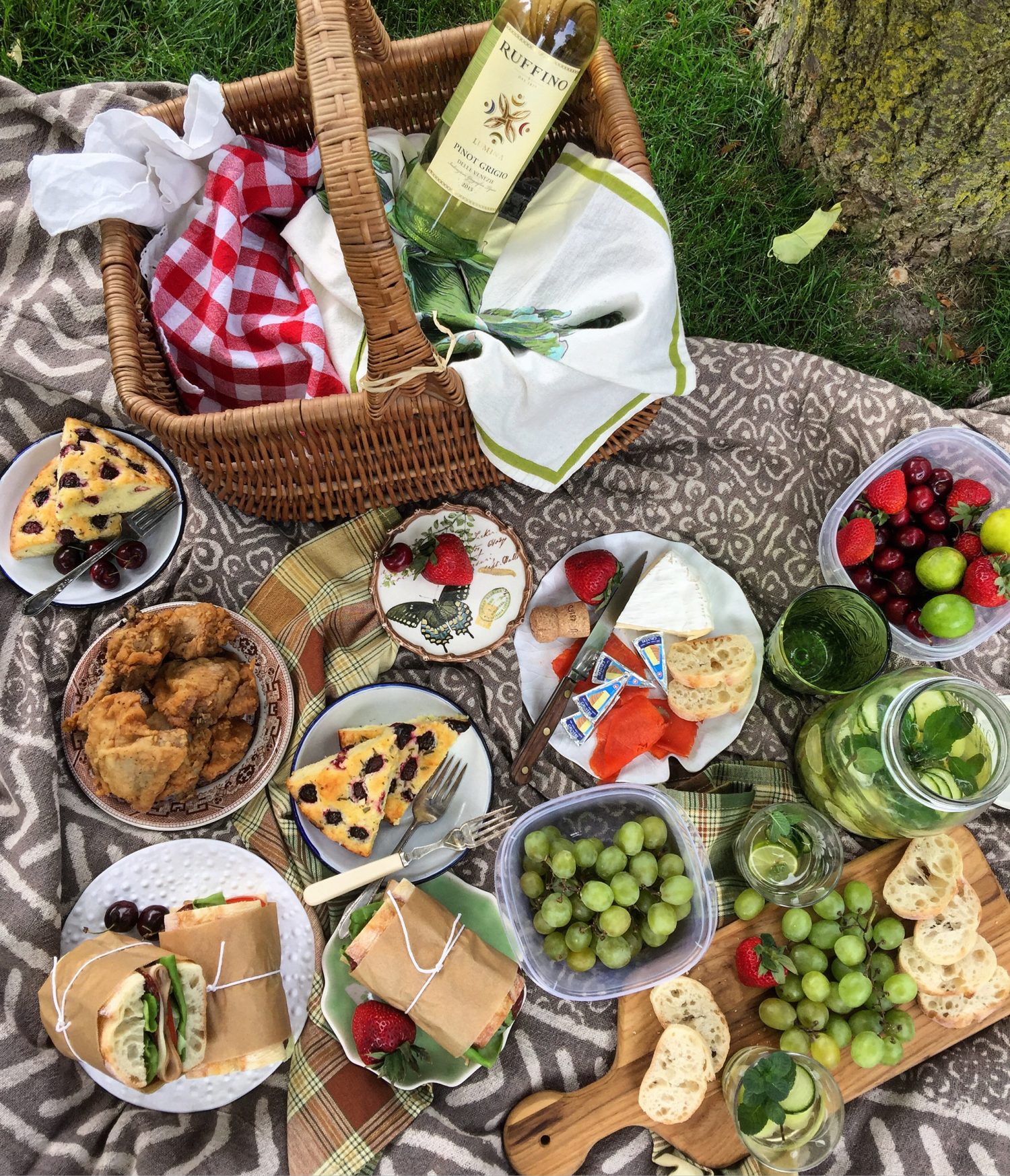 Mason Jar Sangria Verde
A fresh, crisp, summery Sangria, made with Pinot Grigio, St Germain or Cointreau, and all sorts of green fruit and herbs. Put a lid on the mason jar, and it's ready for travelling!
Ingredients
1

cup

honeydew melon

cubed or melon balled

2/3

cup

green grapes

2

kiwi fruit

peeled and sliced

2

inch

section of cucumber

sliced

1

lime

sliced

2

sprigs fresh mint, basil or combination

plus extra for garnishing

1/4

cup

St Germain liqueur or Cointreau

1/2

cup

white grape juice

1

bottle

Ruffino Pinot Grigio

chilled

Ruffino Prosecco or club soda

chilled
Instructions
Clean a large 6 cup or larger mason jar with a lid.

Place the melon, grapes, kiwi, cucumber and lime slices and mint in the jar. Top with the liqueur and grape juice.

Refrigerate over night.

In the morning or before ready to serve, empty the bottle of Pinot Grigio over the fruit. Place in fridge till ready to use.

When ready, pour into glasses that have some ice added to them (or else have the glasses chilled)

Leave room at the top to add some Prosecco or soda water for some bubbles! Garnish with extra mint sprigs.

Enjoy!
SaveSave
SaveSave
SaveSave
SaveSave
SaveSave
SaveSave
SaveSave
SaveSave
SaveSave
SaveSave
SaveSave