It's pizza. It's a pie. Or a tart (fancy word for pie) What more can I say? Okay, I'm done. See ya later.
Really, I could write a whole long dissertation on the importance of pizza. Culturally, heathywize, convenience, comfort food, group dining, breakfast snack. But I won't. I don't need to convince you on the merits of pizza.
You already know how I feel about pie. It's round, it's sweet, it's savoury, it's a joy to decorate, it's a dessert tradition. Yaddah, yaddah, yaddah (do you spell yaddah with an 'h' or without?)
So here are both mashed up in the best way possible.
I was inspired by a recipe in The Magnolia Journal. But, of course, I put my own spin on it. Made it more Jim friendly.
So, the fennel has been replaced with Cubanelle pepper slices. Thin matchsticks of spicy sausage have been added. I used ricotta, gruyere and bocconcini for the cheeses. And there is a whack of hot pepper flakes laced throughout. If I had my way, there would be sautéed mushrooms and olives in the veggie layer. But, that ain't going to happen if I'm sharing with Jim. I'm just glad he didn't ask if I was hiding mushrooms in it somewhere. Oh happy day!
I used my no-fail pie crust pastry for this. I removed the sugar, and added a teaspoon of dried thyme (ran out of the fresh) to the dough. But you could add any finely chopped fresh herb in place of the time: oregano, rosemary, parsley. But feel free to use a purchased pie crust that will fit with a touch of gentle persuasion into a 10″ tart pan with a removable bottom. Whatever you would like with your pizza can go into this recipe. Feel free to sub out some of the cheeses for your favourites: cheddar, gouda, etc. But keep the ricotta. Oh you could add some crumbled blue cheese- that would be amazing!! Or how bout some thinly sliced cooked eggplant, arugula, etc in the veggie layer?
It's a layer of cooked down veggies on top of the partially baked crust. Then a combo of cheeses is spread over the veggies. Then fresh cherry tomatoes and some more spicy cured sausage on top. And bake. And eat. Pizza you are allowed to use a fork for! Perfect for a dinner you actually want to make, instead of ordering in. It's a real treat.
Love Jen.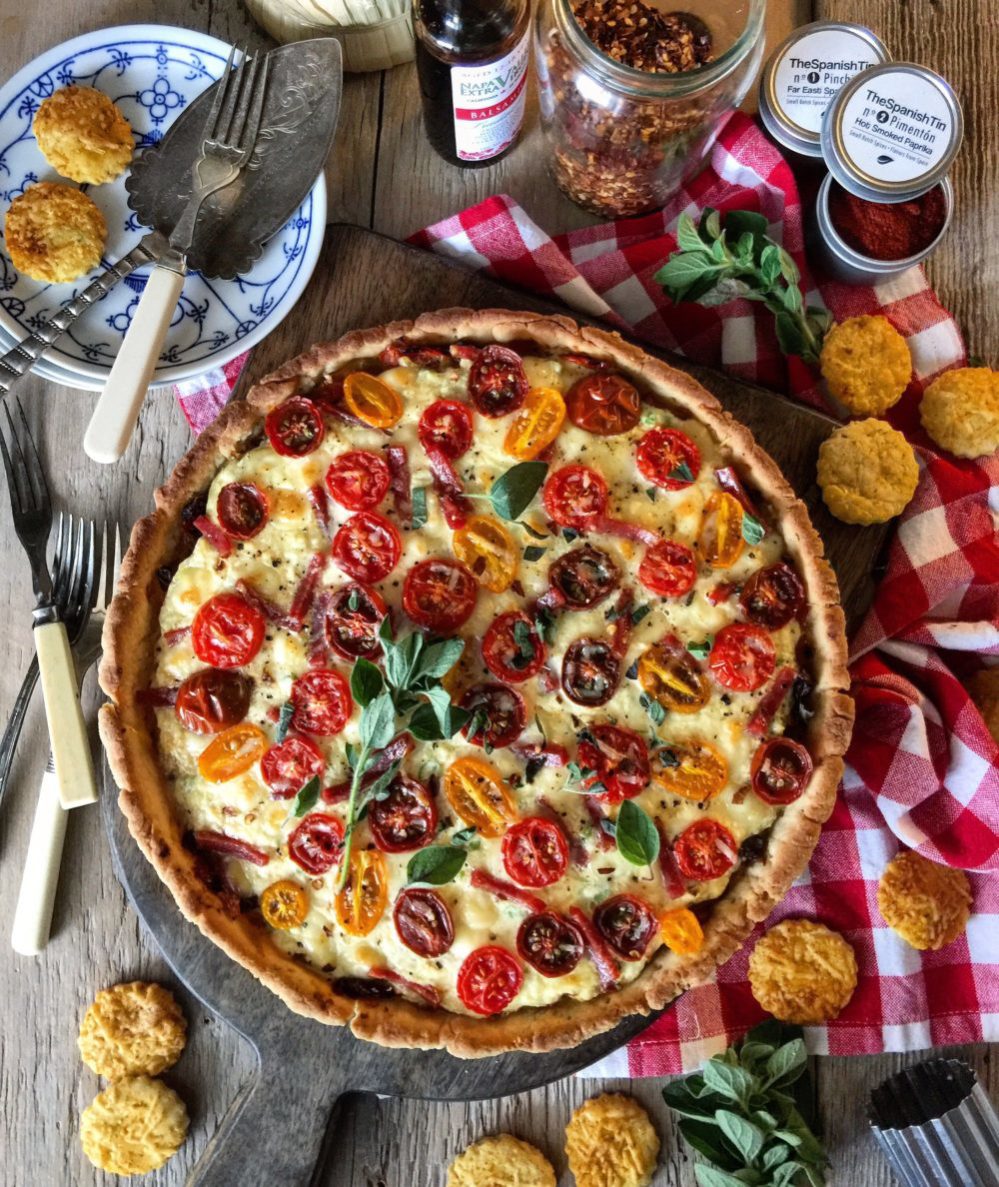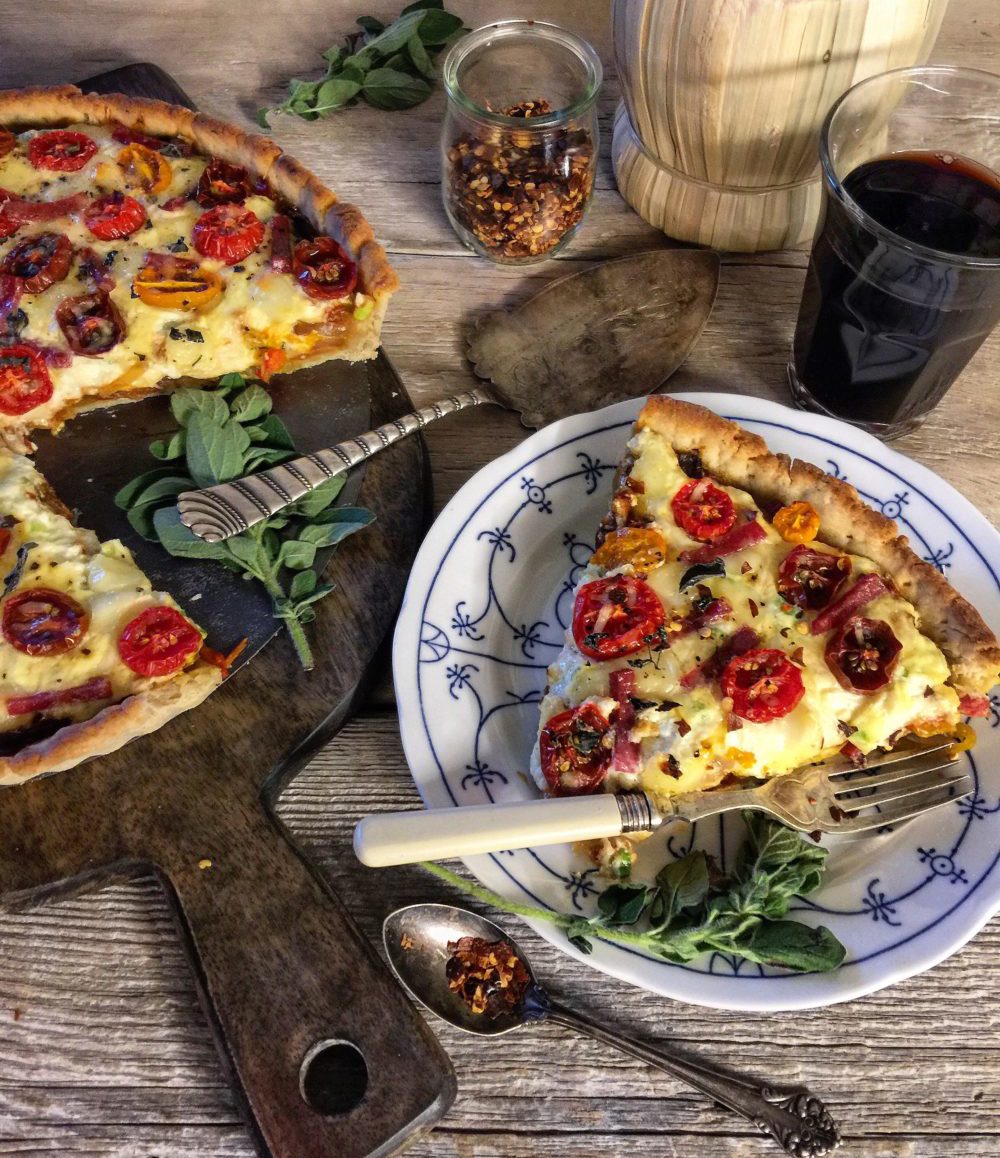 Pizza Tart
All the goodness of Pizza in a Pie shell. For a change! Pizza you're allowed to use a fork for
Ingredients
1

pie crust to fit into a 10" tart shell with a removable bottom

If you are using a pre-made pie crust from the grocery store, get the deep dish size, as it will fit into a 10" pan easier. Or use my Perfect Pie Crust recipe

1

tbsp

olive oil

1

medium

yellow onion

thinly sliced from top to bottom, enough to make 1 cup

2

cubanelle peppers

thinly sliced to make 1 cup. You can use gree, red or orange peppers as well

3

garlic cloves

thinly sliced

4

medium

tomatoes

seeded and chopped, enough to make 2 cups

1

tsp

fresh oregano

chopped (alternatively you can use 1/2 tsp dried)

1-2

tsp

hot pepper flakes

1/2

tsp

kosher salt

1/2

tsp

cracked black pepper

1/2

cup

thinly sliced spicy cured sausage

divided

1/4

cup

sun dried tomatoes

finely chopped

1

tbsp

aged balsamic vinegar

1

egg

lightly beaten

3/4

cup

ricotta cheese

1/4

cup

shredded gruyere cheese

you can replace this with cheddar, jarlsburg, gouda etc

1/2

cup

thinly sliced bocconcini

or shredded mozzarella

1/4

cup

thinly sliced green onions

1/4

tsp

hot pepper flakes

or to taste

1/4

cup

grated parmesan cheese

2

tsp

AP flour

1 1/2 to 2

cups

cherry tomatoes

cut in half

fresh oregano leaves

chopped
Instructions
Preheat oven to 400F.

Prepare your pie crust (use just over half of my no-fail pie pastry recipe, freezing the other portion for another use, removing the sugar and adding some fresh or dried herbs to the dough at the same time as the salt)

If using a pre-made crust from the grocery store, let thaw to room temperature as per the directions, and then gently ease into the pan. See next step.

Fit the pastry into the 10" tart pan with a removable bottom. Ensure that the dough rises to the very top of the edges. Press gently into the sides and trim. Pierce holes throughout the bottom of crust with a fork.

Place tart pan onto a baking sheet and bake in the bottom third of the oven for 20 minutes, till just turning golden. Watch it to ensure that no bubbles are rising, if they do, just use a tea towel to push back down.

Remove and set aside. Put a rack in the middle of the oven.

Heat olive oil in a large skillet over medium heat. add the onions and pepper slices. Cook 5 minutes, stirring occasionally.

Add the garlic and cook another minute.

Stir in the chopped tomatoes, oregano, hot pepper flakes, salt and pepper. Cook over medium heat until much of the liquid has evaporated, about 10 minutes or so.

Remove from the heat and stir in 1/4 cup of the sliced sausage, the sun dried tomatoes and the balsamic vinegar. Set aside.

In a medium bowl combine the egg, ricotta, gruyere, green onions and hot pepper flakes. Also stir in 3 tbsp of the parmesan cheese.

Spread the cooked down veggie mixture all over the bottom of par baked tart shell. Sprinkle this with the AP flour.

Spread the cheese mixture over the veggies, leaving 1/4 inch border along the edges free.

Top with the cherry tomatoes and remaining sausage slices. Sprinkle with remaining parmesan cheese.

Bake at 400F in the middle of the oven for 20 minutes or until golden and the cheese is just starting to bubble. If you would like to add some colour, you can also set it to broil for a few minutes. But watch it!

Cool on a wire rack for about 10 minutes. Garnish with extra fresh chopped oregano or thyme etc.
Recipe Notes
This can easily be personalized. Add veggies of your choice when sautéing. Change up the sausage to pepperoni etc. Customize your cheeses.
I state that this feeds 6. If serving a salad on the side, you could get away with feeding 8.
I used the leftover pastry to make crackers. Just sprinkle the dough with herbs or spices (harissa powder, chilli powder, togarashi, etc, and some grated parmesan cheese. Fold into the remaining dough. Then roll out to about 1/8-1/6 inch and use cookie cutters to make crackers. Sprinkle with more parmesan. Bake at 375 for about 15 minutes, till turning golden.
Adapted from The Magnolia Journal
SaveSave