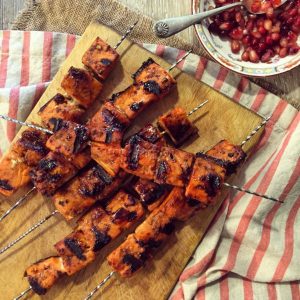 New month, new cookbook for Rainy Day Bites CookBook Club. And this month it's a doozy!! 'Zahav' by Michael Solomonov and Steven Cook. It's a brilliant read, an endearing tribute to family life, and filled with the colourful experiences that led Solomonov to create Zahav, a renowned spot in the the Philadelphia restaurant scene. Israeli and Middle Eastern cuisines and ingredients are amongst my most favourite, so fresh, light, and full of flavour. We just feel so healthy eating like this. So a whole month dedicated to this cookbook is simply, a joy.
I have to admit, my book is already marked up and flagged with all sorts of recipes to try. I don't think I'll get even half in this month. But I'll try. The first recipe I tried was one I chose on a whim: the Israeli Salad Martini. Yes, you read that correctly! A savoury martini made with the extracted juice from one cucumber, one tomato and some parsley that have been puree'd, and some fresh lemon juice. I have to admit, it was wonderful!!
The recipe for the Glazed Salmon enticed me on two levels: I love anything pomegranate. (See my recipe for Fessenjan). And I am determined to find a salmon recipe that Jim would like. He suffers through almost any fish dish I put in front of him. So I thought, this wonderful glaze, sweet and tart at the same time, as well as the spice rub that has Aleppo pepper in it, might just win him over.
It's very easy to prepare. The spice rub is made of things that we all have: garlic, orange zest, kosher salt and Aleppo pepper. Aleppo is not too hot, and has a slight sweetness to it. If you don't have access to this, you could combine some sweet smoked paprika and a touch of cayenne pepper. The only thing you need to get is the pomegranate molasses (unless of course you have already made my Fessenjan, which means that you have a bottle in the pantry) But these days, more and more grocery stores have entire sections dedicated to ethnic cooking, so you should be able to find it. If not, a trip to the middle eastern neighbourhood in your town is worth it!
So I marinated, and then I grilled. And I served the skewers with a fabulous dish of harissa and honey marinated asparagus (more on that one later!) I watched. Jim ate. And he liked it! He really liked it!! Yay, winner, and keeper. This will be a regular in my kitchen, since I know Jim will eat it and actually smile. Smiles are worth it!
Love Jen