The potato. So mundane, humble and beige. Except for purple potatoes. Oh, and sweet potatoes.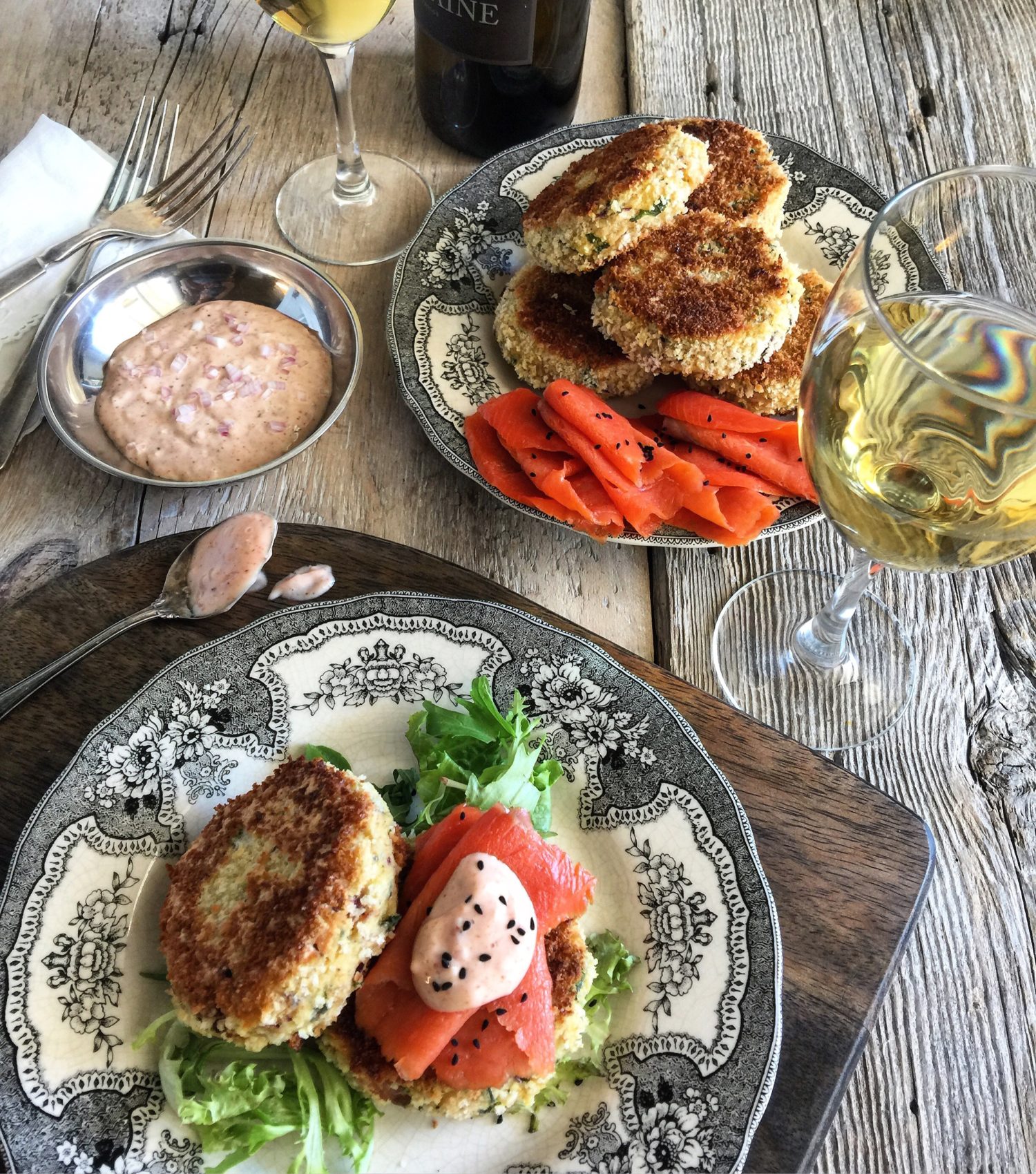 So not always beige. But still, a rather unassuming tuber. And yet it is the backbone of many kitchens.
Everyone has their favourite way of preparing potatoes. Jim loves mashed potatoes. Doesn't every guy?! But while mashed is probably the ultimate way to serve potatoes, there are a cornucopia of options. Scalloped, roasted, hashed, riced, baked, roesti, fried, frittata'd, and even boiled. They are the basis of most forms of comfort food, amiright!?
Today I'm reminding us all of yet another way to prepare potatoes. Cakes. They look like crab cakes. Without the crab. Or any fish for that matter. Making these up is as fun as serving and eating them. They can make the perfect lunch or dinner, or even a fun appetizer. A platter of these, served with the aioli that I'm including, makes for a fabulous hors d'oeuvre. And while I'm raving about how yummy these are, I might as well say, I love using Yukon Gold potatoes. They are just so versatile. Their colour is a lovely buttery yellow, and the hold up well to pretty well anything you do to them. They're pretty well the only potato in my pantry, unless I'm planning on baking some potatoes.
These little cakes are filled with some extra punch. Chopped kale and minced red onion are some colourful veggies. Bacon adds flavour and well, it's bacon! Cheddar cheese and some kicky seasonings, and this is a flavour packed dish. Forming them and then rolling them in flour, egg and finally panko creates the perfect crust that stays crunchy after some sautéing.
The dipping sauce is almost as important as the the cake. This one has some wonderful salty heat from Entube's Umeboshi paste, paprika and pepper, as well as finely minced shallot. A bowl of this dip and a plate of potato cakes is a fun snack. But serving these cakes with smoked salmon and a salad, and it suddenly becomes a fancy brunch, with the aioli becoming the perfect garnish on the salmon. The crunch from the panko is brilliant.
Use your imagination. Roll the cakes to a more traditional 2 1/2 inch in diameter size, and two will satisfy most eaters. Make smaller cakes, and they become a fun snack, a two bite nibble. Kids will love the smaller version. Everything mini is just more fun, right?! This batch will make about 12 medium sized cakes. Or you'll get 24 if you make them mini. The great thing about them is, if you know you won't be eating them all right away, just freeze the unused before you roll them in the egg and panko. Then when you're in the mood, pull them out and thaw, coat and sauté away.
So yes, potatoes can be humble or fancy. As can this dish. It can be fun for kids to snack on, or become an elegant shower or dinner party first course. Sunday brunch, here you go!
Love Jen.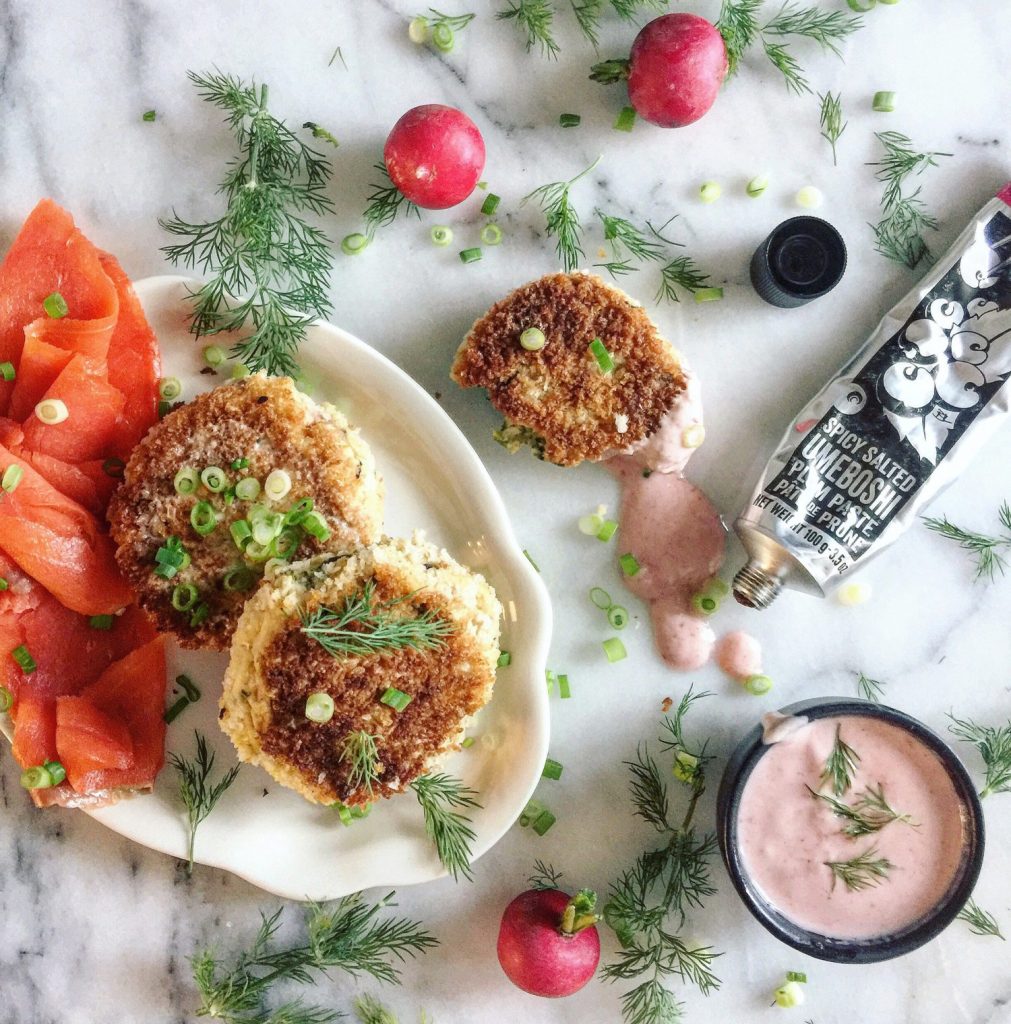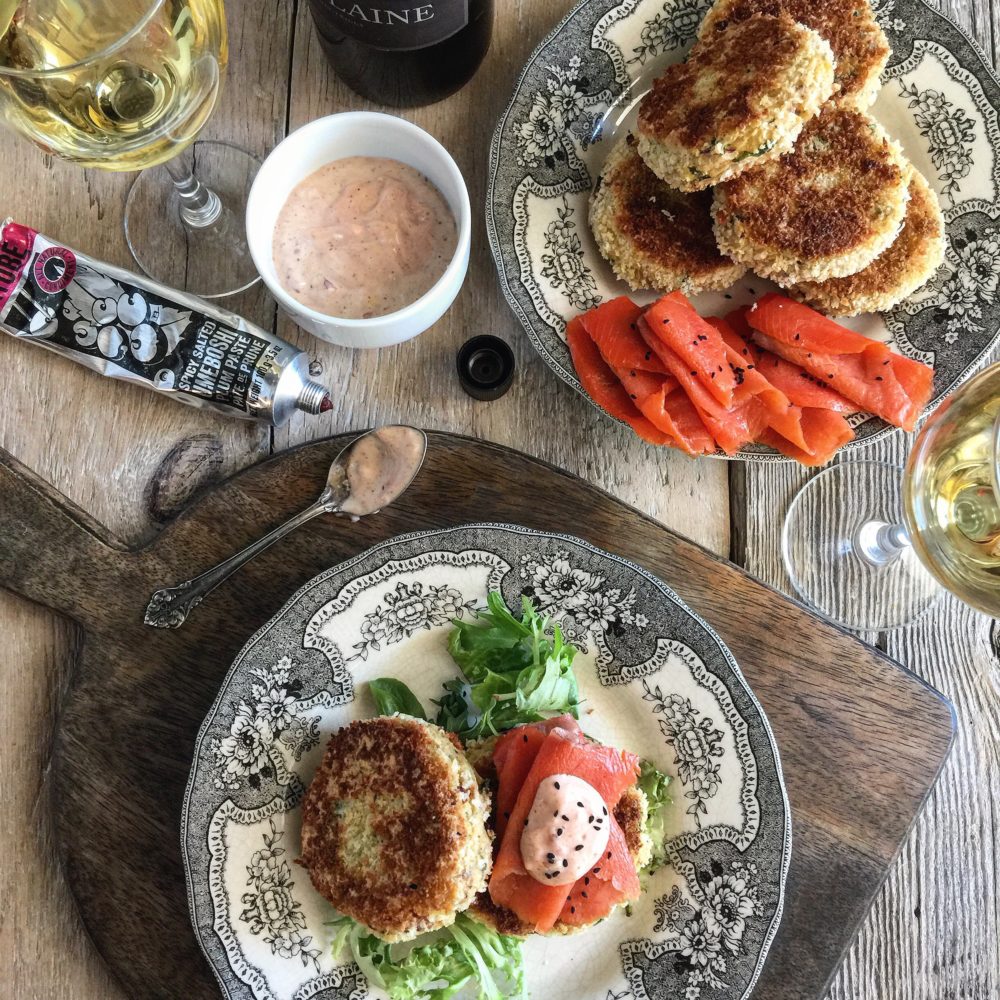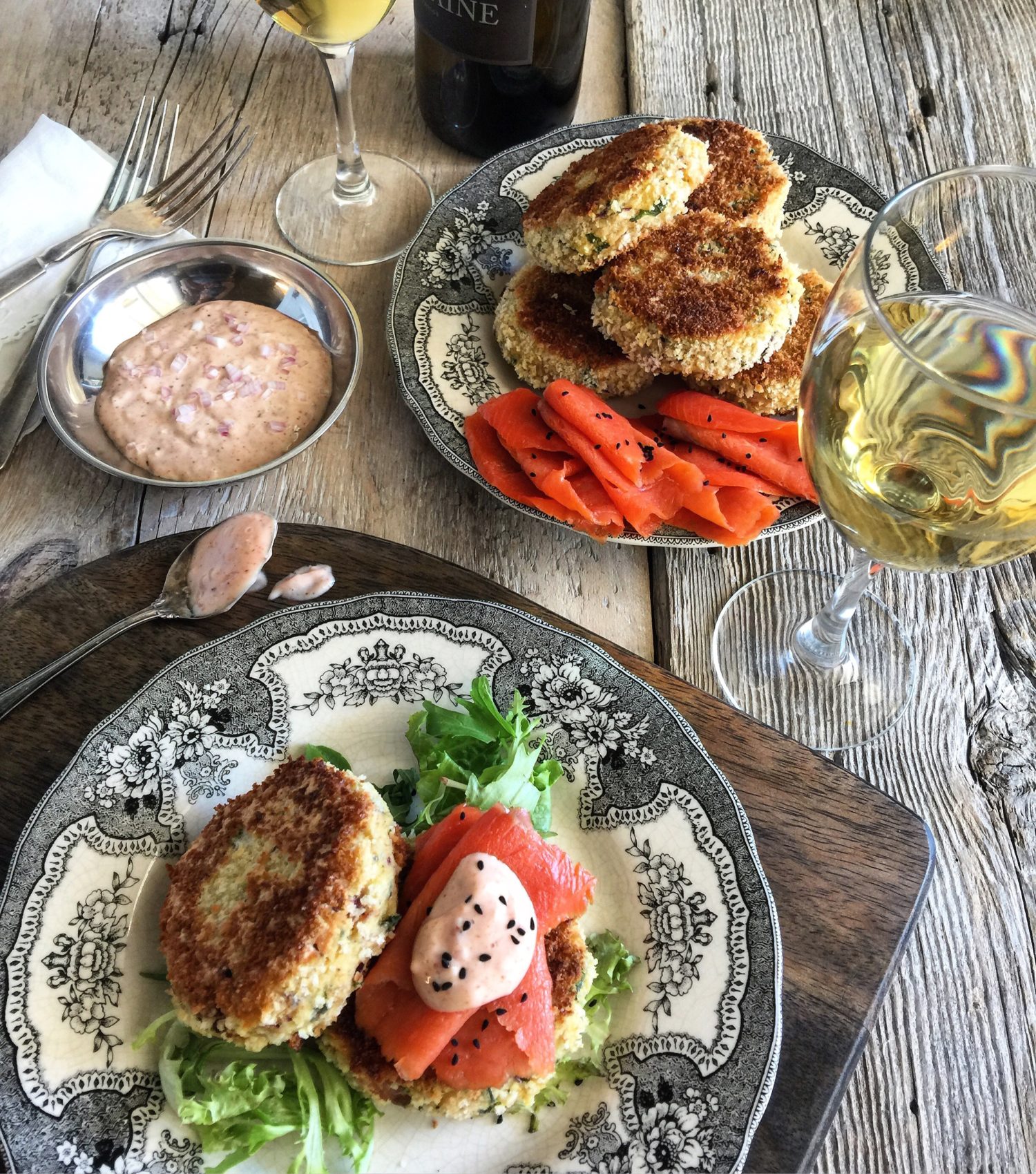 Potato, Kale and Bacon Cakes with Umeboshi and Shallot Aioli
Crispy potato cakes, filled with kale, bacon, cheddar cheese and spices, and coated with a fabulous panko crust, are perfect for brunch, as an appetizer, or even an evening snack. The spicy aioli dipping sauce is the perfect side
Ingredients
1/2

cup

avocado mayonaise

or good quality olive oil mayonaise

1

tbsp

Entube Umeboshi paste

1

medium to large shallot, minced

you should have about 1/4 cup or a bit more

1/4

tsp

smoked paprika

1

tsp

cracked pepper

1

tbsp

freshly squeezed lemon juice

2

large Yukon Gold potatoes

cut into eighths

1

cup

packed chopped kale

1/3

cup

finely chopped red onion

4

strips of bacon

cut into small lardons

1

cup

packed cheddar cheese

or gouda or gruyere

kosher salt and cracked pepper

1/2

tsp

smoked paprika

2

eggs

3/4

cup

AP flour

3/4

cup

panko breadcrumbs

olive oil

enough to completely coat the bottom of your sauté pan by 1/8 inch or so.
Instructions
Umeboshi and Shallot Aioli:

Mix the mayo through the cracked pepper till well combined. Add the lemon juice and mix till smooth. Set in the fridge till needed.

Prepare the potatoes:

Place the potatoes in a medium sauce pan and cover with water and a couple pinches of salt. Bring to a boil and then reduce to medium.

Just before they got soft enough where a knife slides through a piece easily, add the chopped kale to the pot.

Simmer another two minutes (about 15 minutes in total). Drain. Place the potatoes and kale in a large bowl and mash coarsely with a potato masher or fork. You don't need to get these too fine- it's nice to have pieces of potato thoughout the 'cake'.

While the potatoes are simmering, sauté the bacon lardons until just crispy. Remove with a slotted spoon and drain on a paper towel lined plate.

Add the bacon, onions, cheddar cheese, smoked paprika, a good pinch each of salt and cracked pepper and one egg (slightly beaten) to the potatoes and kale in the bowl. Mix till well combined

Bring your oven to a warming temperature. Probably the lowest setting will be good. Set a baking sheet on the middle rack.

Lay out the flour in a shallow pan or pie plate. Season with salt and pepper

Take the remaining egg and place it in a shallow pan or pie plate. Add a touch of water and beat lightly.

Add the panko to a third shallow pan or pie plate. Spread out well.

Form the potato mixture into medium balls that when squashed lightly will be around 2 1/2 inches in diameter and 1/2-3/4 inch thick. I do this by roughly dividing the mixture in the bowl in half. Then I divide each half into 4 quarters. Each quarter should supply 3 patties.

Or alternatively, you can make them smaller, making them more bite sized (great for a utensil free appetizer)

Take each potato cake and first coat in the flour. Shake off any excess. Dip into the egg mixture. Coat evenly and let excess drip off. Place into the panko crumbs and coat well, pressing firmly with your fingers. When you have a few ready to go, get the pan ready.

Have a large sauté pan on medium high heat ready. Add the olive oil to completely cover the bottom of the pan. It should be at least 1/8 inch thick.

Place as many potato cakes that will fit comfortably into the pan and cook on one side for about 3 minutes. You may check after two. You want them nicely browned. Adjust the heat if this is happening too quickly.

Turn over and crisp the other side. You aren't worried about cooking anything, just crisping nicely. The insides are already cooked. Between the pan and then the oven, they will heat through completely.

Once both sides are nicely browned, place them onto the warmed baking sheet and return to the oven as you continue with the remaining cakes.

Serve on a platter with the aioli in a small dipping bowl.
Recipe Notes
You can prepare all the cakes up until the coating in the flour, egg and panko.
If you know you won't use them all initially, then place the ones you won't use onto a parchment lined baking sheet and plate it into the freezer. Once the cakes are frozen, you can move them to a freezer bag till needed.
Once you want to sauté them up, just thaw, pat dry with paper towels and then coat and proceed with the cooking.
This recipe should make up at least 12 regular sized cakes, enough for 4-6 people, depending on appetites and how you are serving them.
If you make them smaller, they make a fabulous appetizer or party dish.
SaveSave
SaveSave