If I could put some of my all time favourite savoury flavours in a tart, it would taste like this. Oh wait…I did put them all in one tart!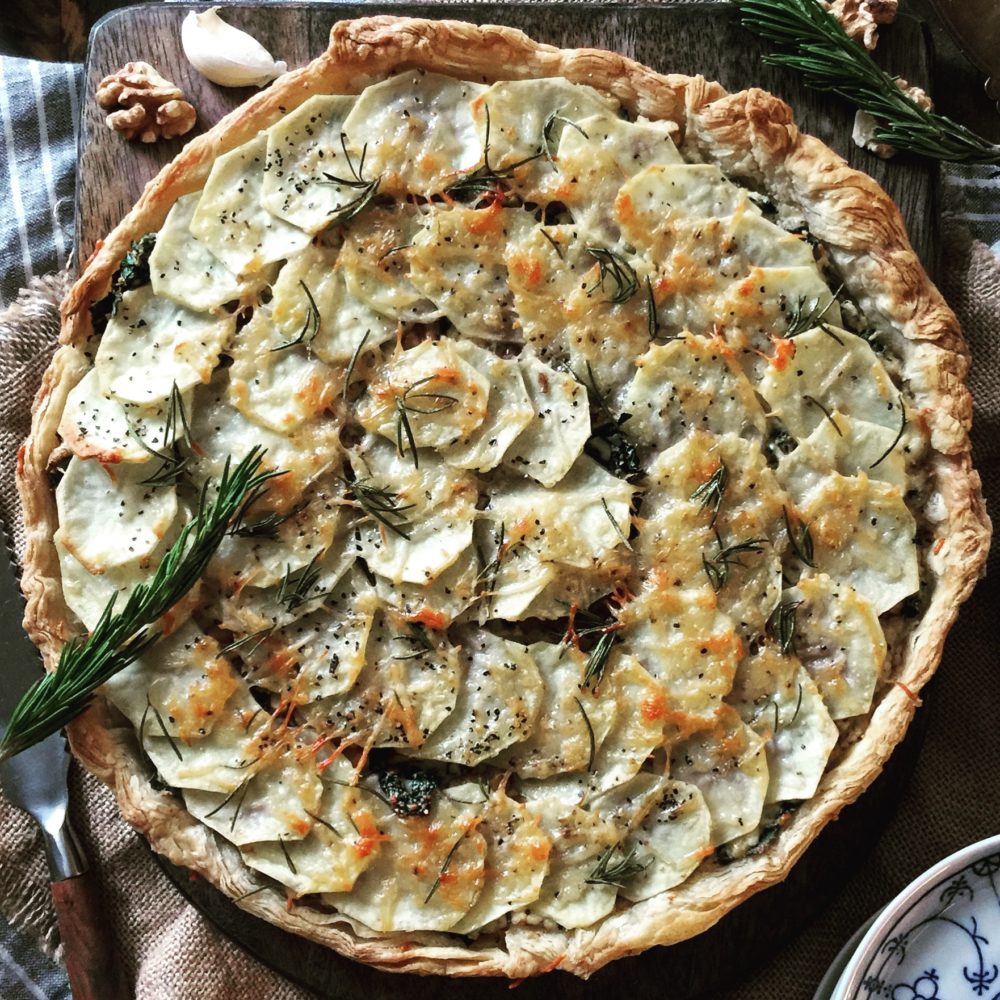 One of our favourite pizza combos is potato, gorgonzola and onion. So, I figured, if we like these ON a pizza, why not put them IN a tart?
This flavour combo just screams colder weather, cozy eating. And I threw in some kale, you know, to be healthy. Oh, and some walnuts for protein.
This time of year (a few days before the start of December), the skies are gloomy, the air has a chill, the sunlight is around for only a precious few hours, and we want meals that give us a hug. You know those meals: beef stew, hearty minestrone soup, turkey enchiladas, etc. And you know me- I'm pretty sure you're figuring me out by now- if I can make it into a round pie shape, then that makes me smile, as well as get that hug we were talking about.
So how to bring those flavours together? I decided that a tart pan with a removable bottom would be perfect for this one. And really, you can use my savoury crust recipe for this tart just as easily as the puff pastry I used this time around. I wanted to capture the onions, toasted walnuts, sautéed kale in something, so I opted for ricotta. And then I thought, why not crumble in the gorgonzola at this point as well? So in that went. I spread it all across the bottom of my partially baked tart shell.
Then the potatoes. The only way this would work is if they are pretty thin. So my trusty mandolin earned its keep for this dish. I sliced up a couple of potatoes that just happened to be more long and narrow rather than round. This would create smaller slices, which would look better in concentric circles over the filling. I spread them out over the cheese and kale mixture, drizzled them with olive oil, and the scattered more rosemary and some parmesan cheese over them all. And into the oven it went to complete cooking. It is really just to get the potatoes cooked and the crust browned.
I had leftover potato slices that wouldn't fit on the tart, so I tossed them in some olive oil, and sprinkled them with some more rosemary and salt and pepper. And I baked me up some chips!! Come on, chips (or crisps, for my UK and Aussie friends) are true comfort food. Fine, they're probably more like junk food, but I won't think about that.
The aroma is fantastic. This 11 inch tart shell creation will easily feed 6 with a side salad, or serve 8 as an appetizer. If you wanted to bake this up in a different shaped tart pan, that would be awesome. I'm thinking the long, rectangular ones would be great if you want to slice it up as a first course. The perfect winter way to start a meal, I'm sure! Just add a glass of bubbly!
Love Jen.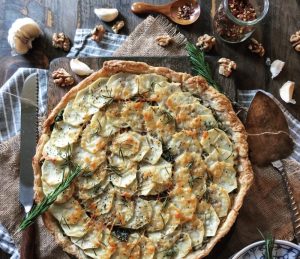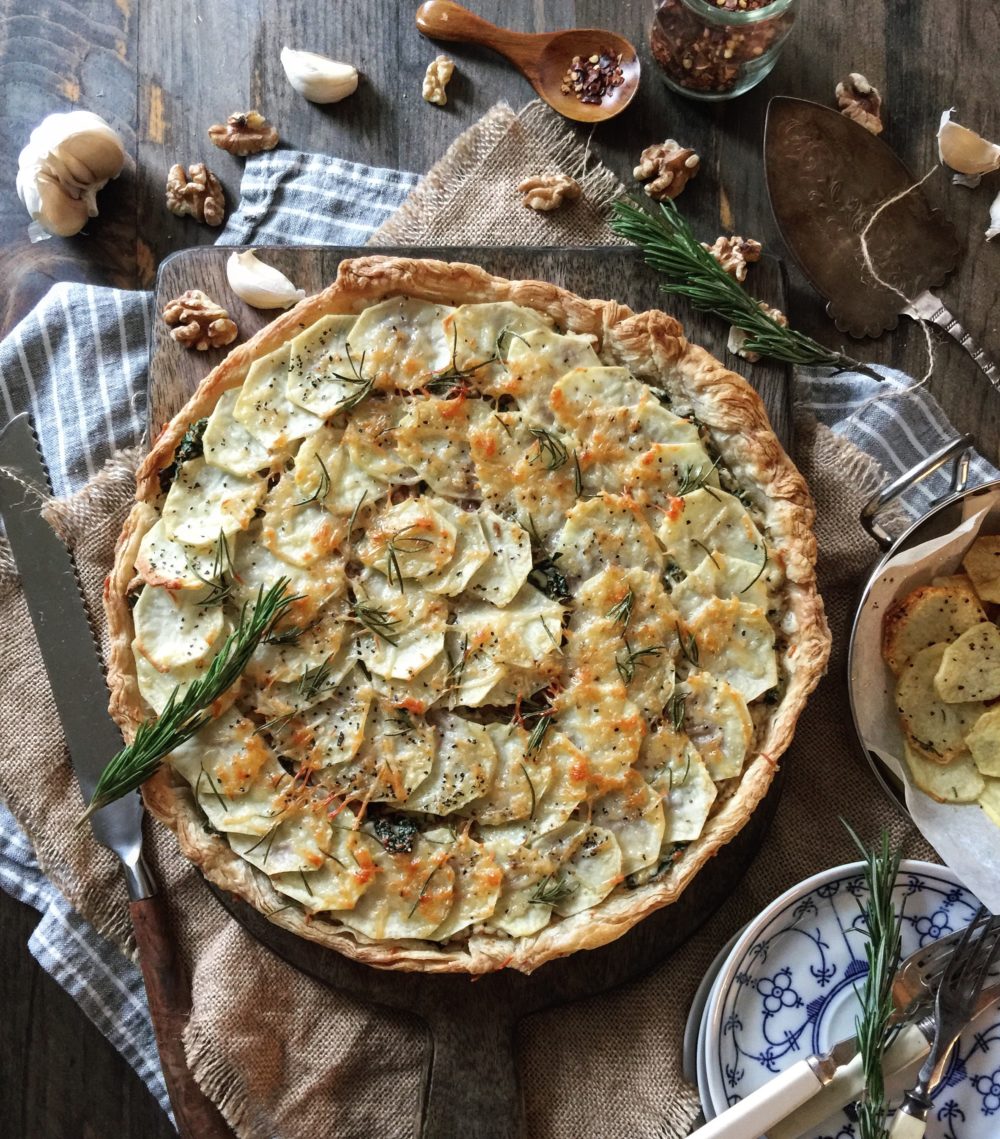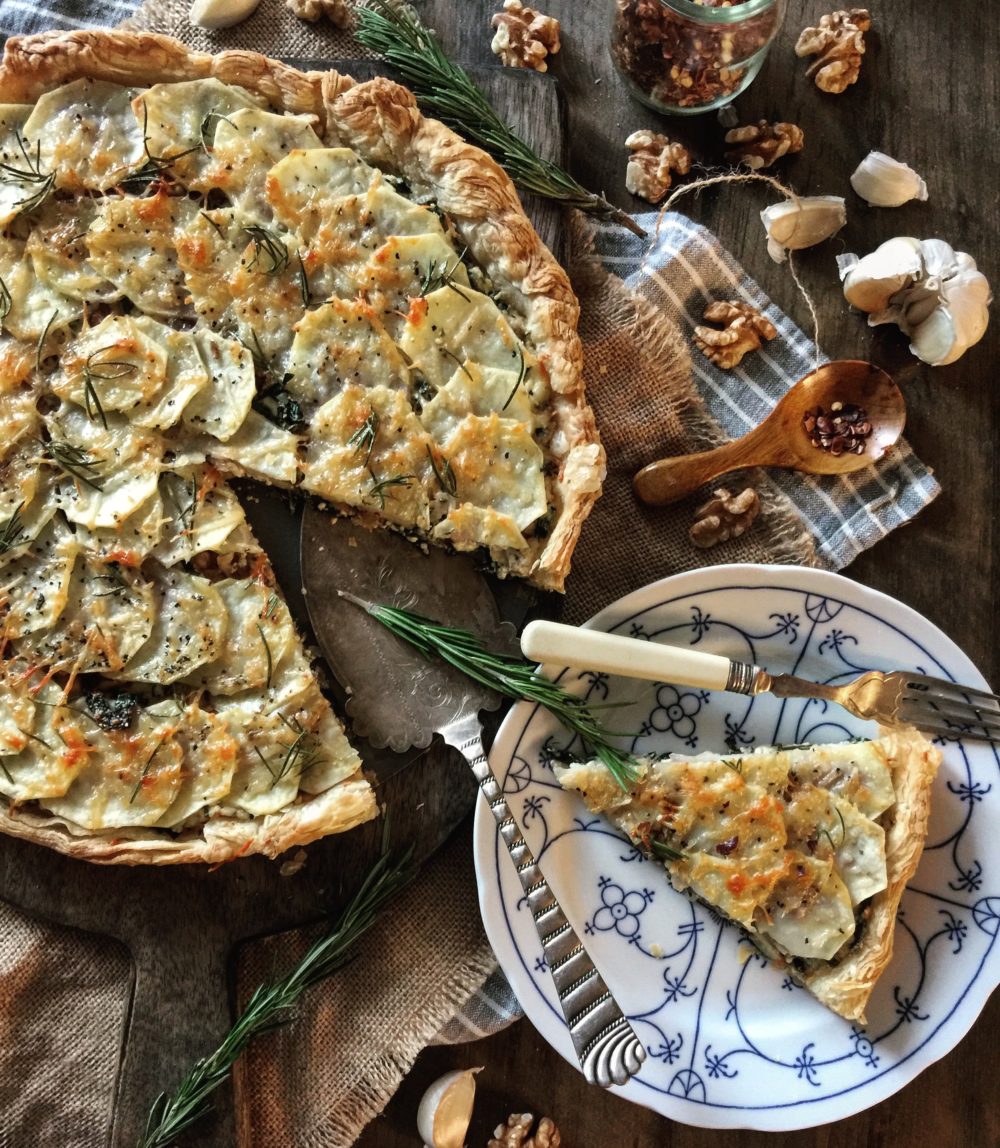 Potato, Kale and Gorgonzola Tart with Rosemary and Walnuts
An rustic and yet elegant tart filled with the flavours of the Italian countryside. Perfect for a Meatless Monday dinner or as an appetizer for a when company is coming.
Ingredients
13

oz

(397 g) package of puff pastry

thawed in the fridge

2/3

cup

walnuts

1

medium

onion

sliced thinly

3

garlic cloves

minced

1

bunch

lacinato kale

ribs removed and chopped (if you can't find laminate, feel free to use another type)

3

sprigs

fresh rosemary

chop leaves from 2 sprigs small (the other sprig can just have the leaves removed

kosher salt and cracked black pepper

1/2

tsp

chilli flakes

1

cup

(250 ml) ricotta cheese

4

oz

(approx 132 g) gorgonzola cheese

crumbled

2-3

waxy potatoes

I use longer, narrower potatoes to achieve a smaller circle) I use Yukon Gold, but you can try baby potatoes or any type that will give you the effect you want for the top of your tart. You basically need about 1 1/2 cups of sliced potatoes

olive oil

1/2

cup

grated parmesan cheeese
Instructions
On a well floured surface and rolling pin, roll out the puff pastry to fit into an 11 inch tart pan with a removable bottom.

Ease the pastry into the tart pan, ensuring that it goes up the sides all the way. Any excess can be gently folded down into the tart.

Prick the bottom of the shell with a fork.

Lay a piece of parchment over the pastry (I take a square a couple of inches larger than the tart pan and fold it in half, then in quarters, then in eighths, till a tight triangle is formed. Trim across the top evenly. Open it up and it should roughly resemble a circle) Once the parchment is on the tart and gently eased into the edges, fill with pie weights or dry beans etc.

Preheat oven to 350F. Place the tart shell in fridge for 20 minutes.

Place tart shell on a large baking sheet and put into the middle of the warmed oven. Bake this way for 20 minutes.

Remove from oven, gently remove parchment and beans.

Return to the oven for another 5 to 10 minutes or until just turning golden. Watch to ensure that no air bubbles arise, if they do, gently use a tea towel to push them back down. Or else use a fork to create small holes to release the air and push gently down.

Remove from the oven and set aside. Don't turn off the oven.

FILLING

Warm a cast iron skillet over med heat. Add the walnuts and toast for about 5 minutes. Watch to make sure they aren't burning. You want them fragrant and toasty, but no more than that.

Remove from the pan and place on a cutting board to cool. Rough chop them.

In the same skillet heat about 2 tbsp olive oil over med high heat. Add the onions and cook for about 5 minutes. Then add the garlic. Continue cooking until softened and starting to turn golden brown. Adjust the heat if necessary.

Season with salt and pepper (about 1 tsp of each) and add the rosemary and chilli flakes. Stir.

Add the kale to the skillet and toss until wilted. Remove the skillet from the heat.

Add the ricotta, walnuts and crumbled gorgonzola and gently fold to combine. Let the filling cool slightly in the pan.

Place the filling into the waiting tart shell.

Increase the oven temperature to 400F.

Peel the potatoes. Using a mandolin, slice the potatoes thinly until you have enough to cover the tart in concentric circles. I'm thinking about 1 1/2 to 2 cups.

Lay out the potatoes over the filling, overlapping in a pattern that pleases you.

Drizzle about 2 tbsp or so of olive oil over the potatoes. Don't drown them, but ensure that they are evenly coated. This will help in browning them.

Toss the 1/2 cup of parmesan evenly over the potatoes. Scatter the remaining rosemary leaves over the parmesan.

Place the tart pan on the baking sheet back into the oven and bake for 20 minutes or until the potatoes are golden brown and the edges are crisping up.

This can be served warm or at room temperature.
Recipe Notes
I have had leftover potato slices in the past, so I quickly toss them with olive oil, salt, pepper and chopped rosemary, and lay them out on a parchment lined baking sheet. Bake at 375F and next thing you know, you have chips! Watch them, it shouldn't take too long. Maybe 15 minutes, depends on your oven and how thick your slices are.