This recipe must be pretty good when the delivery person sings the praises of the aroma that met him from the elevator.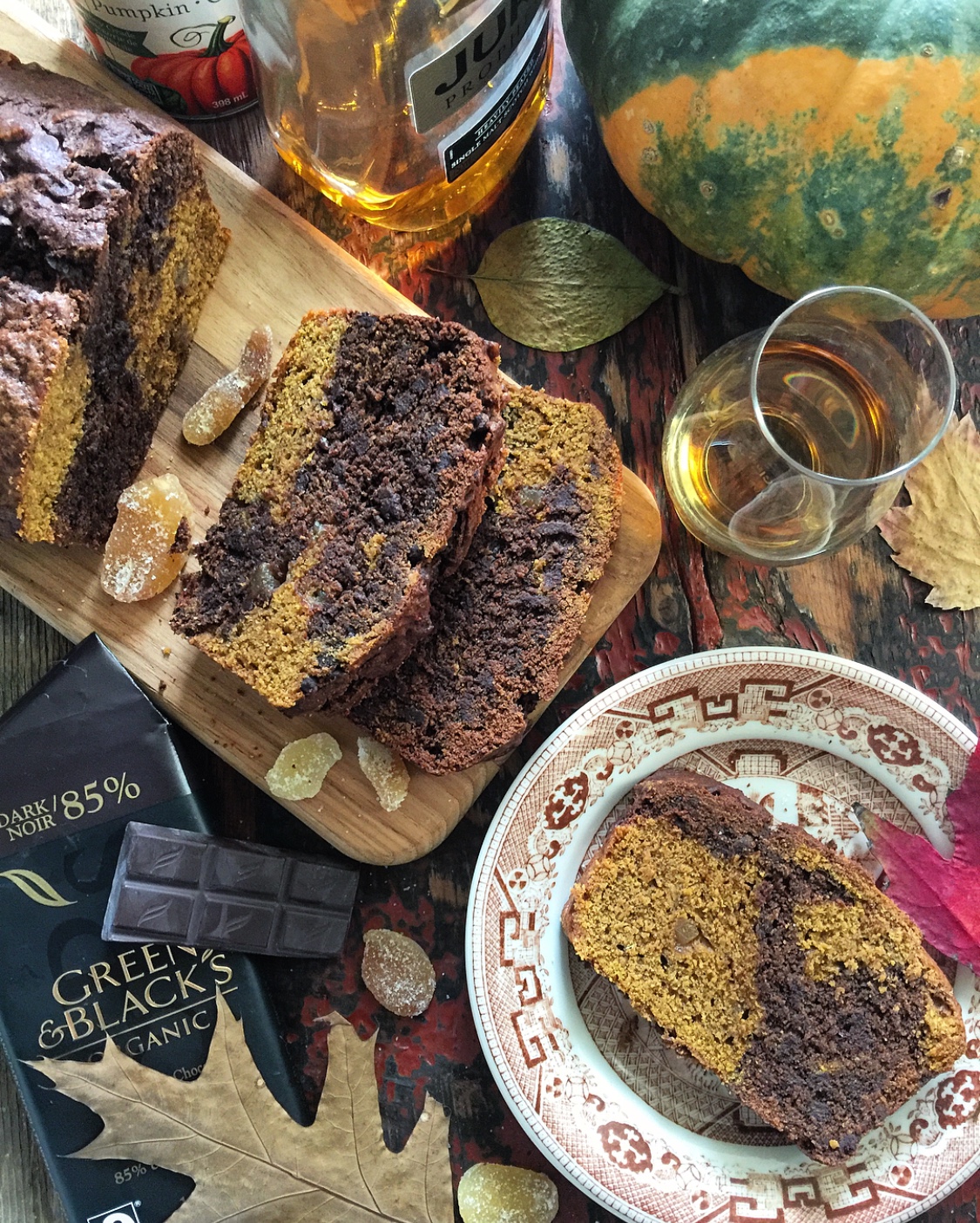 While it is still the bonny month of October, I can't resist sharing just one more pumpkin recipe. And yes, it is another sweet one.
Last year I baked up a Pumpkin Gingerbread Loaf for 'Cake Over Steak's Virtual Pumpkin Party. And it's a doozy of a moist, aromatic loaf. The Olive Oil Glaze doesn't hurt. I have another pumpkin and gingerbread recipe that I should really share one day soon, I've been making it for years, and it is always a hit at gatherings. But that will have to wait…
Today I'm sharing a fabulous swirled concoction of pumpkin and chocolate instead. 'Cuz if it can't be gingerbread, it should be chocolate! Along with the obvious ingredients (pumpkin and chocolate!) my favourite addition is the candied ginger. I feel that candied ginger is an overlooked ingredient. It has the most awesome texture of firm jelly, and the slightly crunchy exterior of the sugar helps out. The slight sweetness blending with the tartness of the ginger makes for such a wondrous flavour party. It really packs a flavour punch to whatever it is added to. I think one day soon, I am going to try making my own. In the meantime there is always some in the baking cupboard. Not just for baking, but did you know that eating a few pieces, chewing it slowly and breaking it down before swallowing is good for an upset tummy? It's a lot easier than chewing on an actual piece of ginger, that's for sure!
This is a case of simply opening up a can of pumpkin purée and melting some chocolate. These will be the hardest steps of the recipe. I promise. You will need a stand or hand mixture, just to get the sugar, butter and eggs nice and fluffy. The rest is a matter of chopping up the candied ginger, and adding it along with chocolate chips to the final batter. You will then separate the batter in half, adding the melted chocolate to one portion. Then it is just a matter of dropping large spoonfuls of the two batters into a prepared loaf pan. Swirl it all once or twice and then pop it in the oven.
The day I baked this up, I was also expecting a contractor to finish up a little something on our recent bathroom reno. Two friendly guys showed up, replaced a part and were heading out. As they were putting on their shoes, one of them asked what I had been baking. I looked at him and asked if he could actually smell the recent activity coming from our kitchen. "Oh yes, we smelled it as soon as the elevator door opened. This always amazes me, because I don't have a great sense of smell. Broke my nose one too many times, and now the nerve endings aren't that acute. Neither is the nose itself (hehe) Anyway, they were both such respectful, friendly young guys, that I just had to quickly slice up the loaf and send them off with a couple of slices. They got to enjoy it even before we did. But at least you will be assured of a most wonderful smelling home when you bake this up! This goes great with a coffee, a glass of cold milk, or my libation of choice, a good single malt!! But maybe not first thing in the morning, if it's breakfast 😐
I can't believe these are the final days of October. Slightly despondent. I just adore October so much. October seems to contain a bit more energy to it, but this will now change. Yes, there is a somber beauty to November as well, as the trees shed their final few leaves, and the skies turn slightly more grey. I do love the feeling that November brings, of the desire to be at home, surrounded by family, baking, braising and roasting meals that we can share around a noisy table. November skies also make me yearn for all the crocheted afghans and wooly sweaters to surround ourselves in as we watch movies or pull out the scrabble board. So the energy level drops a little, as we prepare for the hibernating months of winter. With the end of October comes this realization, and I just have to embrace it!
btw, if you're going to open up a can of pumpkin to make one loaf, you might as well choose a large can and use it all up- bake two and freeze the other one. You'll be happy, I promise.
Love Jen.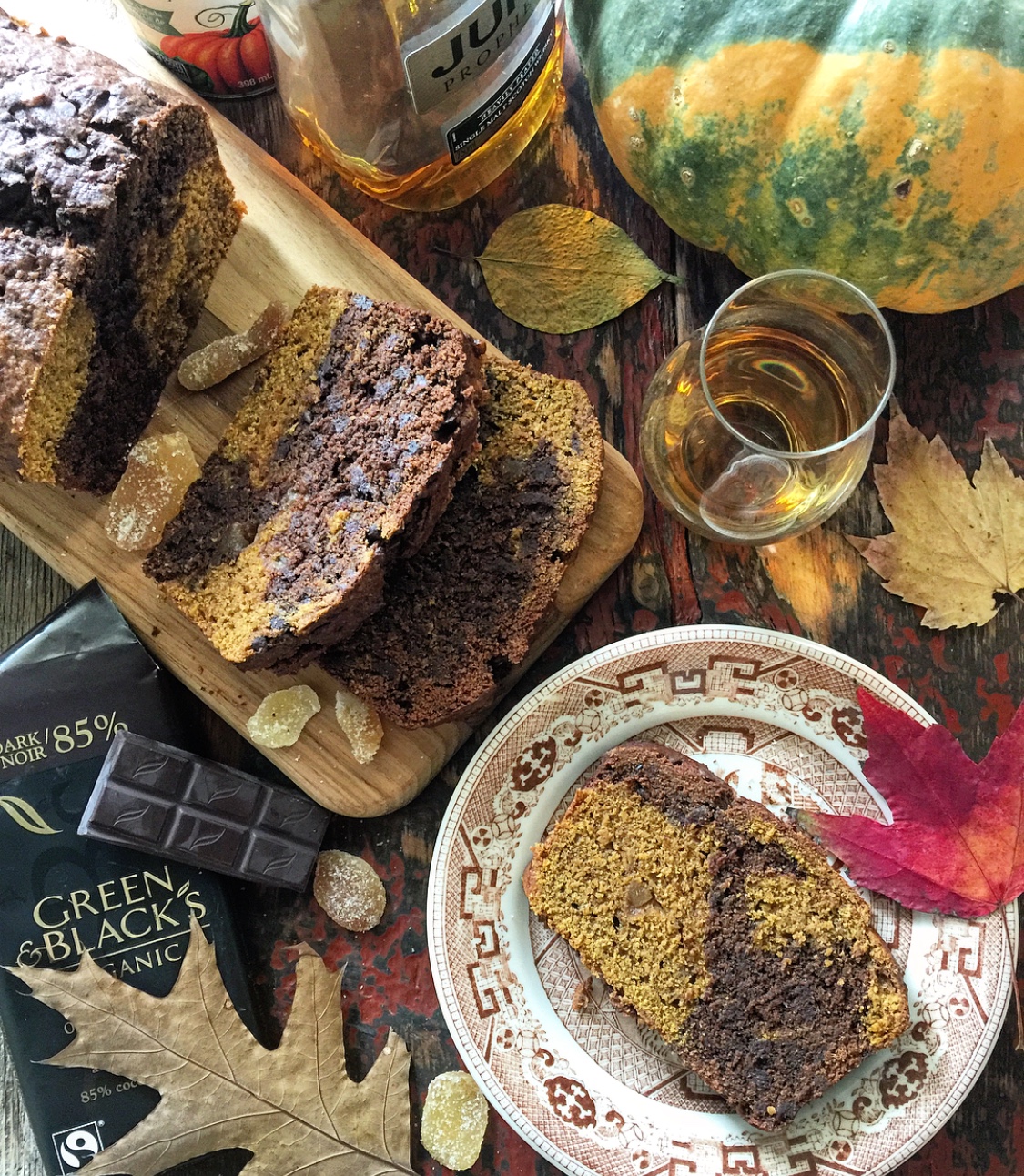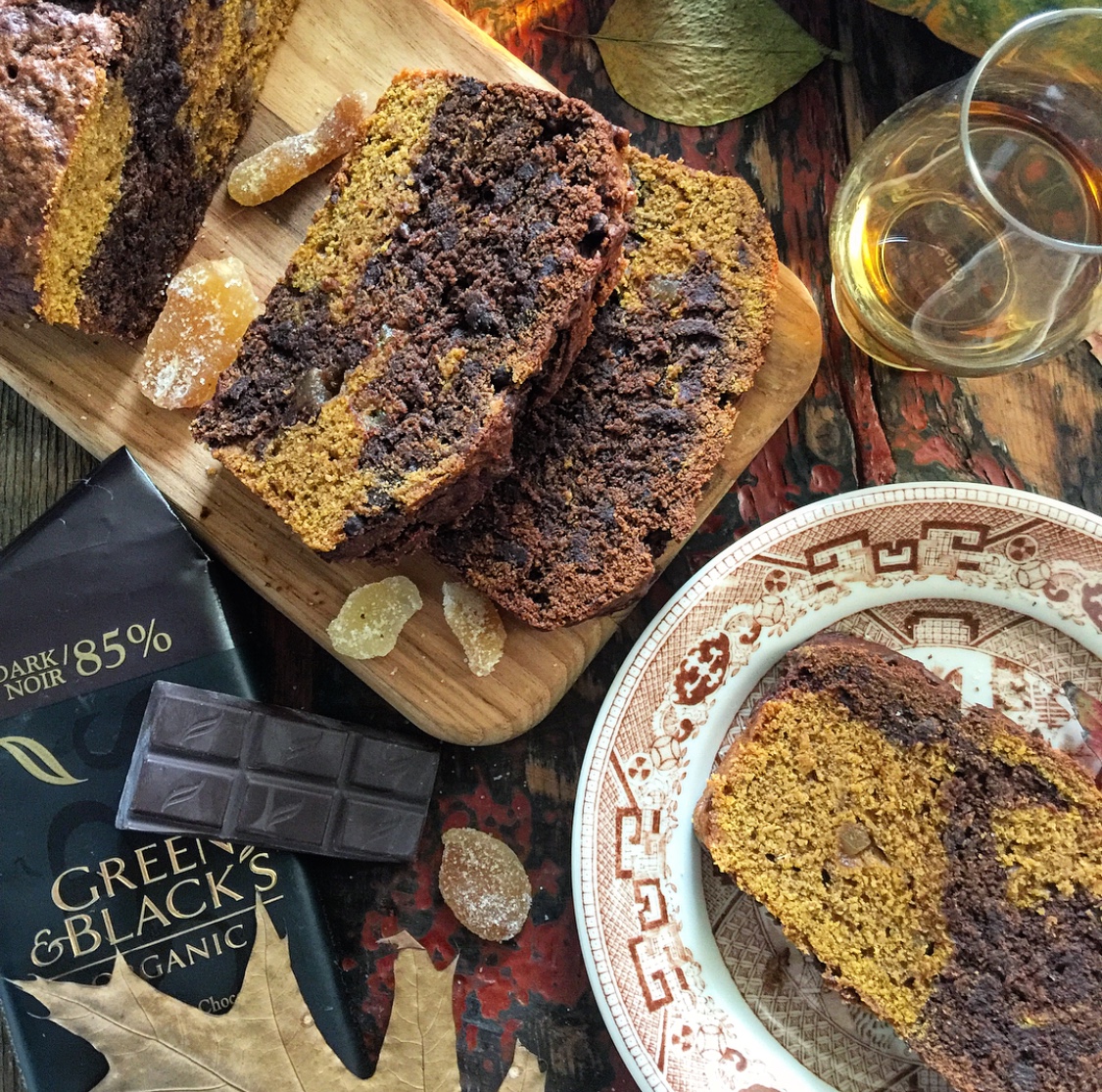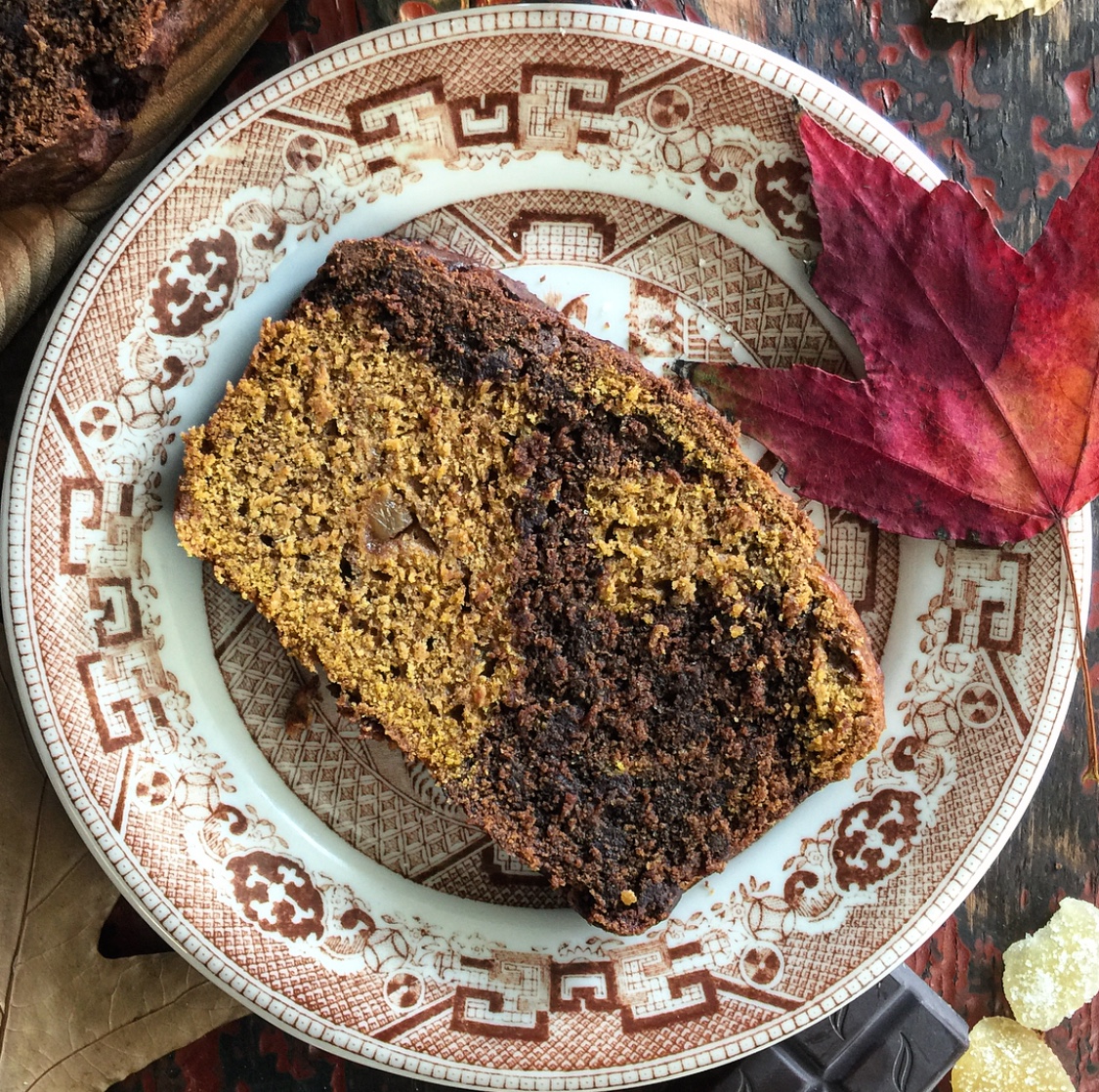 Pumpkin and Chocolate Swirl Loaf
Pumpkin and candied ginger meet chocolate and more chocolate. All swirled together in one moist and spiced loaf.
Total Time
1
hour
30
minutes
Ingredients
2/3

cup

semisweet chocolate

(about 115 g or 4 oz), melted over a double boiler or microwave, and slightly cooled

2

cups

all-purpose flour

1 1/4

tsp

baking powder

1 1/2

tsp

cinnamon

1

tsp

ground ginger

1/2

tsp

baking soda

1/4

tsp

ground cloves

1/4

tsp

ground nutmeg

1/4

teaspoon

salt

1/2

cup

dark chocolate chips or chunks

use mini chips or chop the pieces on the smaller side

1/3

cup

crystallized ginger

, diced small

2/3

cups

unsalted butter

, softened

1

cup

packed brown sugar

2

eggs

1

cup

pumpkin purée

2

teaspoons

vanilla
Instructions
Line a 9 x 5 inch (1 1/2 litre or 6 cup capacity) loaf pan with parchment paper, leaving enough to overhang each of the longer sides. Spray the ends and paper with non-stick spray. Set aside. Have your chocolate melted at this point as well.

In large bowl, whisk together flour, baking powder, cinnamon, baking soda, ground ginger, salt, cloves and nutmeg.

In separate large bowl or in a stand mixer, beat butter with brown sugar until fluffy. Beat in eggs, one at a time; beat in pumpkin purée and vanilla (mixture may look separated, don't worry). Add the flour mixture and stir until combined.

Remove half of the batter to separate bowl.

Fold in the candied ginger into one half.

Fold in the chocolate chips into the other half. Then fold melted, cooled chocolate into the same bowl and stir to combine well.

Alternately drop spoonfuls of light and dark batters into loaf pan. Use a butter knife to create gentle swirl in the batter. Use a small offset palette knife to smooth the top.

Bake in 350° oven until loaf springs back when lightly touched, about 60-70 minutes. Check with skewer. You may find some melted chocolate adhere to the skewer. But if any of the batter clings, then it isn't ready to remove yet. Test again at 65-70 minutes. If only melted chocolate adheres, then you are good to remove it.

Let cool in pan for 15 minutes. Move to rack and lift up using the overhanging parchment paper. Let cool completely.
Recipe Notes
Inspired by a recipe from Canadian Living magazine
SaveSave
SaveSave