This recipe started out because I was craving pumpkin butter. Like apple butter, but pumpkin-y.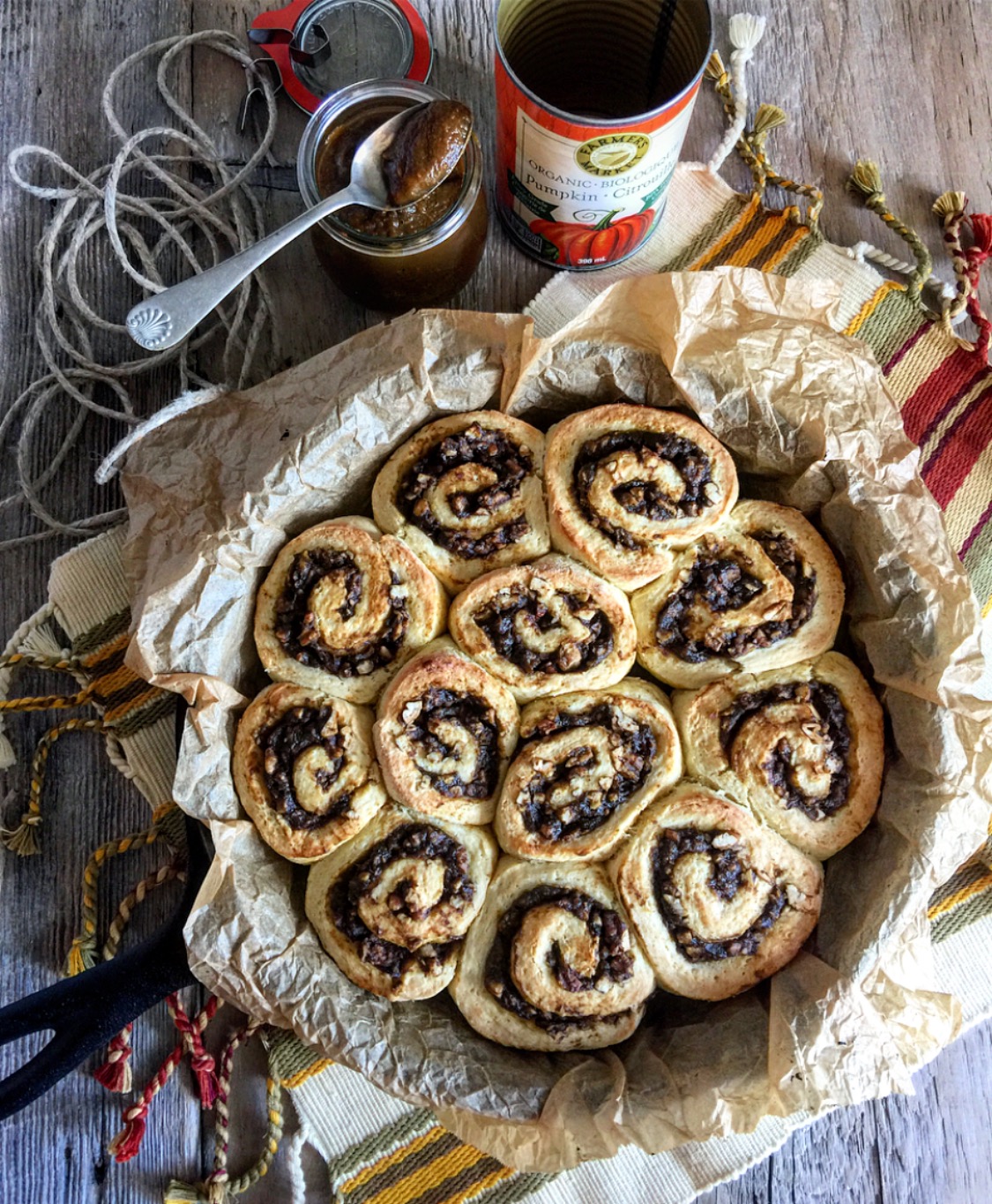 It is such a lovely little spread for toast, inside crepes, in pancake batter, even in smoothies. A pumpkin spiced latte smoothie!!
And instead of having to roast off a pumpkin first, to get the softened purée, I tried making it with some canned pumpkin. 'Cuz I was just kinda in a lazy mood. I had a smaller can of pumpkin purée in the cupboard, which would probably result in about 1 1/2 cups of finished butter, so I figured that would be enough for the two of us. Apple juice or apple cider for a bit of liquid, and a whole bunch of spices and some brown sugar, and I was set. I would let this slowly cook down like I do with my Apple Butter, and it would turn into a lovely thick spread. It did!
Then, looking at it, I thought, what if I used this as the filling for a cinnamon roll, instead of the usual butter, sugar and cinnamon? I can't see why it wouldn't work. It might be just the thing for a quick change up, in my easy Eggnog Cinnamon Rolls.
I quickly checked to see if I had all the ingredients for the Cinnamon Rolls. The key one would be the eggnog. Not so easy to find in July. Surprisingly enough, I have already spotted it in the grocery stores, and it was only the beginning of October. But thankfully, I still had some in the freezer. Yes, I actually take a carton of eggnog, and divide it into the amounts needed for this recipe, and freeze them in small containers. Then when I want to bake these, I just pull out one and let it thaw. The eggnog freezes and thaws perfectly- no separation at all.
The reason I love this recipe, is the fact that I can decide in the morning that I want to have cinnamon rolls, and one hour later, I am actually eating one. There is no kneading or proofing of the dough for this recipe. Classic yeasted cinnamon rolls require a bit more planning and time. Which if you have it, is just dreamy. This is for the slackers who haven't planned their week out as well as others do!
So, the ingredients for the dough are simple: flour, baking powder, sugar, butter, eggs and eggnog. That's it. And they all come together to make a soft, fluffy roll. The filling comes together in 5 minutes (if you have made your pumpkin butter in advance, event the day before) Then it is just a matter of making the dough, rolling it out, filling it and rolling it up into a log. They bake up quickly, and next thing you know, you are devouring one with a cup of coffee. Or should I say, a pumpkin spiced latte!
This great little recipe is joining a whole pumpkin patch of recipes from around the world, that Sara Cornelius, from the food blog "Cake Over Steak" has collected for us. It's a joyous celebration of pumpkin recipes that has brought all sorts of food bloggers together. This is the second year that I've been able to contribute a pumpkin recipe, last year's being my Pumpkin Gingerbread Loaf with Olive Oil Glaze. Check out Sara's link, Virtual Pumpkin Party to see what other smashing pumpkin recipes you can find. Did you see what I did there? Smashing. Pumpkins. Get it? No… I'll go now…
Love Jen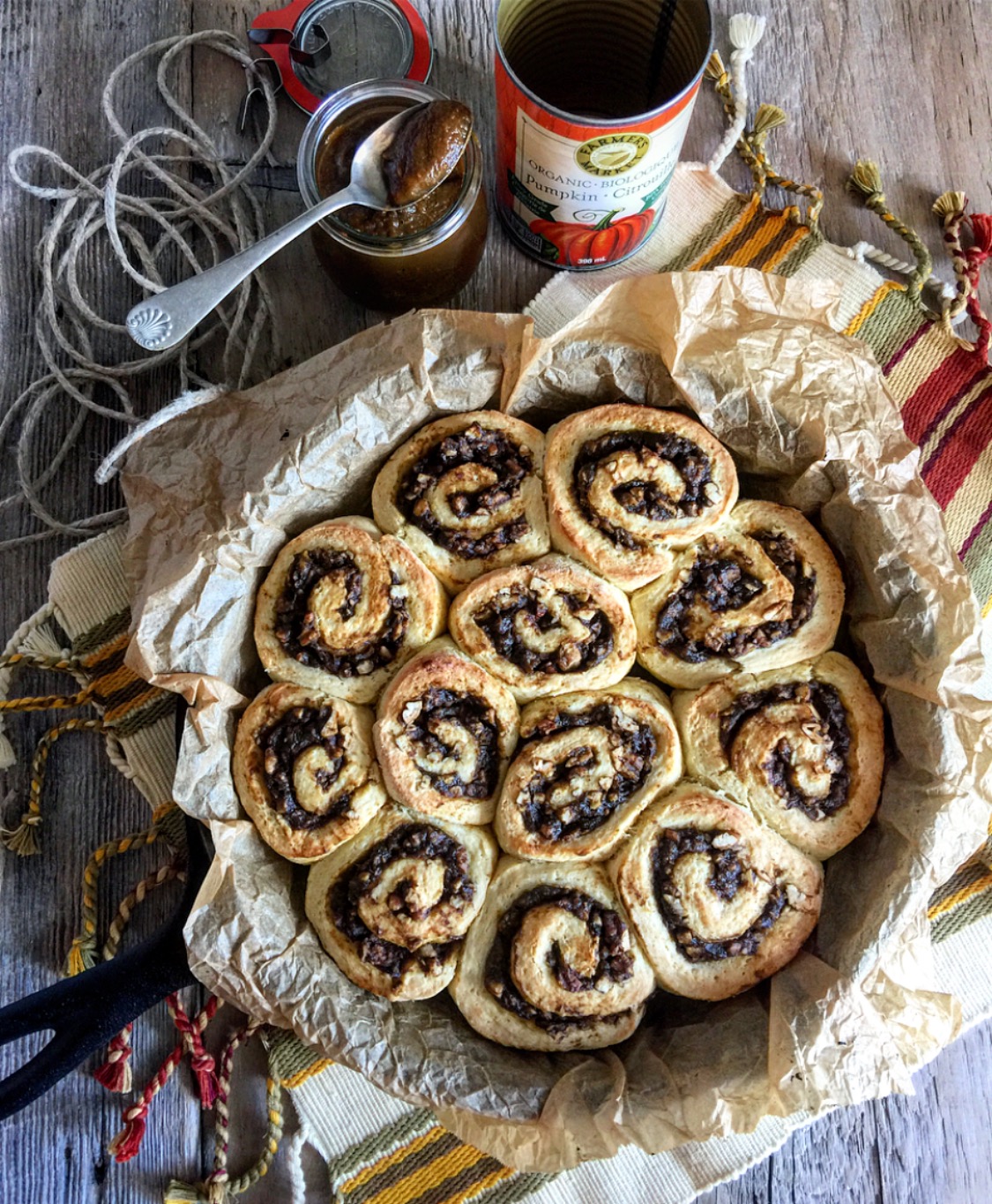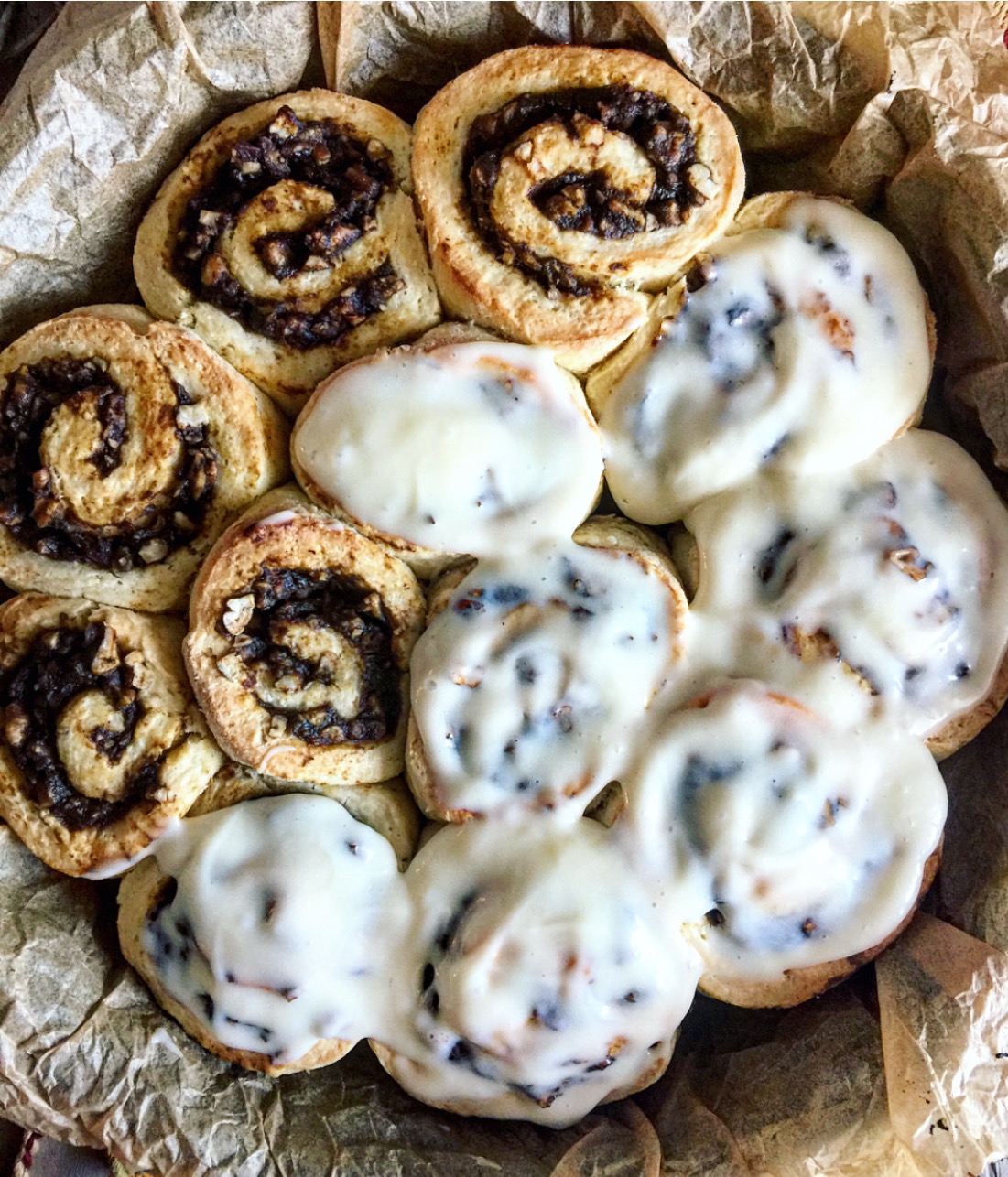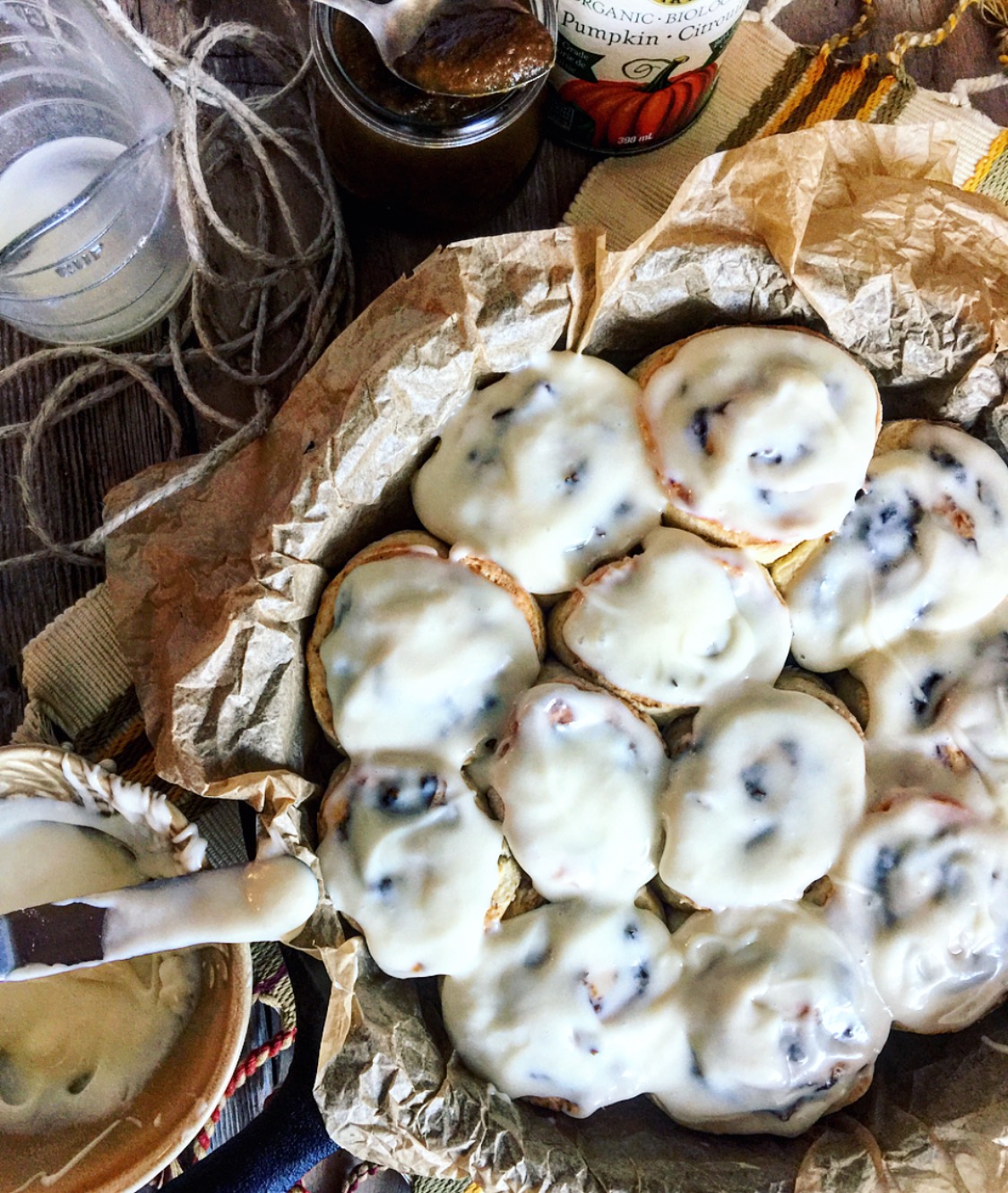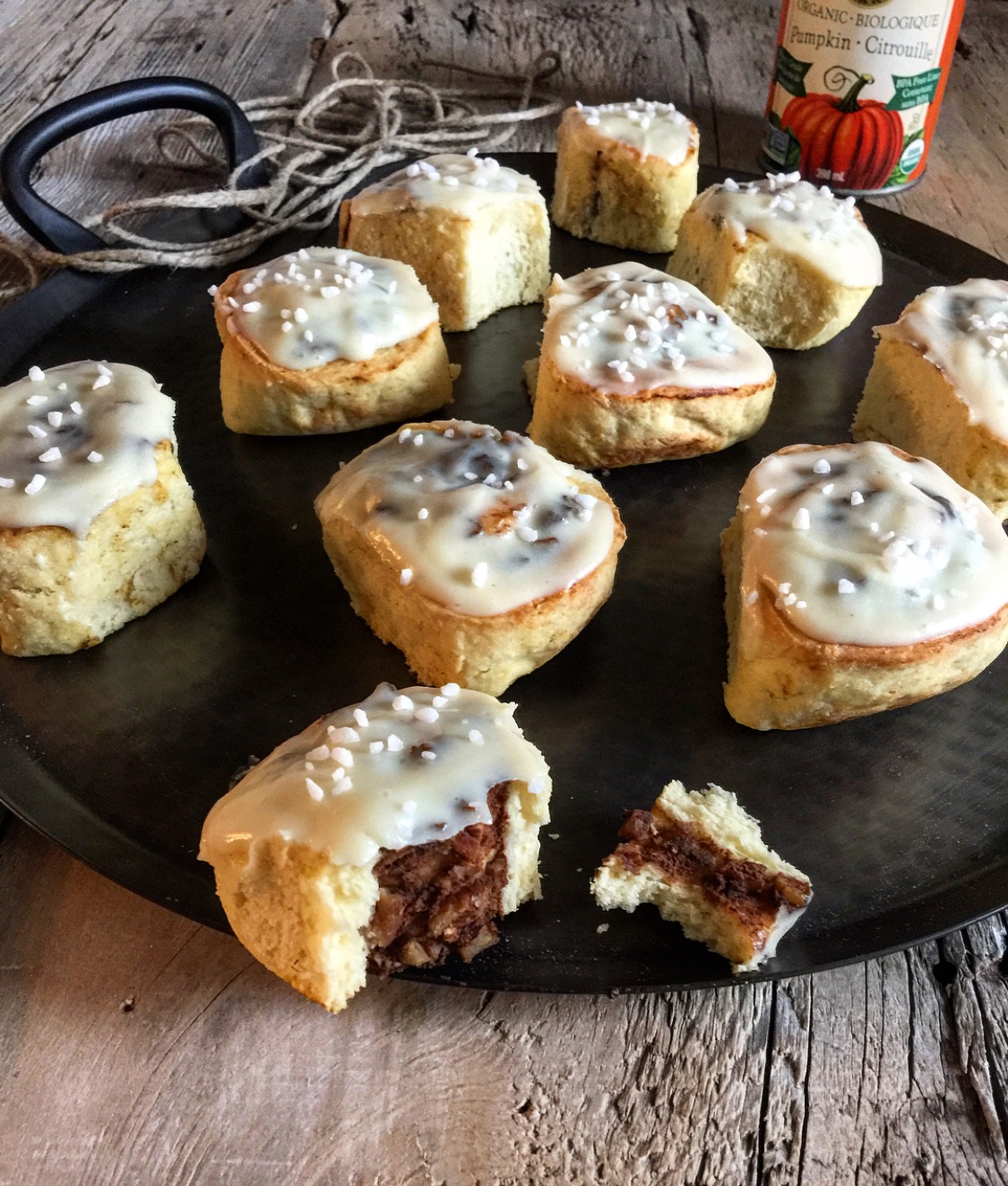 Pumpkin Butter Pecan Rolls
Easy to whip up (no proofing required) cinnamon rolls get transformed with rich pumpkin butter and pecans. Your kitchen will smell like a dream!
Ingredients
Pumpkin Butter
1 13-14

oz

(398 ml) can pumpkin purée or solid pack pumpkin (not pumpkin pie filling)

1/4

cup

(50 grams) granulated sugar

1/4

cup

(50 grams) packed dark brown sugar

1/2

cup

(125 ml) 100% pure apple juice (no sugar added) or apple cider

1

teaspoon

ground cinnamon

1/2

teaspoon

ground ginger

1/2

teaspoon

freshly grated whole nutmeg

1/4

teaspoon

ground cloves

1

teaspoon

(5 ml) freshly squeezed lemon juice
Pumpkin Butter Pecan Rolls
2/3

cup

Pumpkin Butter

2

tbsp

packed brown sugar

1

cup

pecans toasted and chopped small

(makes rolling easier if they aren't too large)

2

cups

AP flour

3

tbsp

granulated sugar

1

tbsp

baking powder

1

tsp

salt

3

tbsp

unsalted butter melted

1/2

cup

full fat eggnog

2

large eggs

more flour for rolling

6

tbsp

cream cheese

, softened

3-4

tbsp

eggnog

1/2

cup

icing or powdered sugar

, sifted to remove lumps

1

tbsp

pearl sugar for garnish

(optional)
Instructions
Pumpkin Butter
In a large saucepan, combine all ingredients except lemon juice.

Cook over medium-low heat and bring mixture to a bubble. (Be careful as the mixture will bubble and splatter.) Then reduce to low and carefully cover loosely with a lid allowing a small amount of steam to escape as well as protect the cooktop and hands from hot splatter.

Continue to simmer the mixture, stirring frequently to prevent scorching on the bottom of the pan, until thickened, about 20-25 minutes. Transfer to bowl and stir in lemon juice. Cool completely. Cover in an airtight container and store in refrigerator. Makes about 1 1/2- 2 cups (depending on the thickness you want) Let cool.
Pumpkin Butter Pecan Rolls
Preheat oven to 400F. Spray a 10" round cake pan or grease with butter. I often use a cast iron pan: just line with a dampened and crushed up square of parchment paper.

Mix the cooled pumpkin butter, brown sugar and pecans in a bowl and set aside.
PREPARE DOUGH
In a medium bowl, whisk the flour, sugar, baking powder and salt together.

In a separate bowl whisk the melted butter, eggnog, and eggs. Add the wet ingredients to the dry, and use a wooden spoon to stir till combined.

Remove the dough to a well floured surface and pat flat.

Fold once or twice, flouring your hands and the dough as you go. Then using a floured rolling pin, roll out the dough to a 12x8" rectangle.

Have the 8" ends to your left and right. In other words, a horizontal or landscape rectangle.

Spread the filling evenly across the surface. Leave the bottom 1/2" or so edge free of filling, to help with closing.

Roll up the dough, log style. I find that if the counter is warm, or not floured well enough, the dough may become a tad sticky. In this case, I use a bench scraper or metal spatula (either one well floured) to help loosen the dough from underneath. Once you get going it will get easier to finish rolling.

So now you have a 12" long. Slice it into two 6" logs. Then cut each 6" log in half.

Now slice each quarter into 3 equal slices. You will have 12. Carefully place each roll into the prepared pan, leaving a little space between each one.

(Alternatively, you can roll the dough into a roughly 10X10" square. Fill as described above. Roll, and divide into 8 equal cinnamon rolls. They will be larger, both width and height. I bake these in a 11x7 rectangular baking pan)

Bake 20-25 minutes, or until the rolls are golden brown and just bubbling.
GLAZE
In a medium bowl cream the cheese well with a hand mixer till smooth. Slowly add in the eggnog and the icing sugar. Add a little more eggnog if it is too thick. But add only a bit at a time: it is amazing how quickly the glaze can thin out.

Spread the glaze over the warm rolls. You can also sprinkle pearl sugar, or more chopped pecans over the glaze.

These are best served warm. But they can easily be stored in an airtight container and rewarmed in a 300F oven or microwave.
Recipe Notes
Prepare the butter in advance so that it will be cool enough to work with for the rolls.
Pumpkin butter will keep refrigerated in an airtight container for up to 3 weeks. Pumpkin butter may be frozen in a tightly sealed container. For a darker, richer butter, use all or part dark brown sugar
Rolls can be reheated in a 300F oven (do not use a microwave)
Pumpkin Butter recipe inspired by Wicked Good Kitchen
SaveSave
SaveSave
SaveSave
SaveSave
SaveSave
SaveSave