Making the most of rhubarb season before it disappears for another year has been so much fun this time around. It's been going into pies, cobblers, crisps, compotes, and now curd. And then whatever I can't get to right now will be frozen so that come the dead of winter, I can relive the joys and flavours of Springtime.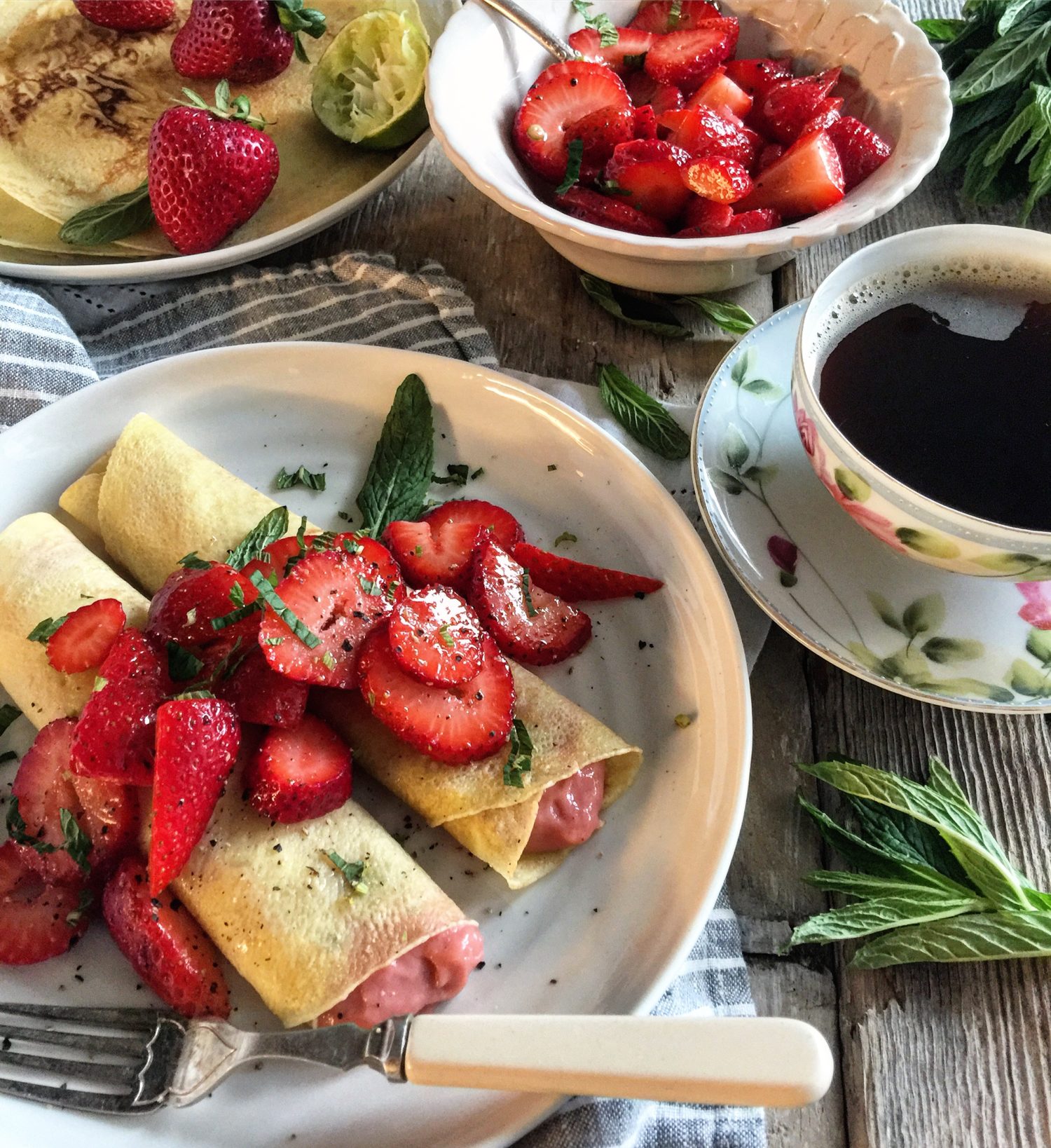 I love a good curd. It obviously makes a great pie. But, I can just eat it from the jar! Im thinking there are a few of you out there that feel exactly the same way! So when I came across a recipe for a Rhubarb Curd Meringue Pie on the Delicious UK website, you know I had to try it. The pie was amazing- the tart pastry shell has desiccated coconut in the dough. And then more coconut is added to the egg white meringue topping. It adds a lovely texture that doesn't take away from the end result, but really enhances the experience of eating this pie. Here's the link for any of you who would like it. Rhubarb and Coconut Meringue Tart.
I'm really only sharing the curd recipe portion in this post. After I filled crepes with it the other day, and then drizzled honey and lime soaked strawberries over the crepes, I knew I was onto something special. That classic pairing of strawberry and rhubarb gets a new venue with this brunch recipe. Or it would even make a lovely Springtime dessert.
So, these are pretty easy to make up. Have your curd prepared and refrigerated. Make up my basic crepes recipe, adding 2 tbsp of sugar to the batter, as well as the zest from one lemon. The recipe may make up more crepes than you need. No worries, just freeze them in a freezer bag, with a piece of wax paper in between each crepe. Then you can just pull out what you want the next time the mood for crepes strikes. Warming them up is easy: place them on a parchment lined baking sheet and warm slowly at 275F till softened and warmed up- it should take about 15 minutes depending on how thawed they were going in. Just watch them.
You'll be macerating your berries in the juice of some limes, as well as honey, and some freshly cracked black pepper. Or if you are more adventurous, feel free to macerate in some prosecco! They should be ready to serve in about 15 minutes.
Then it's just a matter of assembling: Place about 2-3 tbsp of curd down the middle of each crepe. Roll up and drizzle the softened berries over the crepes. That's it. Oh, you could sprinkle them with powdered sugar. Or whipped cream. But that's just gilding the lily, isn't it?! Maybe not…
Love Jen
ps: The new website is up and running. But for some reason, the photos are not loading correctly. So currently I have my web team looking into a fix for this. So so so so so frustrating!! Aaagghhh… Thanks for being patient with all of this tech stuff.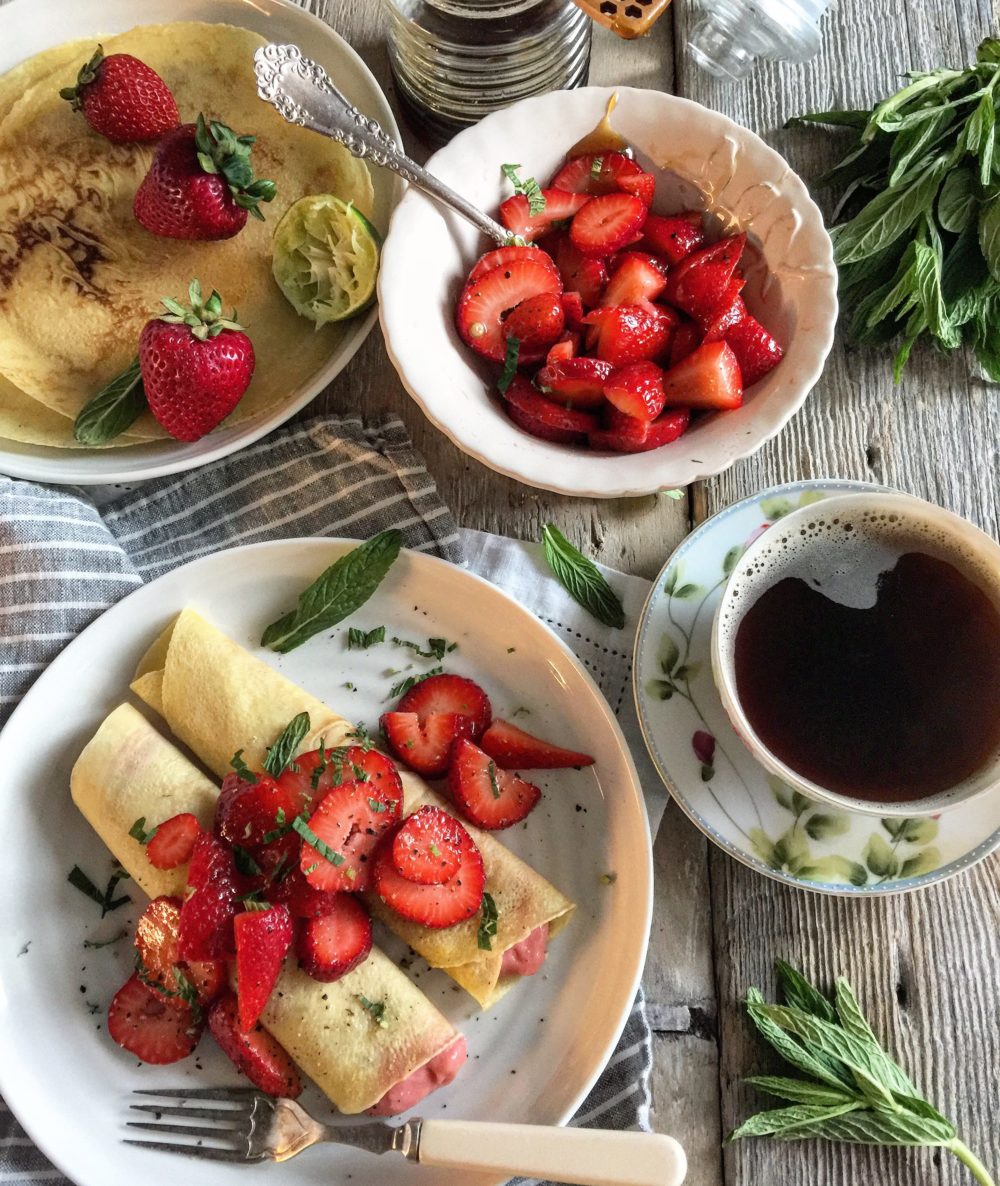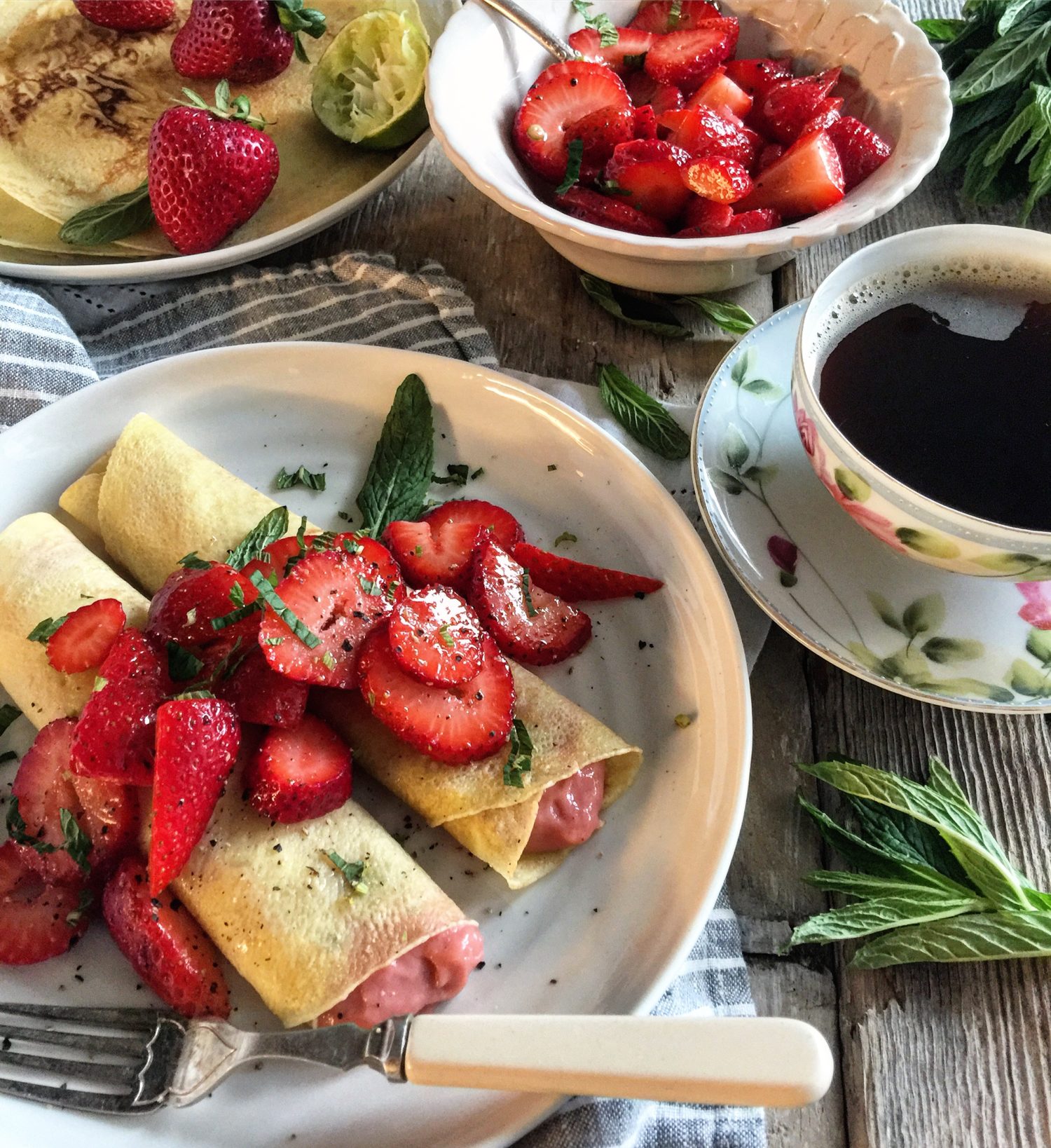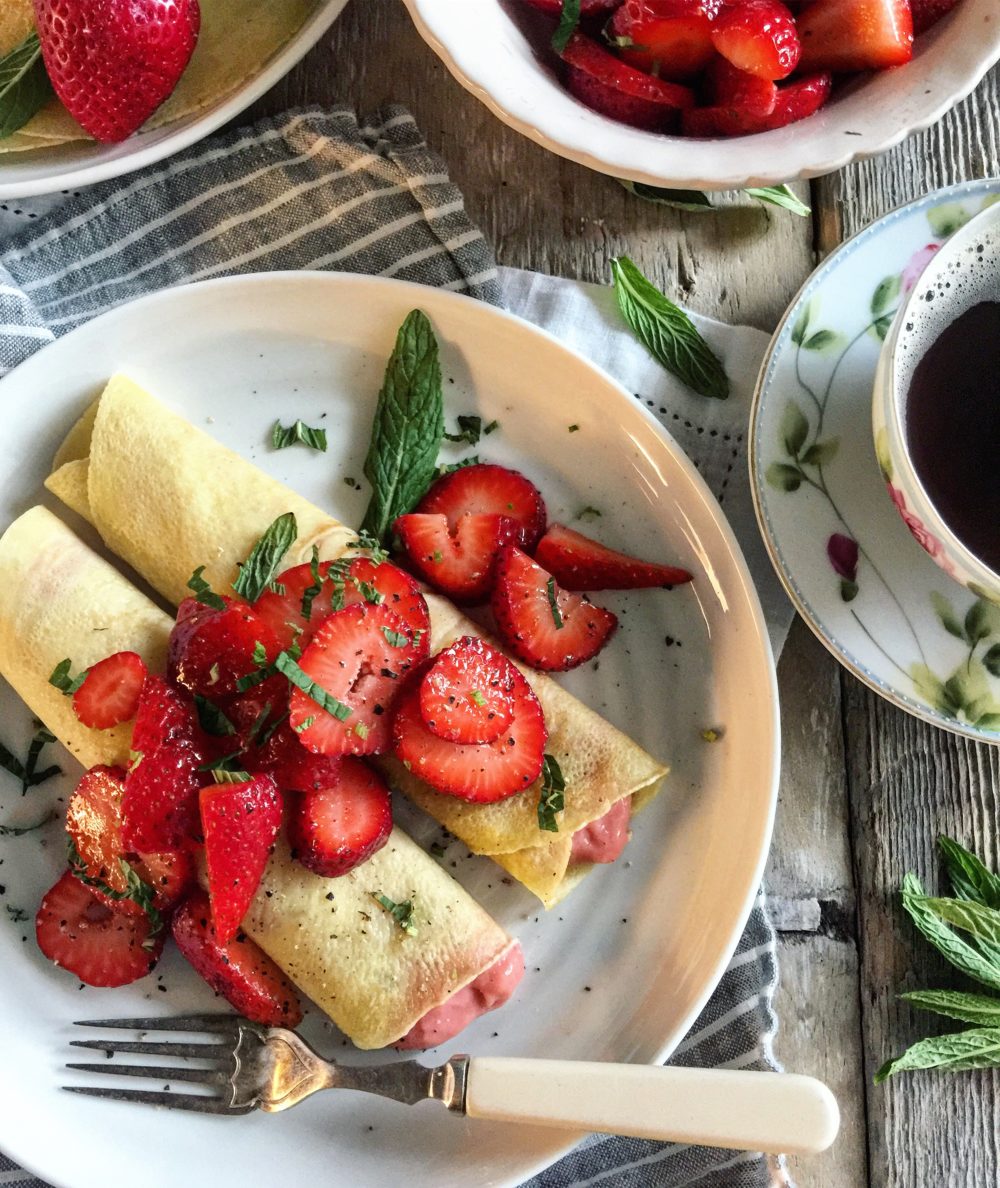 Rhubarb Curd, Honey and Lime Strawberry Crepes
Fresh tangy rhubarb curd is folded inside lemony crepes and topped with honey and lime soaked strawberries. Springtime brunch or dessert perfection.
Ingredients
Curd
700

g

(24 oz or 4 2/3 cups ) trimmed rhubarb

, cut into 3cm (1inch) pieces

160

g

(6 oz, or 3/4 cup) golden caster sugar

, plus 1 tbsp extra to taste

Grated zest and juice of ½ orange

4

tbsp

cornstarch

4

large free-range egg yolks

50

g

(1.7 oz or 1/2 stick) unsalted butter

, melted
Macerated Strawberries
2

cups

strawberries

, hulled and sliced

2

limes

, zested and juiced

3-4

tbsp

runny honey

1/4

tsp

freshly cracked black pepper
Crepes
8

lemon zest crepes from Pantry Recipe
Instructions
Curd
Turn the oven to 375F or 190°C/fan170°C/gas 5.

For the filling, mix the rhubarb with 1/3 cup (or 70g) of the sugar, and the orange zest and juice. Scatter in a roasting tray and roast for 20 minutes.

Purée the rhubarb and its juices in a food processor, then pass through a sieve, pushing the rhubarb through with a wooden spoon into a pan to extract as much as possible.

In a small bowl, mix the remaining sugar with the cornstarch and enough of the rhubarb purée to make a paste. Return to the pan containing the rest of the rhubarb.

Bring to the boil, bubble for a minute, then remove from the heat. Taste and, if it's too tart, add 1 tbsp more sugar.

Mix the egg yolks with the butter, then stir into the rhubarb mixture to make a curd. Stir well. Place back on medium heat and cook till bubbling and the temperature is 140F.

Scrape into a bowl, cover, cool and chill.
Macerated Strawberries
Place all the ingredients in a bowl and stir gently. Set aside to macerate while you prepare the crepes. If you have made you crepes in advance, place frozen ones onto a parchment lined baking sheet and place into a 275F oven to warm up.
Assemble
Place two crepes on each plate.

Spoon 2-3 tbsp of the rhubarb curd down the middle of each crepe.

Gently roll the crepe over the filling. Repeat with all the crepes.

Divide the strawberries between the four plates, spooning over the crepes.

You can sprinkle everything with a dusting of icing sugar for extra oomph!
SaveSave
SaveSave
SaveSave
SaveSave
SaveSave
SaveSave
SaveSave
SaveSave
SaveSave