I will go out on a limb and say that there is nothing quite like a stellar roast chicken.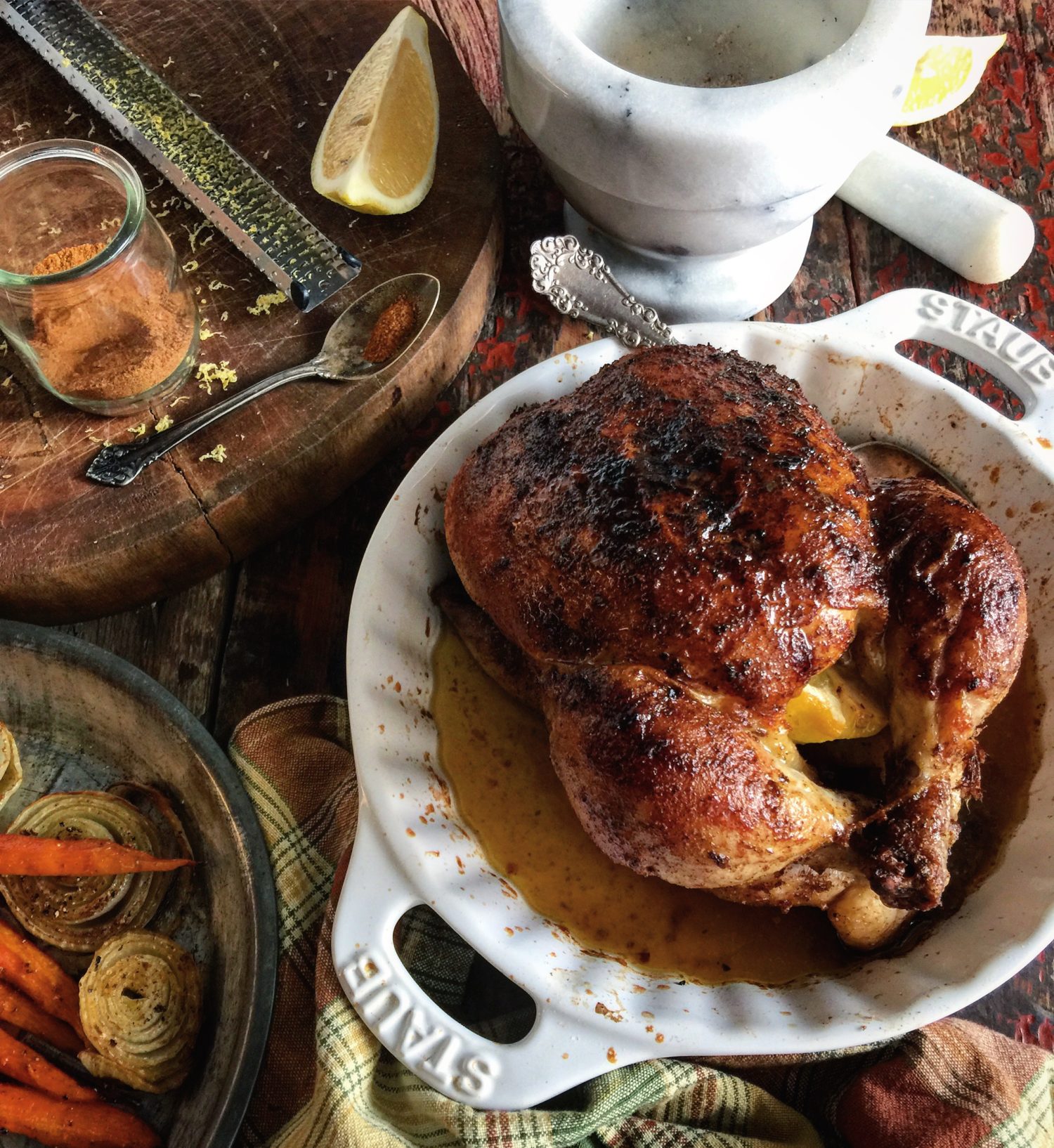 I appreciate that vegetarians may not agree with me. I understand. But the idea of a roast chicken has less to do with the what it IS as to what it REMINDS me of. Growing up, if my mom told us that we were having a roast chicken for dinner, this information would keep me company all through the school day. Especially on days that involved math class!
Coming home to the aroma of a roast chicken is something that I can still vividly recall- it is almost visceral. The kitchen smelled like home. You know what I mean. At some point, I would see my mom open the oven door, and bend forward to check on the bird roasting away. That image evokes more that just the simple act of cooking. It implies comfort, caring, mothering, coziness…love.
To this day, I could have a roast chicken once a week. And it doesn't have to be prepared the exact same way each time. But the final sum of roasted meat, crispy skin, juices dripping into the veggies surrounding the bird, the sides of roast or mash potatoes, or even rice, makes me feel like I'm back in time, sitting with my family around the dinner table. It can be rainy, stormy, frigid or some other unbearable state outside, but inside all is cozy and right. This is what a roast chicken can do for me. Boy I project a lot onto my food, don't I!?
Now that winter is here in full force (it really is frigid here in Toronto, really!), it is the perfect time to roast a chicken. But I wanted to try a fresh flavour profile. The typical rosemary, thyme or citrus combos are an easy, almost no-brainer way to approach the process. But I felt like some heat. And something a bit more exotic. So I opened my spice cupboard and started reading over all the jars and canisters. Harissa, za'atar, sumac, espelette, aleppo, ras el hanout, garam masala, five spice powder… finally one grabbed my attention. Berbere. That amazing Ethiopian spice blend of paprika together other spices like garlic, ginger, fenugreek, cumin, cardamom, black pepper and of course chili pepper which gives it a kick.
Berbere means hot in Amharic, and this blend is the building block in many Ethiopian dishes. These days you can find already blended berbere spice powder at most grocery stores. (But I will include a recipe in the Notes below) We love going out for Ethiopian meals- it's such a festive and communal way to eat. A large platter arrives at the table with different lentil and chickpea 'dips', stews and meat dishes like Doro Wat, Tibs, or Zigni, and various vegetable options. To eat any of the above, injera (a spongy almost sour tasting flat bread made from teff) is served. You rip off small pieces of the injera and wrap it around a morsel of the array of food. We have our favourite spots here in Toronto, but more and more cities everywhere are seeing great Ethiopian restaurants popping up.
Back to my chicken. I had decided on a spice. Now to prepare the chicken. I decided to use the method that Julie Turshen taught us in her fabulous book, Small Victories. She encourages us to salt the bird generously and let it sit out on the counter for a few hours. Or uncovered in the fridge overnight. You can see her method and original recipe here in my post, Roast Chicken with Fennel, Rosemary and Lemon. I took the salt and added the berbere and lemon zest and rubbed it all over the bird. When it came time to roast, I added the zested lemon to the cavity of the chicken. And then into the 425 F oven it went. One and a half hours later it was done. And the skin was burnished to a lovely mahogany red and super crispy. I decided to roast some carrots and onions alongside the bird, using the same flavour profile along with some olive oil. Added some spiced rice, and dinner was done.
Jim loved the heat of the spice, as it had also penetrated into the meat. The meat was moist, full of flavour, and definitely not boring!
I hope you guys have great memories of meals prepared with love. Yes, the meal is delicious, but it is the love that made it that is truly memorable.
Love Jen.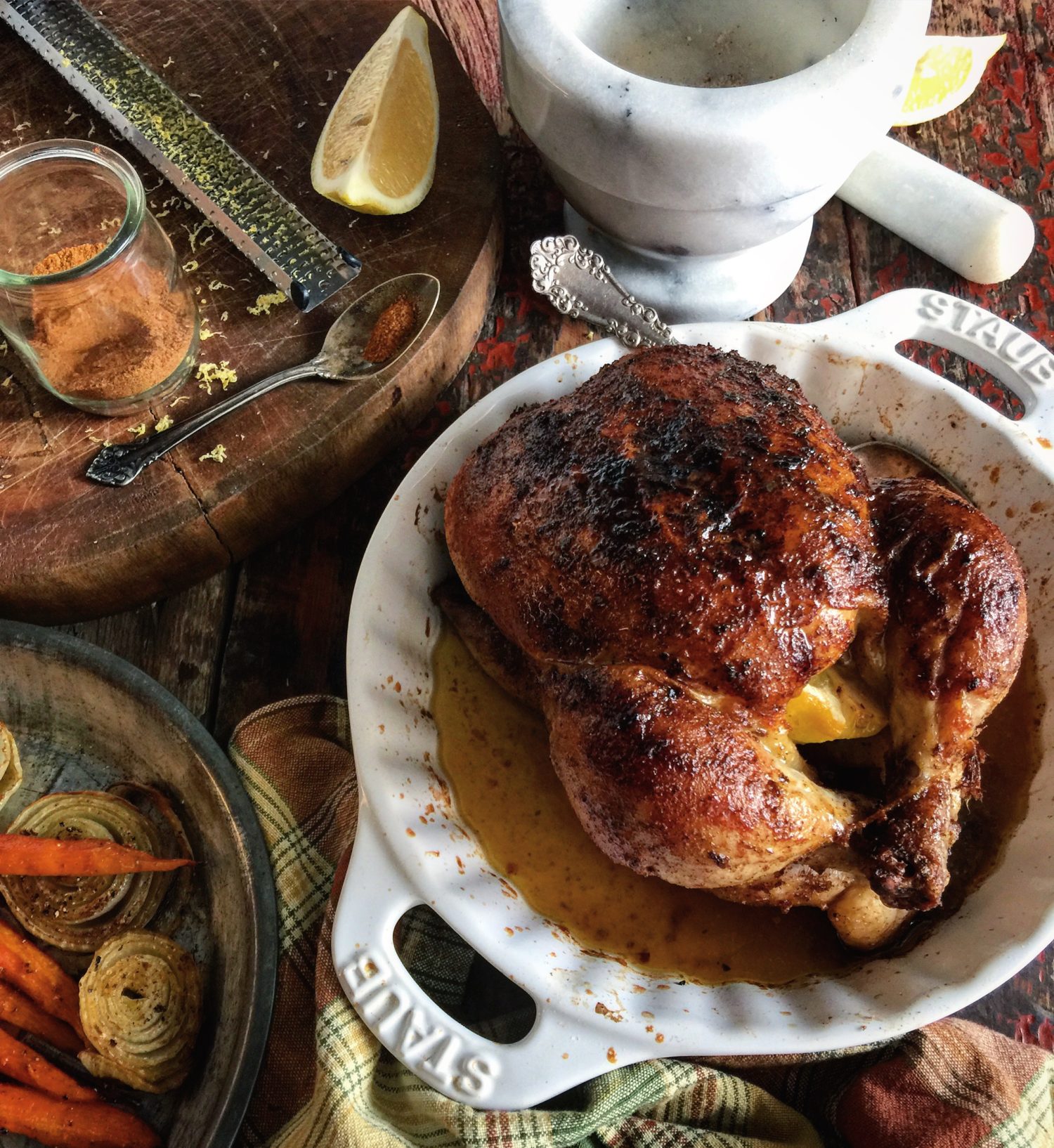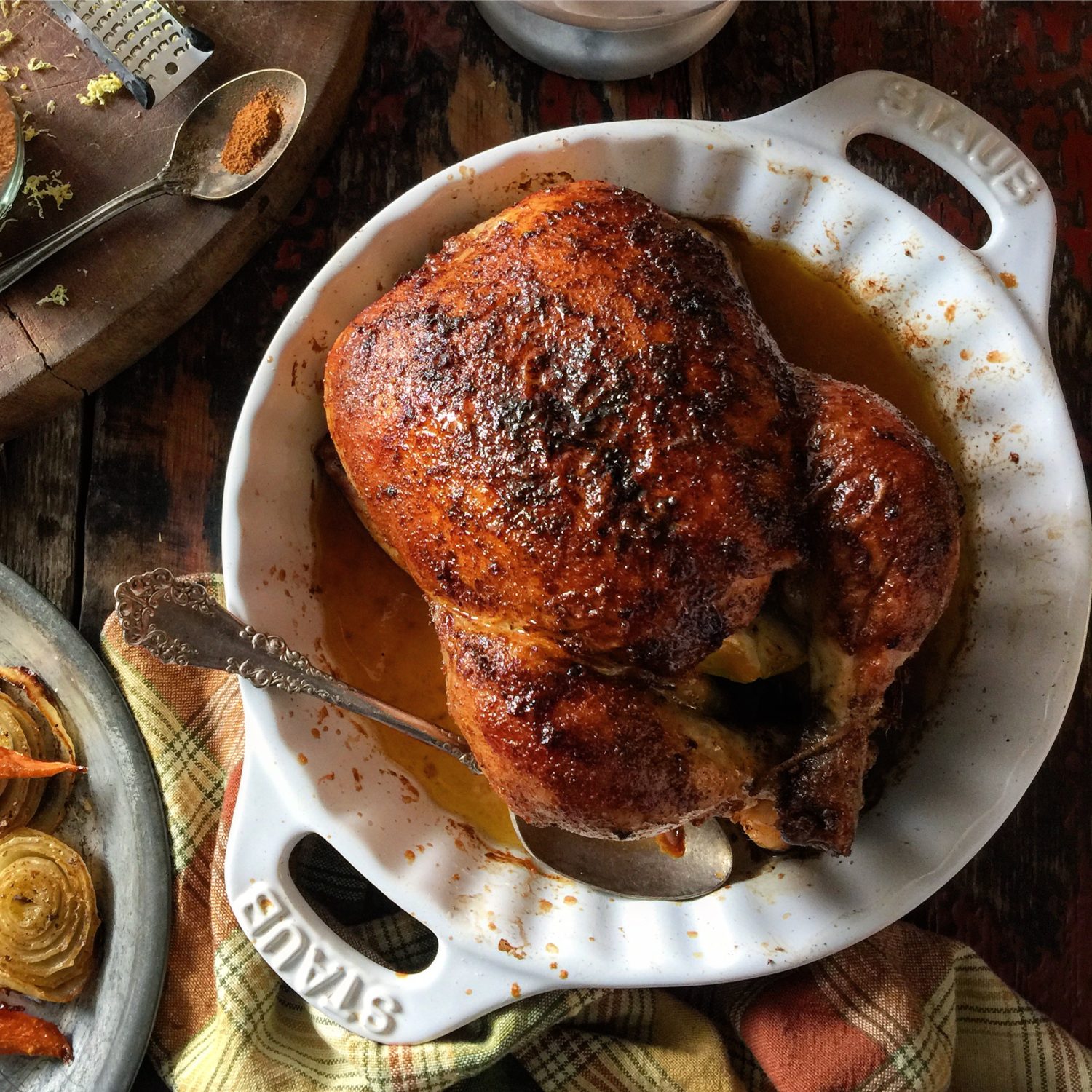 Roast Berbere Chicken
The exotic and warm spices of Africa transform this humble roast chicken to a moist and tasty bird with a crispy mahogany hued skin. Rice and veggies will make this a meal to rush home to!
Cook Time
1
hour
30
minutes
Total Time
3
hours
30
minutes
Ingredients
1

lemon

1 1/2

tbsp

Berbere Spice blend

1

tbsp

kosher salt

1

@ 3 1/2 lb

(1.6 kg) chicken patted dry with paper towel

3

tbsp

butter

softened
Instructions
Use a microplane to remove all the zest from the lemon and place it in a mortar. Set the lemon itself aside.

Add the berbere and salt to the lemon zest. Bash everything together with the pestle. Alternatively you can just stir everything very well in a small bowl.

Rub the chicken with the salt mixture, inside and out, really massaging it into every nook and cranny. Let the chicken sit, uncovered, for 2 hours at room temperature.

Preheat the oven to 425F (220C) a half hour before you are ready to roast the chicken. So it should be hot for a while, not just arrived at 425F when the chicken goes in.

Place the chicken into a skillet or baking dish that will hold the chicken comfortably.

Cut the zested lemon in half and stuff into the cavity of the bird. Tie the legs together.

Roast the chicken until the skin is browned and crispy, and the leg feels nice and loose when you wiggle it.

After the first 45 minutes, add the softened butter all over the skin and return to oven. Periodically baste the bird with the butter and juice dripping from the bottom of the pan. If upon checking, you feel the skin is getting too dark, just cover the area with some aluminum foil.

It is ready to come out when the thigh joint area registers 170F (70C) on an instant read thermometer. This should take around 1 hour and 15 minutes to 1 hour and 30 minutes.

While many cookbooks will tell you to reduce the temperature at some point, but as Julia points out, often the chicken is undercooked this way. And that's just no fun. Maintain the oven temperature- it worked perfectly for me.

Let the chicken rest for 10 minute before carving. Squeeze the juice from the lemon halves over the chicken when serving. You can also use all the juices that are on the bottom of the baking dish for veggies, over roast potatoes or drizzled over basmati rice.



Recipe Notes
This is a fabulous recipe for more than one meal. Leftover chicken can be used in stir fries, chicken soup, quesadillas, even good ole chicken salad! Adapted from Small Victories by Julia Turshen
Below is a recipe for your own Berbere Spice Blend.
3 tbsp smoked paprika, 2 tbsp paprika, 1 tbsp ground ginger, 1 tbsp garlic powder, 1 tbsp dried basil, 1 tsp ground white pepper, 1/2 tbsp ground cinnamon, 1/2 tbsp ground nutmeg, 1/2 tbsp fenugreek, 1 tsp cumin, 1 tsp cardamom, 1 tbsp or more of hot chili or cayenne pepper.
Instructions
If using whole grain (for the fenugreek, cumin and cardamom), lightly toast, on low heat, in a fry pan, for a couple of minutes, before grinding. Cook just until the spices smell nice and toasty. Then grind in a coffee grinder.

Combine all the ingredients in a bowl, or Jar and stir so that all the ingredients have been fully combined
Recipe for spice blend from African Bites
SaveSave
SaveSave
SaveSave