A new year has started, and so has cooking from a new cookbook for the Rainy Day Bites Cookbook Club. For this month, we are cooking from Small Victories by Julia Turshen.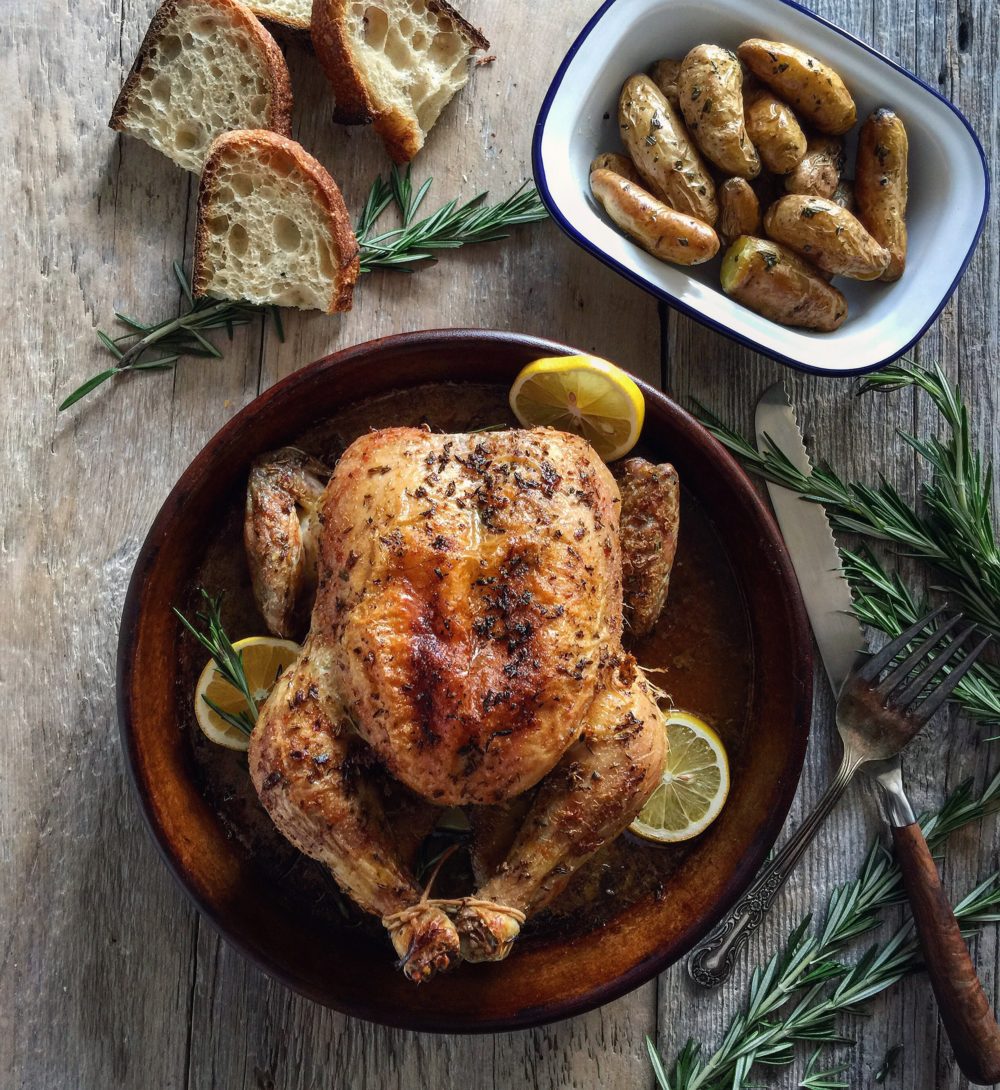 On the surface it might appear that it is a simple, back to basics cookbook, explaining basic skills with straightforward recipes. Oh it is so much more than that.
Julia's words that accompany each recipe show how initially you may be achieving a 'small victory' in learning a specific skill used in that recipe. But then she takes it to the next level, offering suggestions and alternatives for each recipe. That's where the reader can stretch his or her cooking muscles and let their imagination take over. Really, even though I have been cooking for years (and years and years…) I was pleasantly surprised at how many new tips and tricks Julia has been throwing my way as well. Every recipe I have tried has been a triumph. Turned out exactly as she described, and how I wanted it to.
It's hard to narrow down the recipes I will share to showcase the various books. I don't want to keep giving variations or new versions of recipes that you can already find here at The Lemon Apron. But then I thought about it, I have never shared with you my roast chicken recipe. I will one day I'm sure! But for today, I need to share Julia's. Every kitchen needs a good roast chicken recipe- it can quickly become a family dinner or gussied up to feed company. This recipe could not be easier. Nor could it be more flavourful. And foolproof. I need to share her suggestions. And if you are as concerned about where our meat and produce come from, you are probably choosing to eat meat less often, and consciously choosing it from caring and thoughtful farmers, like I am. This means that your choices will probably be costing more. So when you spend more on meat etc, you want the best recipes to showcase those choices. This recipe will make that luxury chicken shine.
As simple as it is, there are a few basics that should not be overlooked. First of all, make sure that your chicken (like all meat you are preparing for cooking in some manner) is totally at room temperature. This will make sure it will cook evenly. It may feel fine to the touch, but if not left out long enough, the inner core of the meat can still be cold. If this is where it is at when it goes into the oven, bbq, pot etc, the stated cooking time won't be good enough. Those inner nooks and crannies will not be cooked through when the outer portions are well cooked and ready to be eaten. So wait. Let it sit outside on the counter. Let it keep you company as you putter around the kitchen prepping other dishes etc. Let it watch you make a cup of coffee. Grill a sandwich for lunch. You get my drift?! This tip I knew.
What Julia taught me was this: Salt the chicken and let it air dry at room temperature for 2 hours (or even uncovered in the fridge for up to 2 days!) before cooking it. This will allow the skin to get nice and dry and will let the salt really get into the bird and season it well.
It's a lesson in simplicity where the end result is truly sublime. Using a combination of lemon zest, fennel seeds, chopped fresh rosemary and salt which have been crushed together in a mortar and pestle, to cover the entire bird inside and out is all the work that is required. This sits on the counter staring at you for 2 hours. You can leave the kitchen of course, the bird is happy to hang out all alone, assessing the state of your spice shelf, counting the tiles on the floor, or wondering how long you've been using that dishcloth.
Then the chicken and the leftover lemon (which gets shoved into the cavity of the chicken) get popped into a preheated 425F (220C) oven. That's it. It stays in there until the skin is brown and the temperature of the chicken interior reaches 170F (70C) You don't need to adjust the oven temperature at all. Really. Then, just let the bird rest for a good 10 minutes to let all the juices settle back into the chicken. Squeeze any lemon juices from the lemon halves inside the chicken over it before serving. Sublime! I tried this for the first time. And boy did it work!!! What amazing crispy skin was achieved. I'm a sucker for anything lemony, so this was a no-brainer. The perfect spices and lemon juices. I was carried away. I served my roast chicken with garlic and rosemary roasted fingerling potatoes, and a simple salad. There is truly nothing better.
Julia reminds us that we can make it our own by switching up the spice blends. Use cumin and coriander seeds crushed with the salt. Or smoked paprika and garlic. Or even berbere spice blend. Or how about za'atar? And finally, the perfect reminder: use the same salting and seasoning method and room temperature trick for preparing your turkey!
Love Jen.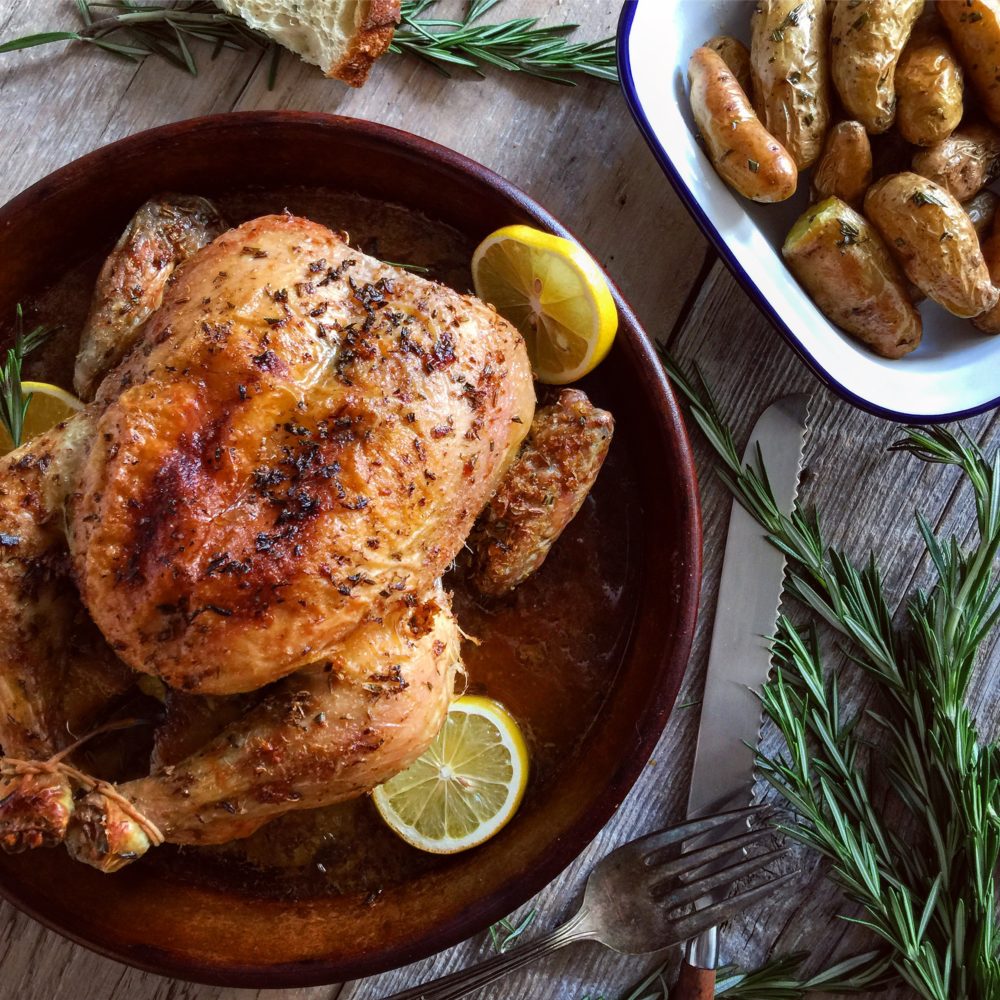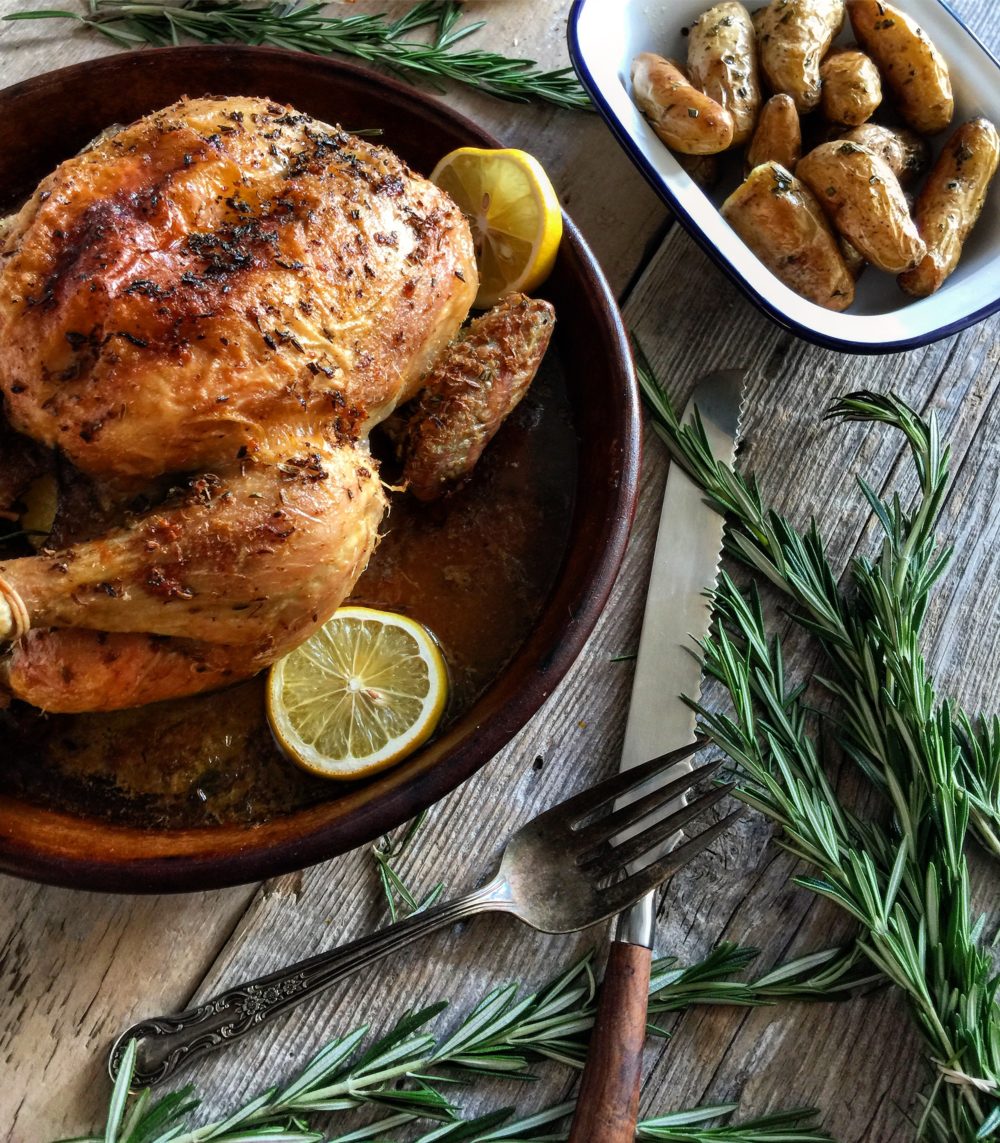 Roast Chicken with Fennel, Rosemary and Lemon
The classic roast chicken can't get any tastier than this juicy bird with uber crispy skin.
Cook Time
1
hour
15
minutes
Total Time
3
hours
15
minutes
Ingredients
1

lemon

1

tbsp

fennel seeds

1

tbsp

fresh rosemary

minced

1

tbsp

kosher salt

1 @ 3 1/2

lb

(1.6 kg) chicken

patted dry with paper towel
Instructions
Use a microplane to remove all the zest from the lemon and place it in a mortar. Set the lemon itself aside.

Add the fennel seeds, the rosemary and salt to the lemon zest. Bash everything together with the pestle. Alternatively you can just stir everything very well in a small bowl.

Rub the chicken with the salt mixture, inside and out, really massaging it into every nook and cranny. Let the chicken sit, uncovered, for 2 hours at room temperature.

Preheat the oven to 425F (220C) a half hour before you are ready to roast the chicken.

Place the chicken into a skillet or baking dish that will hold the chicken comfortably.

Cut the zested lemon in half and stuff into the cavity of the bird. Tie the legs together.

Roast the chicken until the skin is browned and crispy, and the leg feels nice and loose when you wiggle it. The thigh joint area should register 170F (70C) on an instant read thermometer. This should take around 1 hour and 15 minutes.

While many cookbooks will tell you to reduce the temperature at some point, but as Julia points out, often the chicken is undercooked this way. And that's just no fun. Maintain the oven temperature- it worked perfectly for me.

Let the chicken rest for 10 minute before carving. Squeeze the juice from the lemon halves over the chicken when serving.
Recipe Notes
This is a fabulous recipe for more than one meal. Leftover chicken can be used in stir fries, chicken soup, quesadillas, even good ole chicken salad!
Adapted from Small Victories by Julia Turshen