This is one of those recipes that does everything it's supposed to. Be filling, tasty, quick, and satisfy Jim's cauliflower tooth.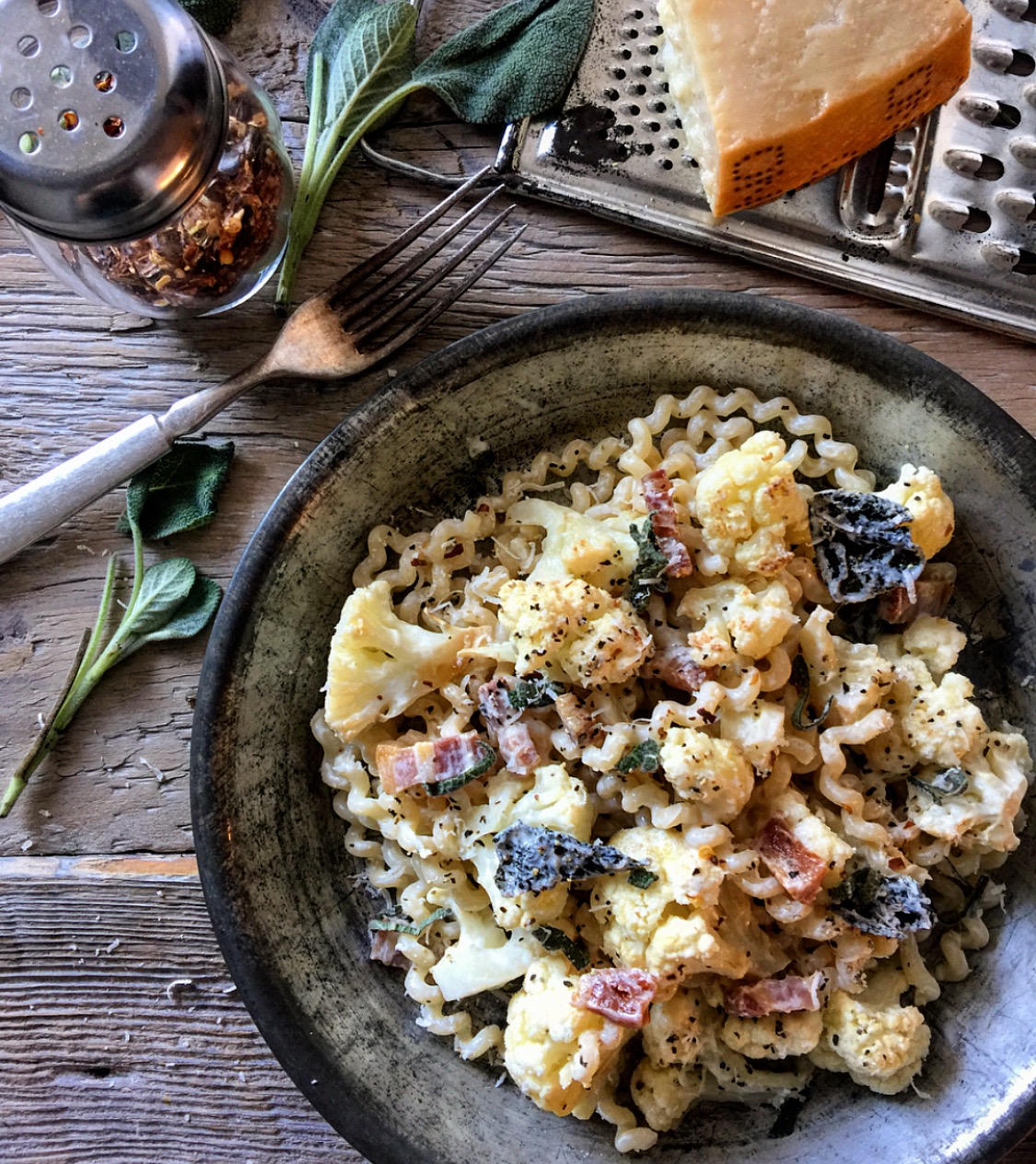 Lately cauliflower has been priced so reasonably. (remember that crazy blip a couple of years back when a head of cauliflower was running over $8.00 a head?!) So right now I seem to always have some in the fridge. Automatically I usually cut 1/2- 1 whole head up into florets and store them in a sealed container for Jim to nibble on. He will eat just about any veggie, as long as I have already cut it up for him. Otherwise, he just moves over to the chip and snacks cupboard!!
So this is the perfect meal for a Meatless Monday. Unless of course you noticed that there is pancetta in the title. Then it's a cheater meal. But if you did leave it out every once in a while, I don't think it's a bad thing. It will still taste great.
Most of this meal is prepared in a baking dish. You'll cut up a cauliflower into large bite sized florets. Then you'll chop up some pancetta into bite sized lardons. And then you will add a good number of fresh sage leaves. If they are especially large, feel free to tear them into smaller pieces. A drizzle of olive oil and a shake of red pepper flakes, and it all goes into the oven to roast off.
While the cauliflower is roasting away, you'll make up your pasta. In well salted water. Sometimes you may think that the salt isn't important, it really is. Pasta is pretty bland. The salt will add just enough flavour to the pasta. And this is important, because the roasted part of the dish isn't overly strong in flavours. If the bed of pasta that it will be sitting on is also bland, this dish will fall short.
But the star of this dish is the sauce. And it's not really even a sauce. It's skyr, greek yogurt or sour cream and lemon juice. And some freshly cracked pepper! Stirred together, they become a tangy perfection! When everything is tossed together and then topped with grated parmesan and more hot pepper flakes, you have a dish that is simple. But doesn't taste simple.
These are the kind of meals that will come to the rescue when you're not sure what to make, but have all the fixings in the fridge. Because there really isn't anything out of the ordinary in this recipe. But these basic staples in most kitchens make a meal that is beyond basic! It's good enough for company. Truly!
Love Jen.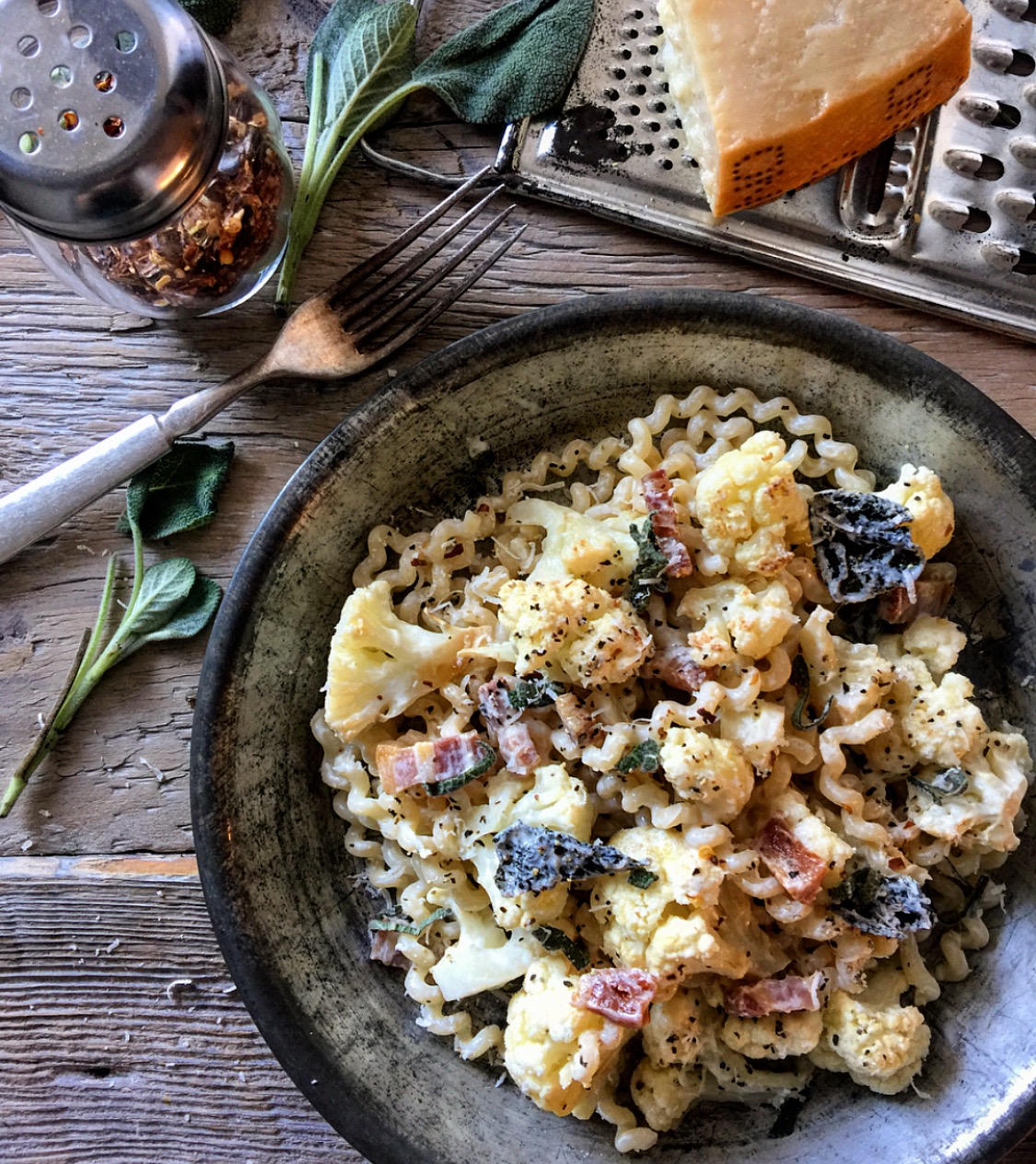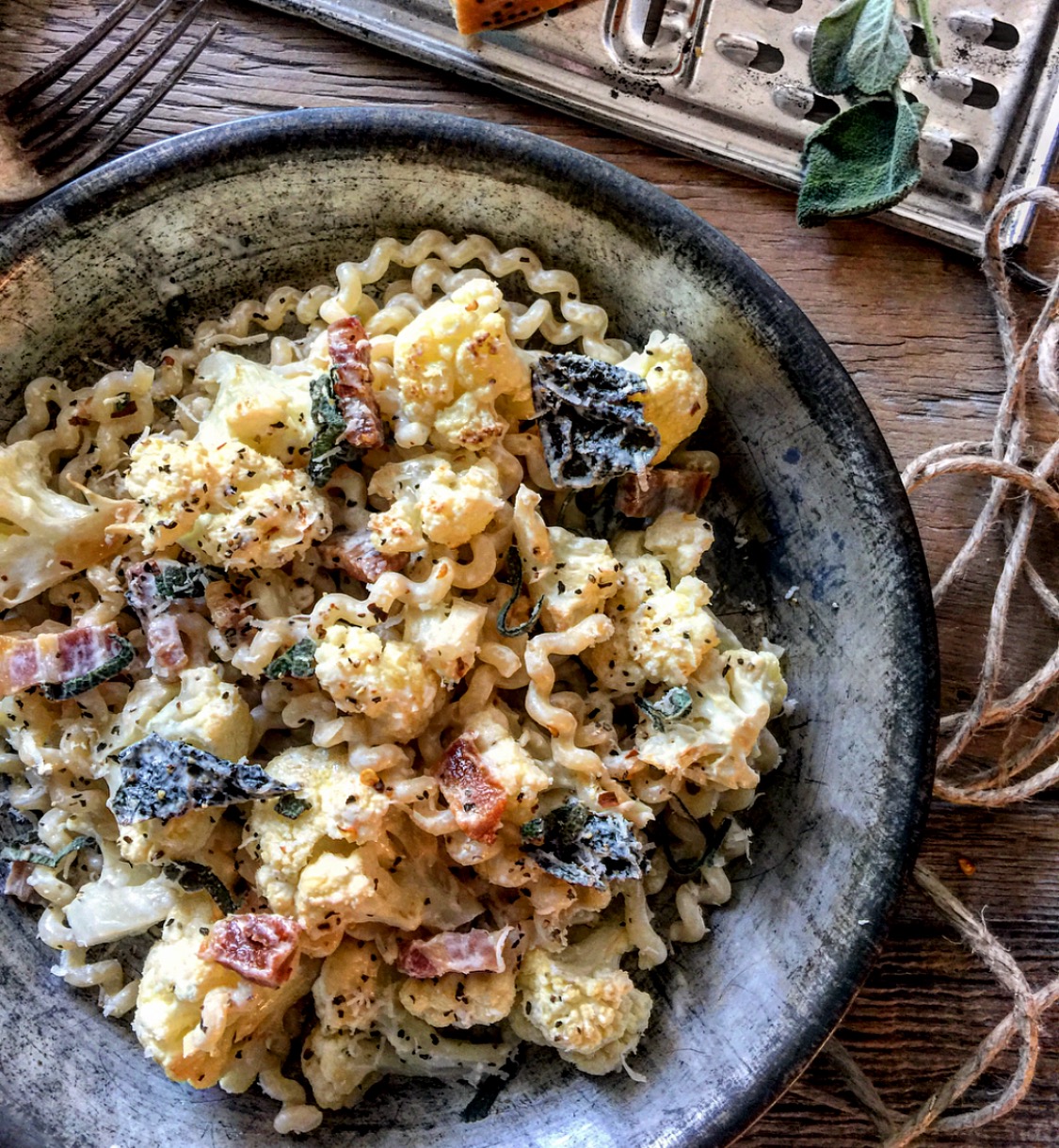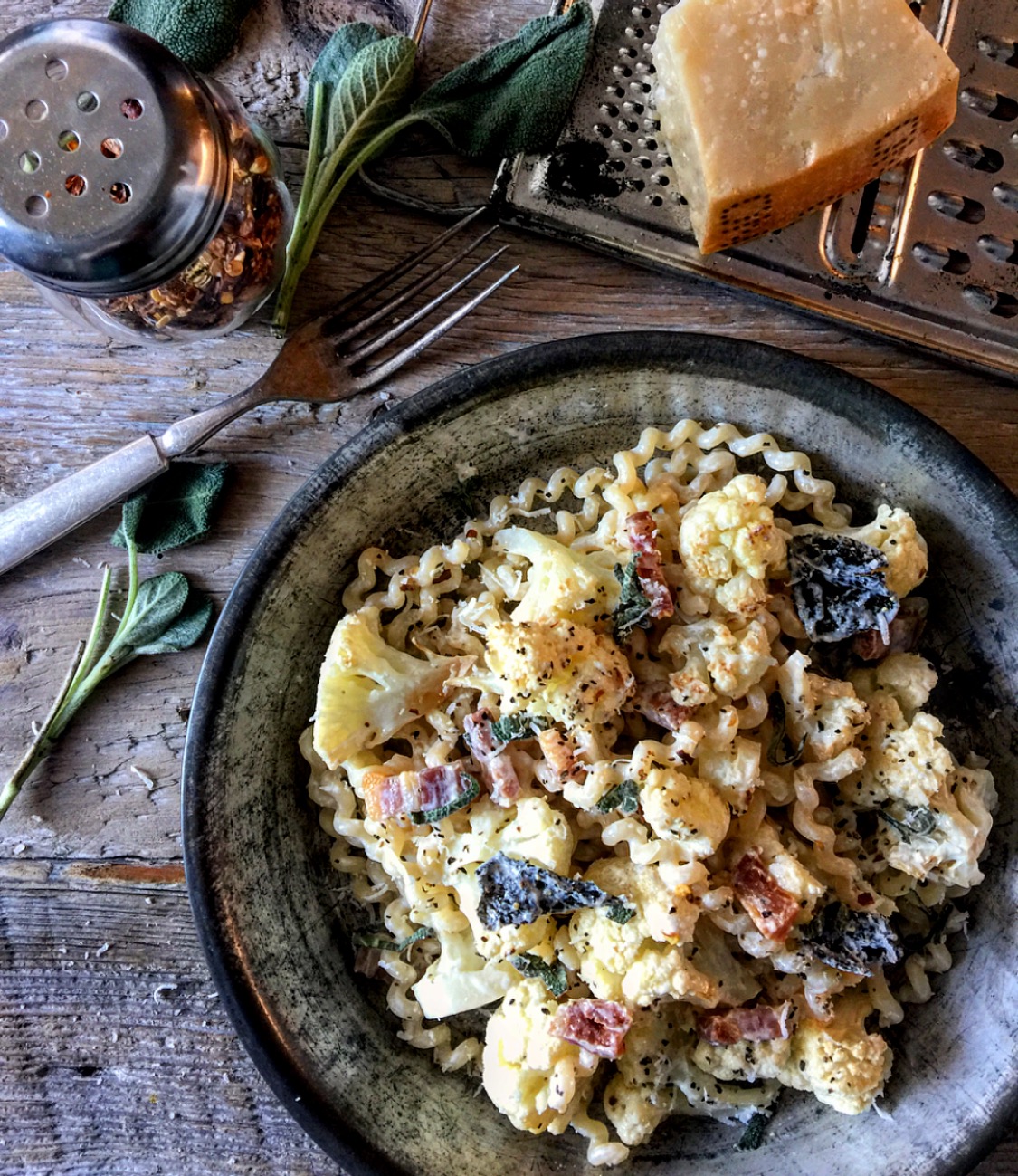 Roasted Cauliflower, Pancetta and Sage Pasta
Earthy and rich roasted cauliflower florets, pancetta lardons and fresh sage leaves get tossed with pasta and a tangy sauce of skyr and lemon juice. Hot pepper flakes add just enough kick.
Ingredients
1

head of cauliflower

, cut into large bite sized florets

1/3

cup

pancetta

, cut into bite sized lardons

15

to 18 medium sized sage leaves

, if larger, tear into smaller pieces

2

tbsp

olive oil

2

tsp

hot pepper flakes

1

lb

dried pasta

, either spaghetti, fettucini, linguini etc

3/4

cup

skyr or plain Greek yogurt

1/4

cup

fresh lemon juice

1

tsp

fresh cracked black pepper

1/4

cup

freshly grated parmesan or pecorino cheese
Instructions
Preheat the oven to 400F.

In a large baking dish, add the cauliflower, the pancetta, the sage and the hot pepper flakes. Drizzle with the olive oil and toss to coat.

Roast for 25 minutes till just turning crisp and golden. If the cauliflower and pancetta are cooked through and you want a bit more colour, feel free to use the broiler set to low. It won't take long. Move the rack to six inches below the element.

While the cauliflower is roasting, prepare the pasta as per the package directions. Use well salted water.

Cook till al dente.

Reserve 1/4 cup of the water and then drain the pasta. Return it to the pot it was cooking in. Keep off the heat though.

In a small bowl combine the skyr, lemon juice and cracked pepper. Stir well.

Combine the cauliflower mixture with the pasta and then coat with the 'sauce'.

If you find that the pasta soaks up the sauce too quickly and you want to thin it out or add some more creaminess, add a bit of the pasta water, 1 tbsp at a time till the desired consistency is achieved.

Add the grated cheese and stir one last time. Add more hot pepper flakes if desired.
Recipe Notes
I like to use skyr or greek yogurt whenever possible. But if you happen to have some sour cream in the fridge that needs using up, feel free to swap it out.
SaveSave