Jim hates mushrooms. He claims that he is allergic to them. But that's just a convenient coincidence.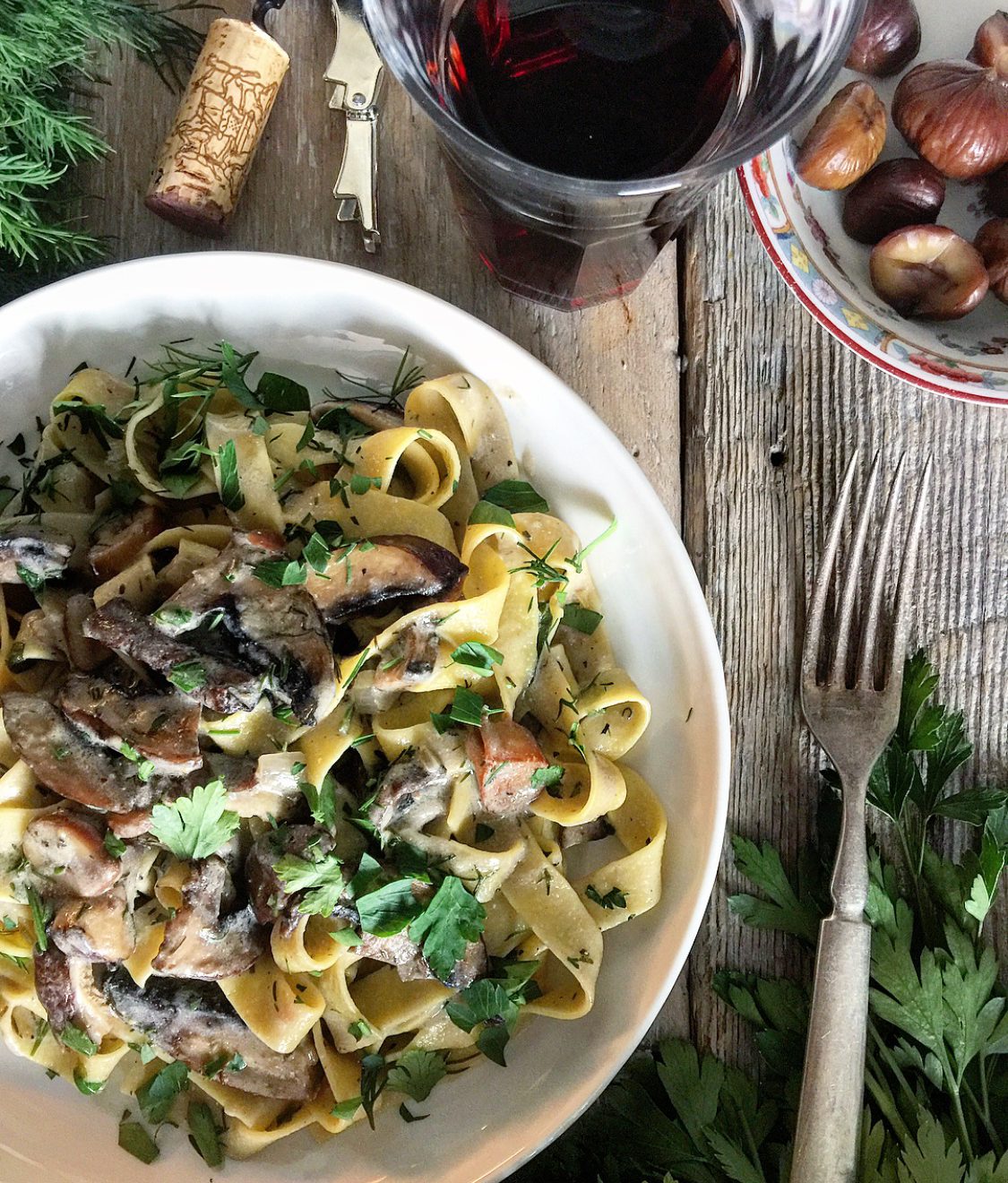 His allergy is not death-dealing. I mean, when we were dating, before he told me he was 'allergic' to mushrooms, I had added them to all sorts of ragus, goulashes, and bolognese sauces. And he never keeled over or anything. And then one day, he mentions to a group of us that he is highly allergic to this pleasant, unassuming funghi. My eyebrows lifted, and then I asked him. "But do you like them?" "Oh no- they're disgusting." was his reply. So that was it- like so many (men, for some reason) it was a case of not liking them for their texture or whatever. But he was sticking to his 'allergy' excuse. And our marriage began, sans mushrooms.
So, when Jim is out of town on business, I kinda go nuts, and pull out all the mushrooms. 'When the cat's away, the mice will play' right?! So whether it's 'shrooms on toast (kind of like a mushroom a la king sauce settled onto toasted bread, like my mom used to make for us) or stuffed mushrooms, or just sautéing mushrooms to serve in an omelette, I make sure I get them out of my system before Jim's return.
This past week I decided to pull out one of my favourite ways to enjoy mushrooms: Stroganoff. So usually (by that I mean, before Jim was in my life) I would make stroganoff for company, sautéing up some lovely beef strips as the star of the dish, the mushrooms playing a supporting role. The tang that would come from the sour cream, and the contrast of the fresh dill and parsley, and finally serving it over egg noodles would make for such a lovely dish.
These days I don't really crave the beef portion of the dish. I really want the mushrooms to be the star of the meal. So what I do is roast them off first. Roasting them with a sprinkling of the herbs and cracked pepper seems to turn them somewhat more 'meaty'. Which is good enough for me. And then occasionally, I will add some chopped roasted chestnuts to the sauce as well. There is something about mushrooms and chestnuts that works so well together. They both seem to have an earthiness to them. They harken to cooler temperatures, perhaps even a dusting of snow or frost on the ground. Chestnuts are packed in protein and have a 'meaty chewiness' to them. They are slightly sweet, but somehow not in a way that competes with the sour cream etc.
Once you have the mushrooms roasted off, the rest of the dish comes together so quickly. A pot of pasta cooking away, while you sauté shallots in butter and olive oil. Then the mushrooms and chestnuts get added to the shallots. Some wine and stock get added and cooked down. And then you get to add the sour cream. Now it becomes that iconic dish that had it's heyday in the '60's! A good fistful or two of more fresh dill and parsley and more pepper, and you've got a lovely sauce. Drain the pasta, saving some of the liquid gold that is pasta water, and toss them all together. If you need to thin it out at all, you've got that luscious pasta water.
This recipe is a perfect one to put that 'Faux Chicken Bouillon Powder' recipe to work. You've made a batch and have it in the fridge. Now all you have to do is add a tbsp to a cup of water to make up for the traditional chicken or beef stock that original recipes would have called for. If you haven't checked out this brilliant kitchen trick of a staple, go to the Pantry section of the blog or just click here!
It's a perfect meal as the weather starts to cool down, the sun sets a little earlier, and you've started to look for your jackets and scarves. And it's perfect for Meatless Monday as well. Feel free to serve this over mashed potatoes or rice or even cooked barley or buckwheat for a total switch up. If you are gluten intolerant, just replace the flour in the recipe that is used for thickening purposes with gf flour or arrowroot starch etc. You know what to do.
I hope you like it as much as I do. And I hope that you don't have to wait for a member of the family to be temporarily absent to be able to make this!!
Love Jen.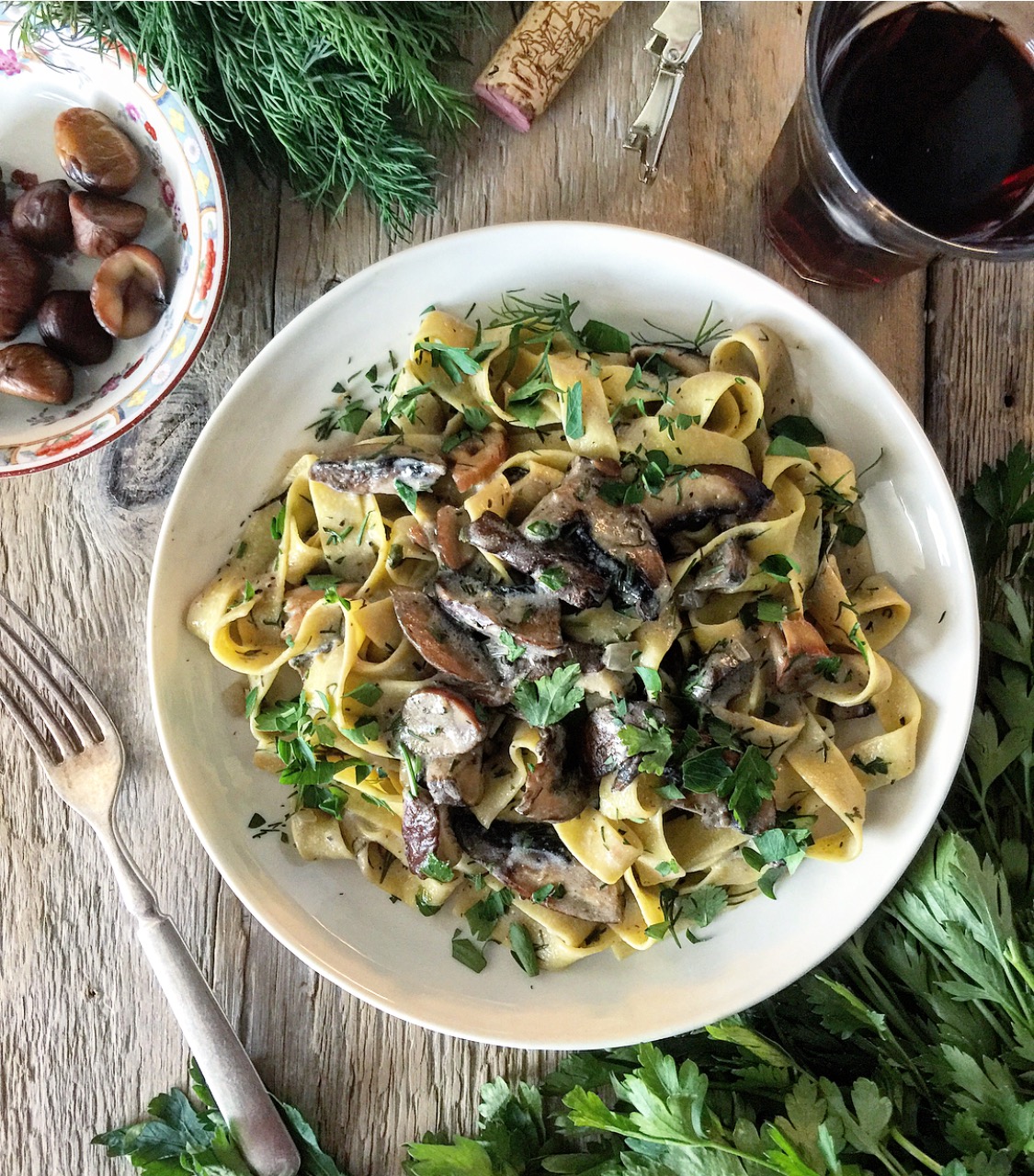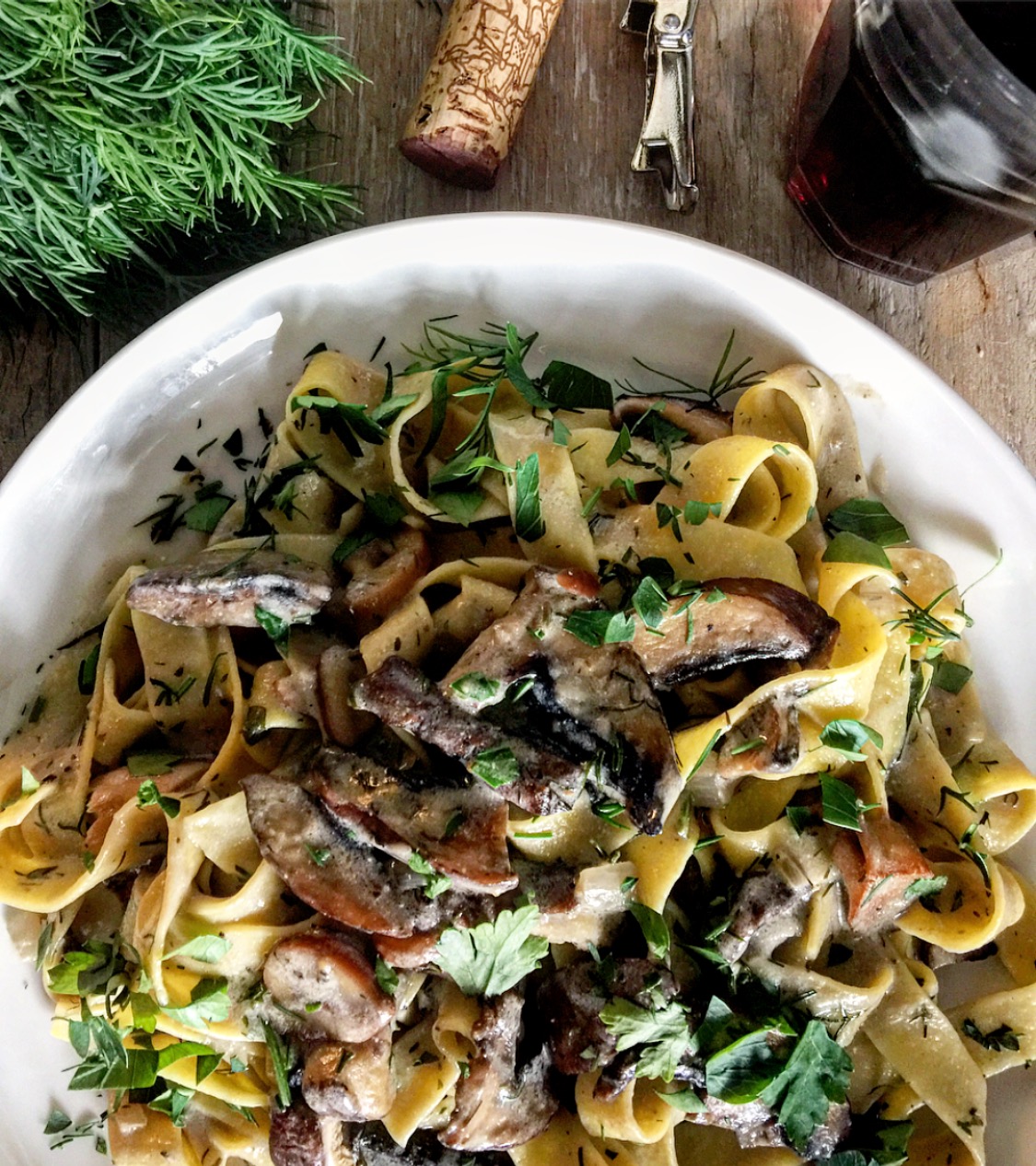 Roasted Mushroom Stroganoff
All the richness of roasted mushrooms, the creaminess of the sour cream, handfuls of fresh herbs all served over pasta- comfort food extraordinaire!
Ingredients
3

lb

mixed fresh mushrooms

, such as portobello, shiitake, oyster and cremini, sliced thickly (if mushrooms are larger, you can quarter them before slicing them up)

6

tbsp

olive oil

, divided

1

tbsp

each minced parsley and dill

3

tbsp

unsalted butter

2

large shallots

, minced

cracked pepper

1/3

cup

chopped roasted chestnuts

(optional)

2

tbsp

all-purpose flour

1

cup

dry white wine

1

cup

chicken or vegetable broth

(I use my Faux Chicken Bouillon Powder for this)

1/2

cup

sour cream

, you could use skyr here instead

2

tbsp

each chopped fresh flat-leaf parsley and dill

, plus more for garnish

Salt and freshly ground pepper

, to taste

1

lb

wide egg noodles or pappardelle

, or even cooked rice or mashed potatoes!
Instructions
Roast the Mushrooms
Preheat the oven to 425F and line a baking sheet with parchment paper.

Spread the mushrooms out on the sheet. Drizzle with 3 tbsp of the olive oil, 1tbsp each fresh parsley and dill, and a generous amount of fresh cracked pepper. Toss to coat well.

While the mushrooms are almost finished roasting, In a large fry pan over medium-high heat, melt the butter and remaining 3 tbsp olive oil. Add the shallots and sauté until lightly golden, 2 to 3 minutes.

Add the roasted mushrooms and cook, for about 2 minutes. (If using the chestnuts, add at this time as well)

Add the flour and stir to incorporate. Stir in the wine and broth and cook about 2 minutes (most of the alcohol will have cooked off by this time).

Remove from the heat, and stir in the sour cream and the 2 tbsp each of the parsley and dill. Season with salt and pepper.
Cook the Pasta
Meanwhile, bring a large pot of water to a boil over high heat. Add a good amount of salt, and the pasta to the boiling water. Cook until al dente, according to the package instructions. Drain, reserving about 1/2 cup of the cooking water.

Add the pasta to the sauce and toss to combine. Warm briefly over low heat to blend the flavors. Add pasta water as needed to loosen the sauce to the consistency you would like.

Garnish with more parsley and dill and serve.
Recipe Notes
This is a perfect time to use the Faux Chicken Bouillon Powder from my Pantry. It is so easy to add a tbsp of the powder to your measuring cup and add the water and blend. Adding this and the wine to the pan will make a wonderful sauce. Totally vegetarian this way!
SaveSave