Can I just say, where did the summer go?! I can't believe we are in the final week or so of August!! Aaaagghhh…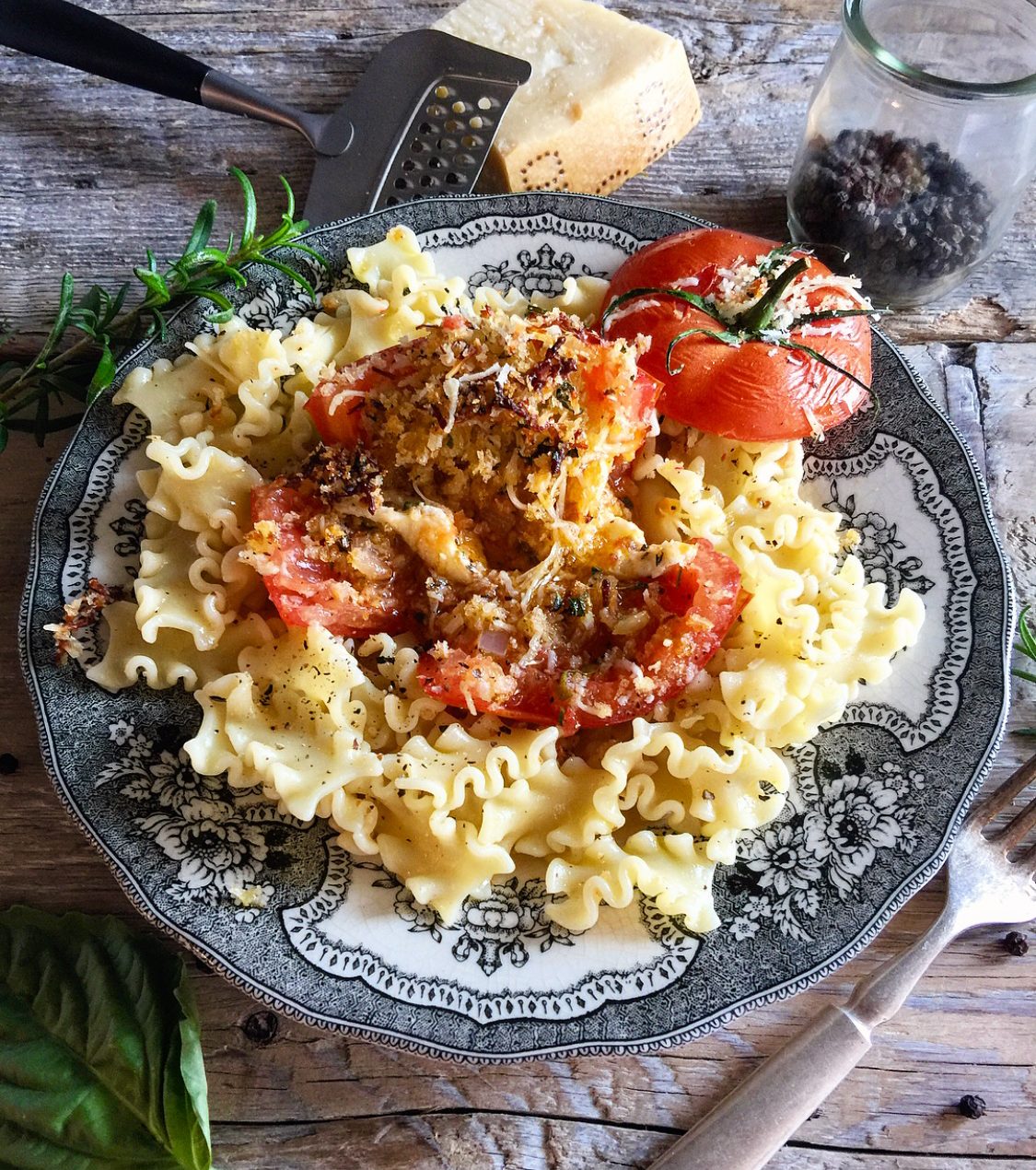 And it's not because I wish I could have had more days at the beach or anything (although I would have loved one full day sunning myself on beach towel) I'm one of those rare few that actually likes the temps a tad cooler than most. I think for me, it's what Summer represents: lazy, carefree, laid back, doing nothing guilt-free…all those descriptives that imply a lack of productivity and responsibility with no repercussions. I know, I know, those days disappeared when I graduated from high school. But it's uncanny how the attitude and expectations are still alive and well. Sometimes I just want to take a break from being an adult.
And now September looms on the horizon. Don't get me wrong, I like September. I was one of those (gasp!) geeky kids that looked forward to school's return. Shopping for school supplies, pencil crayons, binders, folders, you know… I lived for school projects and reading. But a fabulous thing about September is that it is pretty much Summer, but with added excitement and productivity.
One veggie (okay, I know, technically it's a fruit, but do we really ever make a fuss about it?) that truly bridges August and September is the tomato. Even though a fresh, plucked from the garden tomato just screams summer, it's usually September when a lot of tomato canning etc gets done. (see my last post for a glorious Tomato Crostata regarding the tradition of Italian families gathering in the garage to can bushels and bushels of tomatoes)
So this recipe is a perfect bridge from late Summer to early Autumn. I've always loved roasted tomatoes- breaking into that crust of cheese and breadcrumbs on top of an intensely flavoured tomato, that can only come from roasting. This takes that roasted tomato and pushes it to the next level. I decided that if I was going to roast tomatoes, why not stuff them with all the things that would be amazing on pasta? So that as you break into the tomato, it would create it's own 'sauce' that would seep in and among all the noodles that the tomato was sitting on? I did this the first time about three years ago, before the idea of a blog was on the horizon. I decided to bring that idea back and play with it.
It's a pretty easy recipe to bring together. The most work will be hollowing out the tomatoes, and then sautéing up some onions and garlic. The rest is just assembly and waiting while it all comes together in the oven.
Once you've removed the flesh from the tomatoes, while still leaving the 'walls' intact, you'll add sautéed onions, chopped fresh herbs, torn pieces of fresh mozzarella, fiore de latte, or even bocconcini pearls, 'nduja (a soft spicy Italian sausage) and plenty of freshly cracked black pepper. Just a small pinch of salt (there is salt in the sausage already) and then you're ready to gently toss this mixture together. Spoon it back into the hollowed tomatoes, and nestle them into a well oiled baking dish.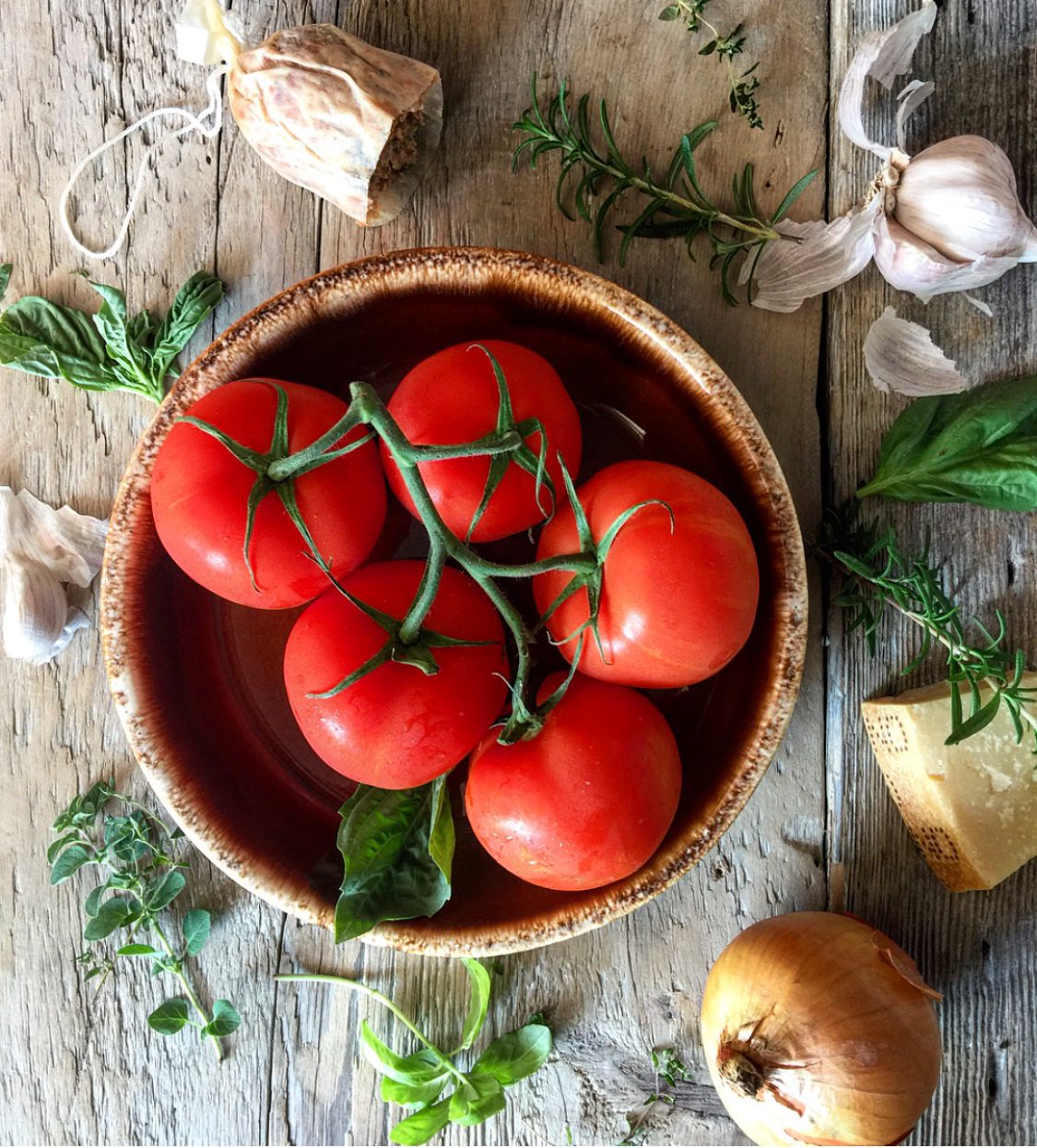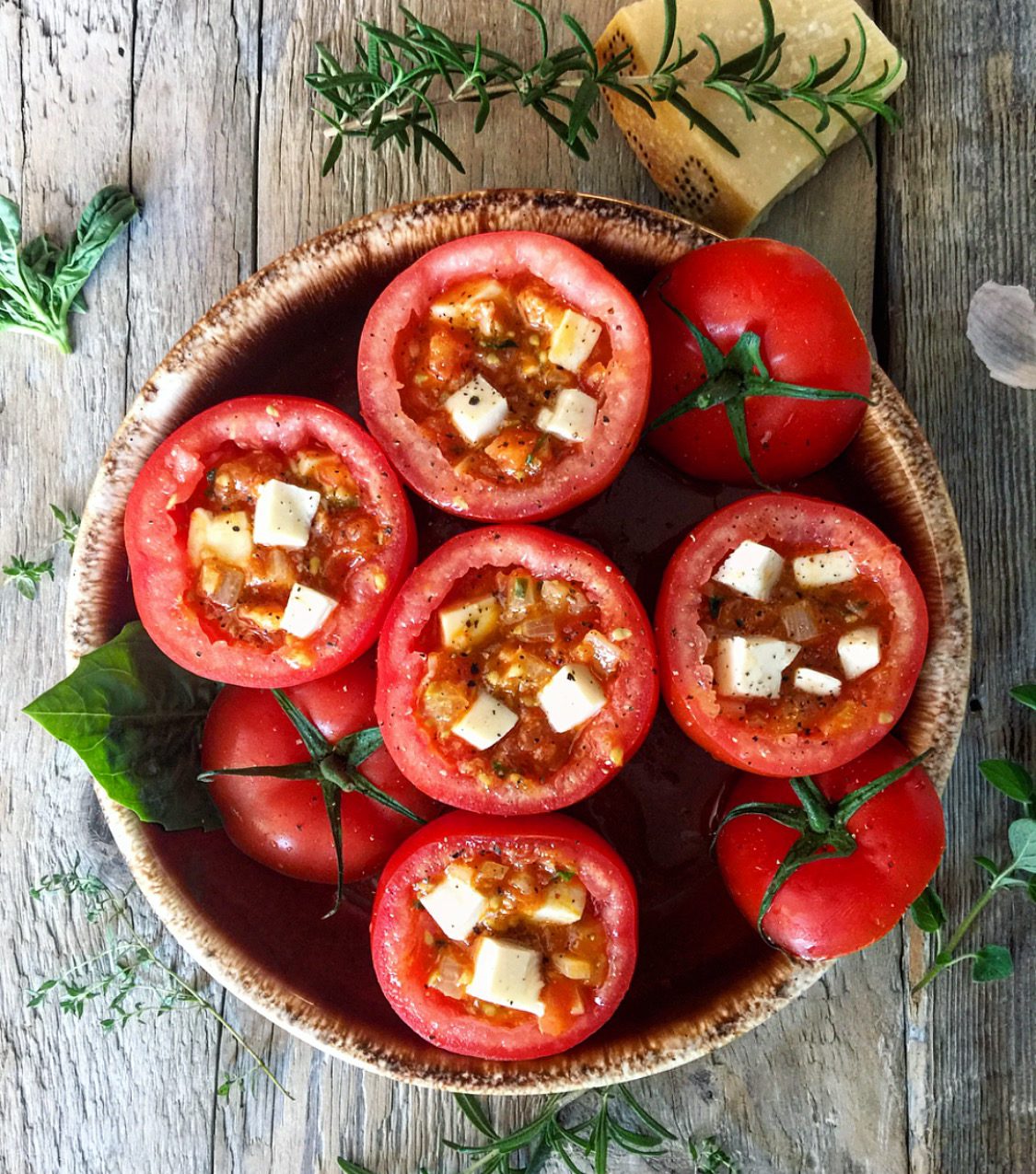 The topping: quickly sautéed minced garlic, panko breadcrumbs, more chopped herbs, and parmesan cheese, and some good olive oil. Take this mixture and spoon it over each tomato. All of this gets put into an oven to roast until the tomatoes have softened, and the topping has turned into a lovely crust.
To serve, have your favourite pasta cooked off and drained. Toss the pasta in some wonderful grassy olive oil, fresh lemon juice and more cracked black pepper. There is something amazing about lemon and pepper, especially when they are both so fresh, isn't there?! Place the pasta into serving bowls or plates, and top with a roasted tomato. And then one final drizzle of olive oil. Then, as you break into the tomato, all the insides will fall out into the pasta, creating it's own sauce.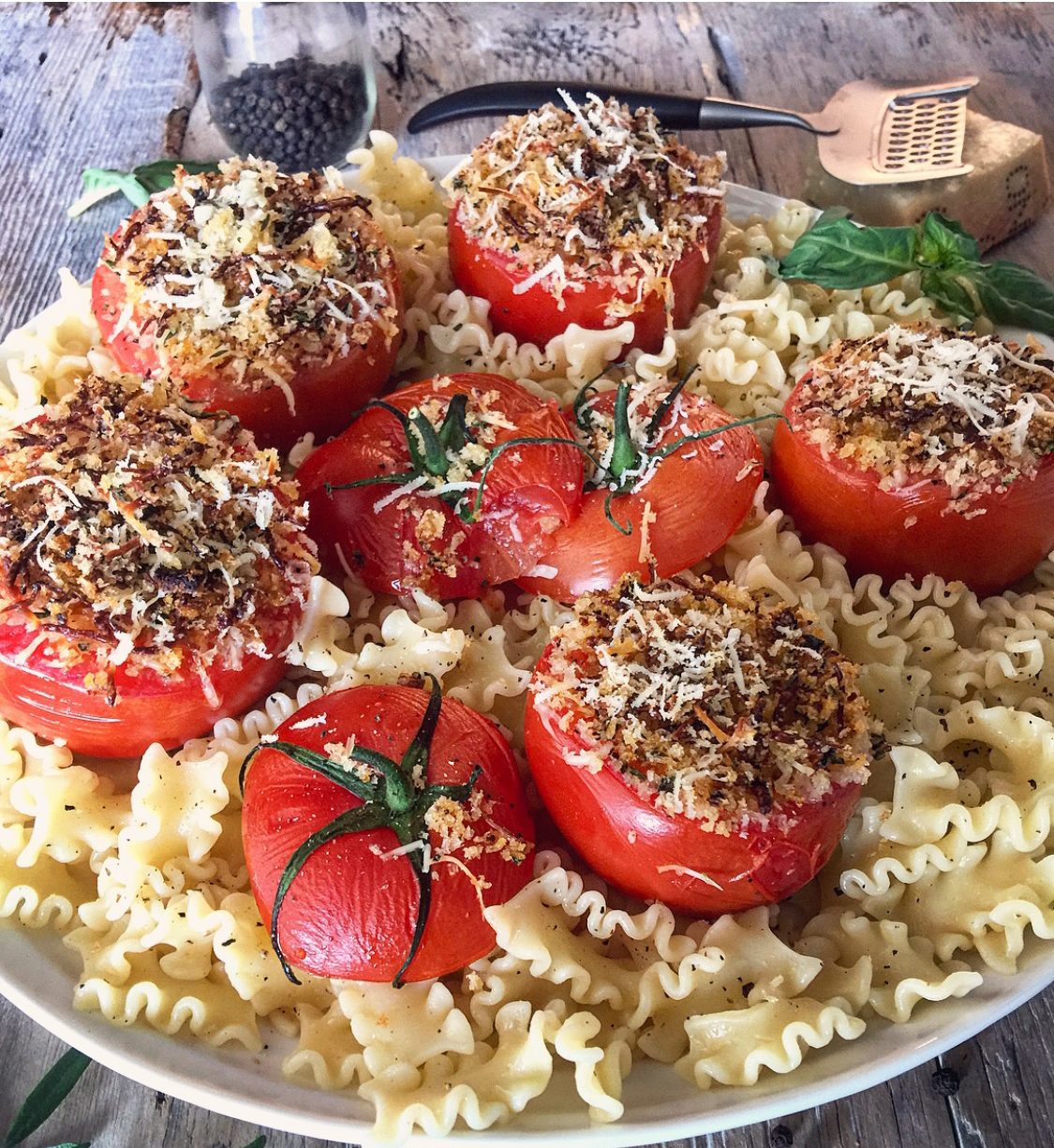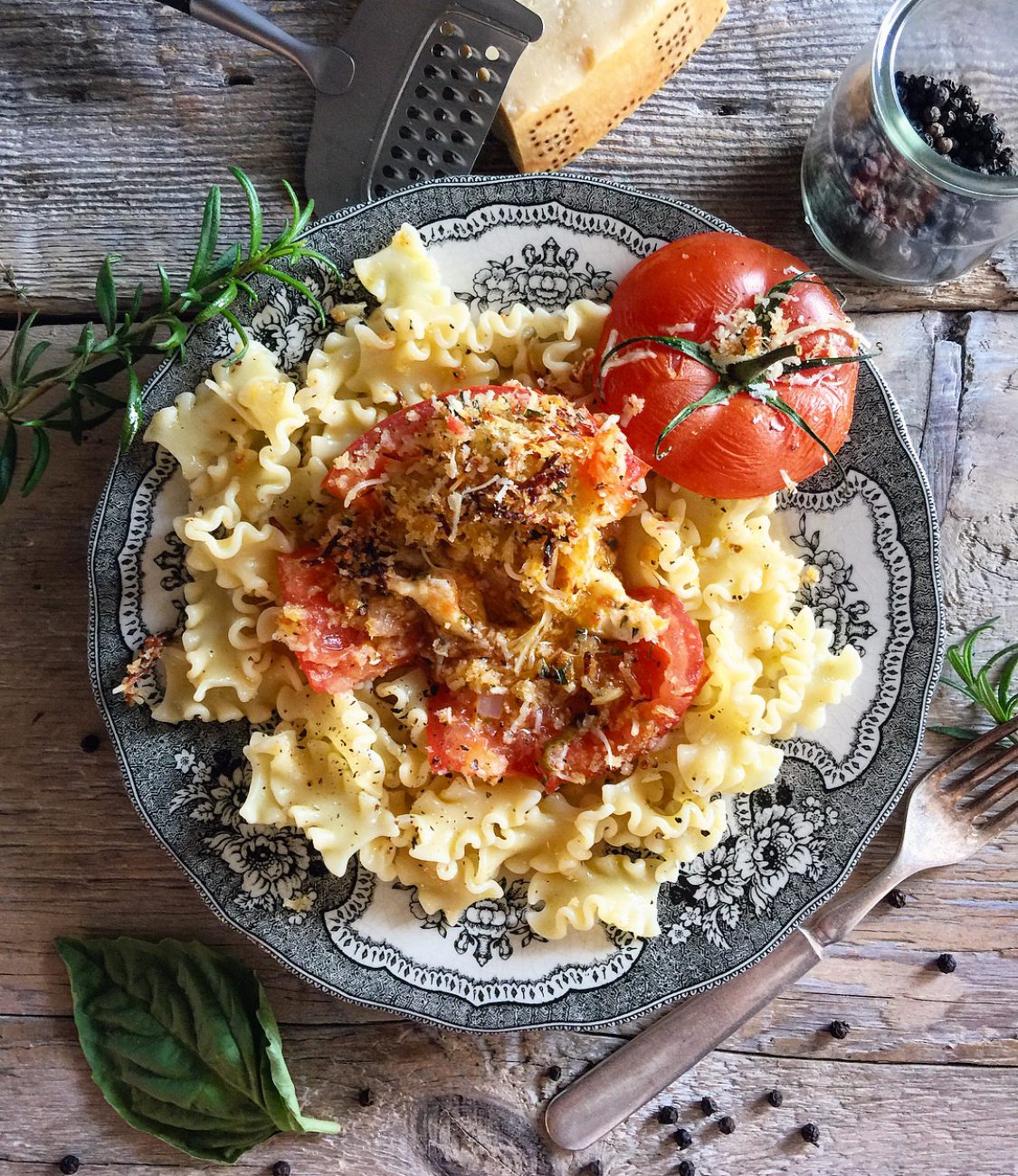 This works well with a variety of tomatoes: beefsteak, heirloom etc… The only thing that you will need to adjust is how many tomatoes you prepare per person. The larger tomatoes will mean that you will probably only need one per person. As you go smaller with your tomato choices, you may opt to prepare two per person. I will leave it to you to decide. You know whether you are cooking for a group of guys who just came back from building a garage for their ATVs, or if it's just you and the kids. So, are you happy to see Autumn approaching, or do you still have lots of Summering to do?? 🙂
Love Jen
Roasted Tomatoes with 'Nduja, Mozzarella and Black Pepper
Late Summer Tomatoes make their own sauce for pasta as they roast in the oven. Will serve 4
Ingredients
Tomatoes:
4-6

medium to large tomatoes

3

tbsp

olive oil

, divided

1

small yellow onion

, minced

1

tbsp

fresh chopped herbs

(mixture of basil, rosemary, thyme, oregano etc)

1/2

cup

fresh mozzarella or fiore de latte

, or bocconcini

1/4

cup

fresh 'nduja

, broken up into small pieces

1

tsp

freshly cracked black pepper

pinch of salt.
Topping:
3

tbsp

olive oil

, divided

2

cloves

garlic

, minced

6

tbsp

panko

6

tbsp

grated parmesan cheese

1

tbsp

fresh chopped herbs

(as above)
Pasta:
1

lb

uncooked pasta of choice

2

tbsp

olive oil

1

lemon

, zested and juiced

1

tsp

cracked pepper
Instructions
Tomatoes:
Hollow out each tomato, leaving the 'wall' intact

Place all the pulp and seeds into a medium bowl. If some of chunks are larger, just roughly chop or break apart with your fingers.

In a medium sauté pan set over medium high heat, add 1 tbsp olive oil and then the onion. Sauté till just softened. Remove to the tomato pulp in the bowl. Save the sauté pan for the topping.

Add the fresh herbs and the remaining olive oil.

Add the cheese, 'nduja and black pepper and toss lightly. Give a taste to see how much salt you want to add.

Spoon equally among the hollowed out tomatoes.

Place these into a well oil baking dish .
Topping.
Preheat the oven to 400 degrees

In the same sauté pan as above, over medium heat, heat 1 tbsp of olive oil and sauté the minced garlic till just softened. Remove from the heat. Add the remaining olive oil, the panko and the parmesan and stir to coat well, creating a mixture. Add the herbs mix in.

Spoon the mixture evenly over all of the tomatoes.

Place into the lower third of the oven and roast until the tomatoes are softened and wrinkled well, and the topping is browned and crispy. If the topping is browning before the tomatoes are completely cooked through, cover lightly with some tinfoil. This should take between 18-20 minutes. Check after 15 minutes though.
While the tomatoes are roasting, prepare your pasta.
Bring a large pot of well salted water to a boil. Add your pasta and cook till ready to eat. The cooking time will depend on the pasta you choose to use.

Once cooked through, drain and return to the pot. Add the olive oil, lemon zest and juice and the black pepper. Toss well.

Place the pasta into individual serving plates (or onto a serving platter) and top with the tomatoes. Drizzle with a touch more olive oil, and a fresh smattering of parmesan. You can also garnish with fresh chopped herbs.

As you break into the tomato, the insides will spill into the pasta, creating a lovely sauce. Enjoy!
Recipe Notes
The size of tomatoes will affect the amount you will prepare. Four large tomatoes will be perfect for four people. But if the tomatoes are on the small side of medium, aim for two per person.
Vary up the pasta you choose- this works equally well over linguini as it does over farfalle!