Before I moved to Toronto, family friends wanted to have my family over for a farewell dinner. They asked me what my favourite meal was.
Without hesitating, I replied, "Turkey with all the fixings." And while I have expanded my favourite list to include some more exotic and ethnic dishes, there is something about the whole process of the turkey dinner that will continue to make my insides smile.
Maybe because there are so many sides that traditionally accompany the big bird, that it a meal that involves more than two place settings. Maybe because the workload can tend to be overwhelming, that a bevy are involved in contributing their favourite side or at least lending a helping hand in the preparation. The kitchen is a beehive of activity. The outside is cool, crisp, maybe even blustery, or blizzardy. But that never detracts from the warmth of the kitchen that is ground zero for stuffing patrol and gravy maneuvers. I love the idea of a group of friends and family getting together to feast over a bird and all the accessories that come with it. I don't even mind if I'm the only one in the kitchen working; just hearing the laughter and intensity of conversation in the neighbouring rooms is fuel for my creativity.
Don't get me wrong. I do love the flavour of turkey. But in my humble opinion, the bird is just the vehicle to get to the gravy and stuffing…dressing…stuffing…dressing. For a stellar Stuffing recipe, just click here on my Italian Sausage Sourdough Stuffing. If there needs to be a discussion as to the correct term, I'll resolve it by making both! Or at least two different kinds. I would never infringe on everyone else's expert opinions, so the more sides the better.
Does anyone remember that Friend's episode where Monica had volunteered to make the turkey, and every single person had an idea of what the perfect potato would be, 'cuz that's what they had growing up? So she ended up agreeing to make mashed, scalloped, and a plethora of other versions of the same dish. I don't know that I'd make three or more, but I have been known to make at least two versions of potatoes for one sitting.
One thing I learned the hard way, is getting the timing right. This meal is all about the timing. No one wants to sit around a table staring at their empty plate, while the cook frantically convinces them that the turkey will only be another 20 minutes. I know, I've been there! So yes, I start almost a week in advance, getting pies baked, veggies cut, stock made. Just so that game day is a sane one. Some fail safe sides for me are 'Make Ahead Goat Cheese Mashed Potatoes' and 'Peas and Pancetta', both from Ina Garten's 'Make It Ahead' cookbook. And for another great side, try this Roasted Brussels Sprouts with Pomegranate Seeds. My newest addition to the roster is my Tamari and Pomegranate Glazed Baby Beets!
And the biggest game changer for me is when I discovered what a difference cutting up a whole turkey before roasting will mean in time saved. I know I'll probably get kicked out of the Turkey Hall of Fame for even suggesting such nonsense. Fine, you lose on presentation. But who really brings the whole bird out and carves it in front of anyone? That's for a Norman Rockwell painting. So yes, I either have the butcher cut it up into eight pieces, or I do it at home. If I debone the breasts, I sometimes stuff, roll and tie them up for roasting. A deboned breast roasts very nicely. Even if you don't roll and tie the breast, it will roast nicely just as it is. In the end, there are two each of breasts, drumsticks, thighs, and wings to work with. If you are only having a few over, why not keep one of each out, and freeze the rest- there, a whole meal ready to go whenever you want! And the carcass (and the wings if you want) is now available for immediate stock-making. And if you want, why not just purchase the pieces separately, if that is all you can find? Sometimes turkey breasts, legs and wings are being sold separately at the butcher or grocery store. Buy only what you want or need.
On roasting day, you'll lay out the pieces you are using in a shallow baking pan (but one with sides high enough to hold the basting liquids), salted well, and let them sit on the counter for 2 hours. Yes. This is Julia Turshen's method for preparing poultry for roasting. This will help the skin dry out and become super crispy when it is put in the oven. When it is time to roast, place the pieces of meat on a bed of cut up veggies, and brush with butter and sage. The genius thing about this is that once pieces have roasted long enough (ie the breast) you can remove them to rest, without jeopardizing the rest of the meat. Nothing will ever be over- or underdone. And once they're all out of the oven and have rested, and you've sliced them and placed them onto the serving platter, no one will ever know what they looked like in the oven! I have roasted off a turkey for 120 plus people in just about two hours this way! The time may need to be adjusted for the size of the cuts of meat, and the oven, but seriously rarely do I have to even leave anything in the oven longer than 2 1/2 hours. As for those veggies that the turkey pieces were roasted on, I will serve them in a bowl alongside everything. They are just packed with flavour! When I have cooked this meal in a commercial kitchen for a crowd, I save the veggies for the wait staff- they love snacking on the veggies during slow moments. Everyone deserves a treat!
Getting all your sides prepped the day or two before really helps. Because I have already deboned etc the turkey, I have the carcass to make stock with. (Here is my absolute favourite recipe for the most collagen rich stock you can imagine: New You Bone Broth). This can be stored in the fridge ready to go for gravy etc. Make a huge pot, and the rest can be frozen in smaller containers for future soups! I always have my desserts done ahead. Then the day before I make the stuffing muffins. These can be partially baked off and stored in the fridge to finish off the day of. Prep all the veggie sides you are making and store them in containers in the fridge. It makes such a difference to have everything peeled, sliced or cubed and ready to go.
The morning of, I will peel and cube my potatoes and cover them in water in a pot, they can wait this way for hours. And if you set your table the evening before (unless you have crazy cats like us!) there is another headache taken care of. For large crowds, I will even pull out all my serving dishes out and use sticky notes to label them with what will be going in them. Doing all of this means that you aren't pulling your hair out on game day. And truly, I need all the hair I have- I don't have any to spare!!
Happy turkey dinner day!
Love Jen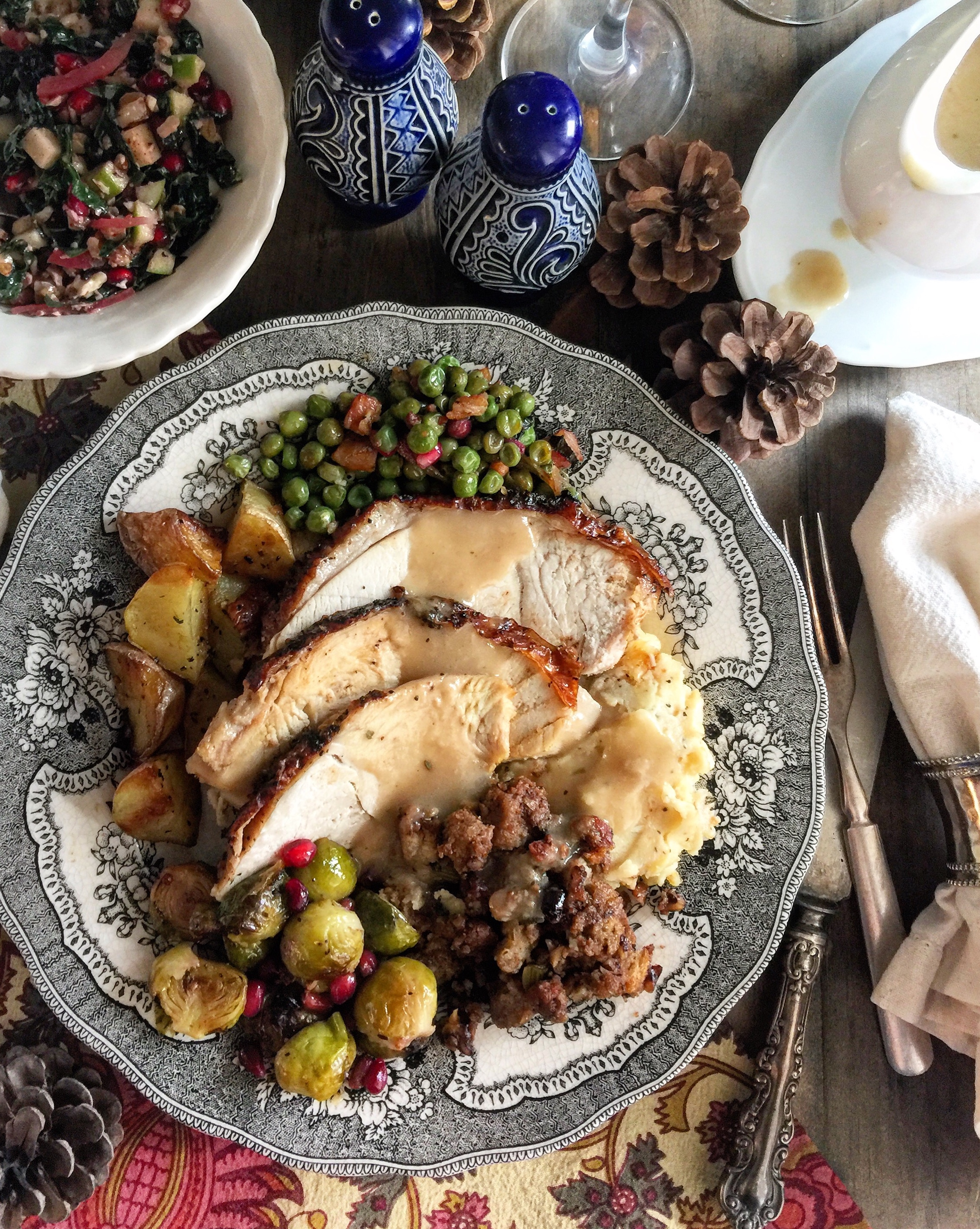 SAGE BUTTER-ROASTED TURKEY WITH CIDER GRAVY
Turkey Dinner in a fraction of the time. And know one will know.
Cook Time
2
hours
30
minutes
Ingredients
TURKEY
4

tablespoons

coarse kosher salt

2

tablespoon

dried rubbed sage

1 12-15-

pound

turkey

, deboned or cut into pieces (so that the breasts are separated from the carcass, and the legs and thighs are also removed, as well as the wings), and patted dry (depending on the size of the wings, feel free to use these with the carcass to make stock.

4

carrots

, scrubbed and cut into 2" pieces

3

onions

, quartered

6

celery ribs

, cut into 2 inch pieces

1/4

cup

(1/2 stick) unsalted butter

1/4

cup

chopped fresh sage

3/4

cup

fresh refrigerated apple cider or fresh refrigerated apple juice
GRAVY
2

cups

(or more) Turkey Stock (see note below) or low-salt chicken broth

3/4

cup

fresh refrigerated apple cider or fresh refrigerated apple juice

4

tablespoons

all purpose flour

2

to 3 tablespoons Calvados

(apple brandy) or applejack brandy (optional)

1

tablespoon

chopped fresh sage
Instructions
Rub salt and dried sage together in small bowl. Place the patted dry turkey pieces in two pans; rub well with the salt. Leave to sit out on the counter for two hours.

Set rack at middle position in oven and preheat to 425°F. Spread out the carrots, celery and onions between the 1 or 2 roasting pans or sheets with sides high enough to hold the basting liquids, you will be using.

Lay out the turkey pieces over the vegetables in the roasting pan(s). Stir butter and chopped sage in small saucepan over low heat until butter melts. Brush all over turkey; sprinkle with pepper.

Roast turkey 30 minutes; baste with any pan juices. Reduce oven temperature to 375°F. Roast turkey 30 minutes.

Pour 3/4 cup apple cider over all; turn pan(s) around.

Continue to roast turkey until instant-read thermometer inserted into thickest part of breast registers 165°F, basting and turning pan occasionally for even cooking, about 40-45 minutes. Transfer breast to platter; tent loosely with foil and let rest 30 to 45 minutes (internal temperature will rise 5 to 10 degrees). This time is for a breast that is on the bone. Boneless breast rolled and tied may actually take longer, as it is thicker. It may end up roasting as long as the legs and wings.

Continue to roast turkey legs/thighs until instant-read thermometer inserted into thickest part of thigh registers 165°F, basting and turning pan occasionally for even cooking, about 20-25 minutes. Add to breast pieces.

Time will be affected by the size and thickness of the meat.
GRAVY
Pour all pan juices into large measuring cup. Spoon off fat that rises to surface. Transfer 4 tablespoons fat to heavy large saucepan; discard remaining fat.

Remove the vegetables to a bowl (great for snacking or serving)

Place turkey roasting pan over 2 burners (if using two pans, scrape the bits from one and add it to the other. Add 2 cups stock or broth and 3/4 cup cider.


Bring to boil over high heat, scraping up browned bits. Boil liquid until reduced to 1 1/2 cups, about 6 minutes. Add mixture in the measuring cup from roasting pan to degreased pan juices. If necessary, add enough stock to measure 3 1/2 cups stock mixture.

Place saucepan with turkey fat over medium-high heat. Add flour; whisk 2 minutes. Whisk in stock mixture. Boil until gravy thickens enough to coat spoon thinly, about 6 minutes.

Whisk in 2 tablespoons Calvados (if using), or more to taste, and sage. Season with salt and pepper.

Slice and arrange turkey slices on a platter. Drizzle with a little of the gravy.
Recipe Notes
I set the wings aside for stock. If you don't have time to get a real stock ready, below is a quick way to do it.
The day before cut the turkey up (saving the breasts, thighs and legs for roasting in a sealed pan and refrigerated) and place the wings and carcass, coarsely chopped onions (including the skin), 2 ribs of chopped celery, 1 leek, 3dried bay leaves, 10 peppercorns, bouquet garni of fresh parsley, sage, rosemary and thyme (sounds like a great title for a song...) into a stock pot and fill with water. Bring to a boil, then reduce and simmer for 3-4 hours. Strain, cool, refrigerate or freeze. This can be used for the gravy.
If preparing the meat earlier in the afternoon, prepare your gravy, and then in a baking dish, pour a small amount of gravy to just cover the bottom of the pan. Add your rested and then sliced turkey onto the gravy. Drizzle with a touch more gravy. Cover with foil and reheat at 300F for about 10-15 minutes. Keep the rest of the gravy on the back burner of your stove to reheat.
Adapted from Sage Butter-Roasted Turkey with Cider Gravy, Bon Appetit
SaveSave
SaveSave
SaveSave
SaveSave
SaveSave
SaveSave