I've confit'd garlic. I've confit'd cherry tomatoes. I've eaten duck confit. But I've never had salmon confit.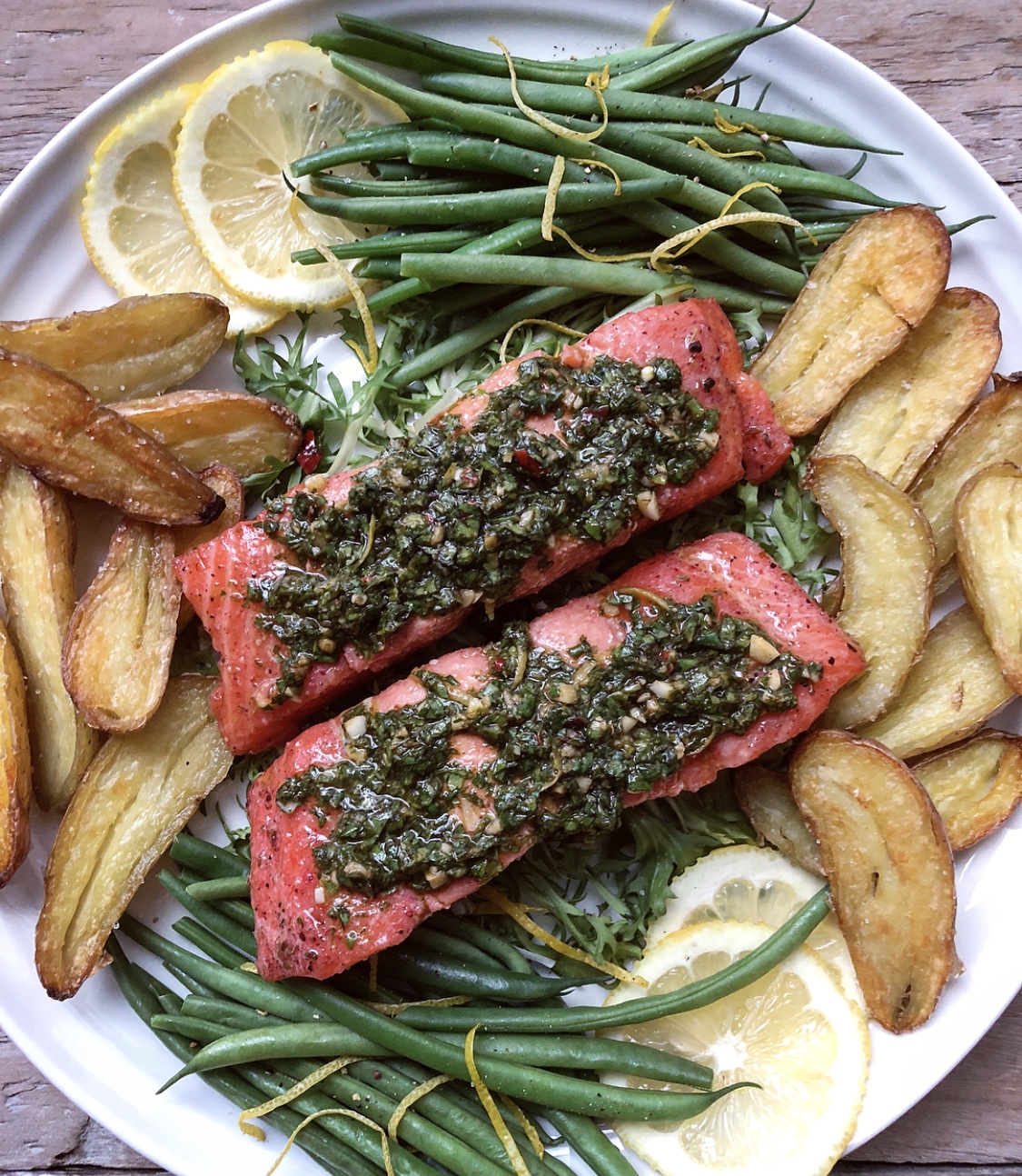 Till last week.
An enthusiastic group of us were invited to attend an evening of education, participation, and degustation (fancy word for tasting and nibbling, heehee!) at an event promoting the health, taste and versatility of Canada's own canola oil. (Canola is the word for Canada and Oil!) Canola Eat Well, a non profit community of farmers and registered dietitans hosted the event, at a gorgeous state of the art commercial working kitchen and entertaining area, in the north end of Toronto, Kitchen 24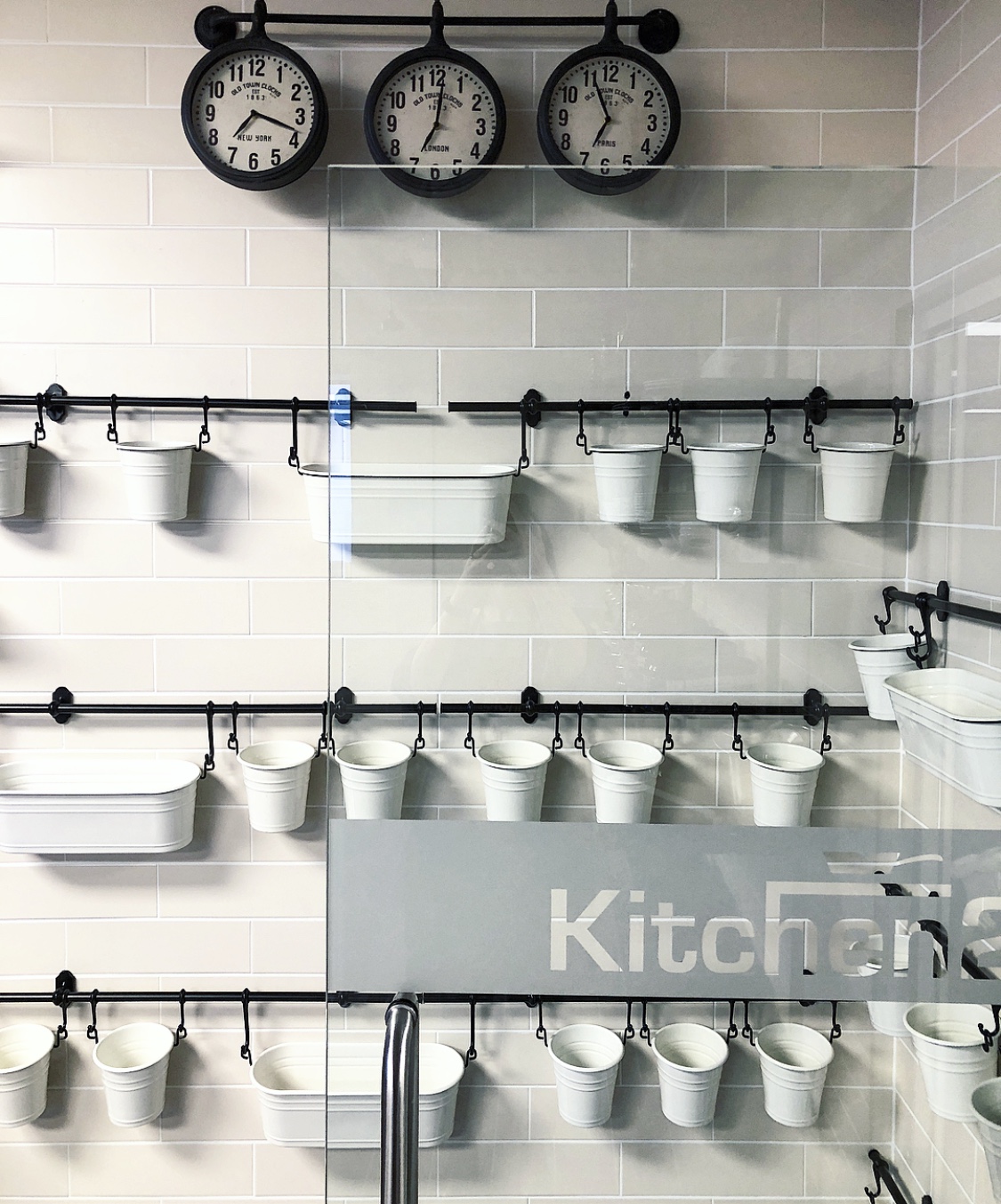 One of my favourite portions of the evening was being able to listen to Jeanette Andrashewski speak to us about her family's adventures in farming canola out in Alberta. I was totally drawn to her story, as well as their approach to farming. (in case you haven't read every post in extreme detail, which I will understand, my secret dream is to live on a farm in a 400 year old stone farmhouse with chickens walking into the kitchen, goats and sheep grazing outside the back door, horses calling out to us to play with them, with orchards and veggies growing riotously all around the barns) In the meantime, I will live vicariously through farmers like Jeanette and her family.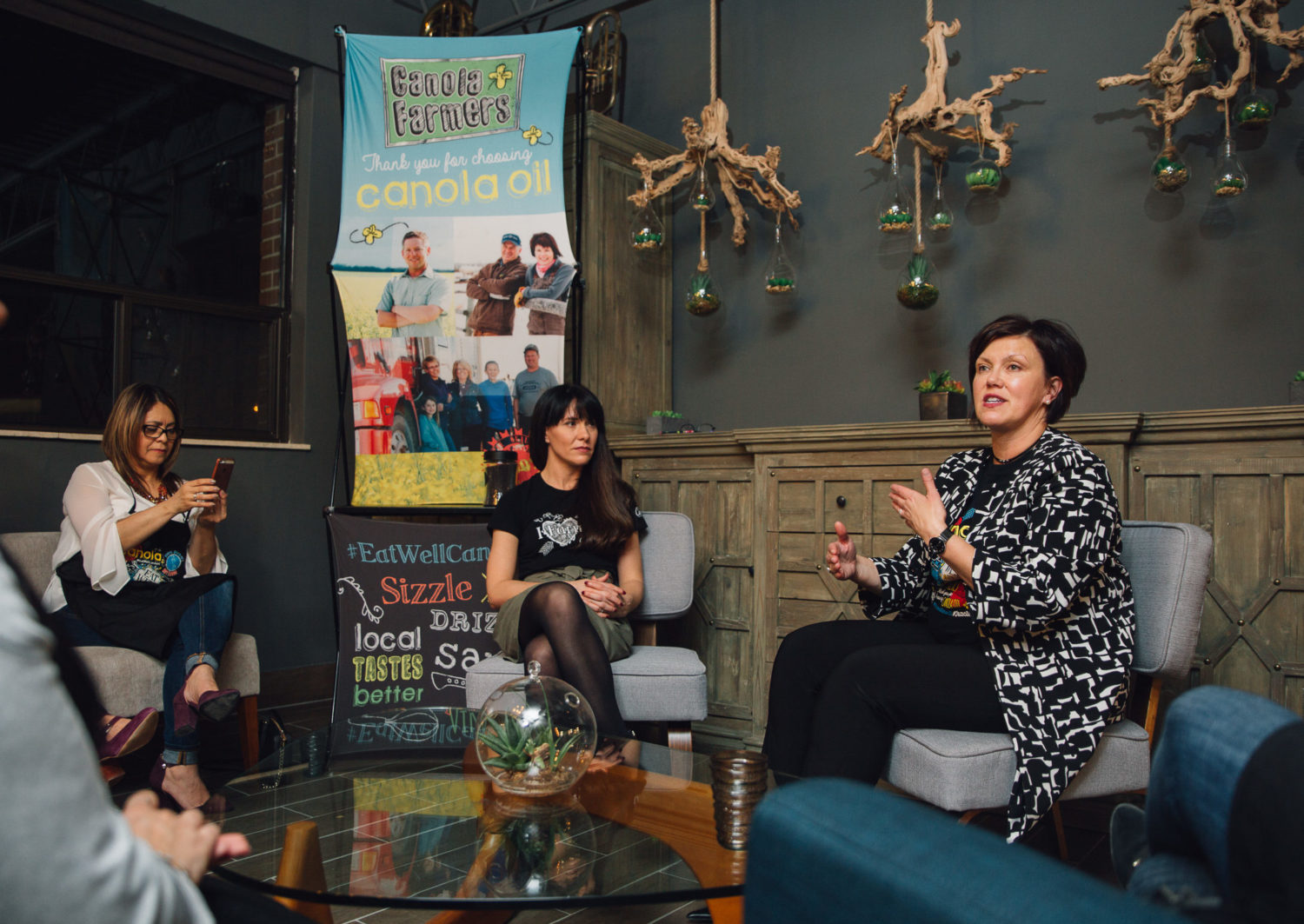 These are some of Jeanette's own words,
"I grew up a farm girl. My mother was very much involved and stood along side my father taking care of the daily operation. Today I realize that watching my mother work so very hard was foundation of how I farm today!
My farming experience starts as we were taking over the family farm of 3,500 acres. We quit our jobs and jumped in with both feet, and we would put our best foot forward.
Mother nature had a plan to test us in our first year, we found out what drought was like. This was a setback. Tight budgets and knowing that money needed to be invested in equipment first was learned the hard way. We recovered 3 years later and learned from it.
The farm can be a lonely place, but this opportunity has allowed us to keep in touch with our farming community.
We farm wheat, oats, barley, peas and canola, because crop rotation keeps the soil healthy and productive.
What we grow and sell to Canadian families is what we feed our own family.
We have 43,000 Canola farmers across Canada. (btw, 97% of all farms in Canada are family owned and run) I also work for Canola Eat Well as a canola ambassador, which allows me to educate everyone on the farming side of Canola."
Along with listening with our ears and hearts (canola oil is good for your heart!) we were active as well. Chef Rodney Bowers treated us to some demonstrations on how to put canola oil to good use in the kitchen. It is a neutral oil, which means that it's flavour won't interfere with other ingredients you add to it. A good grassy, even peppery olive oil, or a rich, sweet walnut or sesame oil have their places and do their jobs fantastically, but sometimes you want an oil that isn't overpowering. Step in canola oil. After creating some fabulous dressings with an exotic flair, we all made our own salads in a jar, which would make great beds for those dressings.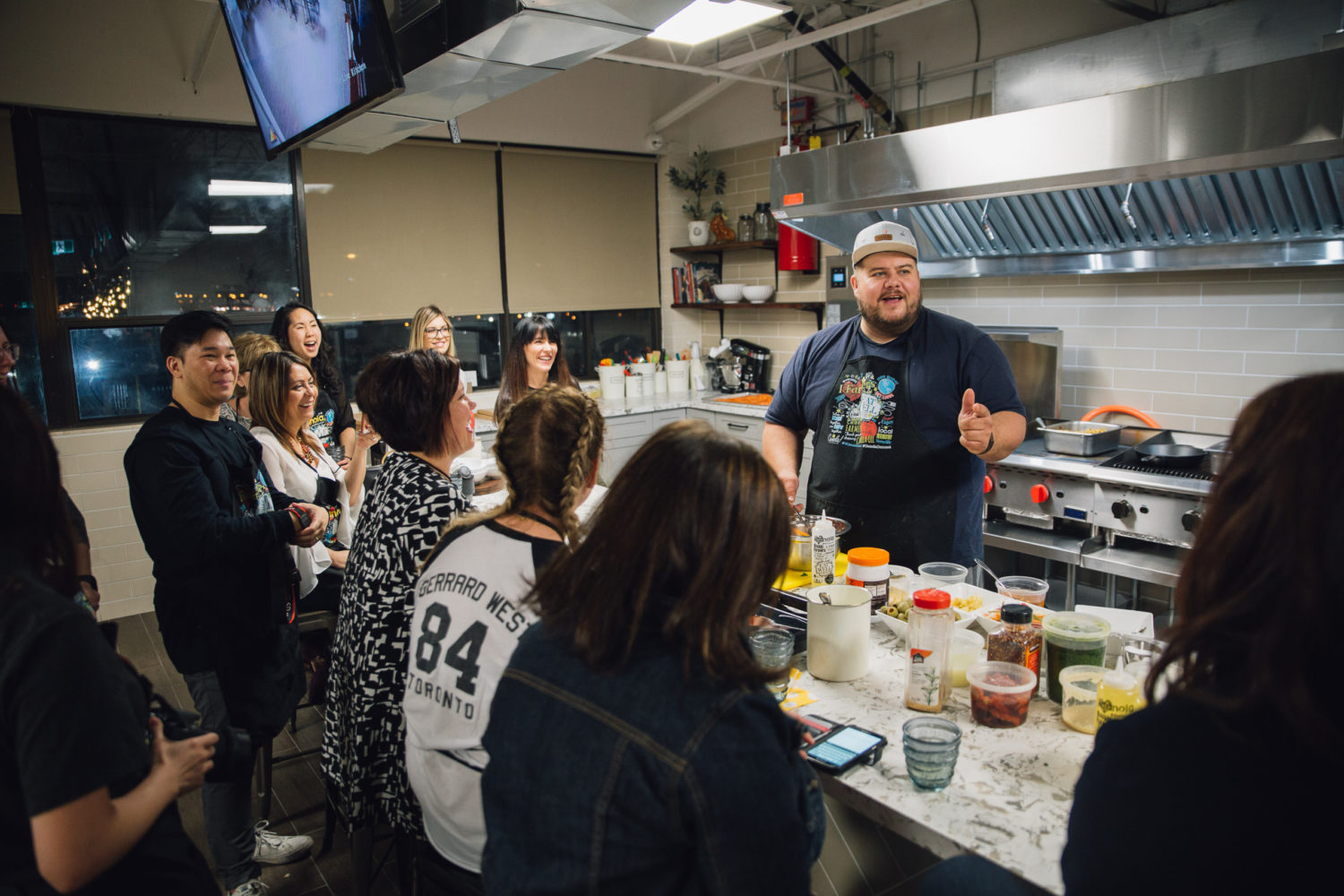 And Chef Rodney didn't just make salad dressing! He created an entire meal for us, with each dish featuring canola oil. Fabulously spiced roasted chicken, fattoush salad, jewelled pearl couscous, and a salmon confit. This salmon dish left me swooning! So tender, and juicy, I fell in love with this fish dish. He used canola oil for slowly braising/roasting the salmon, instead of the typical olive oil. And he spiced the oil, which lent a wonderful hint of flavour to the salmon. Have you ever confit'd? It's really just slow cooking meat, veggies etc, covered in oil. The meat becomes fall apart tender, with no worries of overcooking it.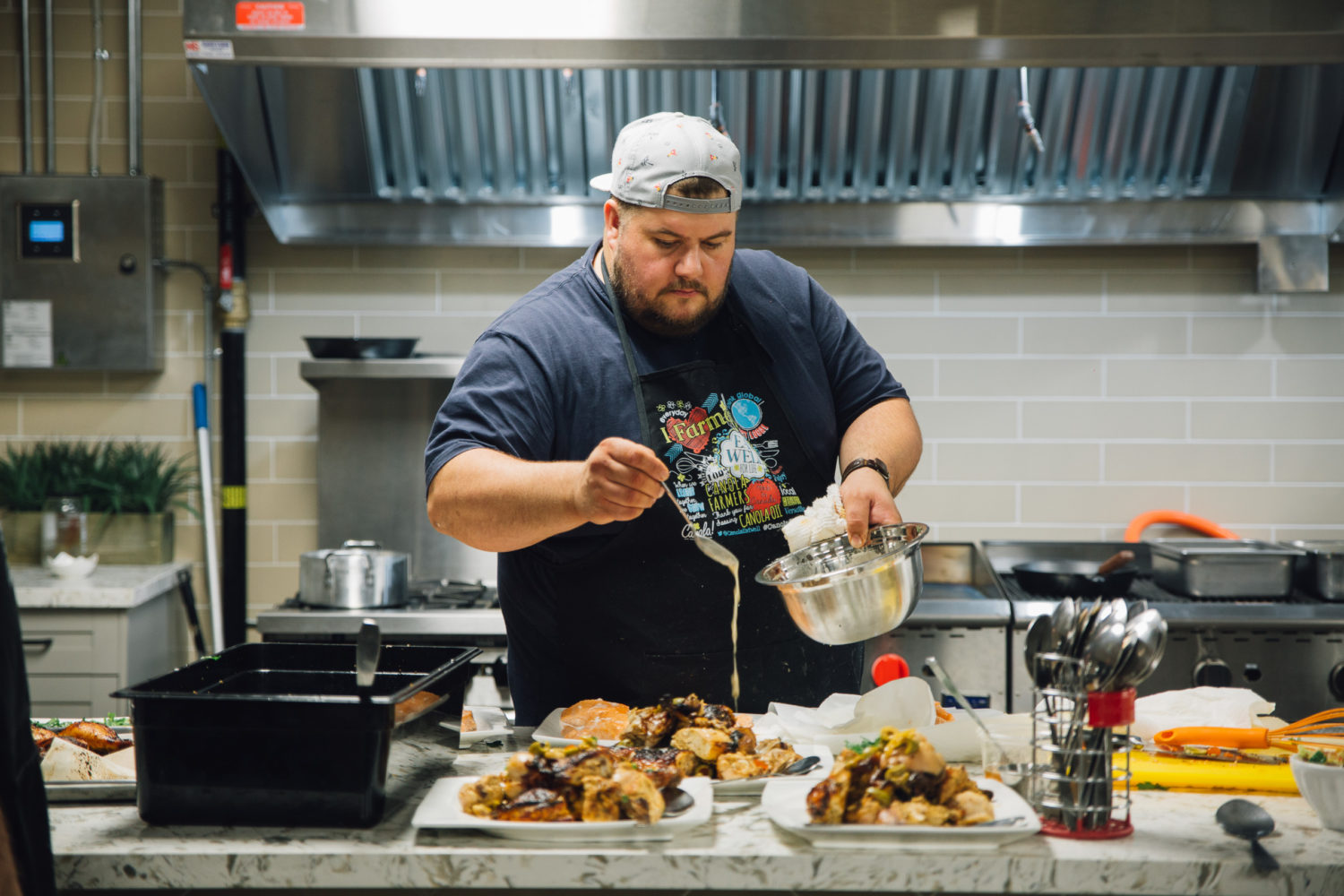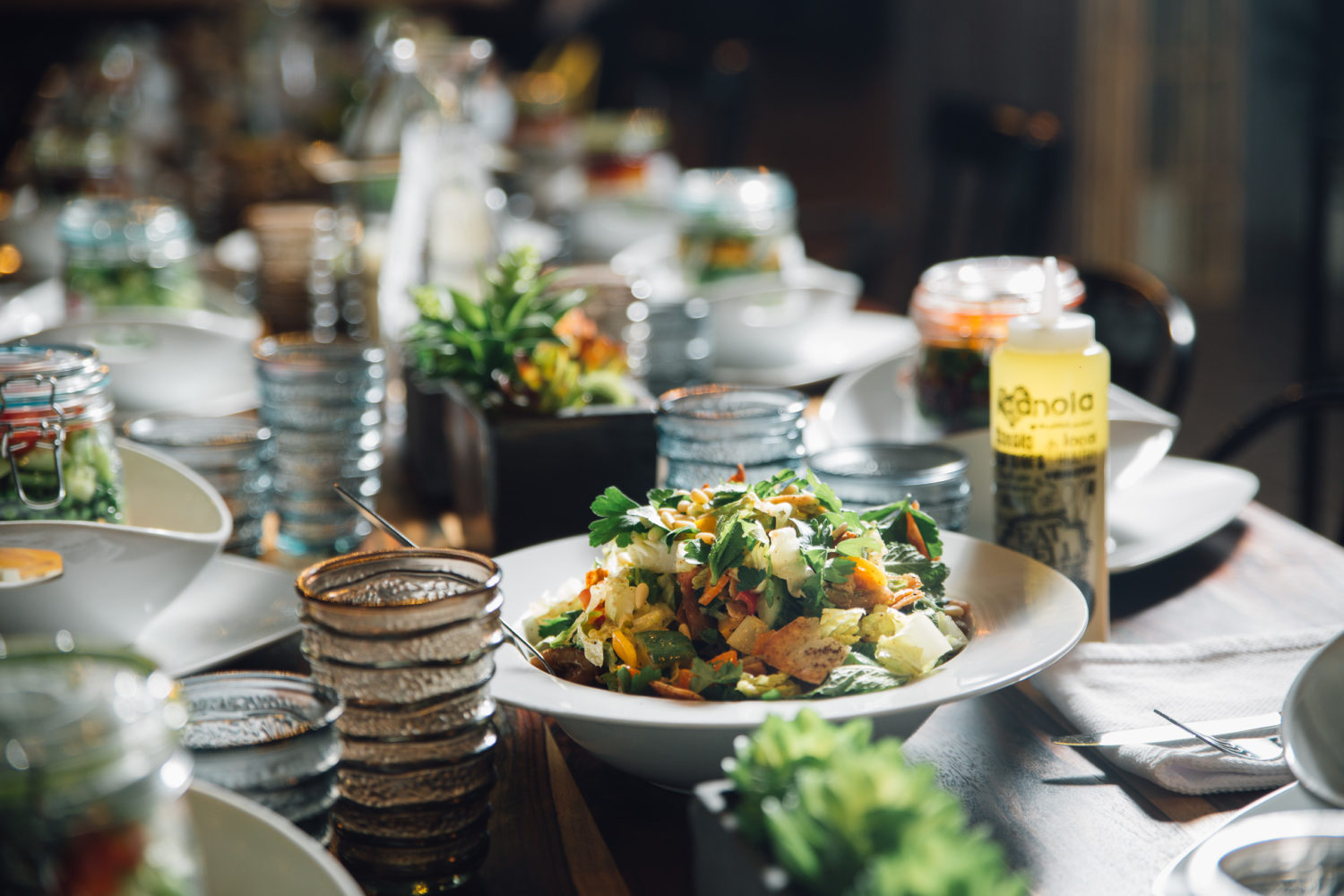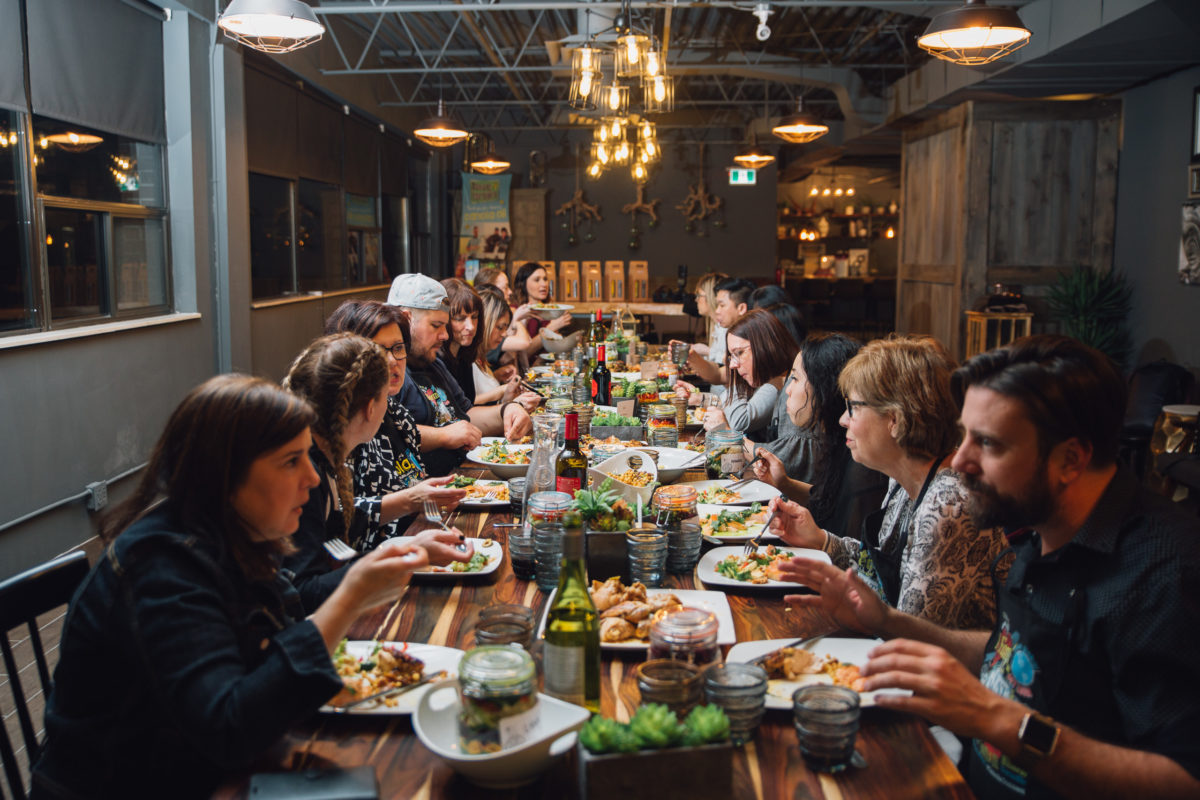 Oh and on that lovely evening, we were treated to crushing the seeds and tasting that first 'pressing' of oil. The seeds themselves intrigued me. I ate a few to see what they were like (yes, I have been known to sample weeds as I'm walking along, just to see what they taste like!) and I thought, we should be eating these like poppy seeds- great texture and flavour. Canada's next big thing… hmmm.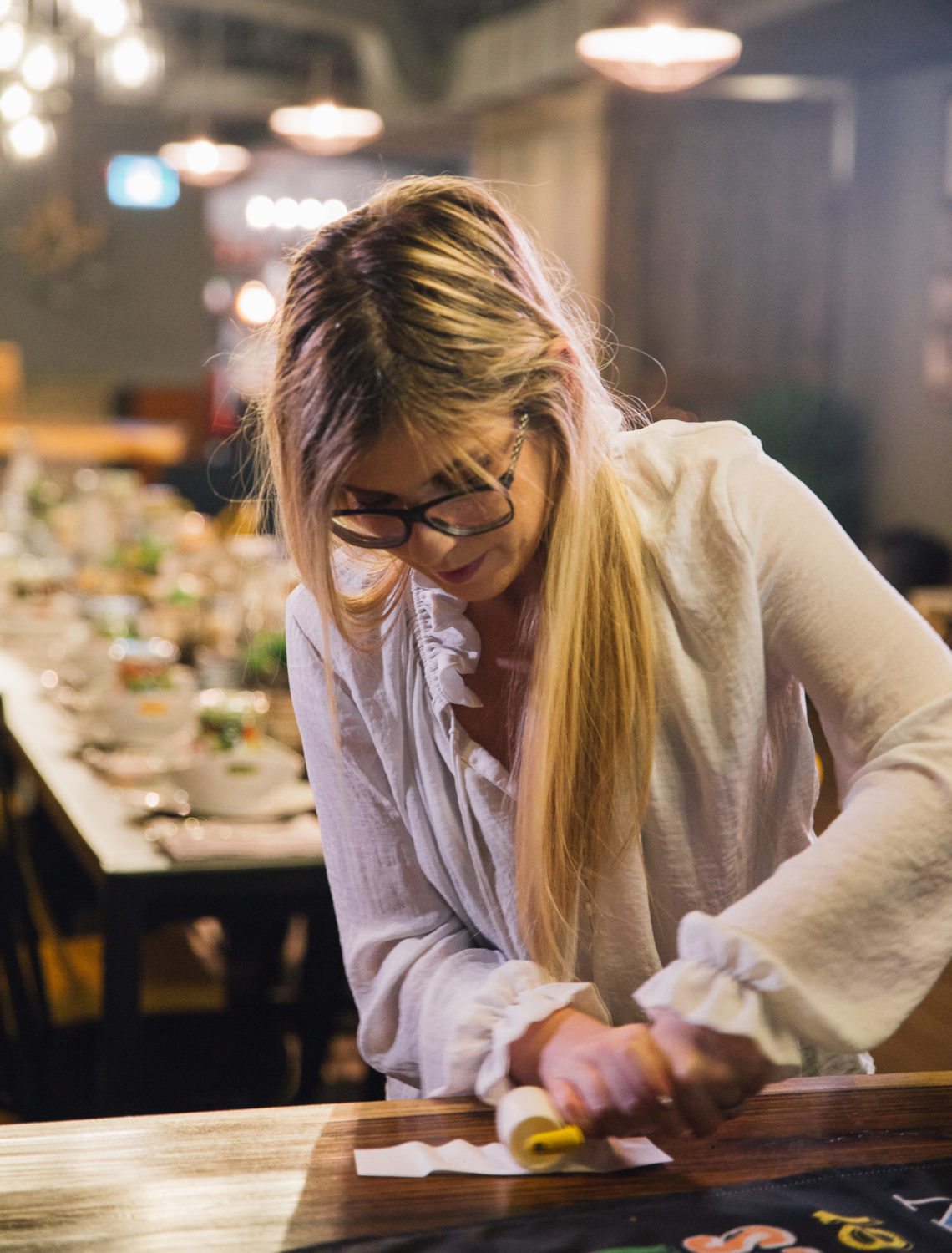 But it was the salmon dish that I couldn't forget, after such a delicious evening. How could I pay tribute to the evening, while coming up with a recipe that was ME?
I had to do some research on confit'ing salmon first. I learned that this 'cooking' or curing method would result in a piece of fish that is similar in texture to gravlax. You aren't so much cooking as you are changing the texture and taste of the fish. It is a matter of placing the fish into oil so that it is covered, and at a low temperature, bringing the oil to a point where it can affect change in the salmon. I probably visited 10 different sites to see what different chefs had to say on the subject.
In the end, my takeaways were that it is advantageous to start the fish off with a dry salt rub of some sort to begin the curing process. The oil can be heated in the oven or on the stove top, just as long as it never gets past 175 or 80C in the oven. (Ideally, if your oven setting goes down to 170, even better) On the stove top you can't let the oil go below 45C or 113F, using an instant read thermometer. Ideally, 50C or 122F is good. You will know if you are overcooking the salmon or heating it through too quickly, if the fillets start to leak white protein droplets. As long as the internal temperature of the cured fish hits 113F or 45C you're good to go. Of course, you can continue to cook it for those who demand a more cooked fish (Jim) but it is not necessary, and you will lose out on that amazingly melting texture!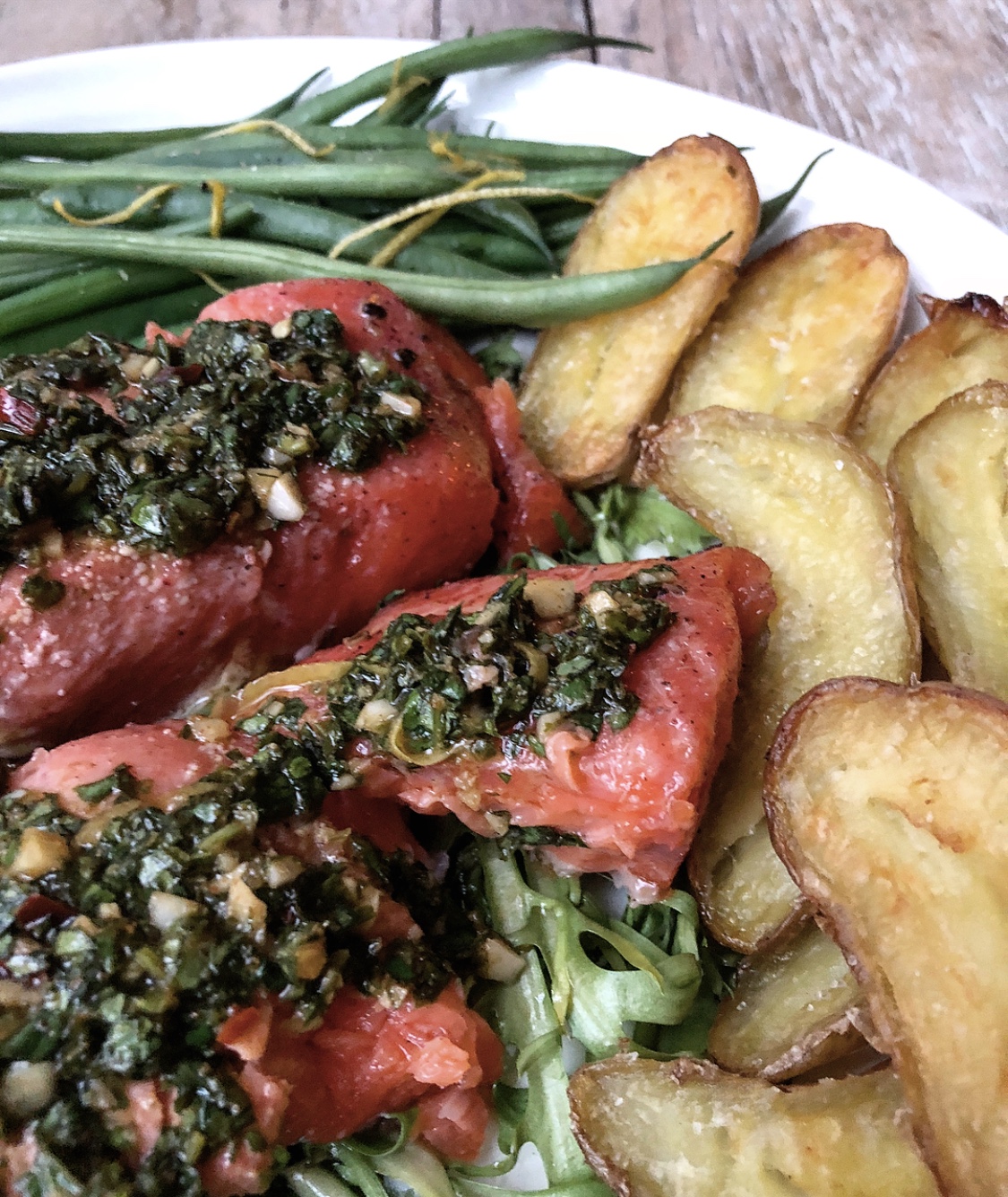 This is the recipe that I've come up with. The flavours of Morocco and North Africa are some of my faves, and show up regularly in my dishes, so it was a natural to take this road with my version of salmon confit. I would create a dry rub with those exotic spices to coat the salmon with. Afterwards, the salmon would get rinsed and covered with canola oil in a small baking dish. And into the oven. And in no time, it's ready. The size of your baking dish is crucial here. Use one where the salmon fillets will fit into snuggly without touching each other. You don't want unnecessary room around them, because that will require way too much oil. And as to the oil, once cooked, you can use some of the oil to dress any greens that you are serving with the fish- it will have a lovely flavour. While I would usually save my oil for one or two more cooking opportunities (waste not, want not) I wouldn't in this case (only because of the raw fish, and the oil not getting brought up to a high heat- I would hesitate to store this oil). So this will be a case of pouring the oil into a container, and disposing of it, as allowed where you live.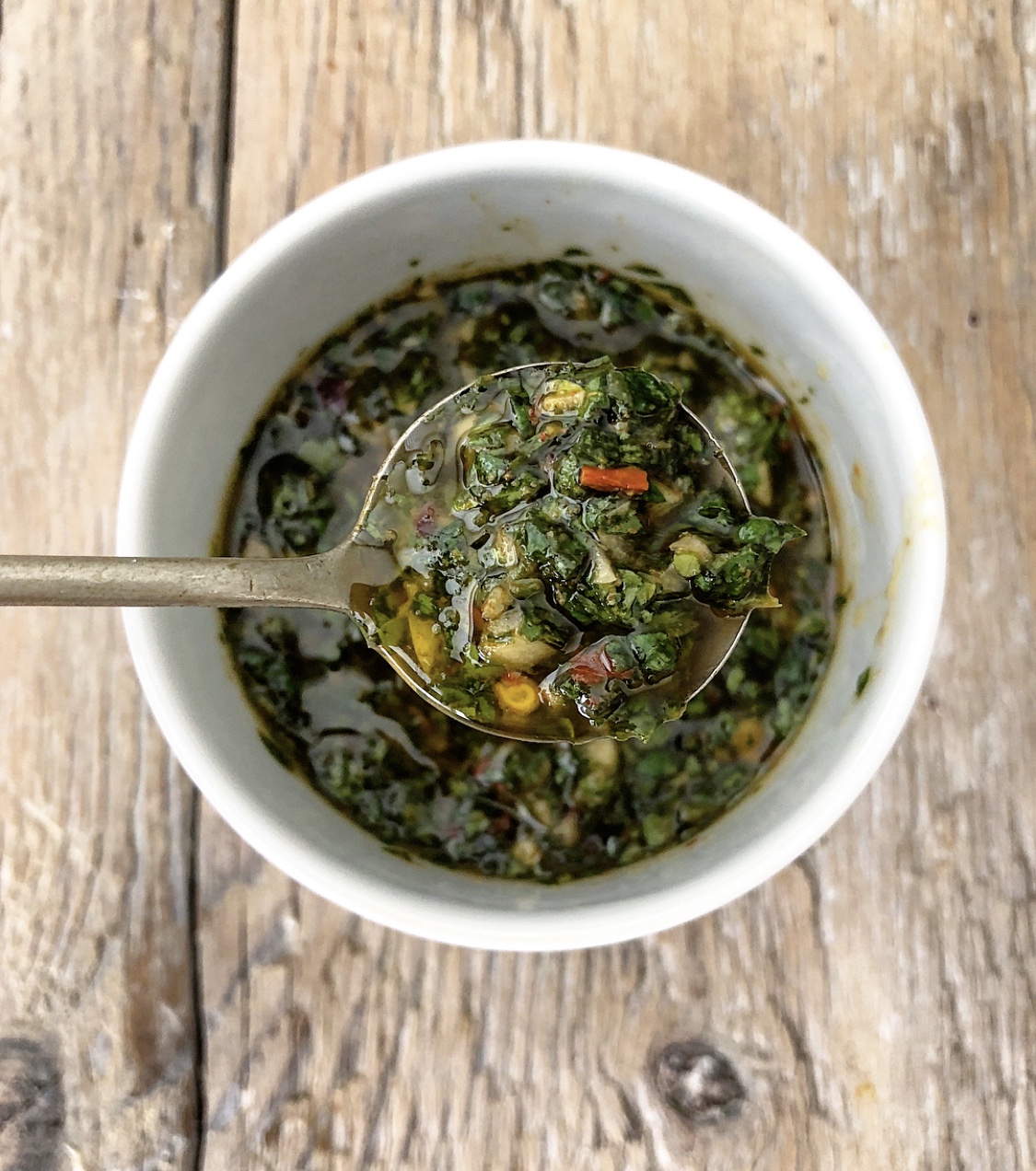 While it was baking (and this next step is one that you can actually prepare ahead of time) I would make up a batch of Chermoula. Such a lovely Moroccan dip/sauce that works wonderfully with fish. It's bright from a lemon, green from parsley and cilantro, and has a little kick from a red chilli pepper. The spices are cumin, coriander and paprika. This is really a fabulous dip as well. It's like a really thick vinaigrette, so feel free to play with it, more parsley, less cilantro, some dill if you want etc. I add lemon zest to amp up the lemony-ness of it all. And the heat is up to you. Don't have a red chilli pepper on hand? Try hot pepper flakes, or even some chilli oil you have sitting around to replace some of the canola or olive oil. Can't you just imagine dipping grissini or baguette slices into this?! That's often what I do! And don't just save the Chermoula for this dish. Set it out with your next veggie platter, and watch it go!
I was so thrilled with how this turned out. I used wild Pacific salmon, which is already more red than pale pink in colour. The dry rub, thanks to the brown sugar, and sumac gave the salmon a burnished hue before it even went into the oil. If you use a different cut of salmon, it may not be this intense in colour, but that's fine. The method is deceptively easy. The texture is beyond belief in its tenderness. The meat is so moist and juicy. Such a light and bright way to enjoy salmon. Just add some greens and jewelled couscous (to keep it Moroccan) or roasted potatoes or even rice. And a great way to use our country's oil. So versatile, it can go from frying (I always use canola for fondue bourguignon) to cooking, to baking and even to dress salads.
Thanks to Josh Tenn-Yuk and Canola Eat Well for many of the photographs of the evening!
Love Jen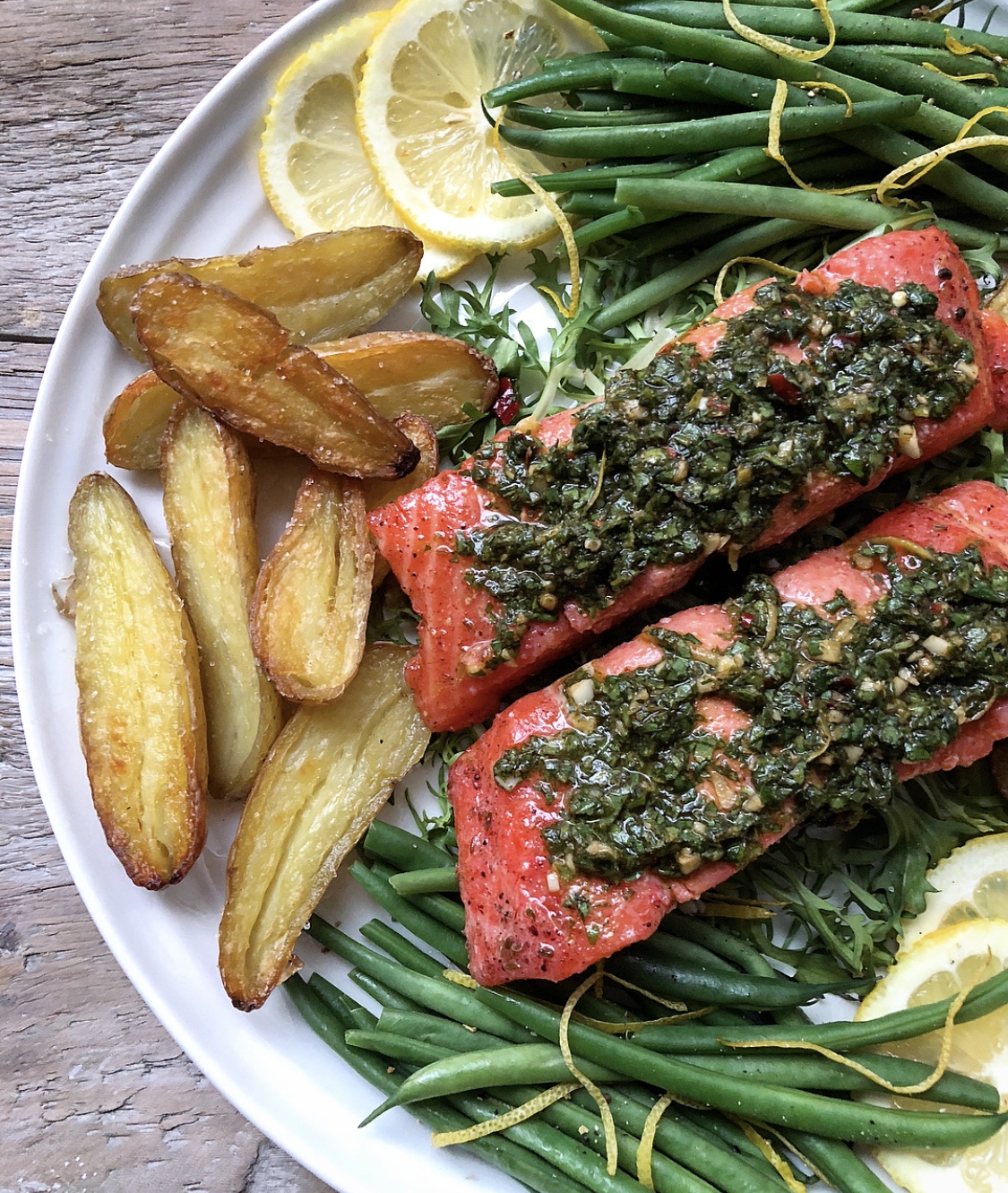 Salmon Confit with Chermoula Sauce
The most delicate texture and flavours are achieved by slow cooking salmon fillets in warm oil. A Moroccan spiced dry rub, and a bright lemony and green Moroccan dip/sauce make for a dish that is memorable and full of unique flavours.
Total Time
1
hour
20
minutes
Ingredients
2 @ 6

oz

skinless salmon filets

(175 grams each)

2-3

cups

canola oil

(enough to cover the salmon)

3-4

sprigs

thyme

1/2

tsp

cumin seeds
Dry Rub
zest of 1 lemon

2

tbsp

salt

1 1/2

tbsp

dark brown sugar

1/2

tsp

cardamom seeds

about 4-5 pods, cracked open)

1/2

tsp

fennel seeds

1/2

tsp

cumin seeds

1/2

tsp

sumach
Chermoula
1/2

cup

packed chopped parsley and cilantro

(one or both)

2

cloves

garlic

, minced

1/2

small red chilli pepper

, deveined and minced

1/2

tsp

ground cumin

1/2

tsp

ground coriander

1/2

tsp

smoked paprika

1/4- 1/2

tsp

kosher salt

juice of one lemon

2

tbsp

canola oil
Instructions
Pat dry the salmon filets.

Lay in a small dish where they can lay flat side by side.
Dry Rub
Place the lemon zest, salt and sugar in a small bowl.

With a mortar and pestle (or in a small food grinder) crush the seeds till coarsely ground. Add to the salt and sugar mix. Add the sumach. Stir to blend well.

Take the rub and press well into every side of the salmon filets. Lay them side in the dish and place in the refrigerator for 1 hour.

Preheat the oven to 170 (or if your oven only goes down to 175, if that's the lowest it can go) (75-80C)

Take the filets out of the fridge and rinse off all the salt rub. Pat dry with paper towel.

Place the filets into a baking dish where they will sit snugly side by side, but not touching each other or the edges of the dish. The smaller the better, if you can manage. If not, it will require too much oil to cover the fish. And it will take longer for the oil to heat through. Ideally, the sides of the dish should be at least 1 inch higher than the tops of the salmon, to prevent splashing oil as you move it.

Place this baking dish onto a baking sheet for easy transport.

Cover the fish completely with the oil. Add the sprigs of thymes and cumin seeds to the oil.

Once the oven is heated through, place the baking sheet on the middle rack.

Cook for 20-25 minutes or until it is cooked through to your liking. This will also depend on the temperature your oven is at. So peek in regularly. The internal temperature should be at 113F or 45C to be ready to remove. If you find small droplets of white albumin starting to show up around the meat, the oil is too hot. (if you have the oven at the lowest setting this shouldn't happen) Remove from the oven and leave in the oil to cool. It will continue to cook for a while in the oil.
While the salmon is cooking, you can make the Chermoula.
Blend all the ingredients together in a small bowl. Taste and re-season with salt if needed. If you find it is too thick for your liking, you can thin it out with a touch more oil or lemon, depending on what direction you want to take it. I suggest only 1/2 a red chilli pepper- add less if you know that those eating can't handle the heat, or more if they are heat lovers!

To serve, remove the fish from the oil with a fish or slotted spatula, letting most of the oils drip away, and place onto a bed of greens of you choosing. Micro greens, arugula, frisée, or even baby kale would work great. Drizzle a little of the oil over greens if you'd like.

Serve with chermoula on top for a garnish, as well as the rest on the side.

To keep the Moroccan vibes alive, serve with a jewelled couscous. The links to two recipes are below in the notes.
Recipe Notes
This recipe is for two, but easily doubles to serve 4. This may affect cooking time, but that's alright. An instant read thermometer is your friend here. Double the chermoula if you would like more to serve with any veggies on the side- it works amazingly with roasted potatoes!! Discard the used oil by placing it in a sealable container and discard as per your locale's guidelines for oil.
See my Moroccan Meatballs and Jewelled Couscous for the best couscous dish to serve with this! Or even my Jewelled Pearl Couscous would be fantastic.
SaveSave
SaveSave
SaveSave
SaveSave
SaveSave
SaveSave
SaveSave
SaveSave
SaveSave
SaveSave
SaveSave