As I start typing to share this recipe with you guys, I am surrounded by the cozy aroma of turkey stock, bubbling away.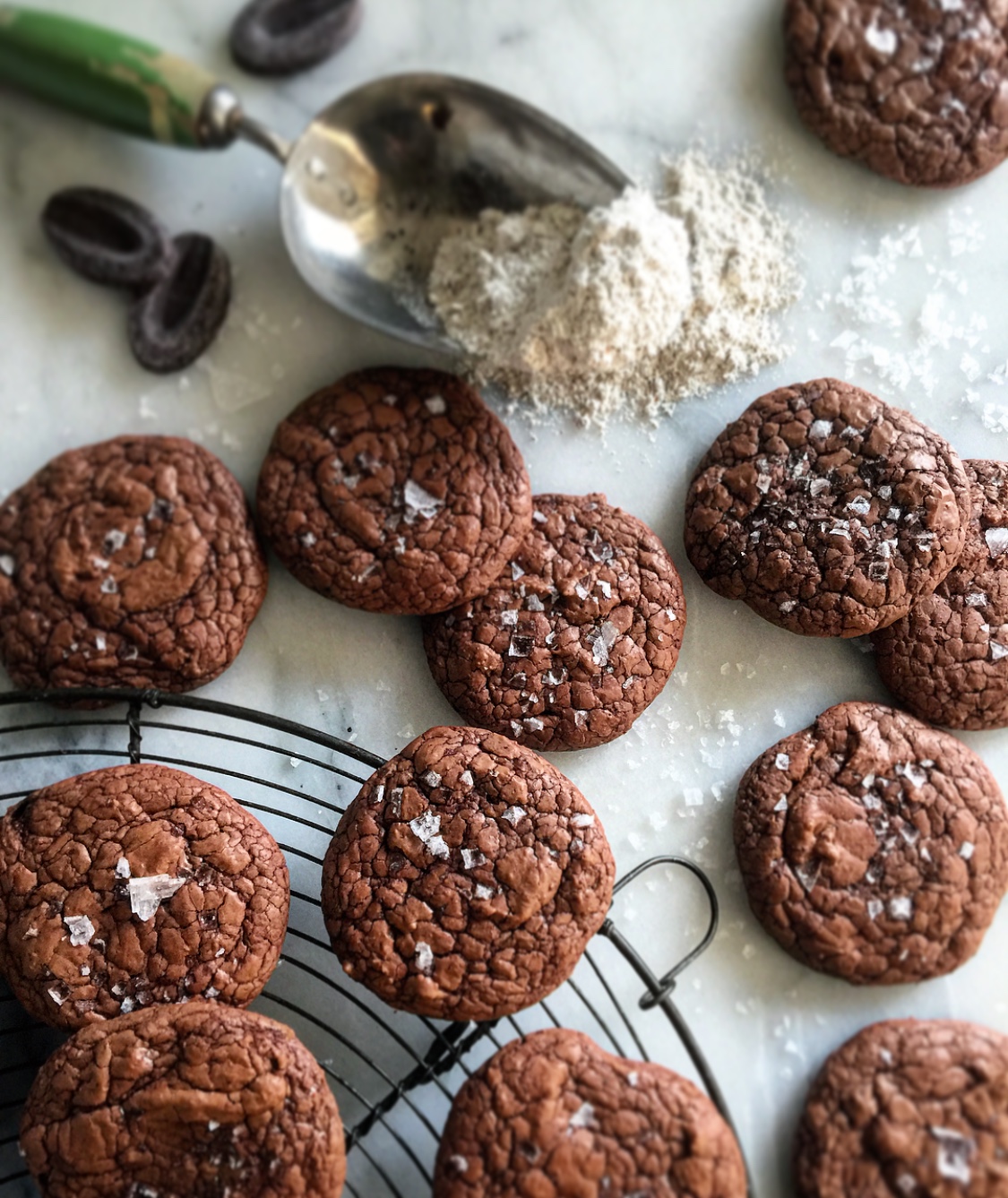 The joy of having my computer right here in the kitchen! We are finally having Jim's family for dinner. Getting everyones' schedules to coincide is no easy feat. But it has happened, so of course I am taking advantage of the cooler temps and all the great produce to make a turkey dinner with all the fixins'! I love the entire process, from grocery shopping, making the pie(s), chopping everything needed for the stuffing, and making two types of potatoes. And then there is the indescribable fragrance of a roasting turkey- candles should be scented with this fragrance! So today, a week in advance I am already preparing the stock that I'll use for the gravy, basting and stuffing. With a bit leftover for me to sip on!
But I am here for cookies today. Every kitchen needs at least one (I'm sure there is room for multiple) recipe for a yummy, brownie-like cookie. This is it. Case closed. It's mostly chocolate, with a bit of flour and egg to whole them together. But it's mostly chocolate. What I like about this recipe is the fact that it ustilizes whole Rye flour. Not usually a flour you would think of for baking cookies. But rye and chocolate go so well together. There's a nuttiness as well as the slightest tang to the rye flour, as well as a wonderful texture, which really makes this a joy of cookie to indulge in. The recipe is from the Tartine Cookbook No 3. It's a fabulous series of books by the famed bakery in San Francisco. We got to visit there once, and the croissant was second to none.
You will be pleasantly surprised at how easily this cookie dough comes together. It's just a matter of melting bittersweet chocolate and butter, and then adding that to the eggs and sugar that have been whipped up to a frenzy in your mixer. Then you'll add the flour and leavening and voila, cookie dough. The hard part is putting the dough in the fridge for about 30 minutes to chill and firm up just a touch. It is a very soft dough, so it needs the help of firming up so that it is scoop-able.
Once ready, just scoop out large tablespoons full onto prepared baking sheets. Top them with a good finishing salt, like Maldon- the diamond like crystals really add such visual appeal as well as the perfect saltiness to balance the richness of the chocolate. They bake up quickly, with the most lovely little craters covering the surface. But when you bite in, the slightly oozy centre is what will make you reach for a second. And a third. Just add that perfect glass of cold milk. Or coffee. Or Scotch! (I adore chocolate and whisky together 🙂 )
Once you've made these, you'll be happy to have that bag of whole Rye flour in your pantry. This is a recipe that is easily halved if you need to. But I'm sure you'll have plenty reasons to share these, so bake them often.
I've made actual brownies with rye flour as well, with wonderful success. Now I need to make bread with it! hehe.
Additional thought: Why not add chopped hazelnuts to the dough? Or pecans? It would add another layer of flavour and texture- I'm going to try it next time.
Now on to working out our family dinner. I'll keep you posted!
Love Jen.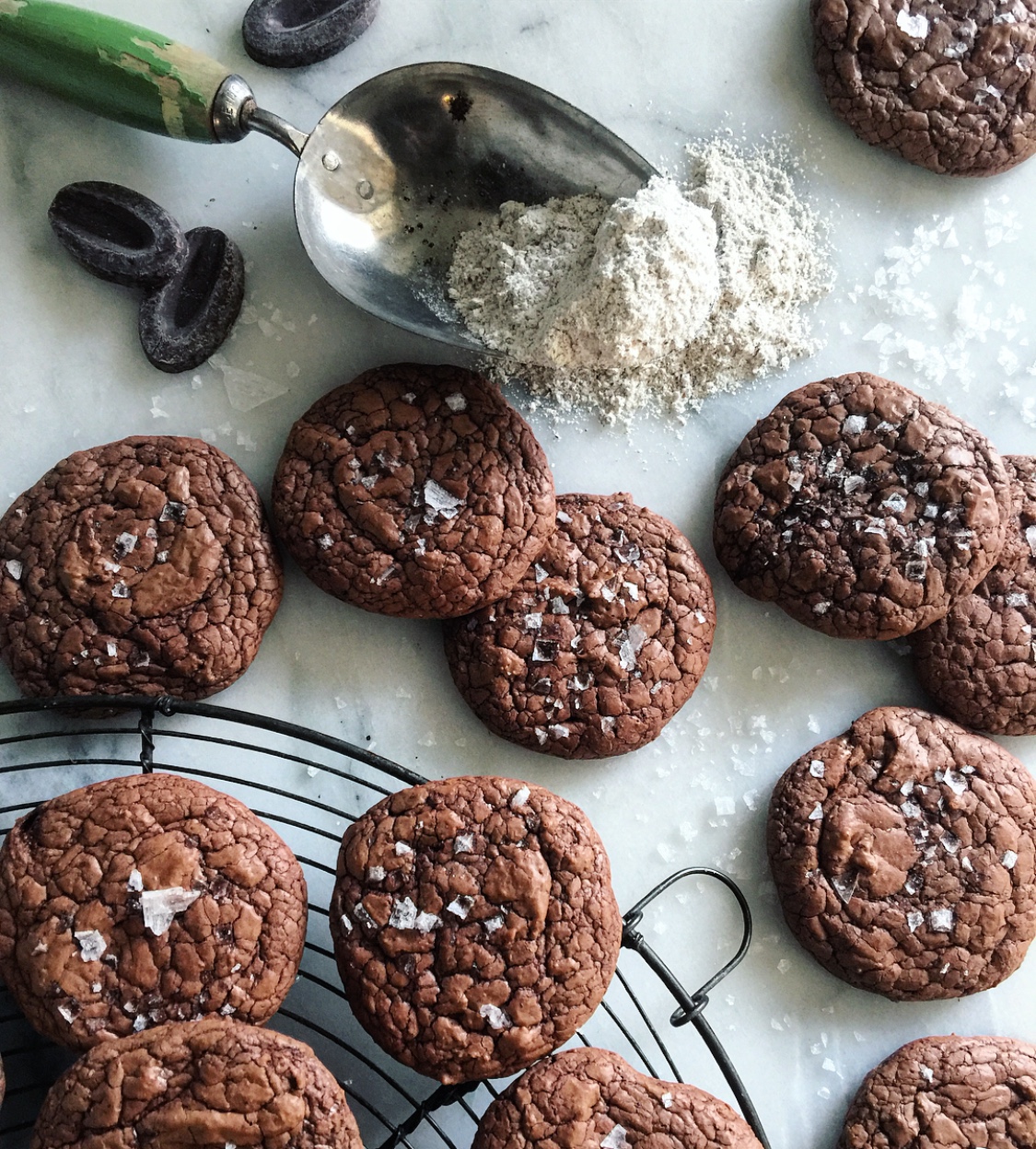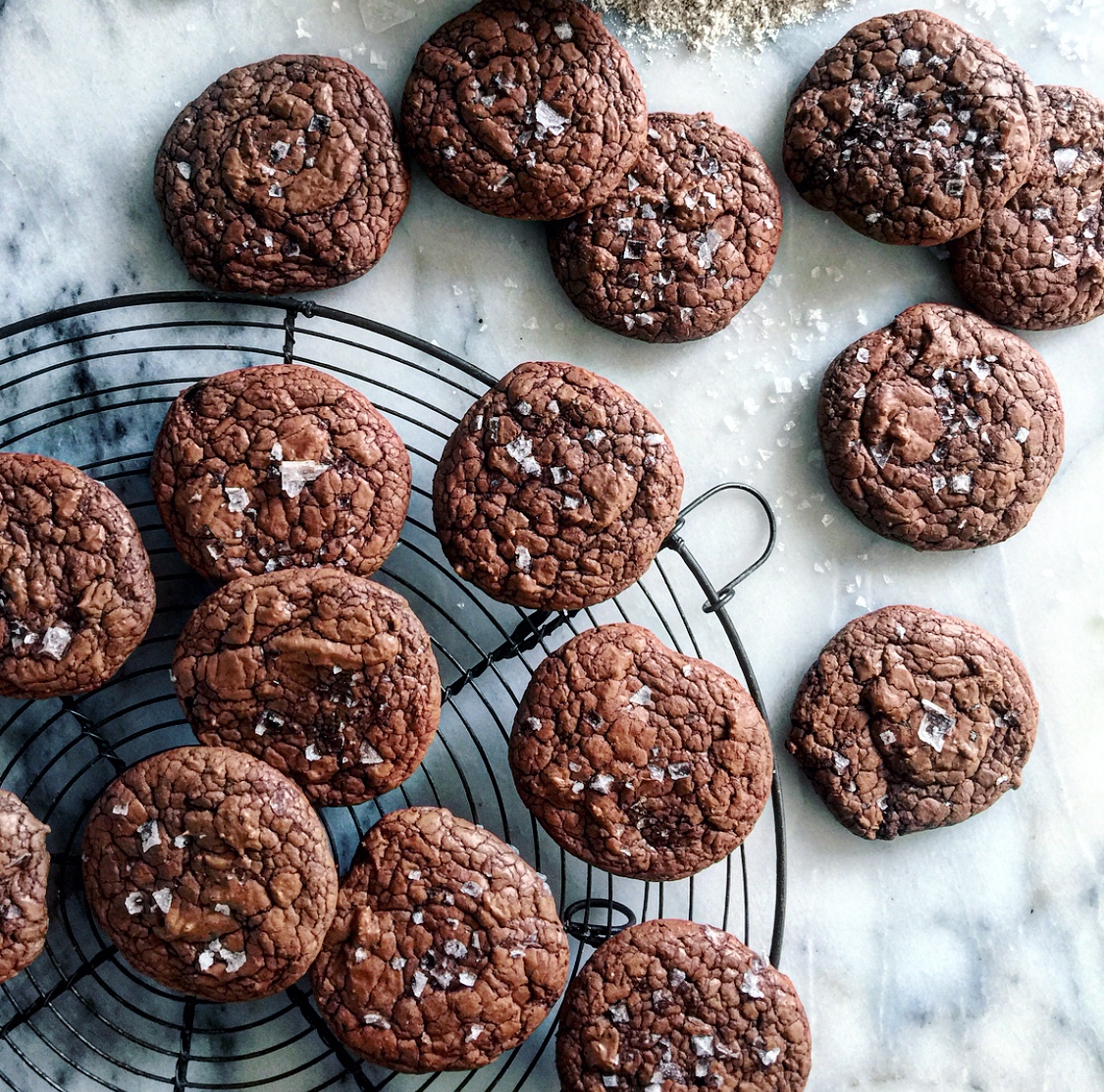 Salted Chocolate Rye Cookies
Almost a brownie, this beautifully textured cookie with the soft interior is even better thanks to the nutty tang of rye flour. The perfect chocolate cookie with salt added to balance the richness of the chocolate is minutes away!
Ingredients
1

pound

(16 oz, 455 grams) bittersweet chocolate, chopped

4

tbsp

(1/2 stick) unsalted butter

3/4

cup

whole or dark rye flour

1

tsp

baking powder

1/2

teaspoon

fine salt

4

large eggs

, room temperature

1 1/2

cups

muscovado sugar

(or dark brown sugar)

1

tbsp

vanilla extract

Maldon or other flaky salt for sprinkling
Instructions
Place a saucepan filled with about one inch of water over medium heat and bring to a simmer. Set a heatproof bowl over the simmering water, making sure that the bottom of the bowl is not touching the water, and melt the chocolate and butter together, stirring occasionally. Once melted, remove from the heat and let the chocolate cool slightly.

In a small bowl, whisk together the rye flour, baking powder, and salt. Set aside.

Place the eggs in the bowl of a stand mixer fitted with a whisk attachment. Whip on medium-high, adding the sugar a few tablespoons at a time, until all the sugar is incorporated.

Turn the speed to high and whisk until the eggs have tripled in volume and turned very light yellow and fluffy, about 5- 6 minutes.

Reduce the speed to low and add the melted chocolate mixture followed by the vanilla. Mix to combine, scraping down the sides of the bowl as needed.

Add in the flour mixture and stir until just combined. The dough will be very soft.

Refrigerate dough until it just firm to the touch, about 30 minutes. Don't let it cool too long or it will firm up too hard and will be difficult to scoop up.

While the dough is chilling, preheat oven to 350º . Line two baking sheets with parchment paper or silicone mats.

Remove the dough from the fridge and scoop with a rounded tablespoon onto the baking sheets, shaping the balls of dough into rounds and spacing them 2 inches apart.

Top each mound of dough with a few flakes of sea salt, pressing gently so it adheres.

Bake for 8 to 10 minutes, until the cookies have puffed up and have a smooth bottom and rounded top with a few small cracks.

Remove and let the cookies cool on the baking sheets for a few minutes.

Transfer to a wire rack and let cool completely. The cookies with keep up to 3 days in an airtight container. (They won't last that long)
Recipe Notes
This recipe makes about 4 dozen cookies, depending on how large you scoop out each 1 tbsp of dough. I've had great success with cutting this recipe in half, since it is just the two of us.
Option: Try adding 1/2-3/4 cup chopped hazelnuts (don't chop too fine, but not too large either) It would add a lovely crunch!
Adapted from Tartine Cookbook No 3