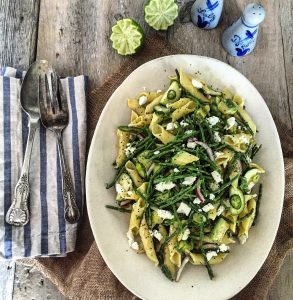 A few weeks back I introduced you all to Sea Asparagus, Salicornia or Samphire.
Remember that little twiggy thing that is not asparagus or sea weed? See my recipe for the Ramp and Sea Asparagus Frittata. I have fallen hard for this little gem of a veggie/succulent. The texture is crispy/tender; the flavour is briny in a good way, and the health benefits are out of this world. It's higher in calcium, magnesium, iron, potassium and zinc than celery, cucumber, kale or romaine (see Olakai Hawaii Sea Asparagus )
Seeing that is is jam-packed with goodness, I won't go into all the technical reasons- that's what the professional articles are for- but I'm kind of on a mission now to see how many recipes I can come up using this little bundle of goodness.
So this week I decided I would use it in a pasta salad. It's warmer out now, so a fresh, light pasta salad seemed the way to go. But not an old fashioned creamy, mayo laden pasta salad. This one would be light with a red onion, lime and olive oil dressing.
I knew that it would be a meatless meal, so I wanted to make sure I got some protein in. Hello avocado. And some nuts, if so inclined. And if not, but protein is still desired, why not throw some chicken skewers on the grill, and you'll have a complete meal fit for a healthy king or queen.
Jim loved it. Again, he is the 'everyman' to my crazy cooking concoctions. So if a recipe passes the 'Jim' test, then guaranteed most everyone else will enjoy this as much, if not more!! He likes to keep me in check, ensure that I'm not heading down some foodie rabbit hole from which there is no return. I'm happy for this, since most people want to enjoy a lovely meal, not get into some esoteric debate on the latest fad or obscure ingredient. He's keeps me real. Thanks Jim.
So this is a light, easy salad to whip up, and has the taste of the beach included! Add some avocado and jalapeño pepper and it becomes a Mexican beach!
Samphire and Zucchini Pasta Salad with Avocado and Feta
A lovely pasta salad featuring sea asparagus or samphire, veggies, avocado and feta cheese. Perfect for a hot summer day when you don't want to stand over a stove for too long!
Ingredients
1

lb

(454 g) dried penne or rigatoni pasta

1/2

1

red onion

thinly sliced

2

limes

juiced

2

cups

samphire or sea asparagus

soaked for 10 minutes in cold water to remove some of their brininess, then rinsed

1

large zucchini

sliced lengthwise and then into half moons

1/2-1

avocado

depending on the size

1

jalapeno pepper

sliced thinly crosswise

1/2

cup

feta cheese

crumbled

cracked black pepper

5

tbsp

EV olive oil

divided, 2 tbsp and 3 tbsp
Instructions
Place the onion in a small bowl and cover with the juice of the limes. Let it sit- this will soften the onion's texture, and it's bite.

Cook the pasta according to the package directions, till al dente. Rinse, drizzle with a couple tsp of olive oil and set aside to cool.

In a large bowl mix the samphire, the zucchini and the pasta.

Add the rest of the olive oil to the onions and lime juice. Mix well and then pour this over the pasta and the veggies.

Cube the avocado and add it to the salad, making sure to coat each cube with some of the dressing (this will keep it from turning brown)

Add the jalapeño slices (as much as you and your guests can handle) and the crumbled feta.

Add freshly cracked pepper to taste and toss gently.
Recipe Notes
There is room to play here. Use cucumbers instead of zucchini if you'd like. Add chopped almonds for a protein crunch.