This recipe was inspired by my restaurant serving days. One restaurant I worked at served the most amazing weekend brunch.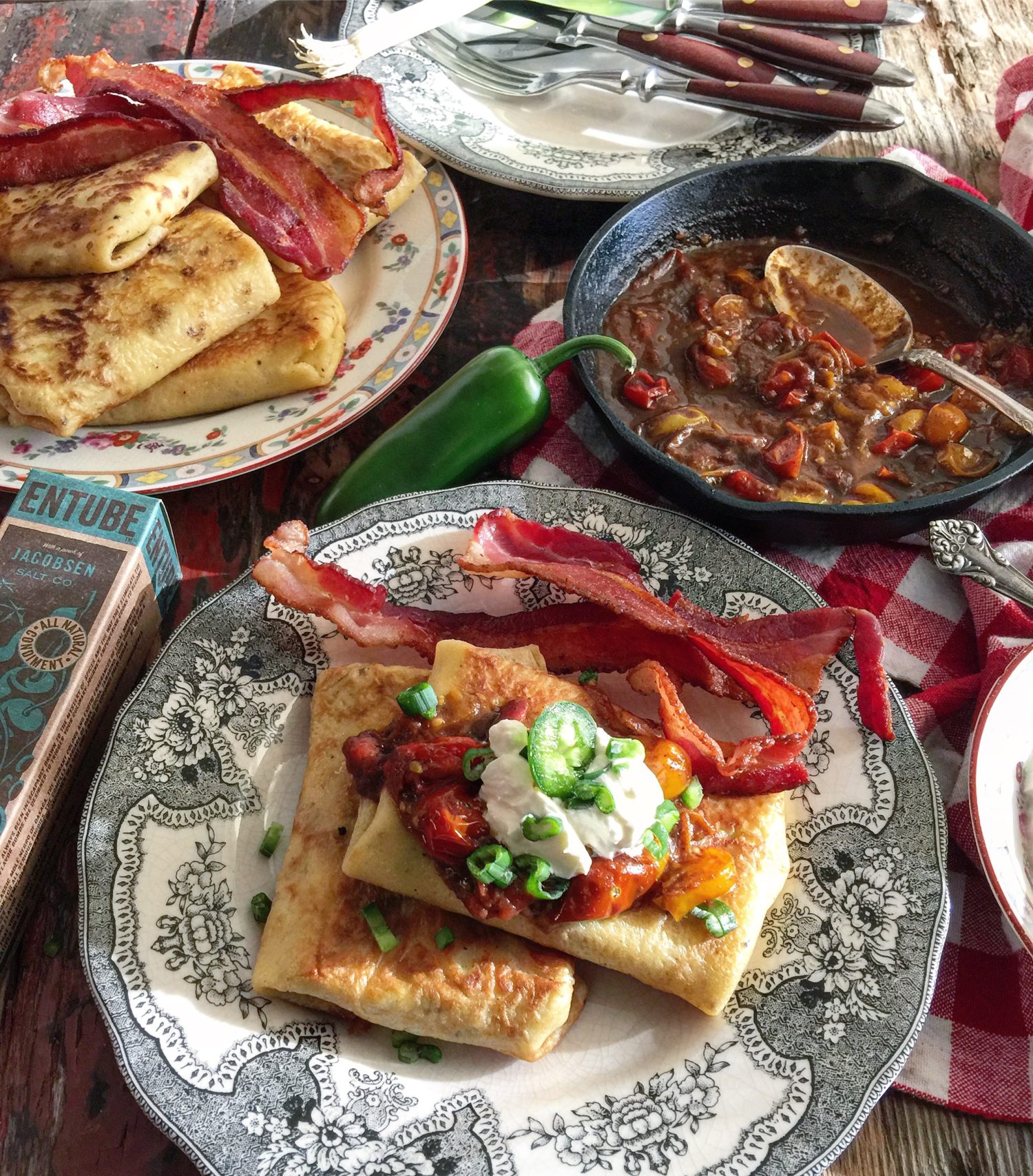 The buffet tables were set will all the favourites: waffles, crepes, frittatas, omelettes, all the breakfast meats and potatoes versions you could imagine, baked goods etc. But the one item that always seemed to vanish faster than everything else, was the chef's savoury breakfast blintzes. I know that they were beloved by the community, because it was rare that there ever any leftovers that us servers could snack on afterwards! I was always hoping there would be one blintz left for me. I don't know what made them so special- I mean, it was a crepe wrapped around a filling of cheese, onions, peppers etc. Nothing so extraordinary that couldn't be copied at home. But I simple adored them. And apparently, so did all the patrons.
Through the years I often thought about those blintzes. Jim loves crepes, so they are a regular item on our weekend breakfast table. But he is used to the sweet version, so I always seem to make him crepes that have that little bit of sugar added to the batter, to suit the fillings of fruit, jam, whipped cream, maple syrup etc that he gravitates towards. Having made sweet crepes, they don't really suit suddenly being filled with a savoury filling. So I never really took a couple and prepared them separately for me.
That all changed with this recipe. I got my new tube of Entube's Molé paste and thought about all the dishes I could create with it. For some bizarre reason, the first thing I thought of, were those savoury crepes from years gone past. I guess I figured, since there were red and green peppers in the filling, why not turn it into a Mexican filling? And if the inside would be Mexican, then to make a real meal out of them, I would smother the outside with something Mexican as well. I decided that a quick sauté of cherry tomatoes in that same Molé paste would make a lovely compote to top the blintzes.
For this recipe, you will need to prepare a batch of my Basic Crepes. When doing so, you will go savoury with a bit more salt, and some freshly cracked black pepper- the coarsely ground pepper creates a lovely fleck and texture, and of course, flavour to the crepe. My recipe makes about 12-14 crepes (depending on the size of your pan, which is perfect if you are feeding 4-6 people. You can make the crepes in advance (even the day before) Just ensure that they are completely at room temperature, or even warmed slightly, so that they can be folded without tearing. To rewarm, just wrap them in foil and place in a 275F oven until warmed through. This may take 10 minutes or more. Don't rush it. They should be completely flexible when you use them.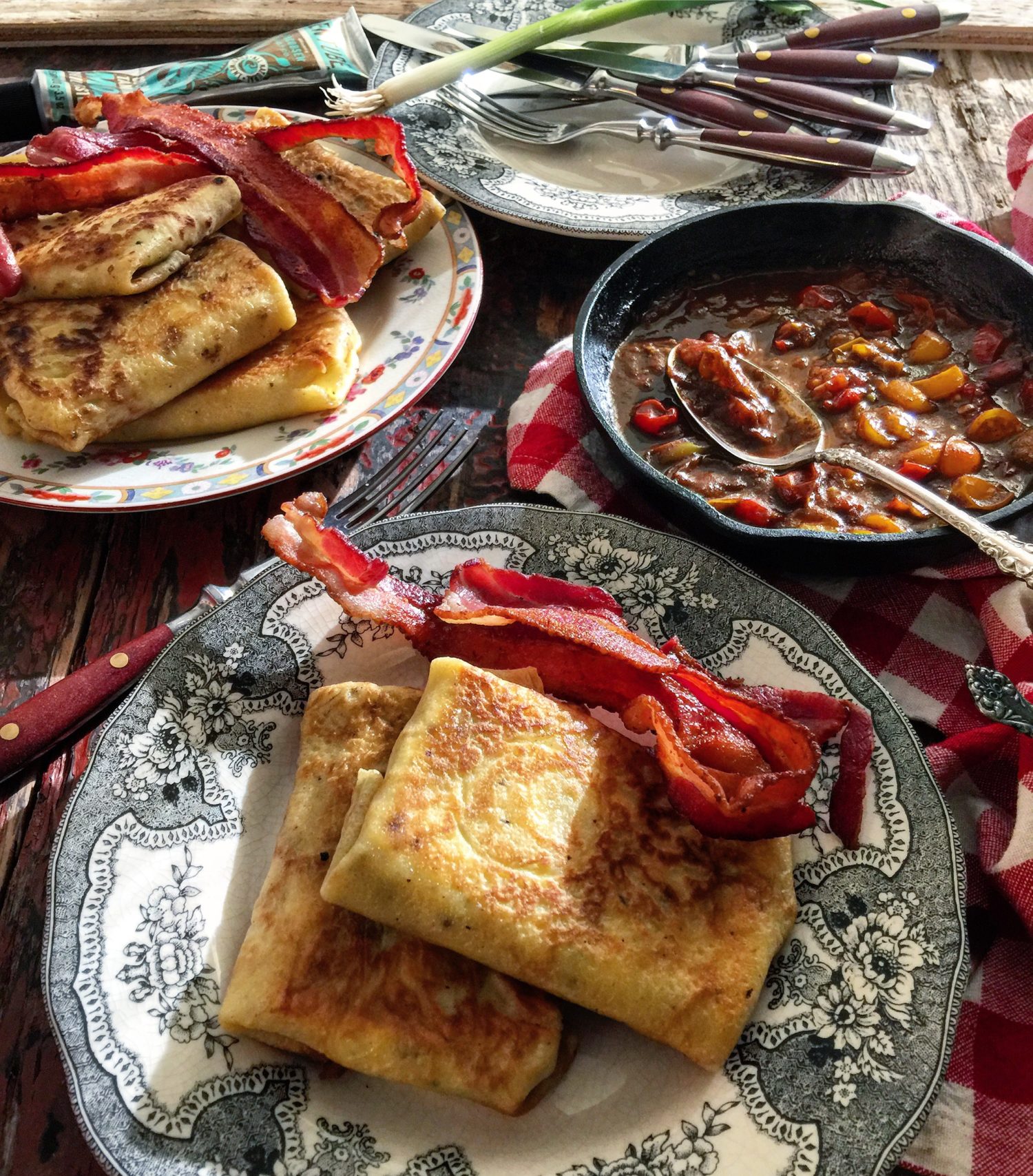 The filling is cottage cheese combined with sautéed onions and red and green peppers, with some seasonings. So really easy. You can prepare the filling and set it aside. The tomato compote is a simple sauté of halved cherry tomatoes, diced onions, olive oil and molé paste. This Molé paste is a tamarind base with cocoa and all the chilis and spices in any good molé sauce spices, but concentrated into the most intensely flavoured ingredient. It would work wonderfully as a condiment, spread on crackers and queso fresco. The compote can be prepared and set on the back burner.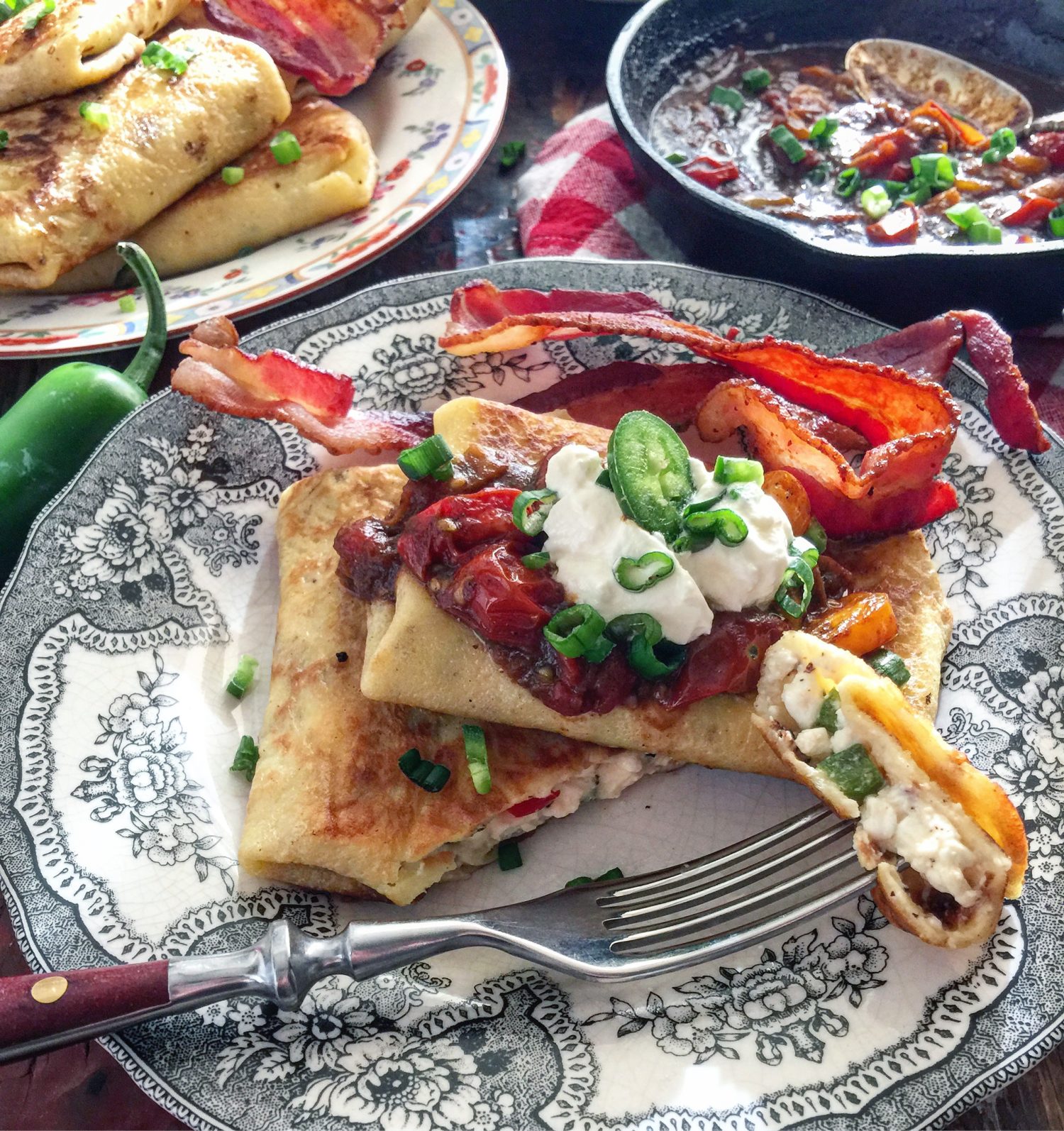 To make the blintzes, you will place some of the filling into the middle of a crepe. Wrap it up a la burrito style and place on a plate. Repeat till you have all the blintzes prepared. Now it's just a matter of heating up some butter and/or olive oil in a skillet and gently sautéing them on both sides. I always start with the folded side first to set the folds. Having the heat at medium will ensure that the filling will get warmed through before you have scorched the outsides.
To serve, just place a couple on a plate and spoon some of the tomato compote on top. And because we're all about gilding the lily, top everything with sour cream and jalapeño confetti. Or maybe chopped cilantro, chives or green onions. Or all of the above! Olé!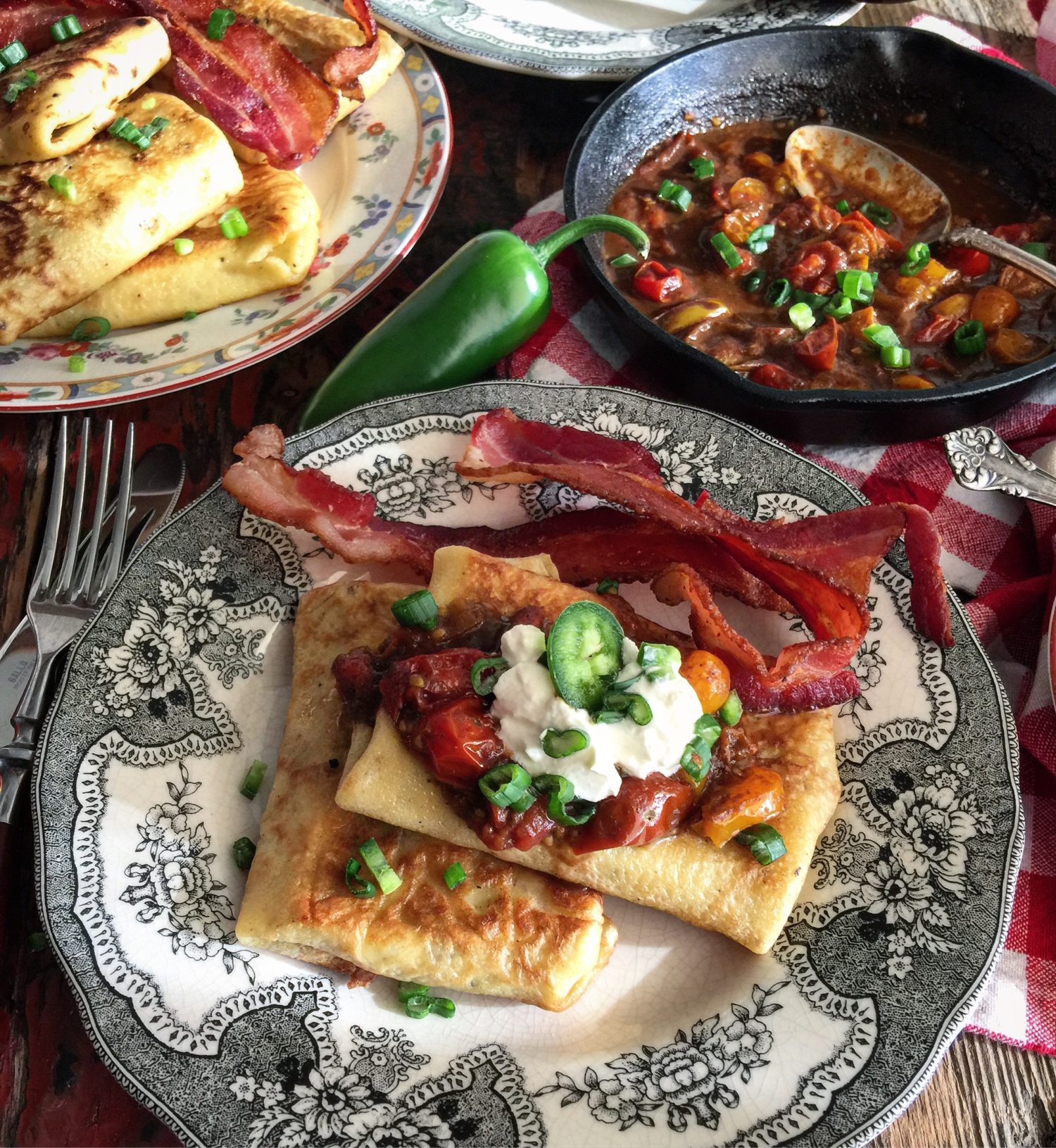 From an an elegant family restaurant, to a fiesta in your kitchen, my memory of savoury blintzes has morphed into something resembling global fusion at its best. I hope my memories live up to your taste buds!
Love Jen.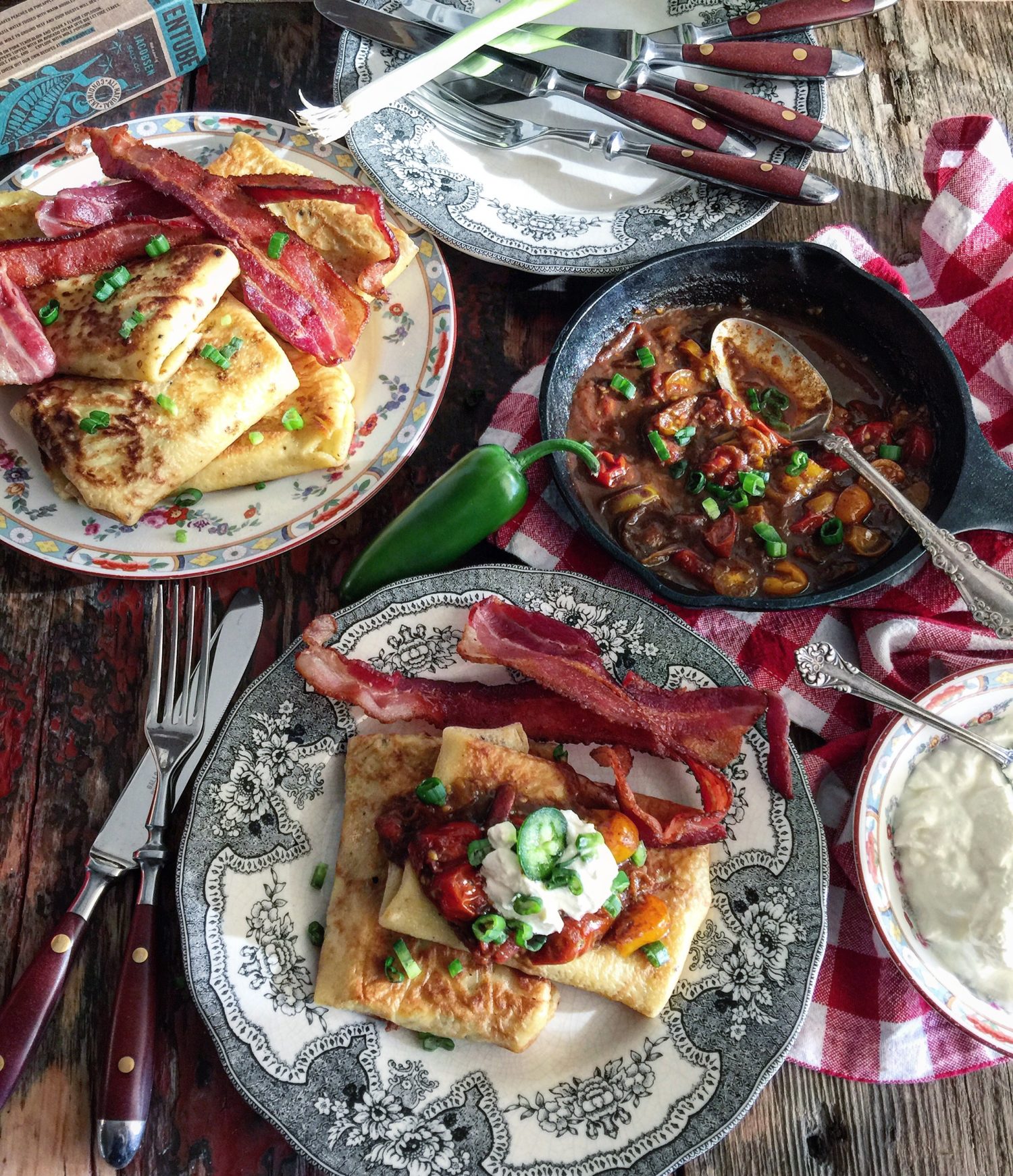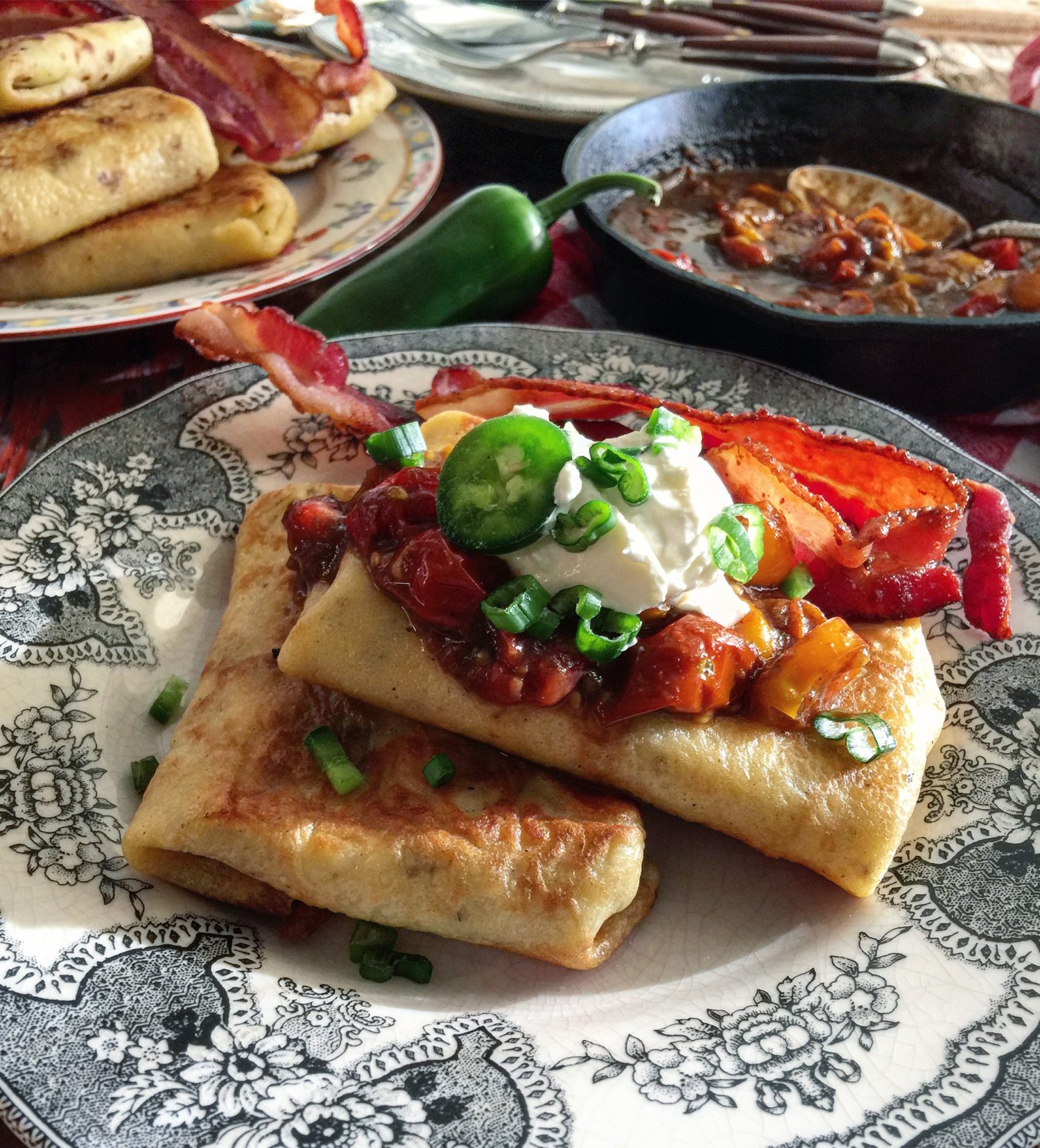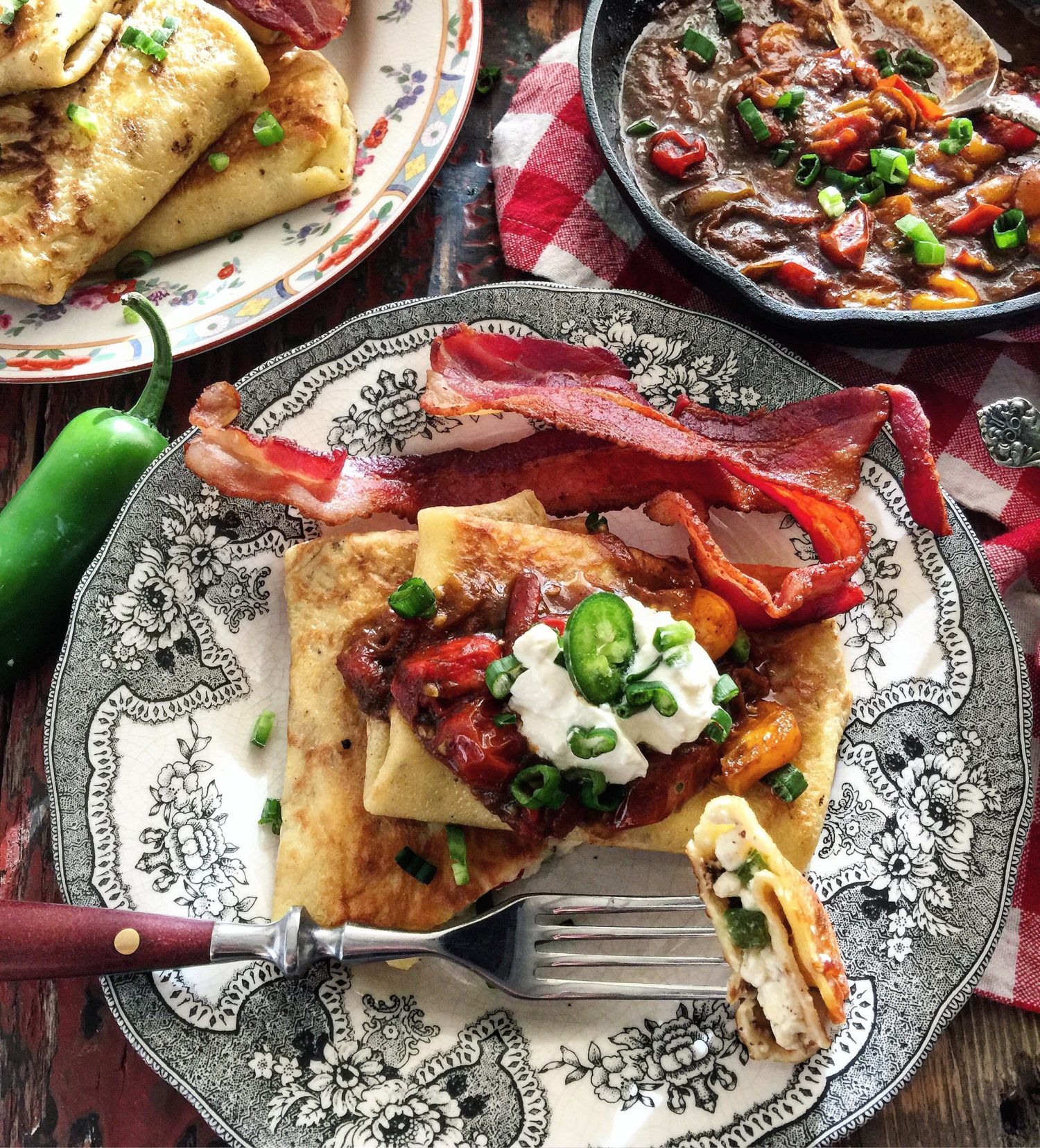 Savoury Molé Blintzes
Stuffed crepes go Mexican and savoury with this filling of cottage cheese, onions, peppers and molé paste. Served with a spicy tomato compote and topped with sour cream, jalapeño confetti, this dish makes brunch a fiesta!
Total Time
1
hour
20
minutes
Ingredients
Savoury Crepes
1 1/2

cups

milk

2

tbsp

vegetable oil or butter

, melted and cooled

3

large eggs

1 1/2

cups

AP flour

1/2

tsp

salt

1/2

tsp

freshly cracked pepper

, make sure the pepper isn't too fine- a touch coarser grind makes the pepper more impactful

vegetable or avocado oil

, or butter for frying up the crepes
Filling
1

tbsp

olive oil

3/4

cup

finely diced green and red pepper

1/4

cup

finely diced yellow onion

1

tsp

Entube Molé paste

1 1/2

cups

plain cottage cheese
Tomato Compote
1

tbsp

olive oil

1/2

cup

diced yellow onion

2

cups

cherry tomatoes

, halved

2

tsp

Entube Molé sauce

(or to taste)
Garnish
sour cream

1

jalapeño pepper

, finely diced

2

green onions

, finely sliced

cilantro

, chopped
Instructions
Crepes:
Add the ingredients in the order listed into a blender. Blend at lowest speed until all starts to incorporate. Scrape down the sides with a rubber spatula. Bring it up to a middle speed and blend until smooth. About 20 seconds. Cover and store until needed. Can be prepared the evening before and refrigerated. Bring to room temperature before using.

Pour the batter into a pitcher. This is easier than taking a spoon or measuring cup to transfer batter to the pan.

Heat 1 tbsp of oil in crepe pan (should be around 6-8 inch in diameter with low sides) Pour out the excess oil once heated over medium to medium high heat. I keep all the oil I may need in a small bowl by the stove for this process. I use a silicone brush to add oil after each crepe.

Lift the pan from the heat and pour in just enough batter to cover the bottom when you gently swirl the pan around to move the batter to all sides. You will quickly realize if you are using too much or too little. Too much will result in a thick crepe that takes too long to cook; too little, and you won't be able to stretch the batter to fill the bottom of the pan.

Return the pan to the medium heat. Cook until the crepe is set and the edges are drying. Slide the spatula (I use a small offset spatula- it works perfectly) under the crepe to loosen it. Lift it carefully and turn it gently over and back into the pan. In just a few seconds, the second side should start to turn golden brown. Shake the pan to loosen the crepe. With the aid of the spatula if needed, slide it onto a plate. Adjust heat as needed.

Keep doing so with all the batter, adding the crepes to the first one on the plate. This amount of batter should yield 12-16 crepes. It really depends on the size of pan you are using, and how good you are at not overfilling the pan with batter! Don't worry, you'll get the hang of it. The first one is AWAYS lousy! It's for the cook!

If you prepare these ahead of time, keep warm, or rewarm in a 275F oven, covered or wrapped in aluminum foil. Make sure they are warmed through thoroughly, because a cold crepe may tear as you are folding them around the filling. A little tear may happen, but you don't want major cracks happening.
Filling
Heat the oil in a frying pan over medium to medium high heat. Add the onions and peppers and sauté, stirring regularly for 2-3 minutes.

Add the molé paste and stir to incorporate. Continue to sauté until softened and the onion is a light gold colour.

Place the onion and pepper into a medium bowl and add the cottage cheese. Stir to combine. Taste to see if you like the seasonings. There is salt in the paste, but you make want a pinch more. Set aside
Tomato Compote
Add the oil to the same skillet or frying pan and heat it over medium high heat. Add the onion and sauté for 2 minutes. Add the tomatoes and molé paste and cook, stirring regularly until the tomatoes break down, releasing their juices to combine with the molé paste. Don't cook down past the point where you cook off all the liquid, you want some to keep the tomatoes from becoming stiff and too thick. Keep warm.
Blintzes
Take a crepe, and spoon about 2 1/2 tbsp of the filing into the middle of the crepe. fold the side in, and then the bottom over the sides. Fold the top of the crepe down to create an 'envelope'. Place, seam side down on a baking sheet. Repeat with all the other crepes and filling.

When all are ready to go, using a large, clean skillet, heat 2 tbsp of butter over medium heat. Place enough crepes in the pan without crowding, so that you can still get at them to turn them gently over. Place them into the pan, seam side down.

Cook until golden brown (this should take about 3-4 minutes, depending on your heat) Gently turn over to brown the other side. When ready, remove to the baking sheet. You can keep these warm in a 300 oven till all are ready.
To serve
Place a couple of blintzes onto a plate and spoon some of the tomato compote over them.

Garnish with some or all of the options offered!
SaveSave
SaveSave
SaveSave