My kryptonite is a good Ham 'n Cheese Croissant. If it's on the menu I will order it.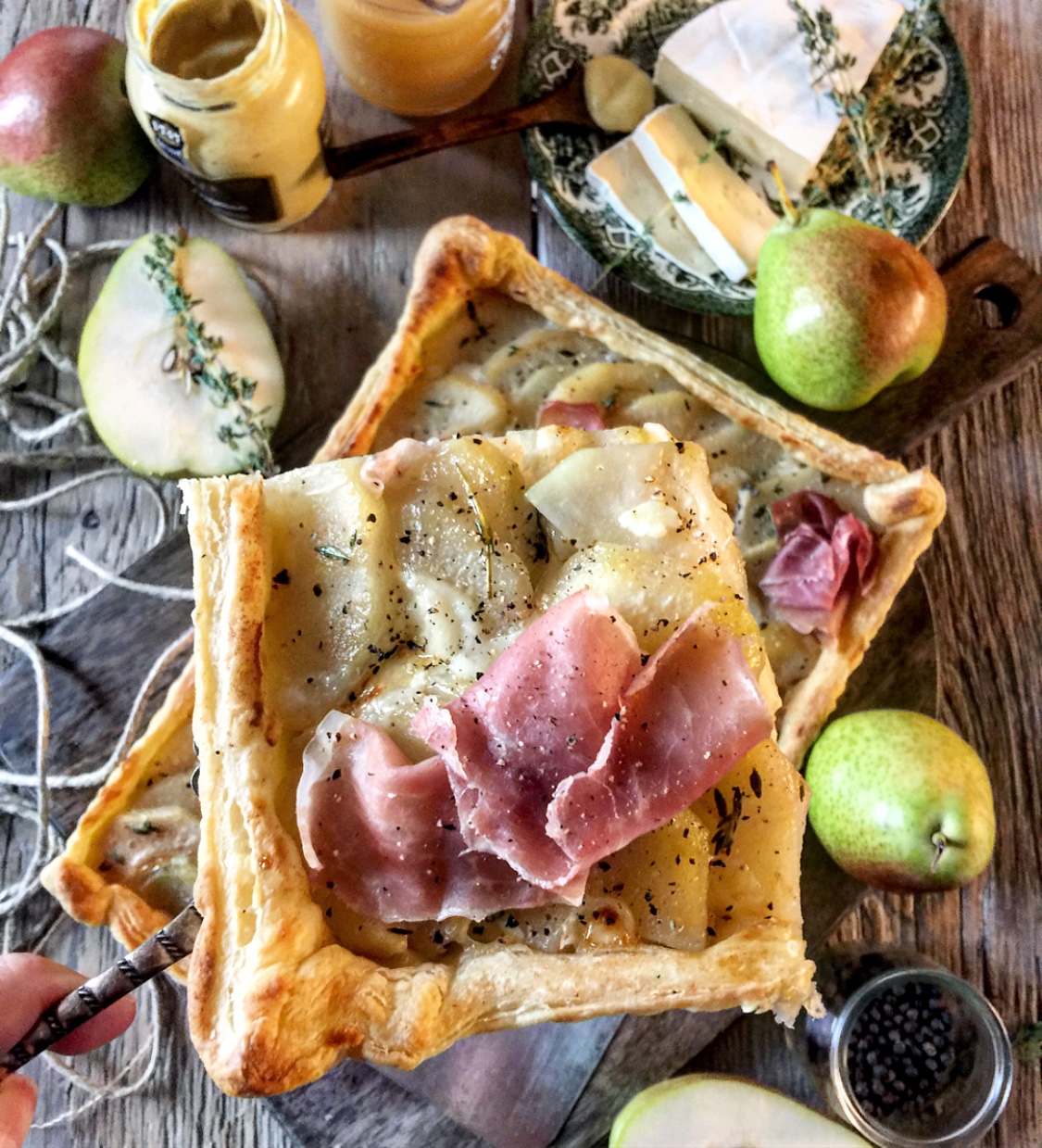 I'm on the hunt for the ultimate version. I was first hooked by this wonderful savoury pastry about 25 years back when a friend and myself stopped for breakfast at a Toronto bakery, Bread and Roses, in Bloor West Village. She had ordered this stuffed croissant, and I, being new to the city and all its wondrous flavours, was totally enthralled by the idea. So I ordered it as well. And I've never looked back.
This tart is totally inspired by that croissant, as well as a sandwich I enjoyed about 1o years back in the Beach end of Toronto. It was a croissant sliced in half with ham, brie and pear in it. It was divine! So, now when I think of ham and brie, I often see pear slices in my mind as well. And seeing that we are in the midst of pear season, I just had to come up with a way to showcase all of these in my own savoury version.
I guess I could just take bakery croissants and create a sandwich for you all. But that seems pretty straightforward. Instead, I dipped into my trusty stash of puff pastry and came up with this. It makes for a great lunch for 4 to 6, or a great appetizer for 6-8. I just love the idea of taking savoury cheese and mustard and paring them with sweet fruit. A layer of mustard, then brie, then pears all baked up in the oven and then topped with freshly folded prosciutto just hits all the right notes. And the piece de resistance? A good cracking of DRØM black pepper. No salt. Just pepper. The pepper against the pears is perfect. Both visually and flavour wise. We always think of finishing salt. But this is the perfect time for a finishing pepper!
The key to the success of this tart is the sautéing of the pears first. To just layer raw slices of pear over the tender brie wouldn't work. They will not soften enough in the oven to meld correctly with the cheese. By softening them in simmering pear nectar first will give them the correct texture for the finished tart. If not, they would be too firm and would pull away and tear the tart apart. You want to be able to grab pear and cheese in the same bite. I used Bartlett pears. Choose a firm, just ripe pear that won't turn mealy. I would avoid Bosc for this recipe.
So yes, you will need some pear nectar for this recipe. These days you should be able to find pear nectar in most grocery stores in the juice aisle. If not, you will definitely find it in any European grocery store. Europeans love pears, in juice, in jams, jellies, desserts etc. But it's worth the trip to picking up a bottle. And then use the rest for cocktails or in smoothies.
So yes, savoury dijon mustard, brie cheese, prosciutto and black pepper- so good. Adding pears into the mix, epic!! If you did want to keep this a vegetarian dish, omit the prosciutto and instead toss some arugula in some lemon juice and olive and pile it on top of the tart. Then crack that pepper over it all!
Love Jen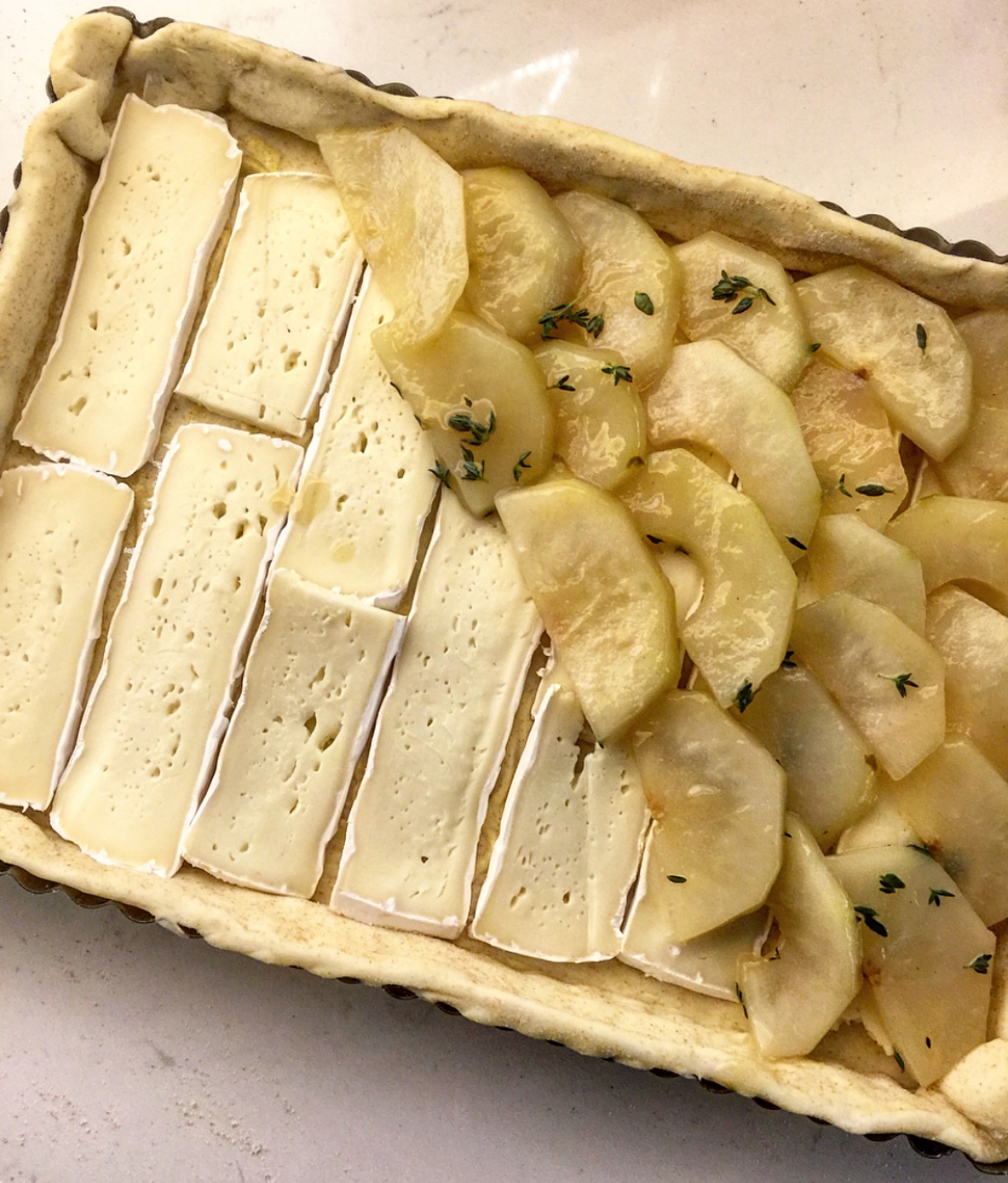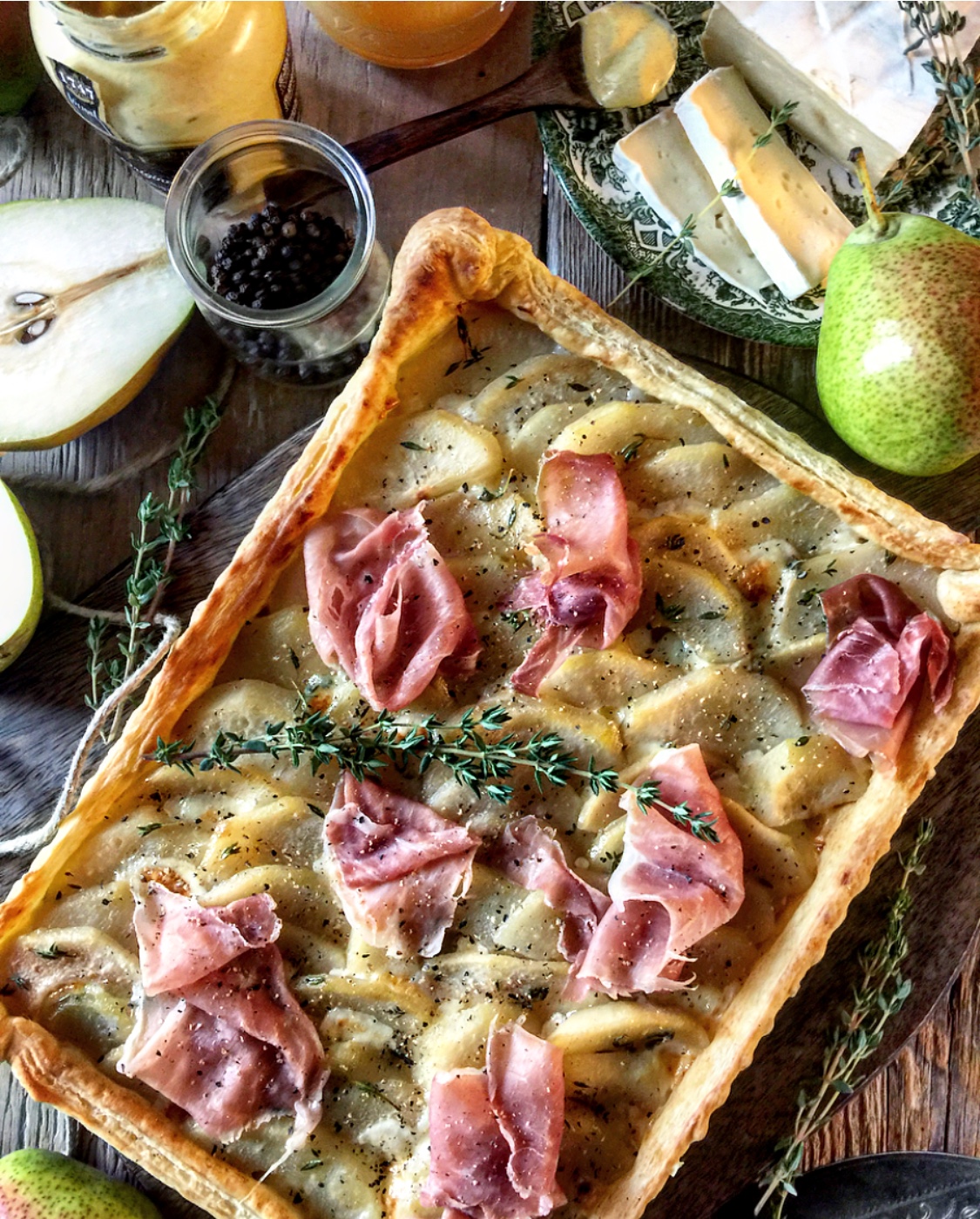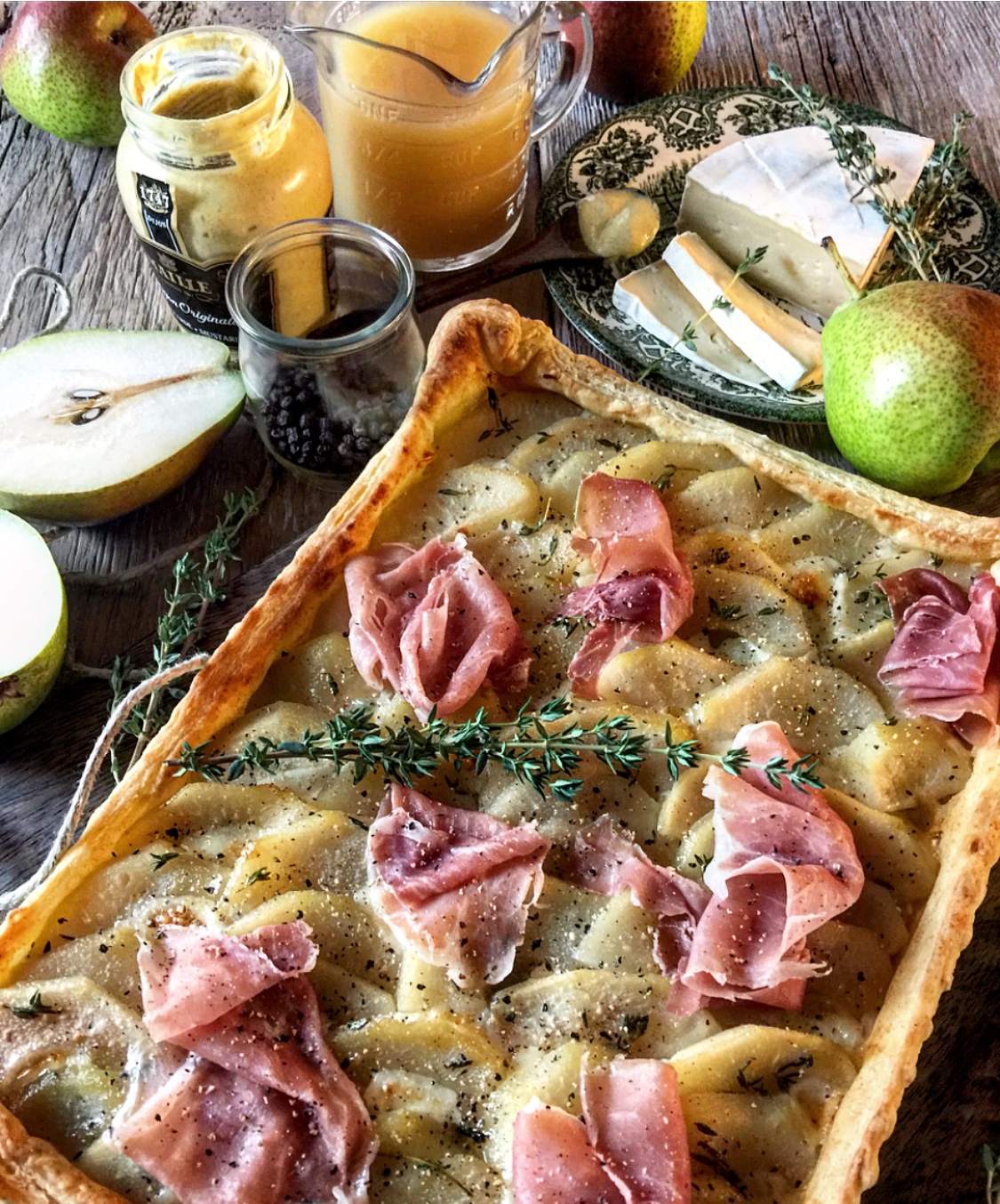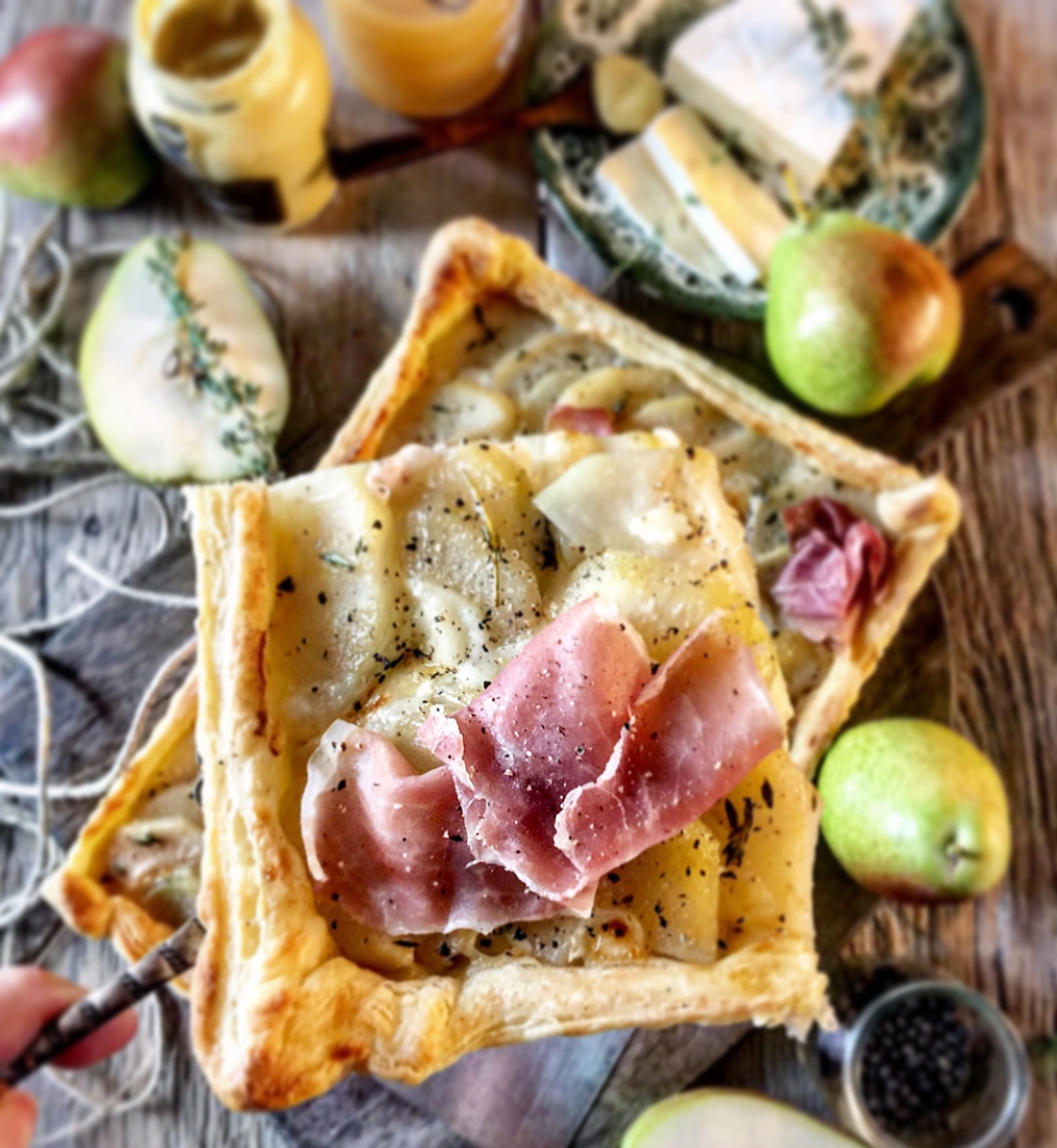 Savoury Pear Brie and Prosciutto Tart
A lovely appetizer or lunch tart combining creamy brie, sweet pears, salty prosciutto and topped with a good cracking of black pepper.
Ingredients
2-3

Bartlett pears

, peeled and sliced 1/4 inch thick (you should have about 3 cups)

1

cup

pear nectar

1

tbsp

fresh chopped thyme

1/2

lb

(250 g) frozen puff pastry, thawed and rolled to fit a 7.5 x10.5 inch tart pan with a removable bottom.

Can also use a 10 inch round tart pan.

2

tbsp

dijon mustard

1/2

lb

(225 g) double cream brie cheese, sliced into 1/4 inch slices

6-8

slices

of fresh prosciutto

1/2

tsp

freshly cracked black pepper
Instructions
Preheat the oven to 375F and place a rack in the lower third of the oven.

Using a medium to large skillet, simmer the pear slices in the pear nectar over medium heat. After about 10 minutes, they should have softened, but still be just crisp- use a fork to test- if it goes in without forcing, they are ready.

Remove the pear slices to a bowl. Reduce the nectar until it is thickened- to about 2 tbsp. Pour this over the pear slices. Add the thyme and toss gently.

Place the pastry into the tart pan, arranging the corners loosely to form the sides.

(Alternatively you can place the pastry on a parchment lined baking sheet, rolled to 10 inch square. Use a sharp knife to score a 1/2 inch border around the entire tart. If doing this, brush the edge with a quick egg wash of egg beaten with a touch of water.)

Spread the mustard over the bottom of the tart (the centre portion of the free form tart)

Top the mustard with the sliced brie.

Top the cheese with the sliced pears, layering them decoratively.

(if using a free form tart, don't push the pears up against the border- leave about 1/2 inch)

Bake in the lower third of the oven for about 25-30 minutes, until the pastry is crisp and golden brown and the cheese is bubbling.

If you find the pastry hasn't browned enough, place the rack in the middle and turn on the broiler. Watch it- it won't take long!

To serve, fold the prosciutto slices decoratively over the pears. Crack fresh black pepper over everything. This is best served warm, not hot out of the oven.
Recipe Notes
To make this vegetarian, toss 2-3 cups of arugula with 1 tbsp of good olive oil and 1/2 tsp of lemon juice. Pile it on top of the tart out of the oven, and then crack the pepper over it all.
SaveSave
SaveSave
SaveSave
SaveSave
SaveSave