It finally snowed here in Toronto the other night. We took a walk in it down to the waterfront by where we live.
I will admit, it was so pretty. But so windy!! So I was a tad of a baby, and we didn't stay out as long as Jim wanted. But we did get a good snowball fight in, much to the amusement of the dog walkers who passed by.
What a lovely feeling it was- that cold snow sticking to eyelashes and hair, the sting in the cheeks from the bitter wind. I am hoping for many more snowfalls before the season is over. Sorry to all you winter haters. But we can't send winter back, so we might as well embrace it!
Along with finally pulling out the winter gear (still can't find my favourite gloves) I'm finally pulling out my favourite winter baking recipes. Not that I wouldn't bake these recipes year round. But it is true, there is something so luxurious about braving the cold to be rewarded with cozy scones, tarts, cookies, muffins etc. The cold nose and rosy cheeks have earned some sweets, and perhaps a finger or two of single malt! And I look at it this way: you expend more calories trying to keep warm (maintaining body temperature is work!!) so really, we're only just breaking even if we indulge in that hot chocolate or pastry.
But really, why don't we bake cinnamon rolls, gingerbread, panettone more often? I know, I sound like a broken record.
Growing up, it was always a treat to visit the German deli with my mom. And during this season, the goodies were extra special- the chocolate covered heart shaped gingerbread cookies, the candied walnuts in cellophane, and Stollen. This is one of those amazing specialty sweet breads (like Italian Panettone) that is only around for a little while. Unlike British Fruitcake, it is a yeast bread, buts it is also filled with candied fruit, nuts, and marzipan. I go gaga for marzipan. I can just eat it all by itself. I still treat myself to a bit when we visit our local Euro deli, The Cheese Boutique.
Stollen was one of my mom's favourite treats. My sister can bake an amazing one. Light, easy to slice, and perfect with a cup of espresso. I'm not a huge yeast baker. Maybe it's that I don't have the patience to wait. Maybe it's because I'm still overcoming my issue with old yeast and ruined recipes. It's all in my head. And I will conquer it. I'm actually getting more brave these days! In the meantime, I'm always happy to find versions of my favourite recipes that work without yeast (see my Eggnog Cinnamon Rolls with Walnuts and Coffee)
How to Make these scones: These scones are easy to whip up. The longest step is soaking the dried sultanas, golden raisins, currants (or variation thereof) and candied orange peel in the rum! I actually put everything in as small bowl and warm it up in the toaster oven at 325 until the rum is just simmering. Let them sit and cool down while preparing the rest of the recipe. But of course you can also combine all of these ingredients in a small bowl and seal it overnight, keeping it on the counter.
I found the recipe at the She Who Eats website. I really didn't adjust her recipe too much. She does suggest that if you can't find marzipan that ground almonds are a worthy substitute. I disagree. Ground almonds may be almonds, but marzipan is much more than the ground almonds mixed with sugar and egg. There is a creaminess that happens when marzipan bakes, that permeates stollen or these scones. You won't be able to achieve this with ground almonds alone. It is definitely worth the leg work to find actual baking marzipan. These days you can find it at any good European grocery store or bakery supply shop.
Or if you can't find it in the shops, make up a batch and store it in the freezer (Marzipan recipe included below). Trust me. Along with the toaster oven (or microwave oven) tip above, instead of cubing the butter and marzipan and chilling them until ready to use, I keep the butter in the freezer and pull it out a few minutes before I need it (I just leave the marzipan in the fridge) I grate in both the butter and the marzipan using the large holes on my box grater. This makes for an easy blending of ingredients with your fingers, with minimal force on the butter.
This scone actually tastes better if you let it cool to room temperature. It is also a perfect breakfast scone. Or you could totally serve them with coffee for a midday break. They would also go perfectly with a London Fog Latte! Hmmm, must make one soon!
Here's to snowy days, and cozy homes!
Love Jen.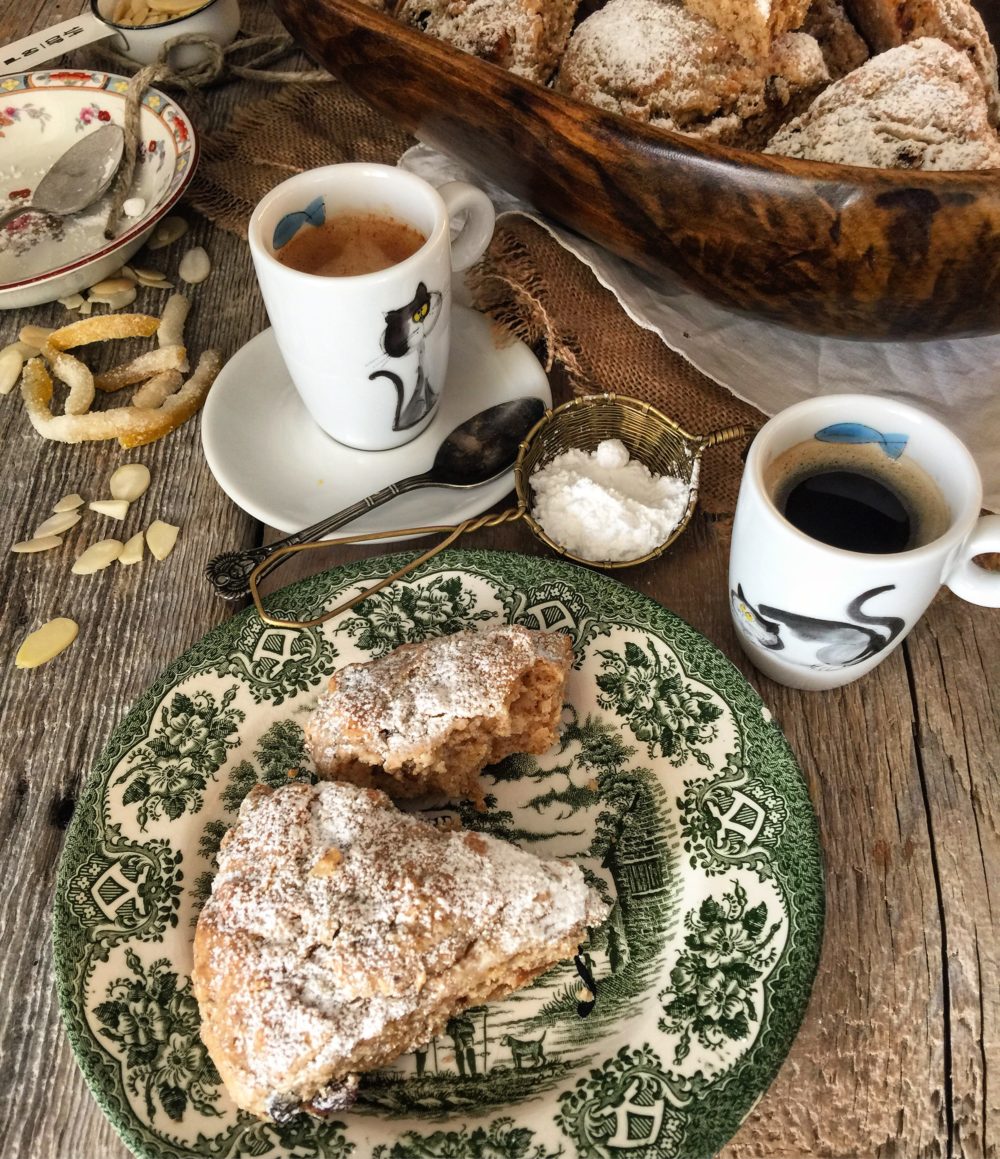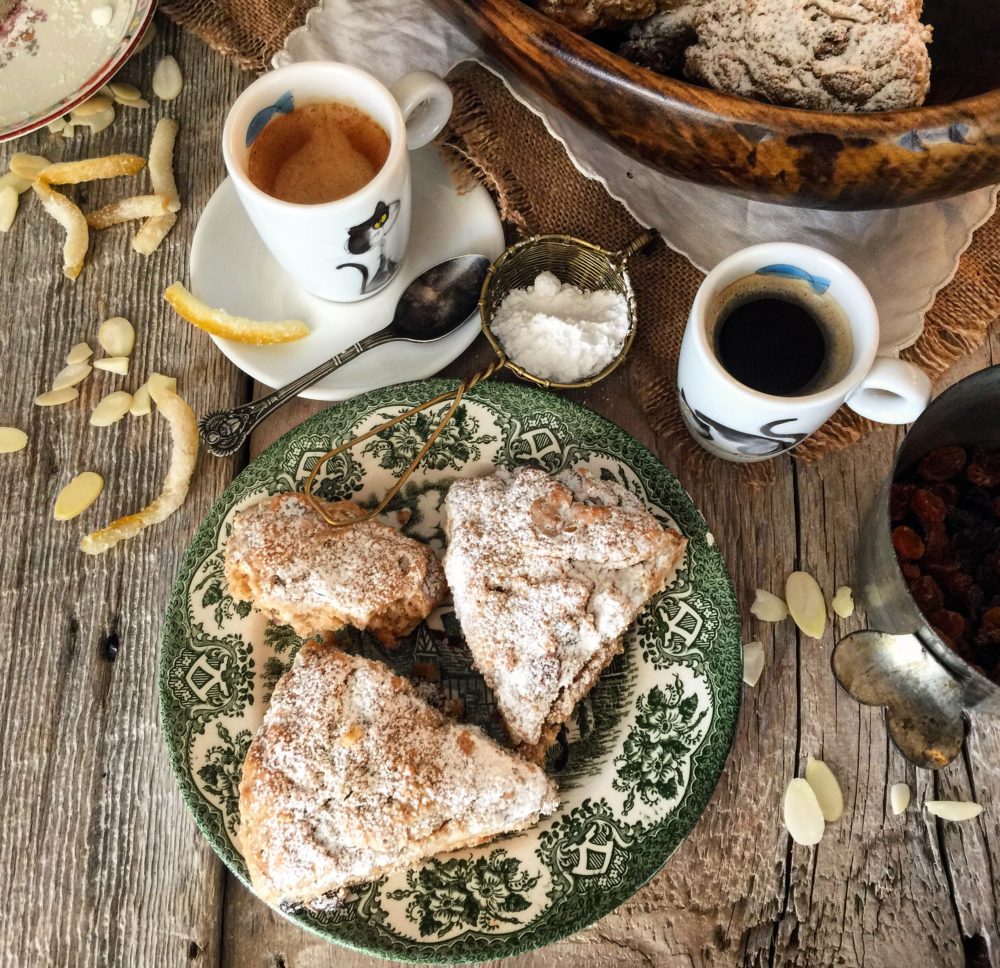 Snowy Stollen Scones
All the flavours of the classic German Stollen sweet yeast bread filled with rum soaked dried fruit and candied peel, captured in a cheery and easy scone.
Ingredients
1/2

cup

(60 g; 2 oz) combination of sultanas, raisins, golden raisins etc

3

tbsp

(30 g, 1 oz) candied orange peel

chopped

1

tbsp

rum

1/3

cup

(30 g; 1 oz) walnuts

toasted and chopped small

1/3

cup

(30 g; 1 oz) sliced almonds

lightly toasted

1 2/3

cup

(210 g; 8 oz) AP flour

2

tsp

baking powder

1/4

tsp

salt

1 1/4

tsp

cinnamon

1/2

tsp

ground nutmeg

1/2

tsp

ground cardamom

3

tbsp

(25 g; 1 oz) soft brown sugar

4

tbsp

(1/2 stick; 56 g;2 oz) unsalted butter

chilled and diced, or left whole for grating

3.25

oz

(90 g) German marzipan (approx 7 tbsp)

crumbled (or left whole for grating)

1/2

cup

(120 ml) milk

chilled

1

large

egg

beaten

1/2

tsp

vanilla extract

zest of half a lemon

2

tbsp

(28 g; 1 oz) unsalted butter

melted

confectioners sugar

for dusting
Instructions
To prepare the dried fruit, combine the raisins and chopped candied orange peel with the rum in a small bowl, and toss well. Cover and leave at least for a few hours or preferably overnight. Alternatively, place the bowl in a microwave or toaster oven and warm through till the rum is starting to bubble. Remove and let sit, sealed, till it has cooled down.

Preheat the oven to 400F (200 C) and line a baking sheet with parchment paper.

In a large bowl combine the all-purpose flour, baking powder, salt, cinnamon, nutmeg, cardamom, and brown sugar, and mix well.

Grate the frozen/cold butter and marzipan into the flour mixture and toss with your fingers until it resembles coarse breadcrumbs.

OR rub the diced butter and cubed marzipan in until it resembles coarse breadcrumbs

Combine about 7 tbsp (100 ml) of the milk with the beaten egg, vanilla extract, and zest of lemon.

Make a well in the center of the dry ingredient mixture and pour in the liquid ingredients.

Using a rubber spatula, stir the mixture a few times.

Add the soaked fruits and toasted nuts, and mix until just combined. The dough will be soft and a little sticky - if it is too dry, add the remaining 1 tbsp (20 ml) of the milk; if it is too sticky, add a little more flour. Do not overmix.

Divide the dough in half and shape them into balls. Pat each to form a round disk of about 2.5cm / 1 inch thickness.

Cut each disk into six wedges and place onto the prepared baking sheet. You may need to use a small off-set spatula or bench scraper to move the wedges if the dough is too sticky.

Bake in the preheated oven for 13-18 minutes or until the scones are golden brown.

To finish the scones, melt the butter for topping while the scones are baking.

When they are done, remove the scones from oven, and immediately spoon the melted butter over them, about 1/2 tsp. per scone.

Dust thickly with confectioner's sugar, and leave to cool completely.

Serve the scones at room temperature, with a thin dusting of some more confectioner's sugar.
Recipe Notes
Instead of leaving the dried fruit to soak in the rum overnight, I place the ingredients in a small oven safe bowl and heat in a toaster oven at 325F until the rum is just simmering and the fruit is softening. Let sit to continue soaking and cool until needed. Start everything else, and then they will be ready to add in. If doing this method, add about 30 minutes to the prep time.
If you can't find marzipan anywhere (often in the baking section of specialty stores) then as stated above, ground almonds will work fine. But the texture will be a bit more dry. The marzipan melts in a beautiful way, adding to the moistness of the final scone.
Marzipan Ingredients
1½ cups (216 grams) almond flour
1½ cups (183 grams) confectioners' sugar
1 egg white
2 teaspoons (10 grams) rum
2 teaspoons (10 grams) almond extract
Instructions
In the work bowl of a food processor, combine almond flour and confectioners' sugar; pulse until combined. Add egg white, rum, and almond extract. Process until mixture holds together. If mixture is too dry, add a bit of water, 1 teaspoon at a time. Store Marzipan wrapped tightly in plastic wrap and refrigerated for up to 1 month.
SaveSave
SaveSave
SaveSave
SaveSave
SaveSave
SaveSave
SaveSave