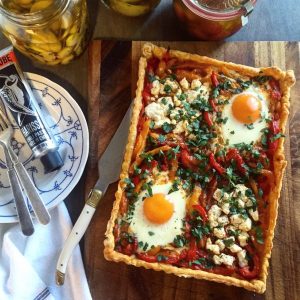 Shakshuka with a twist.
Sometimes the best meals come about by pure happenstance. I know you, like myself, want to make something healthy, tasty, and satisfying for everyone concerned (in my case this means making sure that Jim likes what I make). I often look in the fridge and am confronted with a variety of ingredients, veggies, etc. Deer in the headlights moment. What to do with it all? This time around: please not another pasta primavera variation. Or a veggie fried rice bowl. Hmmm…quite a few peppers, some tomatoes, cheese, eggs, now I just needed a transporter for them all And then I thought, why not a galette or tart? There's always puff pastry in the freezer (see my Strawberry Rhubarb Jalousie post regarding puff pastry)
And somehow dinner was born. I played with the Piperade recipe (which is really just the Basque version of Shakshuka) from 'The Broad Fork' cookbook (see the CookBook Club page) and also adjusted it to fit my tart pan. I gave it a kick with a fabulous harissa paste from Entube. This award winning paste is all natural and a joy to use. They are dedicated to creating superior spice blends in a paste that can be used in a myriad of ways. You'll see me using them often.
I knew I wanted to have eggs on it (a la Shakshuka) but this would pose a problem for Jim. Not his favourite way to have eggs- something about the egg kinda wobbly in the middle of the plate, not firmly cooked the way he likes, makes him queasy. So I decided that I'd crumble up some feta for his portions. Goat cheese would also work very well in this recipe. The puff pastry puffed just the way it was supposed to. The piperade was spicy in the best way possible. My eggs were a wobbly goodness. Jim's cheese was melted just enough to become creamy. This is another one of those "total being greater than the some of the parts" recipes.
It would make a great appetizer, or brunch item. You can leave out the egg or the cheese. It serves well at room temperature. And it's darn pretty!
Perfect for a Meatless Monday meal, or any time you want to have eggs for dinner. It's fun to forage in the fridge 🙂
Sorta Shakshuka Tart
An elegant tart covered in a spicy pepper stew, and topped with eggs and/or cheese. Perfect for dinner or brunch, as a main or a side dish.
Ingredients
puff pastry

2

tbsp

olive oil

2

garlic cloves

minced

3

shallots

minced

2-3

cups

red (and or orange) peppers

julienned (the amount needed will be affected by the size of tart you are making)

2-3

roma tomatoes

seeded and chopped

1

tbsp

Entube Harissa paste

or to taste

1

tsp

ground cumin

1

bay leaf

bruised

1

tbsp

sherry vinegar

kosher salt and cracked pepper

1

egg, slightly beaten

eggs

as many as you want to bake up

feta cheese (or goat cheese)

based on how many you are feeding (estimate 3 tbsp per person)

3

sprigs of fresh thyme

1

tbsp

chopped parsley
Instructions
Roll out the puff pastry to 1/6 of an inch (4mm) to fit the tart pan (with removable bottom) you are using (I used an 8"x11" (20cm x 28cm) rectangular one, but a longer narrower one, or even a round one will work well. It will depend on how many you are serving) Once fitted into the pan, prick with a fork all over the bottom and refrigerate.

Preheat oven to 400F

In a medium sauce pan combine the olive oil and garlic. Cook over med-low heat for about 5 minutes to cook but not brown the garlic.

Add the shallots and red pepper and a few pinches of kosher salt. Cook for about 8 minutes till the pepper is just getting tender.

Add the chopped tomato, harissa and bay leaf. Cook for another 8-10 minutes or until tomatoes are just tender as well. Add the sherry vinegar and more salt and pepper to taste.

Remove the puff pastry from the fridge.

Brush all over with some beaten egg.

Removing the bay leaf, arrange the pepper mixture all over the bottom, creating shallow wells where you will later want to add the eggs or cheese.

Bake the tart for 20 minutes.

Remove from the oven and carefully crack an egg into each well (alternatively, crumble the cheese into the wells)

Return to the oven and bake for another 6-7 minutes, or until the eggs are set.

Sprinkle with cracked pepper, thyme and parsley
Recipe Notes
I have stated that this serves 6. This is just a guideline. You can serve more as an appetizer dish, if you create more 'wells' for a smaller serving of cheese. It really depends on the size of tart pan you are using.
This recipe uses Entube harissa paste. If you are unable to find this, you can substitute harissa powder.
The ingredient list is also a guideline. If you are making a larger tart or smaller tart, you may want to adjust the pepper and tomatoes. And also adjust the seasonings. This is really more about the method, than the exact amounts. You'll figure it out!!! I have total confidence in you.
The piperade portion (pepper stew) is adapted from The Broad Fork: Recipes for the Wide World of Vegetables and Fruits