Comfort food can take on so many appearances. We know pasta fits the bill.
For many (including Jim) it involves mashed potatoes. And for me it usually involves some sort of pastry. Cornish Pasties, Steak and Kidney Pie, and Chicken and Biscuits, or Chicken and Dumplings, or Chicken Pot Pie.
Pot Pies may seem like a more Wintery meal, giving you that stick to your ribs quality to keep warm with. But I challenge that Springtime is still a fabulous time for a good old pot pie.
About two weeks back, the Friday evening landed upon me way too quickly. Usually I try on Thursday or Friday to figure out what I want to cook for the next week, so that when we hit the markets on Saturdays, I can pick items accordingly. I did pretty good coming up with some ideas. But when we were wandering the stalls and kiosks of our favourite St Lawrence Market that Saturday, and the Spring produce was smiling at us from every nook and cranny, I had a hard time sticking to my list. That was the day I picked up the fiddleheads for my Fleeting Fiddlehead Galette. And the fresh asparagus, the spring onions, the leeks, artichokes, radishes, and spring peas were also just coming in. Such a beautiful bounty. Oh, and the floral stands were a cornucopia of tulips, hyacinth, and daffodils. Those vibrant Spring colours were a sight for sore eyes.
So, I grabbed a luscious bunch of leeks, and perfect spring onions, knowing that I'd figure out what to do with them in the next couple of days. And then the weather turned again! Back to the blustery days of March. I'm really getting tired of this back and forth!! It was the weather that inspired this pot pie. I wanted to bake something. I wanted to bake a pie. But I also knew I needed to come up with a dinner for us. So I planned a way to use the leeks and spring onions (and some peas that I had also picked up in the meantime) A chicken pot pie! It would be a few more days before I could actually bake it. And in those days the weather began to smile promisingly at us again. So I thought that this might be the last pot pie of the season, but at least it was fitting of the season we are in.
The filling is a combination of poached chicken breast, a wonderful sauce made from stock and whole milk and seasonings, and loads of fresh veggies quickly sautéed. Put the entire combination in the baking dish of your choice, and create a lid. I use a half serving of my No-Fail Pie Dough recipe and create a lid that floats on the filling. You could also make up my Herbed Kefir Biscuit recipe or the cobbler topping from my Tiny Tomato Cobbler recipe to cover your pot pie with. Or even go with puff pastry. Since the filling is already cooked, and should be pretty warm, if you have these other toppings already made up, it will be in the oven really only as long as it takes for the topping to bake off.
I hope you like Pot Pie. With these veggies, there is a slight sweetness that comes through. So I add a bit of heat and spice to balance it out. Yay Spring vegetables! And the bounty will only get better 🙂
Love Jen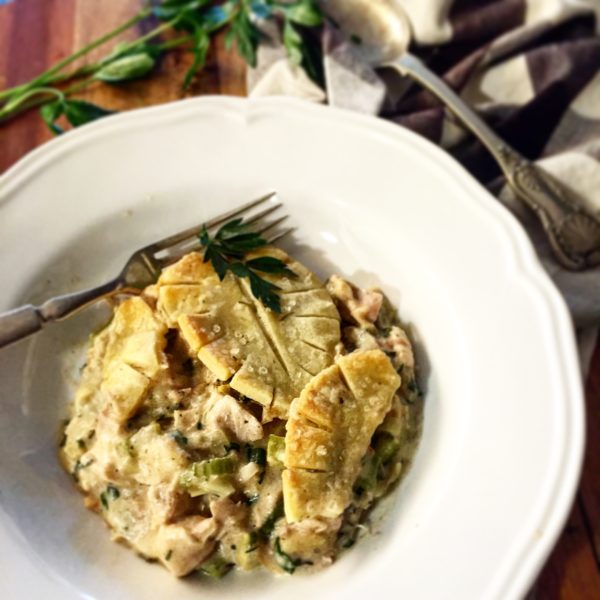 SPRING CHICKEN AND LEEK POT PIE
A fresh pot pie with chicken poached separately and the veggies lightly sautéed to keep texture and colour.
Ingredients
FOR THE CHICKEN AND GRAVY
1 1/2

lb

boneless

, skinless chicken breast

2

cups

stock

(you can use chicken stock or vegetable stock)

4

tbsp

butter

1/2

cup

AP flour

(I use einkorn, which calls for a tbsp or so more)

1 1/2

whole milk or half and half

2

tbsp

sherry or white wine

1/4

tsp

lemon juice

kosher salt and cracked pepper to taste

1

tbsp

fresh chopped thyme

1/8

tsp

grated nutmeg

1/4

tsp

hot chili flakes
FOR THE VEGETABLES
2

tbsp

butter

1

medium onion

, chopped

4

medium leeks

, cleaned, chopped into half moons

3

celery ribs

, chopped

2

spring onions

, chopped

3/4

cup

fresh

(or frozen) peas

3

tbsp

fresh chopped parsley
FOR THE TOPPING, PREPARED ONE OF THE FOLLOWING
1/2

of my pie dough recipe

Herbed Kefir Biscuit recipe

Tiny Tomato Cobbler topping recipe

Puff Pastry rolled no less than 1/4" to fit over the baking dish

HAVE READY

One of your topping choices

Buttered or greased 13x9" baking pan or other baking dish that will accommodate the ingredients
Instructions
FOR THE CHICKEN
Place the chicken in a dutch oven and cover with 2 cups of stock. Make sure the chicken is covered.

Bring to simmer over high heat and then reduce so that the poaching liquid barely bubbles. Partially cover and cook for 15 minutes.

Remove the chicken from the stock and let cool. Cut into bite sized pieces. Skim any fat from the stock.

Melt the butter over medium low heat in a large sauce pan.

Add the flour and whisk constantly for 1 minute. Remove the pan from the heat and 2 cups of the stock and whisk until smooth.

Add the milk or half and half and return to the heat, bringing it up to medium. Bring the liquids to a simmer, whisking constantly.

Add the wine or sherry and cook for one more minute.

Add the lemon juice, salt and pepper to taste, thyme, nutmeg and the chili flakes.

Stir in the chicken pieces. Set aside.
FOR THE VEGETABLES
Heat butter in a large skillet over medium high heat.

Add the onions, leeks, and celery and sauté till just tender, about 5 minutes.

Add these to the creamed chicken along with the peas and parsley.

Pour the entire combination into the prepared baking dish.

If using a pastry round, cover and tuck around the edges and cut some vents.

If using the Herbed Biscuit recipe, roll out to no more 3/4" and cover the chicken, overlapping lightly if necessary.

If using the Tiny Tomato Cobbler recipe, simply drop the cobbler topping on top leaving spaces between the drops.

Bake until the chicken is bubbly and the topping is nice browned, about 25 minutes (this will also depend on the type of topping you are using).
Recipe Notes
For the pie dough topping, or the biscuit topping, you can brush with egg wash (1 egg whisked with 1 tbsp water) and sprinkle with a finishing salt.
You can spice this up as you see fit.
It can probably feed 8 comfortably, but better to plan for 6 and have leftovers!
You can easily cut this recipe in half if there are only 4 of you at home.
Adapted from The Joy of Cooking
SaveSave