Pork Chops is one of those meals, that can be mouthwateringly good, or leave you with a stiff jaw from too much chewing.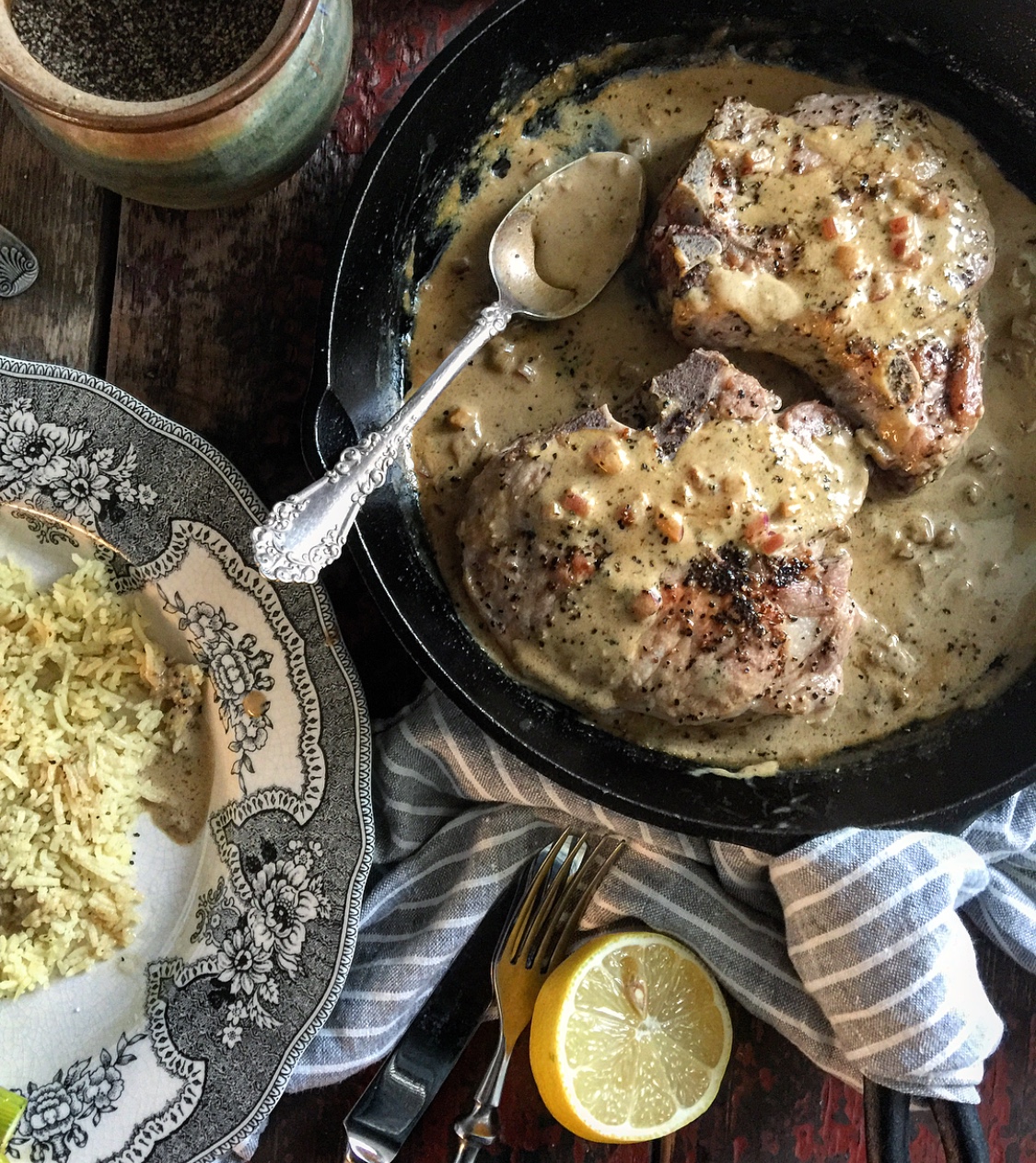 There is nothing more frustrating (at dinner time) than being presented a cut of meat that is dry and tough. For a lot of us, that is exactly what we grew up with. Our mothers actually forced us to eat 'liver and onions'. Egad!! And that liver, at least for me, was not to be longed for. I'm sure it was this piece of meat/offal that inspired the phrase 'shoe leather' when talking about over cooked, dried out meat. If we would have been allowed to skip dinner, or request an alternate (yeah, like that ever happened when we were kids!!!) this would have been the time.
And if it wasn't liver and onions, it was an aunt's dry roast beef. Everything looked so good on the table, or on your plate. But then you tried cutting into the piece of grey meat. And got a workout for your forearm in the process. In the end you had drowned the meat in so much gravy just to give your jaw a fair shot, that you couldn't see what else was on the plate.
But I digress. These pork chops here are so amazingly tender, and juicy. And the sauce that comes together so quickly while the chops are resting from the oven is so flavourful, if just a tad rich, in the best way. You don't need a lot. Certainly not so much so as to drown your chop.
I found this recipe quite by accident. I was googling a 'mustard sauce' recipe to go with some rabbit meat that I was gifted by a neighbour. I actually like rabbit. Although these days, farmed rabbit (which is what most butchers or restaurants offer) tastes more like chicken than does its wild counterpart. If you like rabbit, or remember having it eons ago and enjoying it, hold out for wild if at all possible.
I digress, again. This recipe came up in my search. I loved the sound of the sauce. It is gorgeous, if a sauce can be gorgeous. I used it with the rabbit. Loved it. I used the sauce over sautéed chicken livers. Loved it. So then I figured, using the actual pork chops from the recipe should be a no-brainer. Loved it!! So now I have my go-to sauce, and pork chops that are juicy and tender, a perfect mid-week meal. For that matter, this sauce elevates the humble pork chop, to company-worthy status.
I often serve this with a side of mashed potatoes (to make Jim happy) But sometimes rice, sauerkraut, or caraway cabbage and parsley egg noodles is sharing the plate. There's something about pork and cabbage that goes so well together. Must be the German in me. At the bottom is an early shot of these pork chops with a side of cabbage alla carbonara. Yes, cabbage instead of pasta, gets the carbonara treatment. It's marvellous and a worthy companion to these chops. Try it here!
But serve it with anything that would soak up any of the extra sauce- it's that good! In fact, even if you are cutting this recipe in half to serve just two, still make all of the sauce! I could eat it with a spoon. If I'm serving it with rice, and there are leftovers, I just mix the sauce into the rice and have it for lunch the next day 🙂
Love Jen.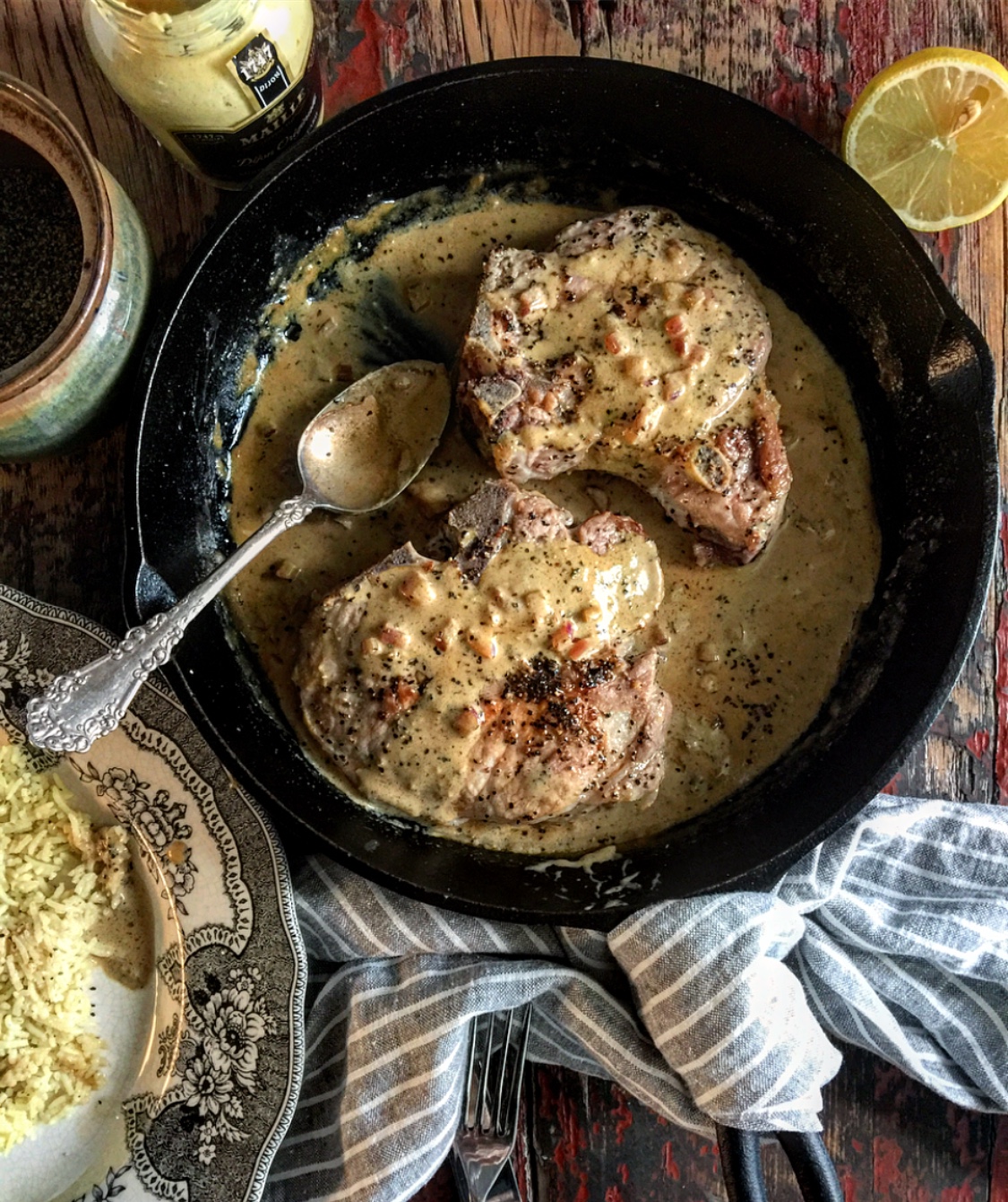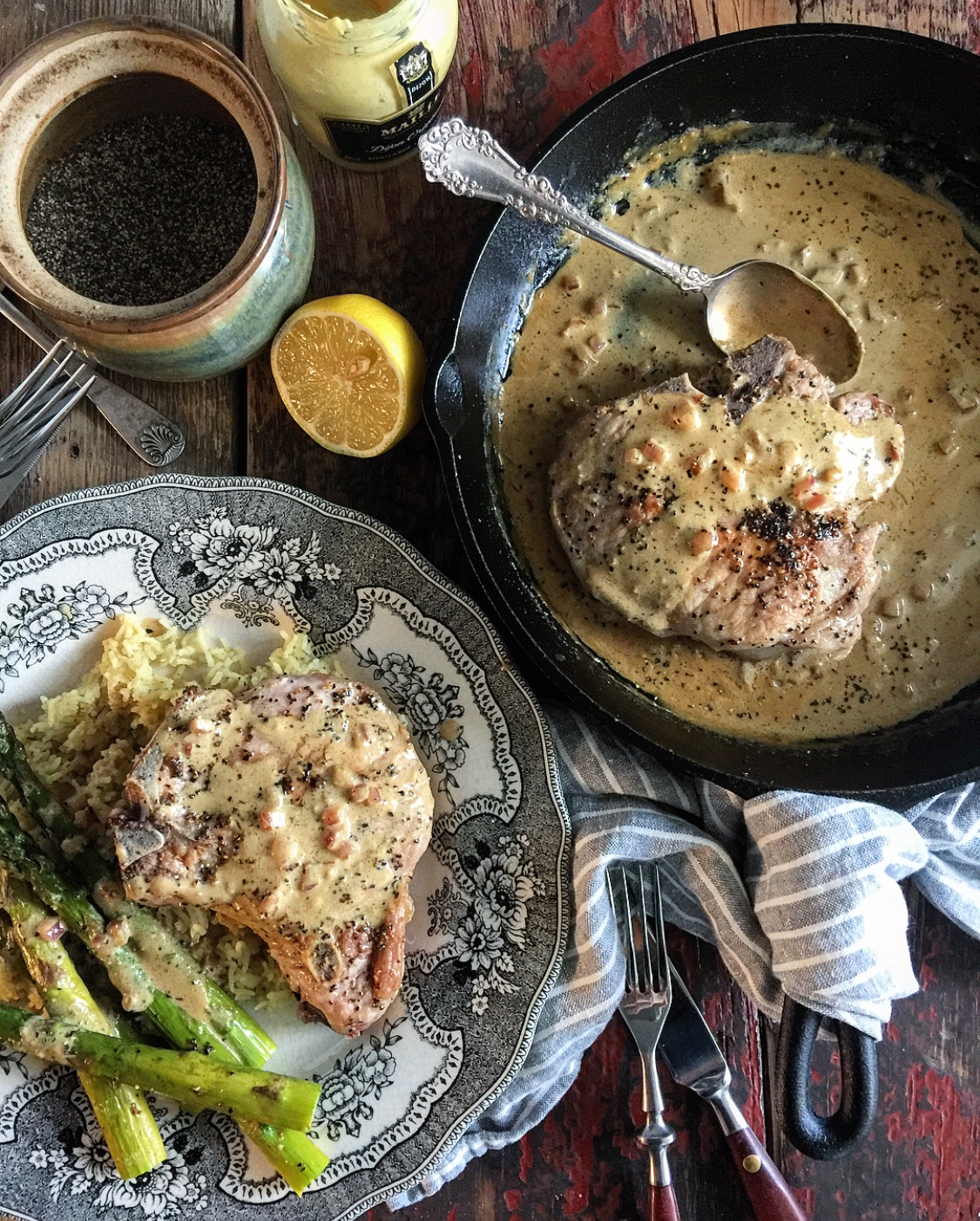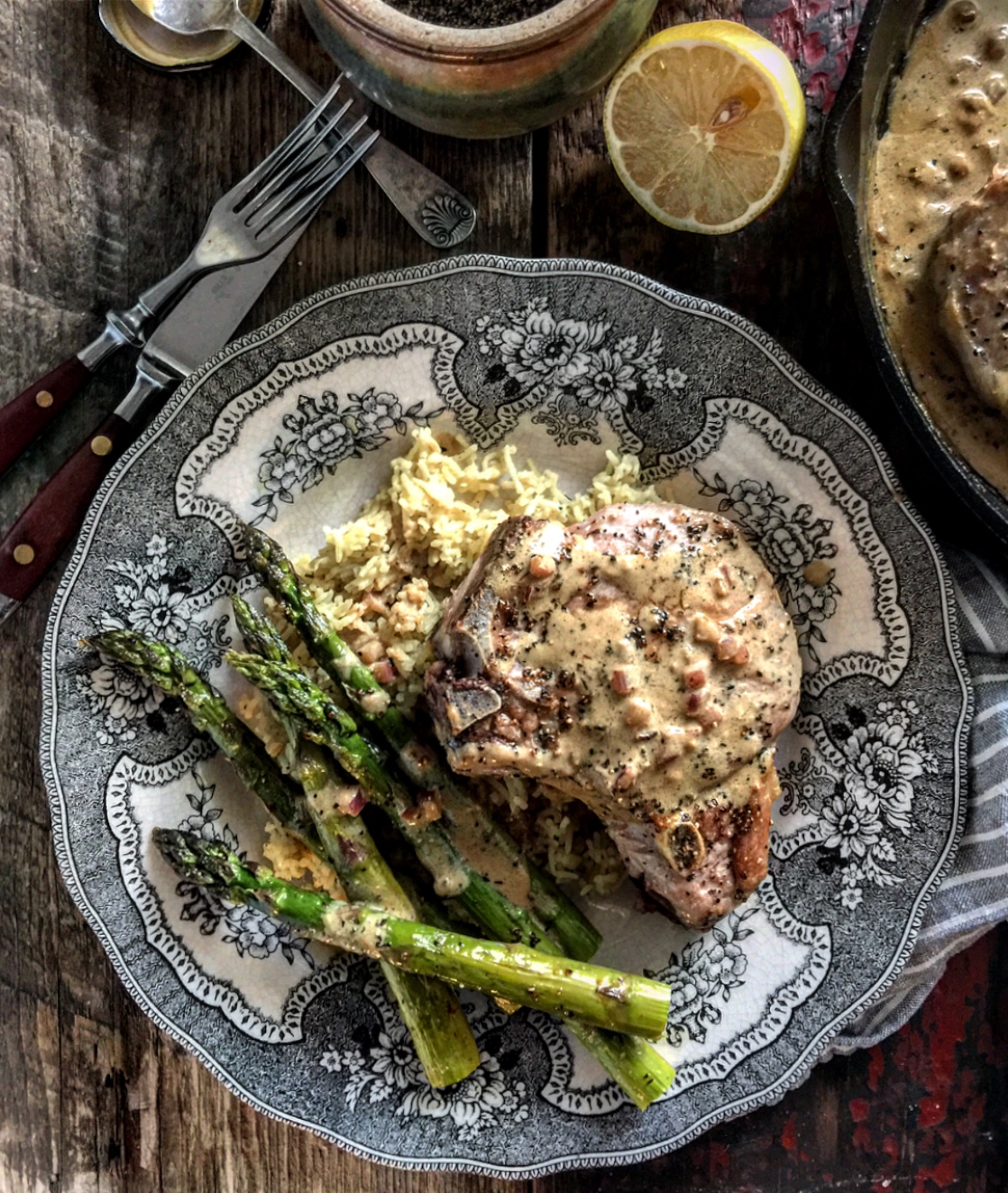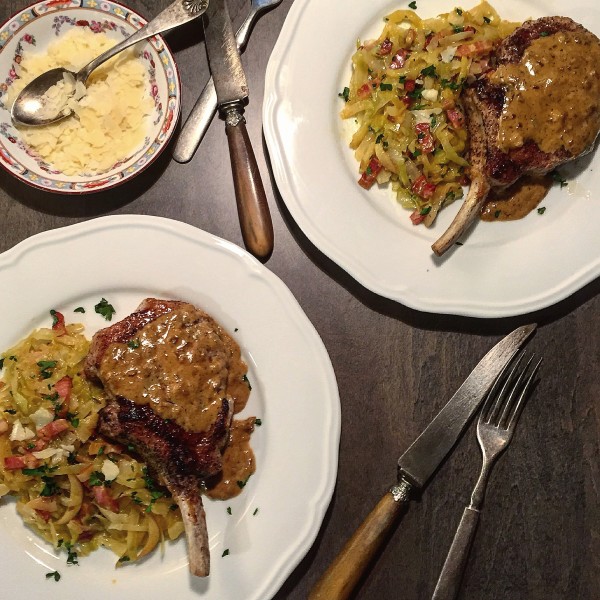 SUCCULENT PORK CHOPS WITH MUSTARD SAUCE
A juicy, tender pork chop dinner with the most divine, rich mustard sauce to finish it off. Company worthy!
Ingredients
4

(at least 3/4-inch-thick) pork chops (thinner will affect the juiciness and tenderness of the final chop)

3/4

teaspoon

salt

1/2

teaspoon

black pepper

2

tablespoons

vegetable oil

1/4

cup

finely chopped shallots

(1 to 2)

2

tablespoons

unsalted butter

1/2

cup

reduced-sodium chicken broth

1/4

cup

country-style Dijon mustard

2

tablespoons

heavy cream

2

teaspoons

fresh lemon juice
Instructions
Put oven rack in middle position and preheat oven to 325°F.

Heat a dry 12-inch heavy skillet over moderately high heat until hot. Pat pork dry and sprinkle with salt and pepper. Add oil to hot skillet, swirling to coat, then brown chops, turning over once, about 8 minutes total.

Transfer to a shallow baking pan, reserving skillet, and bake, uncovered, until cooked through, about 5-6 minutes, depending on the thickness of your chops. Don't overcook. If 3/4" check at 5 minutes. Let stand, loosely covered with foil, 5 minutes. If using an instant read thermometer, don't let the meat go past 140F.

Meanwhile, pour off fat from skillet, then cook shallots in butter over moderate heat, stirring, until softened, 3 to 5 minutes.

Add broth and any juices from baking pan and boil, scraping up any brown bits, 2 minutes.

Add mustard and cream and return to a boil, then add lemon juice and simmer until sauce is just slightly thickened, about 3 minutes. If you want more sauce and don't mind it a touch thin, then stop after 2 minutes.

Serve chops with your fave carb and some veggies. Pour the sauce over the meat. If extra sauce is available, it works beautifully over most veggies as well!
Recipe Notes
As I mentioned, this sauce is wonderfully versatile. I've used it over sautéed chicken livers and broiled rabbit pieces as well. It would also work well with chicken breasts prepared the same way, but check for doneness before removing the chicken. It may take a few minutes longer, give or take a minute.
Adapted from Epicurious Pork Chops with Mustard Saucd
SaveSave
SaveSave
SaveSave
SaveSave