This year here in Toronto, the berries have been absolutely stellar! It's impossible to walk by all the little pints and baskets of vividly hued gems at the market stalls, and not want to bring them all home.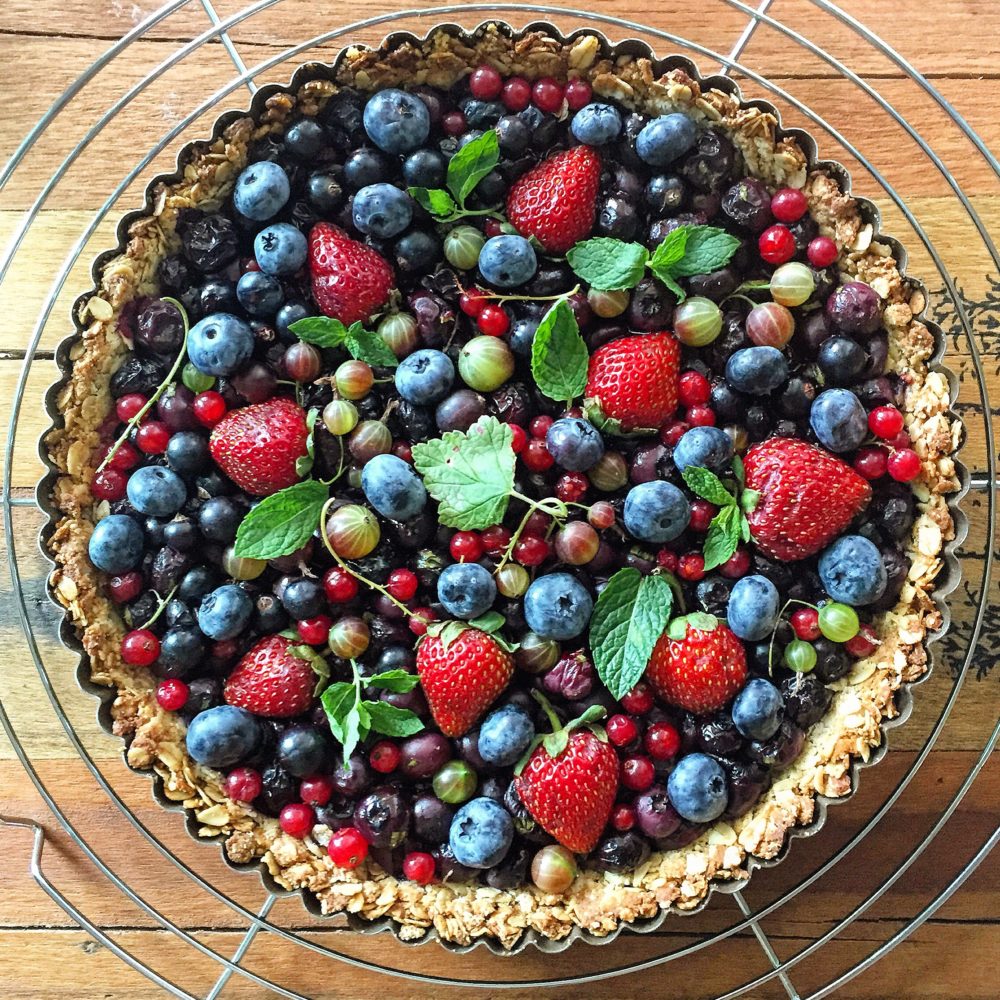 And that's almost what happened to me the other Saturday. I couldn't resist the cherries, strawberries, raspberries, blueberries, blackberries and black raspberries. Yes, black raspberries. Slightly sweeter than their red cousins. I had no idea what I was going to do with them, I only knew that they needed to come home with me. I did leave some behind!
So I had some for breakfast- just a simple fruit salad with skyr, honey and mint. All that juiciness was amazing. The honey intensified their natural sweetness without taking over. And the tangy skyr was the perfect foil.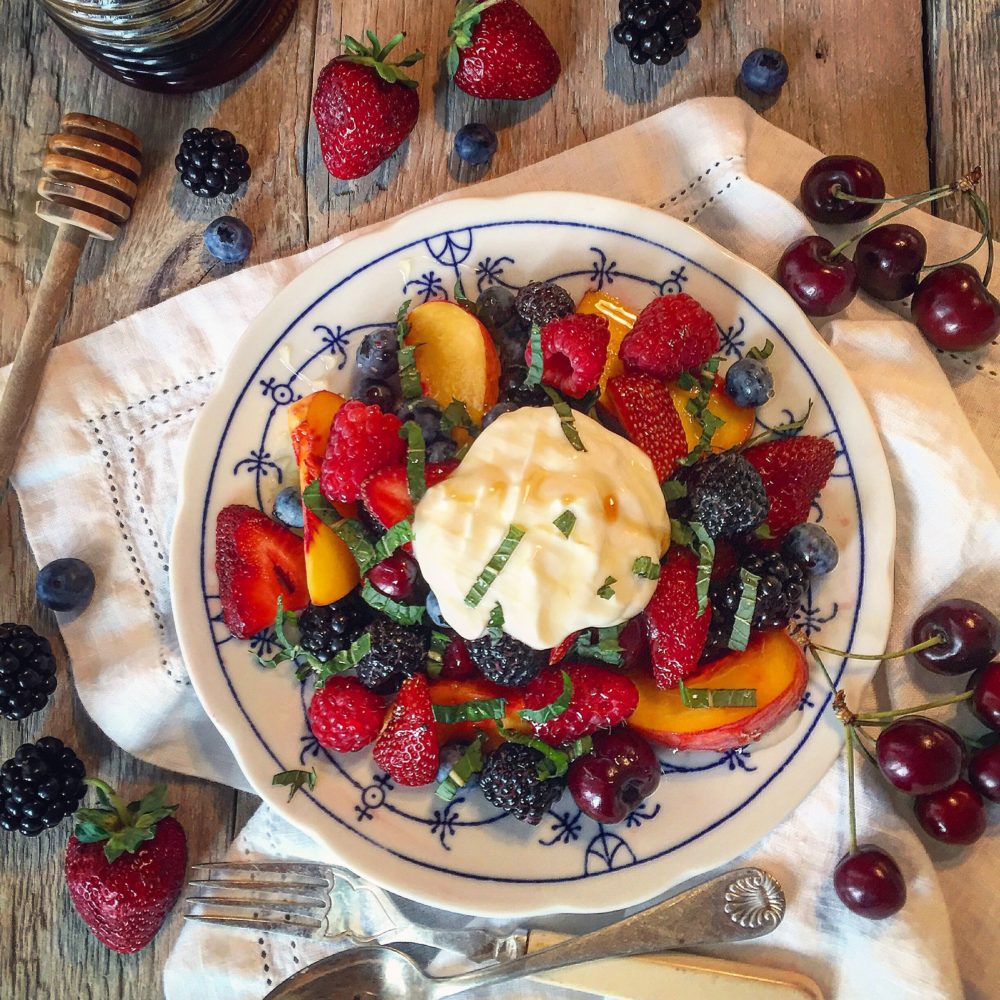 But what will I do with all the rest of those little containers of fruit? Jim was out for the day (the Indy was going on in downtown Toronto, and it's tradition for Jim and his brother-in-law to make a day of it). I was happy to have the afternoon off. So I knew I just had to take advantage of the relaxing day, the sun, the breeze coming through the screen door, no humidity (bout time!!) and the jazz playing in the background.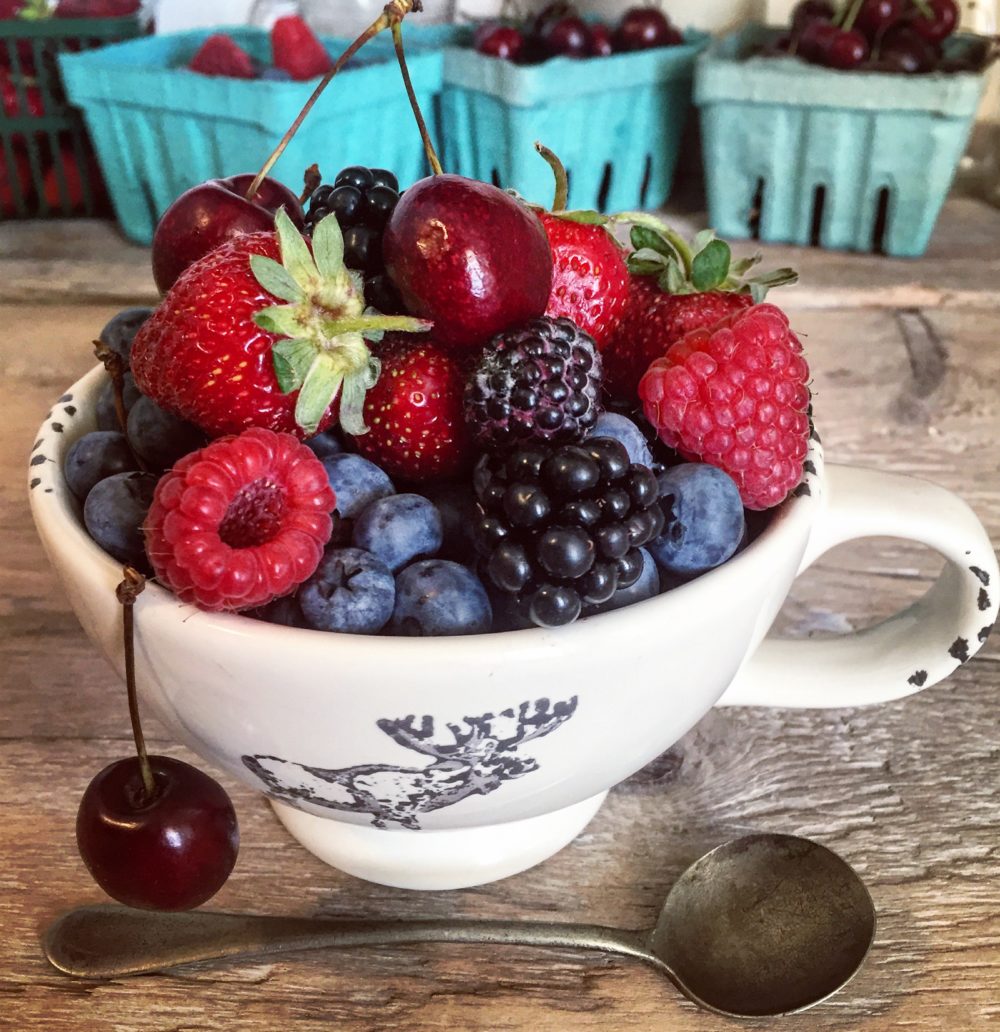 I looked at all those varied berries and knew there was really only one thing to make. My Summer Berry Tart. It is the perfect way to highlight these little jewels, and it is deceptively easy. But the visual makes you think that there must be so much more to this lovely dessert. Trust me, this is a dessert that anyone can make.
It's really a pressed oatmeal crumble crust that is baked off first. Then a blueberry compote it cooked off on the stove top and spread over the cooled tart shell. And then the best of the best berries are gently pressed into the warm blueberry 'jam'. That's it!! See, now you're thinking, Jen's not that an impressive feat after all!!
It's not overly sweet- I like my desserts this way, especially when fruit is the star. I want to taste the fruit, not sugar. 'Cuz then everything really tastes the same, and then what's the point? Serve it with flavoured whipped cream or creme fraiche.
Really, this can be transformed with whatever you happen to have on hand. But there is something rather stupendous in seeing all the various colours come together in one design. Make this while the berries are still fresh and plump. And if you've hit that special time of year when all the berries, as well as the currants and gooseberries are here as well, then you've hit the jackpot! The sweet tartness of currants and gooseberries are just the best. We had both bushes in the backyard growing up, and I could often be found plopped on the ground between them both, indulging in the jewels that had ripened, just begging to be picked and eaten. Make as many things with berries as you can now. And then count the days till berry season returns!
I still have more berries left…
Love Jen.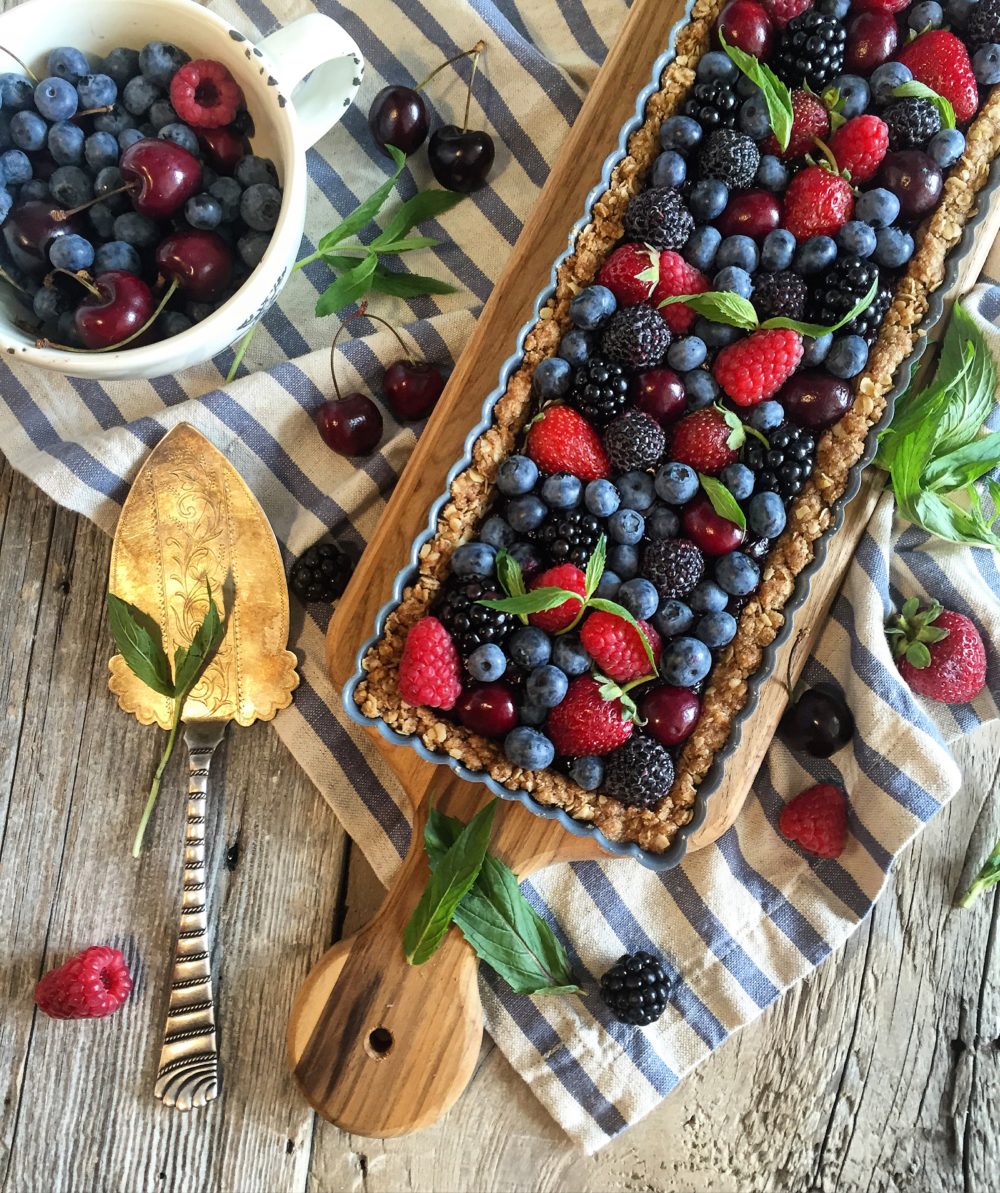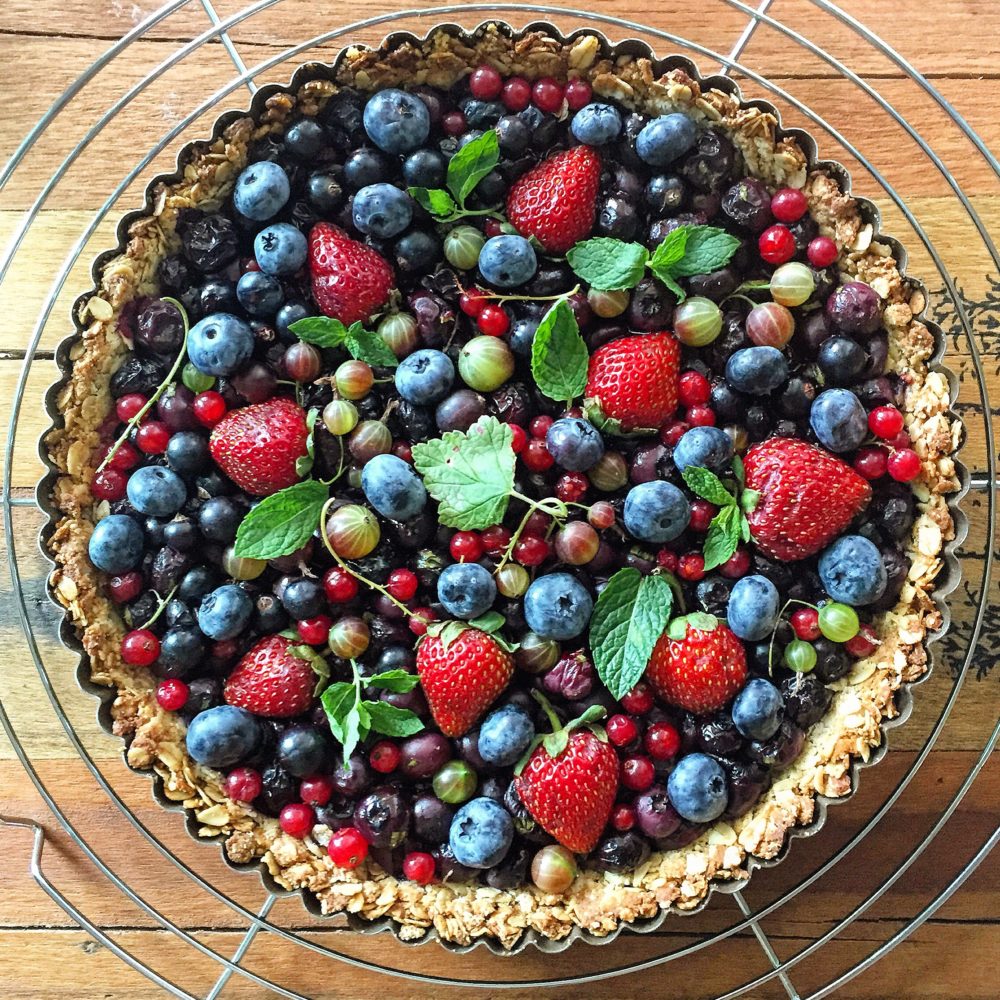 Summer Berry Tart
A simple, fresh Summer tart made with all the amazing berries you can find, in an oat crumble crust and blueberry compote base.
Ingredients
3

tbsp

granulated sugar

1/4

cup

packed brown sugar

1

cup

rolled oats

1/3

cup

AP flour

1/4

cup

cornmeal

3/4

tsp

kosher salt

1/4

tsp

allspice

1/4

tsp

cardamom

1/4

tsp

cinnamon

4

tbsp

butter

room temperature, cut into small cubes

2-3

tbsp

softened coconut oil

1

cup

blueberries

1/2

cup

water

plus 2 tbsp water

2

tbsp

cornstarch

1/2

cup

sugar

1

tsp

fresh lemon juice

pinch of salt

3

cups

fresh berries

assorted as you see fit, blueberries, raspberries, strawberries, currants, gooseberries, blackberries

freshly chopped mint or thyme

2/3

cup

whipping cream

can be replaced with 1 cup of creme fraiche that you have sweetened with the ingredients below for the whipping cream

2

tbsp

icing sugar

can use granulated if you want

1

tsp

vanilla

1

tbsp

whiskey or rum
Instructions
To make the Crust:

Combine the sugars, the oats, flour, cornmeal, salt and spices together in a bowl.

Add the butter and 2 tbsp coconut oil, and mix with your fingers until combined but not overly mixed- it should be somewhat chunky. If it is absolutely not holding together, add another tbsp of coconut oil. It should stick together and up the sides when you transfer it to the tart shell.

Press evenly into an ungreased 9" pie plate or tart shell with a removable bottom (this amount should work with most tart shell sizes, but if necessary make another 1/2 recipe for a larger tart pan). Press it so that it goes up the sides evenly. Freeze until solid, 10-15 minutes.

Preheat the oven to 350F

Place the pie plate or tart pan onto a baking sheet and bake in the centre of the oven for 18-20 minutes. Check at about 12 minutes, and if the sides are starting to slide down a bit, remove from the oven and gently push them back up using a wooden spoon.

Cool before filling.

Filling:

Take the 1 cup of blueberries, 1/2 cup of water and place in a small sauce pan. Cover and bring to a boil.

While this is cooking, take the remaining 2 tbsp of water and the cornstarch and mix in a small cup to form a slurry.

When the blueberries have come to a boil, reduce the heat and simmer, stirring for 3-4 minutes, until the berries are starting to burst open and the liquid is starting the thicken.

Stirring constantly, add the slurry, as well as the sugar. lemon juice and salt.

Simmer for another minute or until the mixture becomes shiny and translucent.

Remove from heat and let sit for 5-10 minutes, till cooled down.

Spoon the filling into the cooled tart shell. Spread it evenly across the bottom.

Then start laying out your berries over this base, gently pressing each berry into the compote.

Start with your larger berries, strategically laying them throughout the surface. Work with each berry, saving the smaller berries to fill in the gaps.

Let cool completely before serving.

Use chopped mint or mint leaves to garnish, scattering them over the berries.


Serve with cream whipped up with the sugar, vanilla and whiskey or rum.

Alternatively you can use creme fraiche sweetened with the sugar, vanilla and rum (there is no need to whip this up!)
Recipe Notes
I give credit to Rose Levy Beranbaum for the blueberry filling. Her genius Fresh Blueberry Pie is one of my favourites to make. I just stopped short of stirring fruit into the cooked blueberry mixture, and used it instead as a layer in which I would 'stick' my fresh berries.
This can be as fancy or as simple as you would like.
You don't need to sweeten the whipped cream if you don't feel like it.
This will keep in the fridge 2 days. But really, will it even get to the fridge?!
I say it feeds six, but that will depend on how large you choose to make it.
Adapted from Rose Levy Beranbaum's Blueberry Pie.
SaveSave
SaveSave
SaveSave