We had a fantastic time in San Francisco. And so did our tastebuds!! So many wonderful eateries and bakeries to try and sample. We did our best to take a good bite out of all that was surrounding us. And my hips can attest to this… 😀 We're in recovery mode now!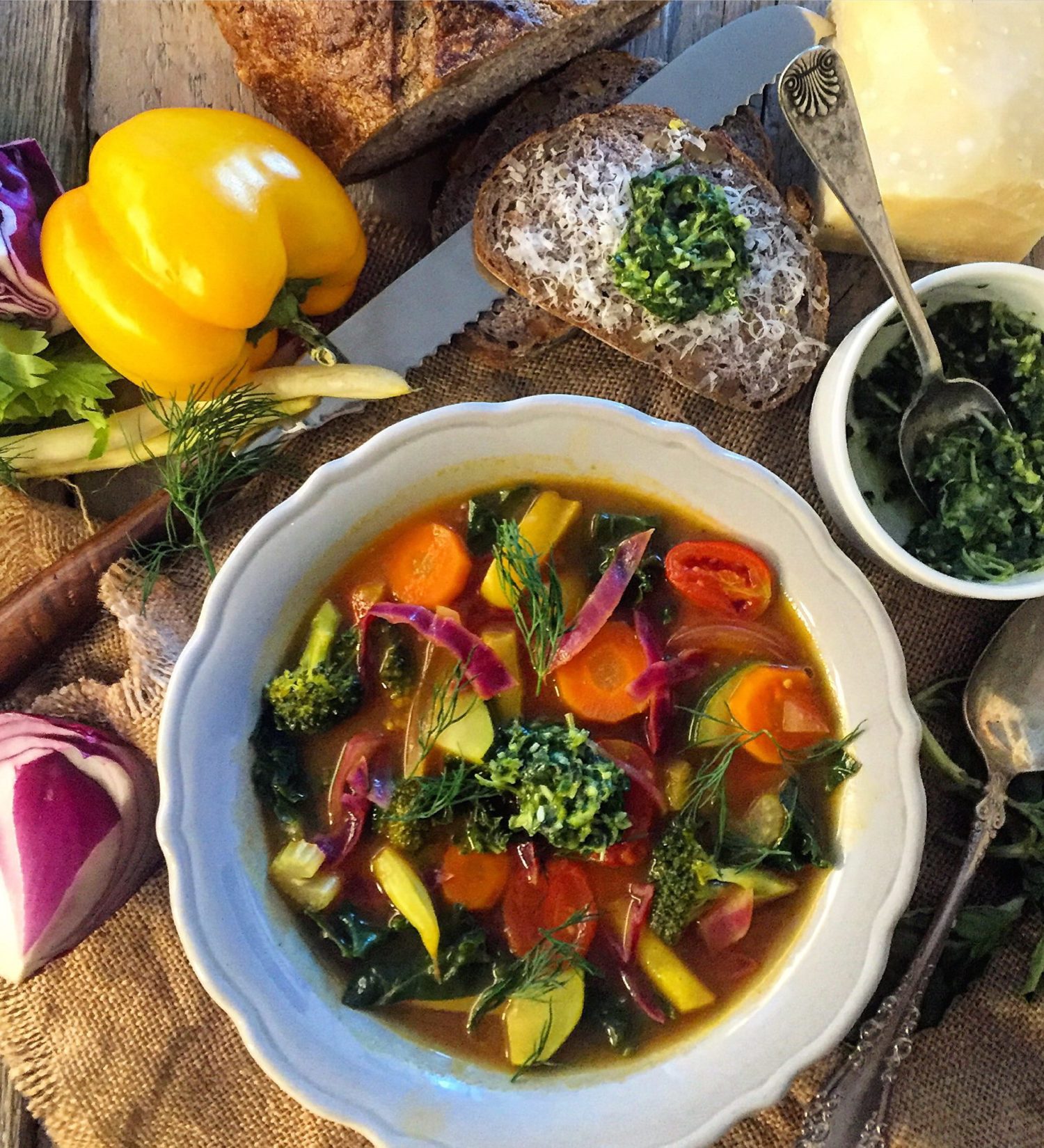 Through the years, with every wonderful trip to a new city or country, we have come home a little more tired than the trip before, and a little less settled in our bellies. Our poor digestive systems are really put through their paces when we travel. We don't want to miss out on anything. So between the sampling, the indulging, and the portions, we seem to find that we are in recovery mode for the first few days back home.
I don't know about you guys, but as I get a bit older, my digestive system seems to get a tad more sensitive. I used to have an iron stomach. I could eat ANYTHING, at any time of day, and still feel on top of the world. Not so much anymore! Eeech no! So, short of going on a detox or juice fast, we resort to as many veggies as we can get, and really cut back on the carbs ('cuz we know that the best things on any trip seem to be carb-based!!)
This soup is just such a remedy for all that ails you. We crave the lightness and freshness of it. And it has loads of flavour. Along with all the fresh veggies I can find, the broth contains turmeric, ginger, and even a touch of apple cider vinegar. All great digestive aids. But while our brains and tummies may be concentrating on the healthy aspects of this soup, our tastebuds are simple happy with the party going on in our mouths. The flavours get a lot of help from the hand chopped pistou that I add as a garnish. The fresh basil, lemon zest, garlic and touch of parmesan is a lighter version of a pesto, and bring all the fresh flavour you need for this soup.
I hope you like this soup. It's isn't rocket science or anything. Just a whack of goodness in a bowl. What's great about this soup, is that you can totally personalize it as you see fit, or based on what you can find at your market. If you really feel the need to make it more substantial, why not add some brown rice pasta or chickpeas? Or even a slice of whole grain sourdough bread? If you are going to eat bread, sourdough is the healthiest type you can munch on. The fermenting process of the sourdough starter adds loads of probiotics to the bread, which aid in digestion and make your gut a happy camper 🙂 The perfect soup to recover from a decadent vacation. Or to just be good.
Love Jen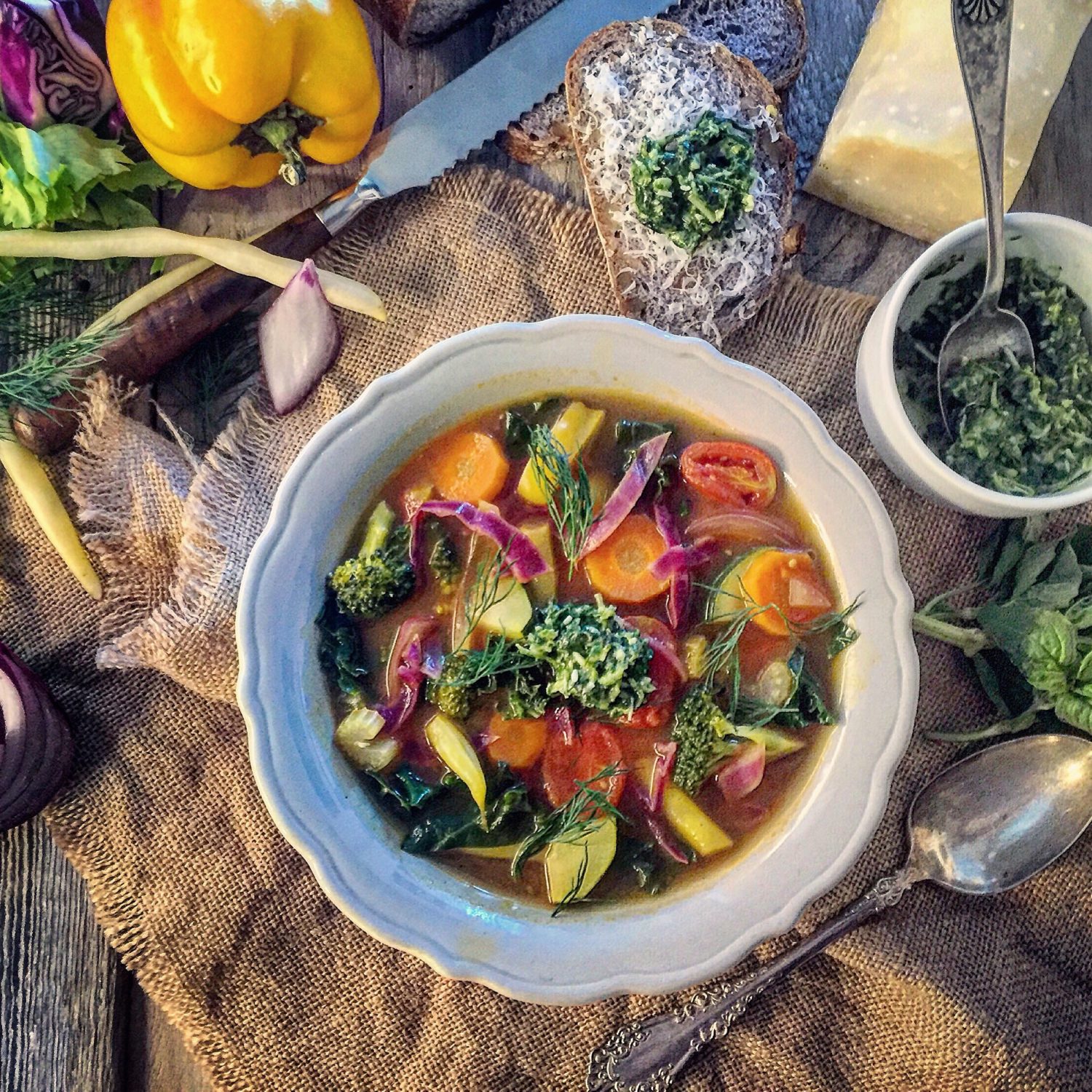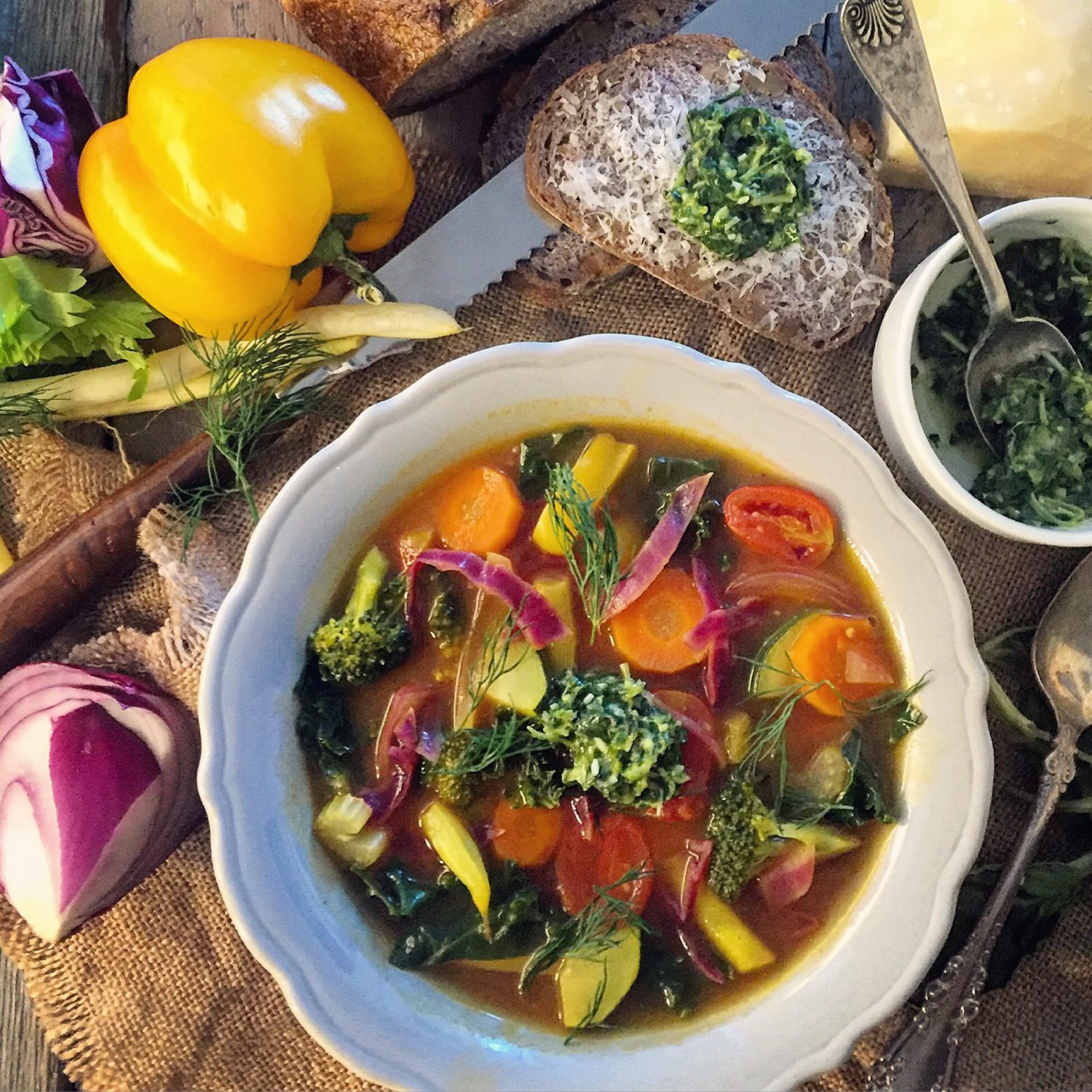 SUMMER VEGETABLE SOUP WITH PISTOU
A fresh, summer vegetable soup that is garnished with a zesty hand chopped pistou.
Ingredients
1/4

of a large red onion

, sliced

1

tbsp

olive or avocado oil

1

tsp

ground ginger

(or 1 inch fresh grated)

1

tsp

ground turmeric

(or 1 inch fresh grated)

1/2

cup

celery

, sliced

1/2

cup

carrots

, sliced

1/2

cup

green or wax beans

, cut into 1 inch pieces

1/2

cup

yellow or orange bell pepper

, cut into 1 inch slices

1

cup

broccoli florets

1

cup

cherry tomatoes

, halved

1/2

zucchini

, sliced into half or quarter moons

4

cups

of vegetable stock

(you can use water or chicken stock if you wish)

1

cup

kale

, chopped

1

cup

red cabbage

, sliced thinly

1

tbsp

apple cider vinegar

kosher salt and cracked pepper to taste
PISTOU
1

cup

packed fresh basil

2

cloves

garlic

, minced

zest of 1/2 lemon

1

tsp

lemon juice

2

tbsp

olive oil

1

tbsp

fresh grated parmesan cheese

kosher salt to taste
Instructions
PISTOU
Hand chop the basil finely. Add the garlic, lemon zest, lemon juice, olive oil and grated parmesan. Stir to combine. Alternately you can use a mini chopper to blend.
SOUP
Heat oil in a stock pot over medium high heat. Add the onion and stir for 45 seconds or so. Add the ginger and turmeric and stir to combine well.

Add the celery, carrots, beans, tomatoes, zucchini and stock. Bring to a rolling simmer. Cook for 10-15 minutes, until just tender.

Add the kale and cabbage and simmer another minute or so.

Add the apple cider vinegar. Add salt and pepper to taste (remember there is also some salt in the pistou which will be added on top)

Ladle into bowls.

Top with a dollop of pistou. Alternately, you can serve the pistou on crusty bread along side the soup.
Recipe Notes
I state that this feeds 4. You may be able to feed 6!
You can switch out any vegetable with something else in season or to your liking. Remember however, that the type of veggie you choose will affect cooking time. For instance, sweet potatoes will take a lot longer than cauliflower. Adjust when you add certain veggies so that they are cooked before you add the kale and cabbage etc. You don't want to overcook any vegetable in this soup.
SaveSave
SaveSave