We just got back from California, and I must say, I ate one of the most amazing tomatoes I've had in decades. Truly.
It reminded me of the tomatoes my mom had growing in the garden when we were kids. Juicy, meaty, and oh so sweet. In that awesome tomato way of sweetness. Add a sprinkling of salt and pepper, and there is truly nothing better. I remember growing up, and when the beefsteak tomatoes were ripe, they became the only thing I wanted on toast! And nothing made a BLT better than one of those tomatoes. My mom made the most luscious tomato salads, and then there were the thick tomato slices all ready to be added to burgers fresh off the grill.
The other thing I love about tomato season is the memory of all our Italian friends and neighbours making sugo (tomato sauce) in their garages. It was a true family affair. You might have school, or even college classes to attend, but when it was sugo time, you were expected to stay home and help out. All those glorious gleaming glass jars just waiting to be filled with freshly stewed tomatoes. I knew of this firsthand, because we often took advantage of all those family moments. A group of us may have been in a car, driving through the countryside, but if we had a craving for a coffee break or were a little peckish, we knew we just had to pull into the driveway of any of our Italian friends- there would be espresso and pizelles ready for us in a matter of moments. Such a happy and enthusiastic time. We all got into the spirit of the moment.
Well, I live in a condo now, and don't have quick access to an Italian garage during sugo time. Well, I do, though I technically don't know most of the owners of said garages. Although this year, I may just have snagged a spot with dear family friends for their canning weekend. I can't wait!
And what do I make with all the tomatoes, now that I am surrounded by bushels of them at the markets? Of course, there is still that trusty tomato and toast breakfast. And the most spectacular BLT, using double smoked bacon on toasted sourdough. And then there is Harissa Spiked Bruschetta and Tomato Jam. One of my favourite summer dishes is the Honey Roasted Cherry Tomatoes over Pasta, which is wonderful, hot or even at room temperature, almost like a fresh pasta salad
But this galette or crostata is another of my favourites.
It's really just a spin on my Fleeting Fiddlehead Galette. The crust is so tender and buttery, and a dream to whip up. And surprisingly, it has yogurt in the dough. Because it is a free form recipe, you really can't go wrong with how you fold it up. You just spread a layer of cheeses, herbs and spices, and then just lay your tomatoes on top. I'm not going to state how many tomatoes you need. This will depend on their size, and how thick you want the layer to be. Now I overlap the tomatoes, and use a variety of sizes and colours, to create some visual interest. But in the end, it's all about the tomato. The rest is just a conduit to serve the tomato! Just don't make the layer too thick. Then the tomatoes won't roast off, and will end up in a rather soggy layer. Not good. They bake up into the most candy-like sweetness against the tangy and kicky cheese layer beneath.
As an alternative to a savoury meal for 4-6, why not prepare this as an appetizer? Just roll out your dough into more of a rectangle, so that when you slice it, you will get two across and maybe 4-5 rows, in other words, about 8-10 slices? It would make a perfect appetizer for a lazy evening, served with a chilled white wine, or even a cold beer!
I hope you whip this up, with any of the cornucopia of tomatoes you have picked from your garden or from the market. This recipe will work great well into September. After which, if fresh heirloom tomatoes may not be available, then just move on to my Pizza Tart, and use the wonderful cherry tomatoes that are now available year round.
Love Jen.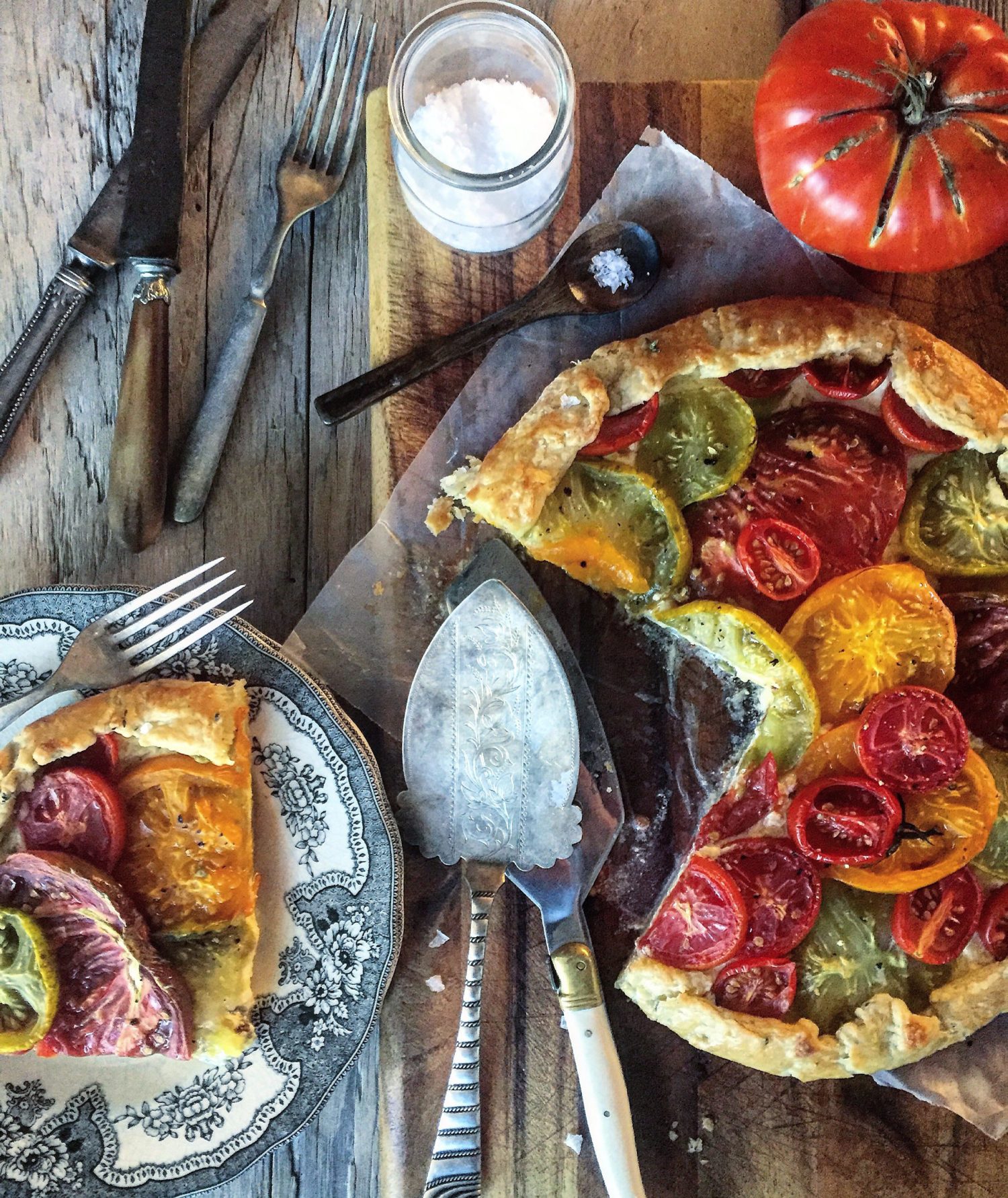 Summer Tomato Crostata
Summer's Tomatoes shine in this easy to prepare crostata. The crust is tender, almost puff pasty like, thanks to the yogurt. The tomatoes burst with flavour on a bed of cheeses, herbs and chilli flakes. Perfect for lunch or dinner, hot or room temperature. Makes a wonderful appetizer as well.
Ingredients
Crust
1 1/4

cup

unbleached AP flour

1/4

tsp

salt

2

tsp

fresh chopped thyme

8

tbsp

1 stick frozen unsalted butter

1/4

cup

plain greek yogurt

1/4

cup

ice cold water

2

tsp

lemon juice
Filling
1/2

cup

goat cheese softened to room temperature

1/2

cup

shredded mozzarella cheese I just use 'pizza' mozzarella

1/4

cup

grated parmesan cheese fresh is best

2

tsp

olive oil

2

garlic cloves minced

1

tsp

fresh thyme chopped

1

tsp

hot pepper flakes

1.5

lb

or so fresh tomatoes

sliced in 1/4" slices

1

egg

1

tbsp

fresh thyme or basil chiffonade'ed

Maldon finishing salt for the crust
Instructions
Crust
Add the flour and 1/4 tsp salt to a bowl. Whisk to combine. Add 2 tsp fresh chopped thyme.

With the large holes of a grater, grate the butter stick into the flour. Mix gently with your fingers until mixture resembles coarse meal.

In a smaller bowl, whisk together the yogurt, water and lemon juice. Pour this over the flour mixture and use your hands or a wooden spoon to form the dough into a ball. Flatten slightly and wrap in plastic wrap. Place in the freezer for 20 minutes.
Filling
Whisk together the olive and garlic cloves in a small bowl.

In a separate bowl, combine the three cheeses and then add the olive oil mixture. Stir in the thyme and hot pepper flakes. Refrigerate till ready to use.
Assemble
Preheat the oven to 400F. Remove the dough from the freezer.

Line a baking sheet with parchment paper and set aside.

On a well floured surface, roll out the dough into a 12 inch circle, trimming the edges to clean it up. Transfer the dough to the parchment lined baking sheet.

Leaving a 2 inch border untouched, spread the cheese mixture evenly over the dough. Arrange the tomatoes over the cheese in a pleasing pattern, overlapping slightly to fit them all in. Then drizzle 1 tsp of olive oil over the top. Sprinkle with the fresh thyme and/or basil.

Fold the edges of the dough in and over the filling, pleating to make it lay nicely.

Whisk together the egg and 1 tsp water. Brush this over the crust. Sprinkle the edges with the finishing salt.

Bake for 30 minutes or until the cheese is puffed and crust is golden brown.
Recipe Notes
Let it cool just a touch before cutting into it, allowing it to set. This also tastes lovely at room temperature. It even tastes good cold! You can use a variety of tomatoes for this tart: look for heirloom, cherry, roma, grape, etc.
SaveSave