We love our curry in this house. But I'll be honest, I'm usually going to be making some version of an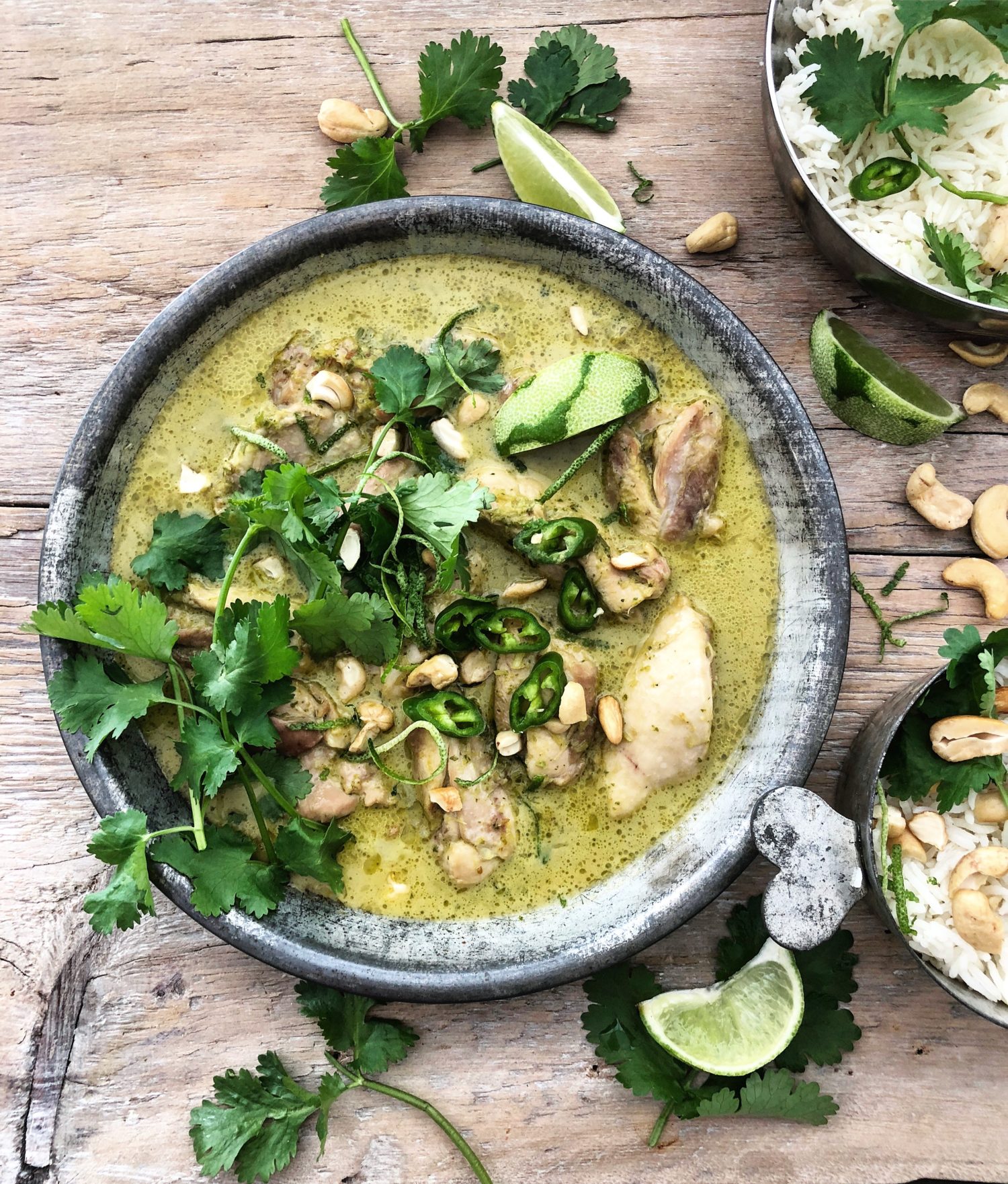 Indian or Pakistani curry. Very rarely do I venture outside of this flavour profile. But if we are out for dinner, and it's Thai cuisine, then for sure I'll order some version of their curries. Such completely different dishes from what we regularly enjoy. Where Indian curries are deeper, warmer, cozier (if you know what I mean), Thai curries are lighter, brighter, and just a touch sweeter. Both have complex flavour profiles and ingredients. But the end results couldn't be more different.
So I was most intrigued to try out the Thai Green Curry Paste found in 'Basic to Brilliance' by Donna Hay for this month's cookbook club. The paste itself couldn't be easier: basically it's just whizzing up all sorts of fresh ingredients such as cilantro, lemongrass, lime leaves (or zest) scallions, chilli peppers, along with some toasted cumin and coriander seeds, and shrimp paste, ginger and brown sugar. This paste can then be stored in the fridge till you are ready to make one of the dish options that the book offers. Of course, you would want to use the paste within the next few days, it wouldn't keep indefinitely- it is all fresh stuff in there, right?!
At first I tried puréeing it all up in my Vitamix. But it didn't really work all that great. So I transferred all of the mixture over to my mini food chopper and tried again. This time there was success. Much smoother texture achieved. Just goes to show, just when you think that little food chopper in the back of the cupboard isn't earning its keep, it comes to the rescue. When I took the lid of the food chopper, the fragrance hit me so hard!! In the absolute best way possible. Fresh, grassy, slightly sweet, with a hint of garlic and citrus. I had to taste it. Oh my! Heat and sweet at at the same time. The heat is definitely not overpowering. It isn't the first thing you'll notice. But it's there.
I decided that I would try out the Fragrant Green Chicken Curry recipe. It is absolutely simple and easy to whip up, even for a busy weeknight. All I had to do was heat up the paste that I created, and then add coconut milk and chicken stock. Then I added a few boneless, skinless chicken thighs that I sliced into four pieces each. They simmer away in the sauce at a low-ish temperature until they are cooked through. Being that they are boneless, this goes pretty quickly, and because they are thighs, they don't get overcooked and dried out in the slightest. All the while I had basmati rice simmering away in the rice cooker. At the very end, some fish sauce is added to the curry sauce and chicken. It rounds out the flavours, and takes care of any seasoning you may think is missing.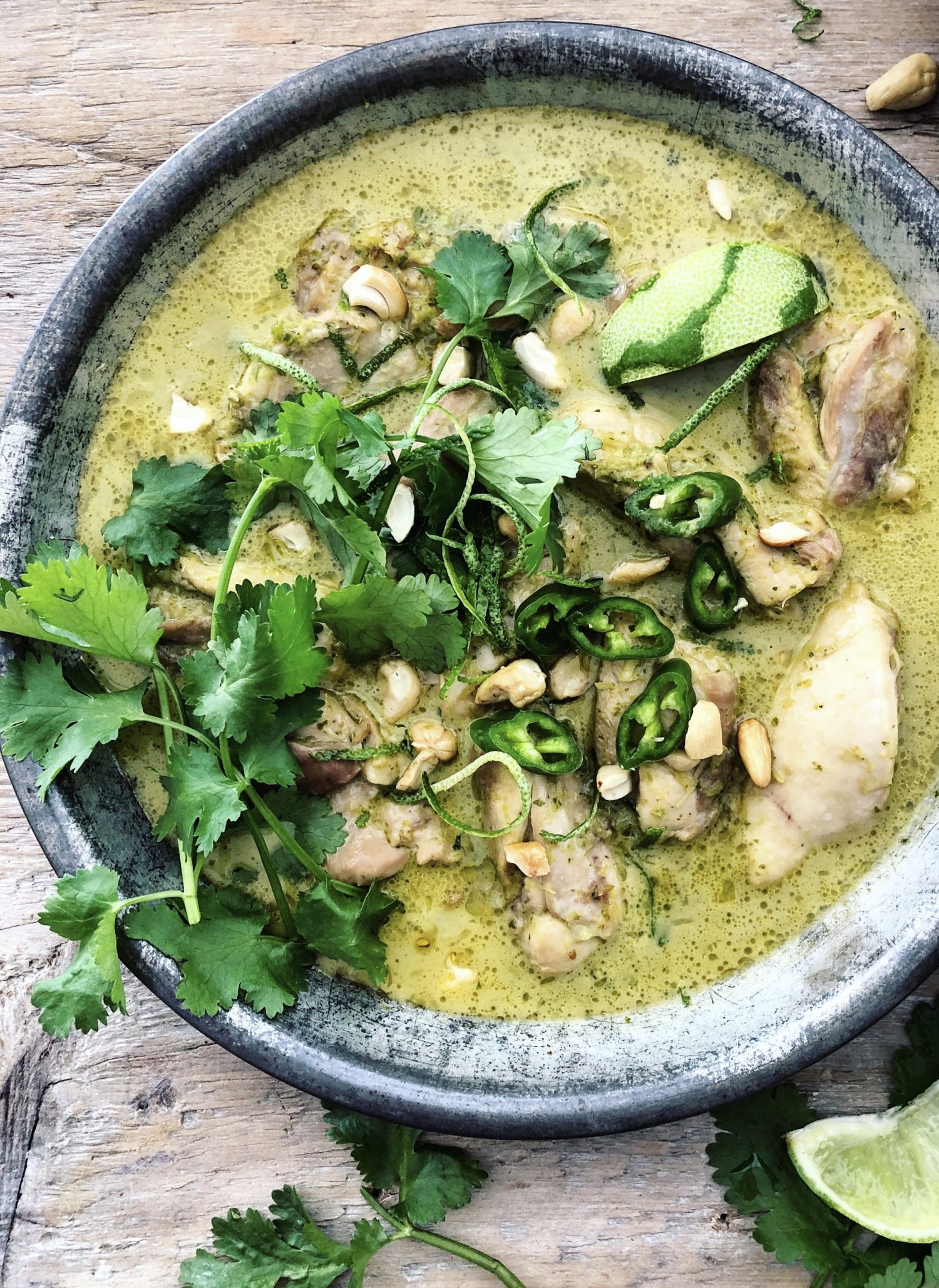 To serve, the chicken curry is topped with shredded fresh lime leaves, coriander (cilantro), cashews and sliced green chilli pepper. Now, I didn't have time to go out and get fresh lime leaves. So I just decided to use lime zest instead. Then freshly squeezed lime juice is drizzled over it all- don't skip this step. This made for the best flavour combination imaginable. Served with rice, I was thrilled with this meal. And Jim loved it as well. He cleaned his bowl with nary a word, so I knew all was good.
The exact same process can be taken to create a Spicy Green Curry Prawns with Noodles. Basically just replace the chicken thighs with 24 king prawns (shrimp) which are peeled and deveined. And instead of rice, serve it all over prepared rice noodles (the kind you would use for Pad Thai). Hot chilli oil will be a garnish, along with purple basil shoots and cilantro.
Now that I have tried this paste once, I will make it often. Just add it to a food prep day (Sunday afternoon or Monday for me) and have it ready to go for later in the week. The most exotic ingredients in the paste are the lemongrass and the lime leaves. The rest are pretty well in the pantry or fridge at any given time. But when they all come together, they create a wonderful party in my mouth. I hope you guys like this one as well!!
Love Jen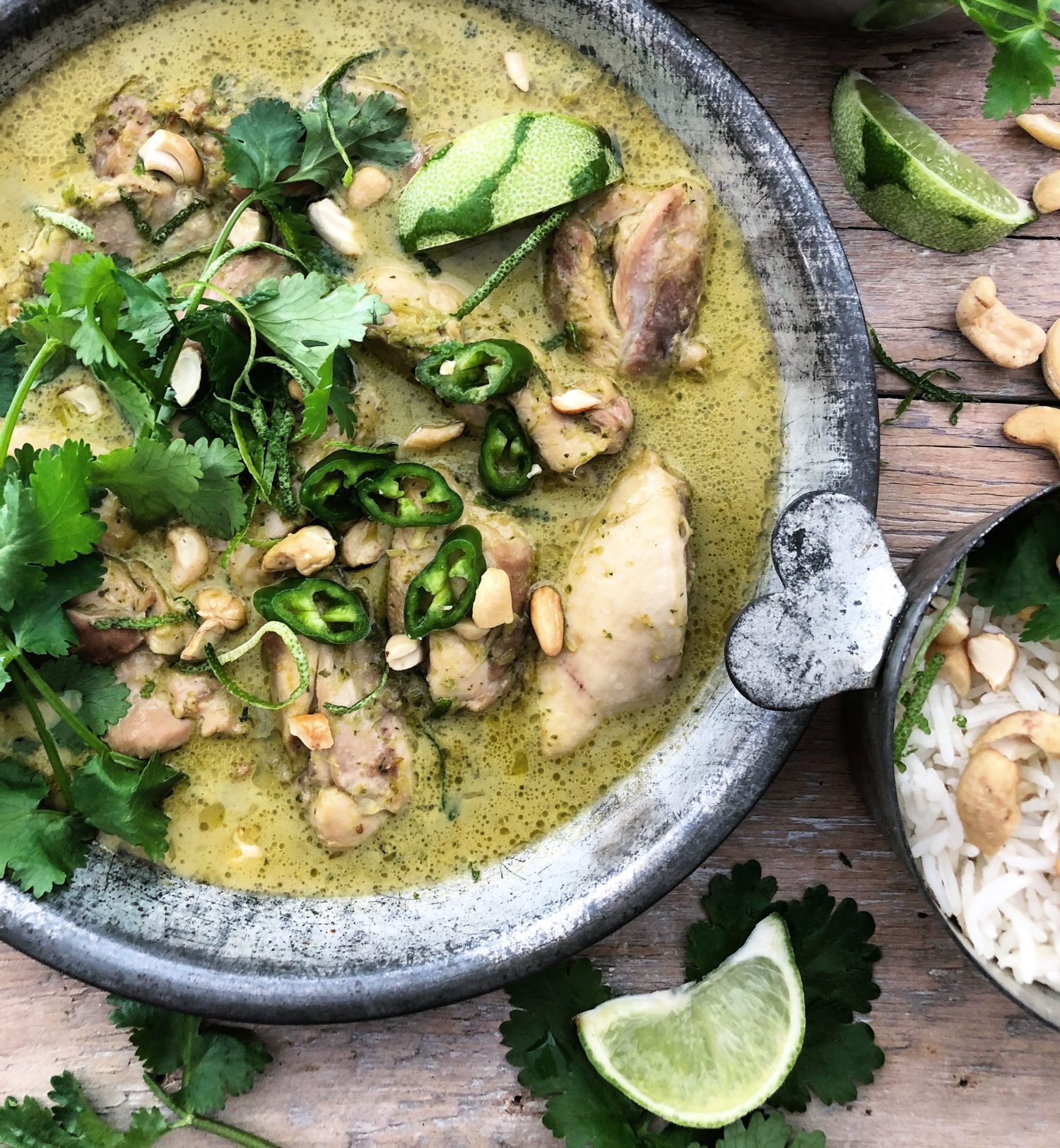 Thai Green Chicken Curry
A bright, fresh green curry paste is created and then turned into a curry sauce. Boneless chicken thighs simmer in the curry sauce and in no time at all, you are serving this curry along with basmati rice, cilantro, lime wedges and green chillis.
Ingredients
Thai Green Curry Paste
1

tsp

cumin seeds

1

tbsp

coriander seeds

3

long green chillis

, roughly chopped

2

garlic cloves

30

g

galangal or ginger

, peeled and chopped (about 2 inches of ginger)

6

kaffir lime leaves

, stems removed and shredded (can be replaced with zest of 2 limes and 1 lemon)

2

stalks lemongrass

, white parts only, thinly sliced

1

cup

chopped coriander leaves

, stems and roots

1

tsp

peanut or vegetable oil

1/2

tsp

shrimp paste

1

tbsp

grated palm sugar or brown sugar

3

green onions

, roughly chopped
Chicken Curry
1

quantity of the green curry paste

1 400

ml

can of coconut milk

1

cup

(250 ml) chicken stock

8

chicken thighs

, boneless, skinless, trimmed and quartered

2

tbsp

fish sauce

4

kaffir lime leaves

(or lime and lemon zest)

1/2

cup

cilantro leaves

, chopped

1/2

cup

roasted cashews

, roughly chopped

1

long green chilli

, thinly sliced

cooked basmati rice for 4 people

(1 cup uncooked rice simmered in 1 1/2 cups water and sea salt: Place all ingredients in a pot, bring to a boil, reduce to a simmer with lid on and cook for 12 minutes till just tender. Remove from heat and leave the lid on for another 8 minutes. Fluff and serve)

lime wedges for serving
Instructions
Curry Paste
Heat a small frying pan over medium heat. Add the cumin and coriander seeds and toast, shaking the pan for 2-3 minutes till fragrant and slightly golden.

Place the seeds in a food processor or food mill and grind till fine. I used a mortar and pestle with fabulous results.

Combine all the ingredients with the ground seeds in a food processor or small food chopper and blend into paste, scraping down the sides of the bowl. Go as smooth as possible.

Can be stored in the fridge for up to one week.
Chicken Curry
Place a large saucepan over medium heat. add the curry paste and cook, stirring frequently, for 2-3 minutes, or until fragrant.

Add the coconut milk and the stock, stir to combine and bring to a simmer.

Add the chicken, return to a simmer, and cook for 6-8 minutes, or until the chicken is cooked through.

Add the fish sauce and stir to combine.

To serve, top the curry with the lime leaves (or zest) the chopped coriander, the cashews and the sliced chillies.

Serve with rice and lime wedges.
Recipe Notes
Recipe from 'Basic to Brilliance' by Donna Hay
SaveSave
SaveSave
SaveSave
SaveSave