All Hail Caesar. Salad, that is. The most misunderstood salad, if ever there was one. Back in the day it was a spectacle to have prepared table side at all the best restaurants.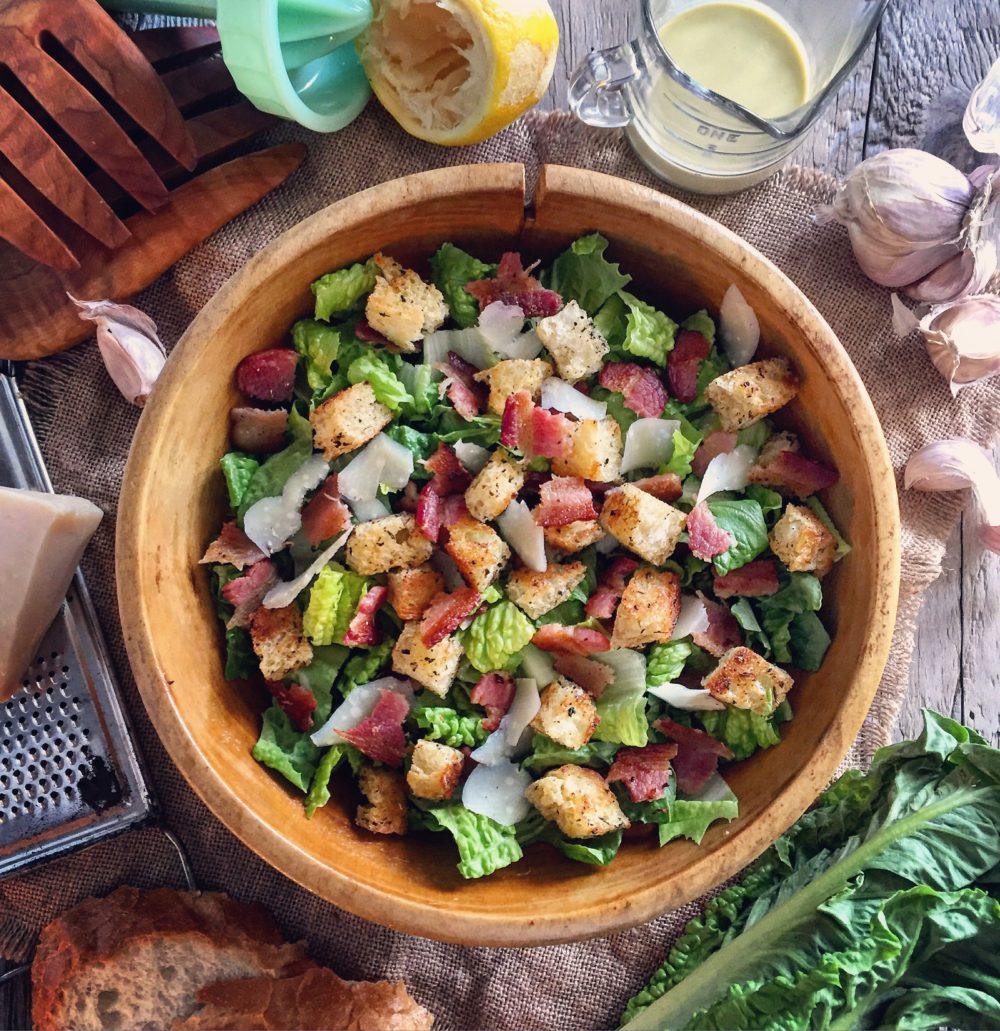 The chef (or waiter) would bring out all the ingredients: the egg yolk, the anchovy (or Worcestershire sauce) , the olive oil, the dijon, the lemon juice, garlic. He would lightly scramble these at the bottom of the salad bowl till they emulsified into the perfect dressing. Performance art that you could eat.
Then the greens would be tossed over the dressing. The croutons would be added. All would get gently tossed to get that dressing onto all the leaves. Some parmesan would be shaved over the bowl, and voila, he would then serve you from the bowl with salad tongs. A lesson in simplicity where the sum is greater than the total of the parts. Simple ingredients, but when they are the best of the best, a glorious salad. Eventually bacon started showing up as one more addition. In my opinion the only good addition worth including. More on this in the next paragraph.
Then the 80's happened. This salad became the height of ubiquitousness. And it was eventually presented with all sorts of additions: hard boiled eggs, corn, tomatoes, grilled chicken (okay, I get this one) chickpeas, avocado, salmon, the list goes on. And the croutons. Don't even get me started on those dreaded croutons. They all seemed to be those hard as concrete, chiseled cubes from a box. Dry as cardboard, with no flavour. This became the acceptable norm for the so-called Caesar Salad.
About this time I got the best Caesar Salad dressing ever from a room-mate. I'm not exagerating. To this day, I stick with this and it brings the house down. It is the perfect blend of egg, oil, garlic, lemon and dijon. There is a bit of parmesan cheese in it as well, for flavour, and a touch of creaminess. And for those of you who are squeamish and don't want to add a smidgen of anchovy paste, I totally agree with the Worcestershire sauce as a replacement.
So, dressing, check. Fresh torn Romaine (Cos) leaves (and if they are small, leave them whole, as how the original salad was presented- the perfect little cups to hold the dressing), check. A hunk of Parmesan to shave over the finished salad, check. All that we need are the bacon and croutons. And for me they are linked.
To me, bacon is a necessary component of a good Caesar Salad. It adds a textural and flavour contrast: that touch of smokey saltiness to play off the creamy, tangy, garlicky dressing. Plus, it's a bit of protein (fair enough, questionable protein, but a treat of yummy protein nonetheless!) Sautéing up several rashers of double smoked bacon is such a wondrous thing to do in the kitchen. The aroma is like nothing else. And after the finished bacon has been removed from the pan, comes the piece de resistance, my croutons. Well, they're not MINE per say. I'm sure others do the very same thing. I must have learned it from somewhere. Don't ask me where. Because I've been doing it for decades. And it is what makes this salad so unique.
Slice off a few thick pieces of sourdough bread. Slice these into 3/4 inch wide lengths. Take each length and tear into cubes roughly 3/4 inch large. The tearing here is important. The one knife slice is acceptable. But if you slice crossways, you will get perfect edges all around, and this is a no-no in my books. It is the rough, jaggedy edges that will make these taste so good. After you have made enough croutons for your salad (Approximately 1/3 cup per person) lay them out on a plate or baking sheet to dry out a touch. Do not use old bread for these. They should not be rock hard. I use day old bread with perfect results.
After you have removed the bacon from the pan and set it on paper towels to drain, check the pan to see how much bacon fat is left. If there is more that 1-2 tablespoons, use a spoon or paper towel to blot up the excess. Into the remaining hot warm fat (it should cover the bottom of the pan without being an oil spill) sprinkle some dried thyme and oregano, and swirl around. Into this oil you are going to throw all your croutons. Pan fry till browned and crunchy, but still soft in the centre. Each piece will pick up some of the dried herbs, and the flavour of the bacon. Remove to a paper towel. These croutons are amazing. Crunchy exterior, but no fear of cracking a tooth when biting into it. I don't know how many times, when I was waiting on tables, I would find a miserable little pile of boxed, rock hard croutons huddling together, when I came to remove the salad plates from a table. This will never happen with these croutons! They taste like bacon, accept the dressing graciously, and add the perfect textural compliment to a simple and yet sublime salad.
Now, many of you guys will want to add all sorts of additions to make fresh twists on the Caesar Salad. I won't hold it against you. But start with a good base, and it will only get better! 😉
On hot, summer days, this is often a go-to dinner for us. Sure, if there is leftover grilled chicken, I will serve it on the side. But if you make enough salad, and don't skimp on the bacon, it is a meal unto itself. Add a glass of wine and call it a night!
You're welcome!
Love Jen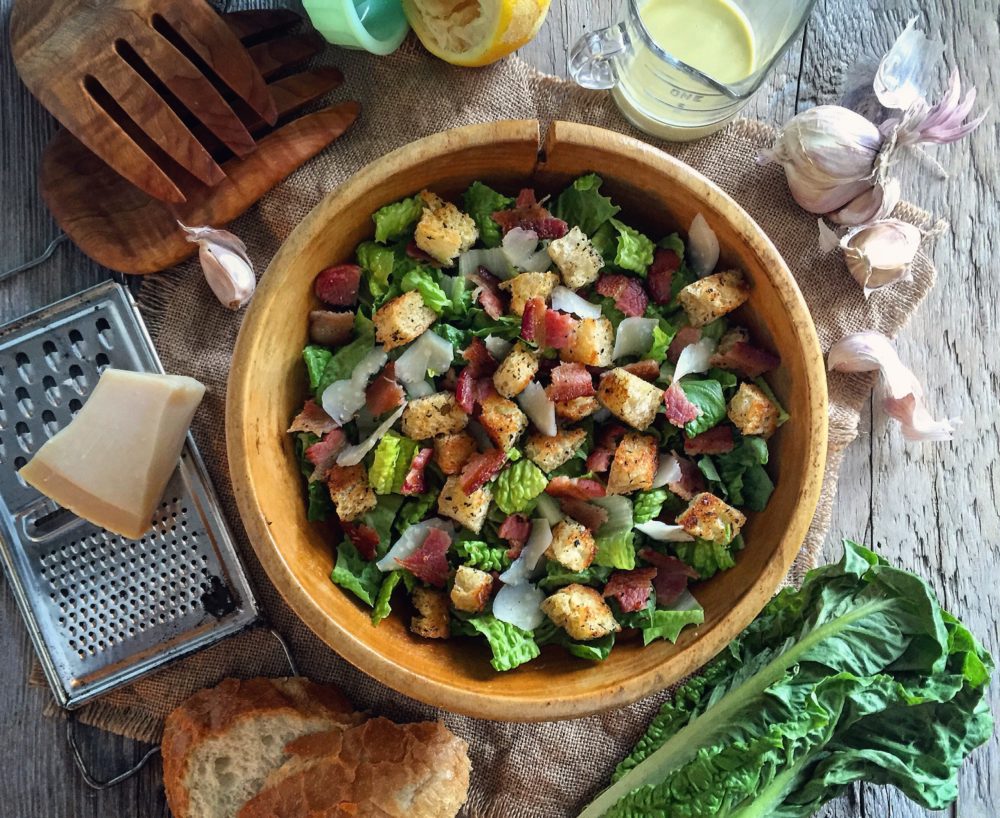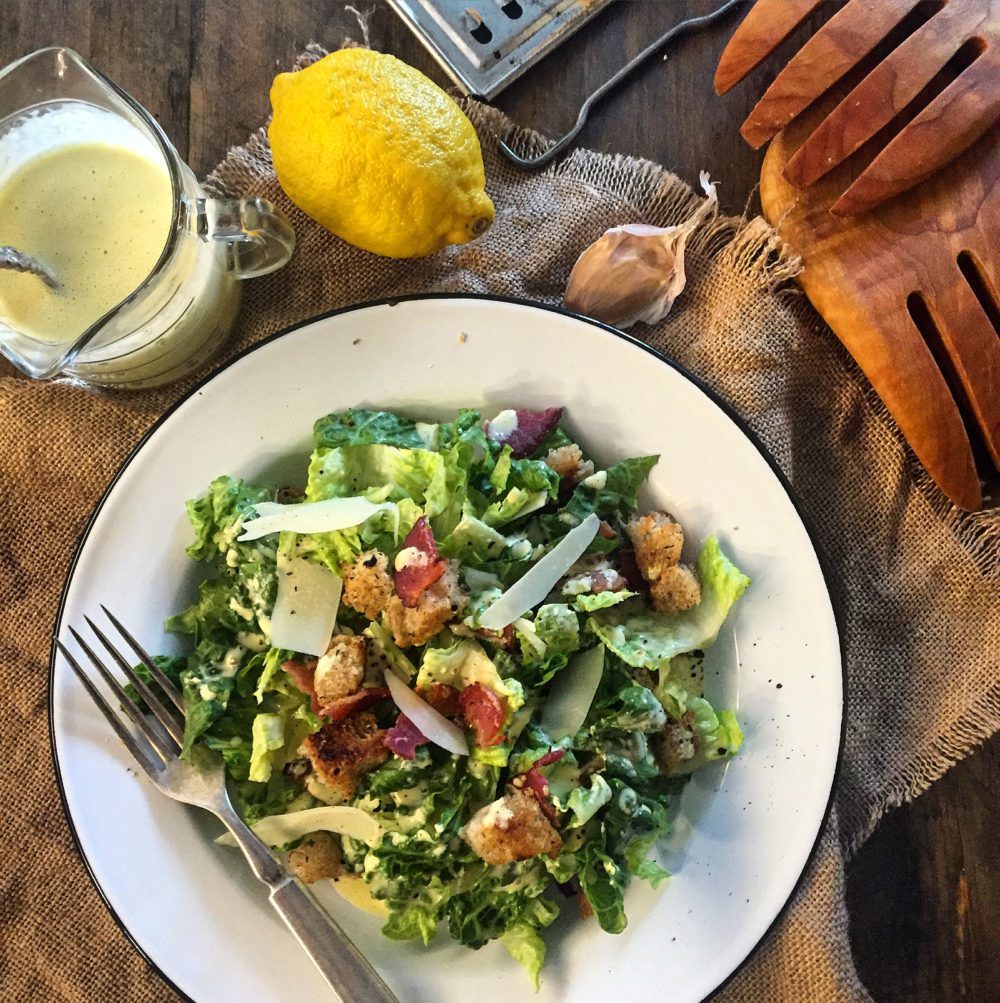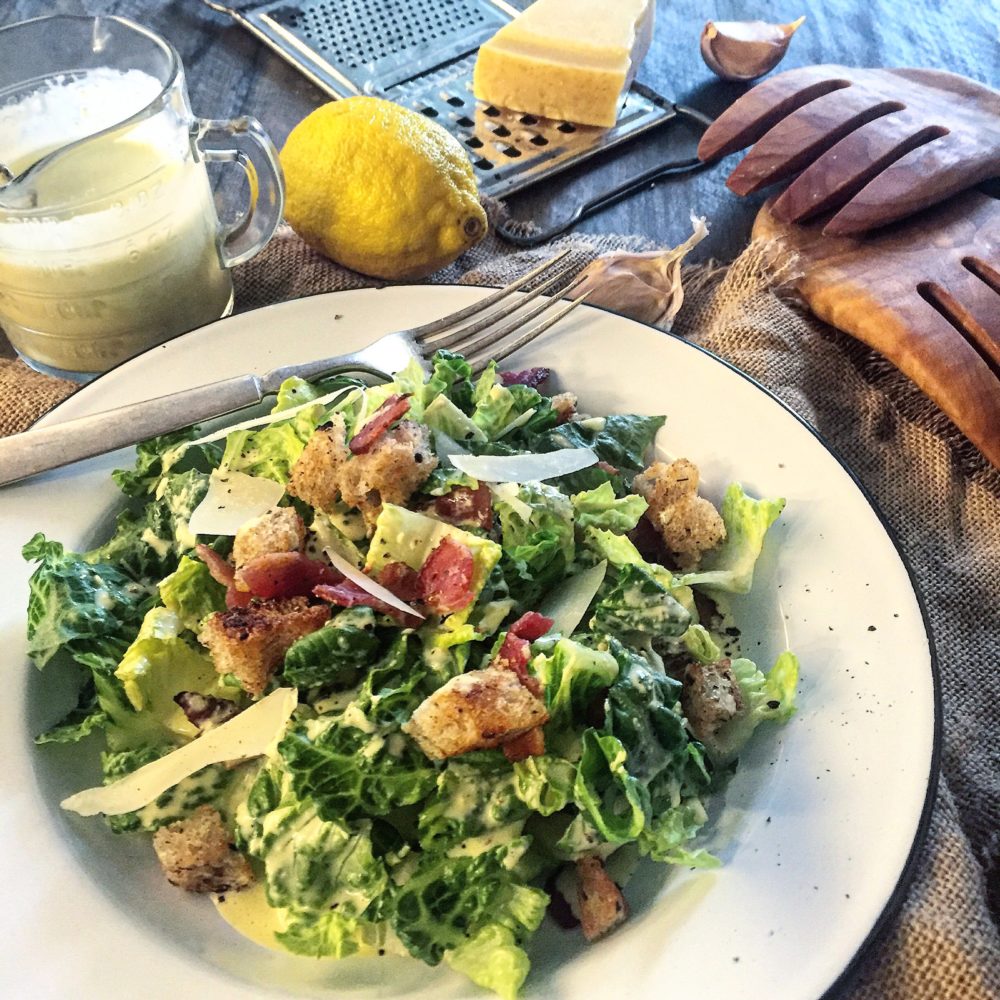 The Ultimate Caesar Salad, Really
A creamy, tangy, garlicky dressing over a classic salad, with the most brilliant croutons ever!
Ingredients
Dressing
3/4

cup

EV olive oil

1/4

cup

white wine vinegar

4-5

garlic cloves

roughly chopped

3

tbsp

grated parmesan cheese

1/4

tsp

fresh lemon juice

1

large egg

1

tsp

dijon mustard

1/8

tsp

Worcestershire Sauce or anchovy paste

both are optional, but do make a difference!
Salad and Croutons
2

heads of Romaine hearts

or one large head of Romaine lettuce

6

rashers

double smoked bacon

or any good quality bacon

2-4

thick slices of fresh sourdough bread

, enough to make about 2 cups of cubes

1

tsp

dried thyme

1

tsp

dried oregano

hunk of parmesan cheese

for shaving over the finished salad
Instructions
Take all the dressing ingredients and place them into a blender. Blend until smooth and creamy. You should not need salt since the parmesan and Worcestershire sauce add enough already) Set aside or even store in the fridge till needed. Can be made in advance the day before.

Wash, dry and tear the larger leaves of Romaine, add to large bowl.

Leave the smaller leaves intact if desired, and add to the bowl.

Take a paper towel and dampen just a touch with cold water. Drape over the bowl and place in the fridge.

Remove the crusts from the sourdough slices.

Take the slices of sourdough and cut into 3/4" lengths. Take each of these and tear off into 3/4" or so bite sized pieces. Be sure not to use a knife- you want the natural, jagged edges that come with hand tearing. Lay all out on a plate or tray to dry ever so slightly while you work on the dressing and bacon.

Place the bacon rashers in a sauté pan and sauté at medium heat until cooked through, but not dry crisp. Remove to a paper towel to drain.

In the pan, remove all but 1-2 tbsp of the bacon fat. There should be enough to coat the entire bottom of the pan without being too deep. Sprinkle the thyme and oregano evenly over the oil. If there isn't enough ft, supplement with olive oil.

Raising the heat to medium-high, add the cut up bread to cover the pan in one layer.

Leave to fry for about 40 seconds. Start checking and tossing, so that all sides get equally crisped up. There should be browning, but not burning.

Remove when all are crisped up. This should not take longer than 3-4 minutes total. Remove to paper towel and then a bowl.

When the bacon has cooled somewhat, tear into bite sized pieces.

ASSEMBLE

Take the greens from the fridge. Add 2/3 of the the croutons and 2/3 of the bacon. Add 2-3 tbsp of dressing per person=1/2 to 3/4 of a cup of the dressing. (this will be determined by how wet or sloppy you like your dressing!) Start off with the 1/2 cup and see what happens after tossing gently but thoroughly.

Place into a serving bowl. Top with the remaining croutons and bacon.

Using a vegetable peeler, shave parmesan cheese over the top of the salad (don't be too skimpy!)
Recipe Notes
The recipe for this dressing makes about 1.5 cups. It will last a couple of weeks in the fridge.
SaveSave
SaveSave
SaveSave